As the 2022 NFL Draft approaches, player evaluation is everything.
All 32 NFL teams will get their last major chance to rework their rosters before the start of the season, so it becomes essential for teams to not only select the right players but to also maximize value in Round 1 and beyond.
Here are some draft prospects who are being vastly underrated by the general draft evaluation process right now.
Click here for more PFF tools:
Draft Guide & Big Board | Mock Draft Simulator
Dynasty Rankings & Projections | Free Agent Rankings | 2022 QB Annual
Player Grades
---
I know, I know… "PFF hates running backs." Yes, once the edit team has forwarded this article to the higher-ups, I expect them to revoke my credentials, and my next trip to the office will be a recreation of Jamal Adams trying to get into the Jets facility.
Still, with that said, it seems like Walker and Hall — who are so close together I'm going to treat them as one player — are being vastly underrated compared to previous draft classes.
A season ago, Najee Harris was a sure-fire first-round pick throughout the pre-draft process, but the same isn't true for Walker and Hall. There's no good reason for that to be the case. Both players impressed scouts with fast 40-yard dash times and overall workout numbers at the 2022 NFL Scouting Combine, the only boxes they had left to tick.
Harris averaged 6.0 yards per carry and 3.7 yards after contact per carry during his Alabama career, forcing 183 broken tackles along the way. Walker averaged 5.8 yards per carry and 4.3 yards after contact per carry, and he broke 89 tackles this past season alone. Hall, working in a worse offense overall, averaged 5.5 yards per carry and 3.2 yards after contact per carry, but he broke 194 tackles and earned similar PFF grades to Harris.
We can debate how valuable running backs are generally and whether they are worthy of first-round selections, but Walker and Hall should be seen as worthy, given recent picks in the first round.
Despite his season-ending ankle injury, USC's Drake London will likely be the first receiver off the board and could be a top-10 selection. Western Michigan's Skyy Moore earned the same 91.8 PFF receiving grade and an even better overall grade this past season.
Moore racked up 1,291 yards and 10 touchdown receptions, averaging 3.40 yards per route run, and he was another player who answered any potential athleticism concerns with an impressive performance at the combine. 
The 5-foot-10, 195-pound pass-catcher ran a 4.41-second 40-yard dash and put up solid numbers across the board. His 10-yard split was in the 99th percentile and matched the kind of quickness he consistently showed on tape.
The NFL chases "special" wide receiver prospects, but some of the best receivers in the game don't have cheat-code type size, speed or explosiveness. Instead, they are simply peerless craftsmen at the position. That's what Moore can bring to the table, but evaluators seem to be overlooking him so far because of that focus on measurables.
Austin is a massive outlier, ironically because of his lack of mass. The Memphis product measured 5-foot-8 and 170 pounds at the combine — numbers that rank in only the second or third percentile.
If you're going to succeed at the NFL level at that size, you need to have special athleticism, which he has in abundance. His 40-yard dash, 10-yard split, broad jump and short shuttle were all in the 94th percentile or better. At times, he looks to be playing at a different speed than other players.
At the Senior Bowl, against other elite senior prospects, defensive backs had no idea how to combat him during the one-on-one reps at practice. He ate up off-coverage and quickly destroyed players who tried to jam him at the line of scrimmage. 
He recorded 1,145 yards this past season for Memphis, lining up outside on 90.5% of his snaps, and there's no reason he can't continue to cause NFL defenses problems with his speed and quickness.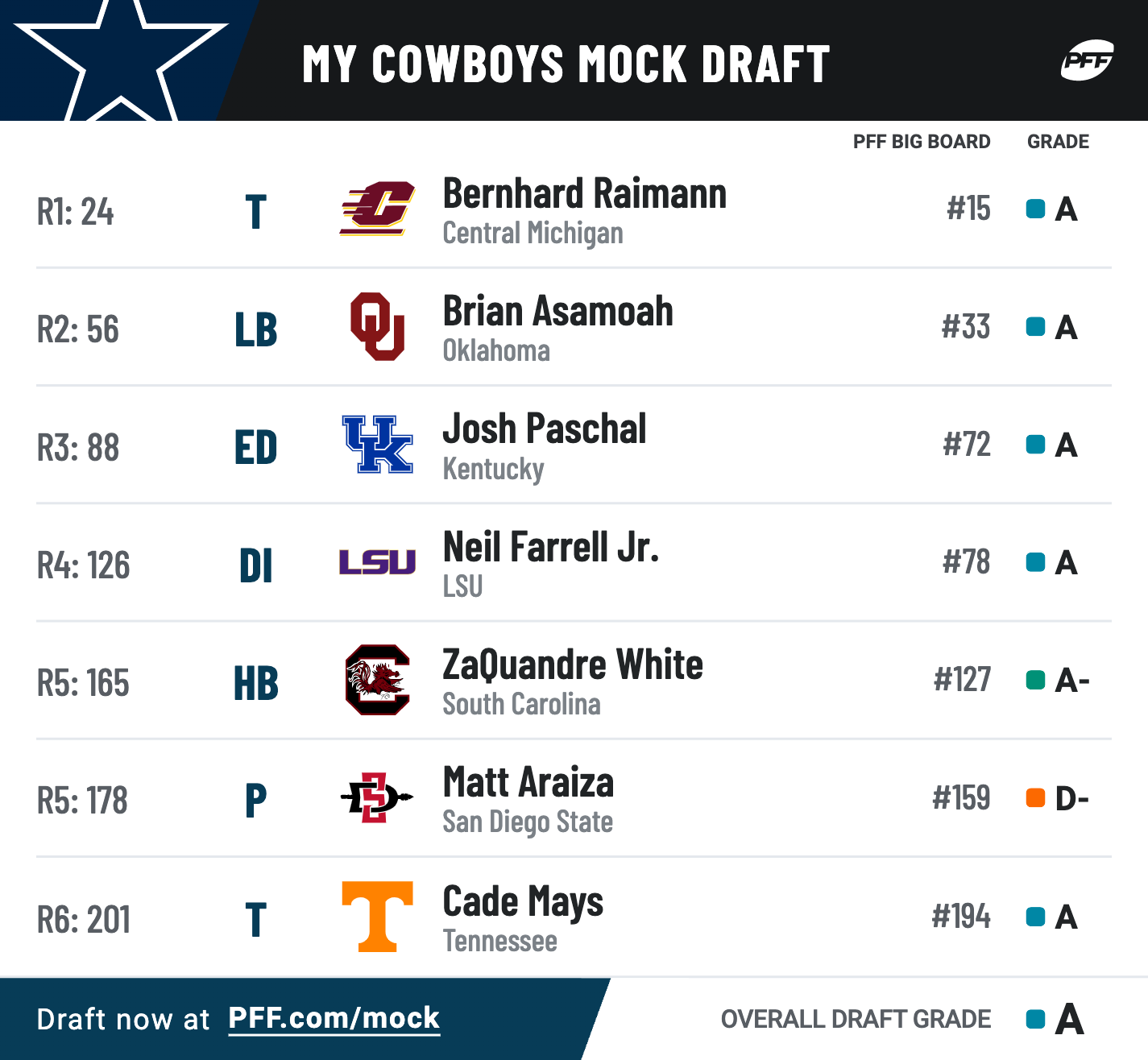 Last season, Georgia's defense was ridiculous, stocked full of athletically gifted NFL-caliber players. Players like Jermaine Johnson II even had to transfer away from the program just to get the opportunity to showcase their play.
Because of all of that talent, attention seems to be getting drawn away from Wyatt, who generated the best PFF grade of any defensive lineman on the team and the second-best grade of any Georgia defender.
While Jordan Davis could get drafted in the top half of the first round because of the potential of the player he could become, Wyatt is already a wrecking ball. He was the best-graded defender at the Senior Bowl and is a prototypical player in terms of traits.
---
Related Content:
---
Karlaftis is another player suffering from comparisons to stars at the position. A fierce debate at the top of the draft is whether Aidan Hutchinson or Kayvon Thibodeaux deserves to be the first overall pick. The next debate is whether Georgia's Travon Walker should be drafted ahead of Thibodeaux if Hutchinson becomes the top pick.
Jermaine Johnson II has become a favorite at the edge position, thanks to his spectacular year and a dominant Senior Bowl week. But lost in the shuffle is Karlaftis, who could be the best power rusher in the draft and brings exceptional versatility and drive.
The former Purdue edge rusher racked up 54 pressures on 335 rushes this past season, earning a PFF pass-rush grade of over 90.0 — a far higher figure than Walker and right behind Thibodeaux. Other players may bring a more exciting upside, but Karlaftis may prove to be the better football player.
Cornerback is one position where several teams still stick rigidly to measurable thresholds. Teams won't touch players who aren't above a certain height or don't have a certain arm length, and that's going to thin the marketplace for a player like Roger McCreary.
The former Auburn defender measured 5-foot-11 and 190 pounds, but the most concerning number for some teams will be his sub-29-inch arms.
Length at the cornerback position is vital for several reasons, from giving a player the ability to affect the jam at the line of scrimmage to increasing their radius of making plays on the football at the catch point. His arm length puts him in just the fifth percentile and would make him a massive outlier in terms of NFL success.
All of this has gone against him, which is why he is being underrated. Everything in the lead-up to the draft is a data point, but the most important factor should always be tape — and he's got some really good tape, including against players such as Ja'Marr Chase, who just blowtorched NFL cornerbacks on his way to a dominant rookie season.
McCreary was able to hang with Chase back in 2019 and has become a substantially better player since. This past season, he forced 20 incompletions en route to an 89.9 PFF grade.
He'll fall in the draft because of his measurables, but that just makes him a bargain for the team that snags him.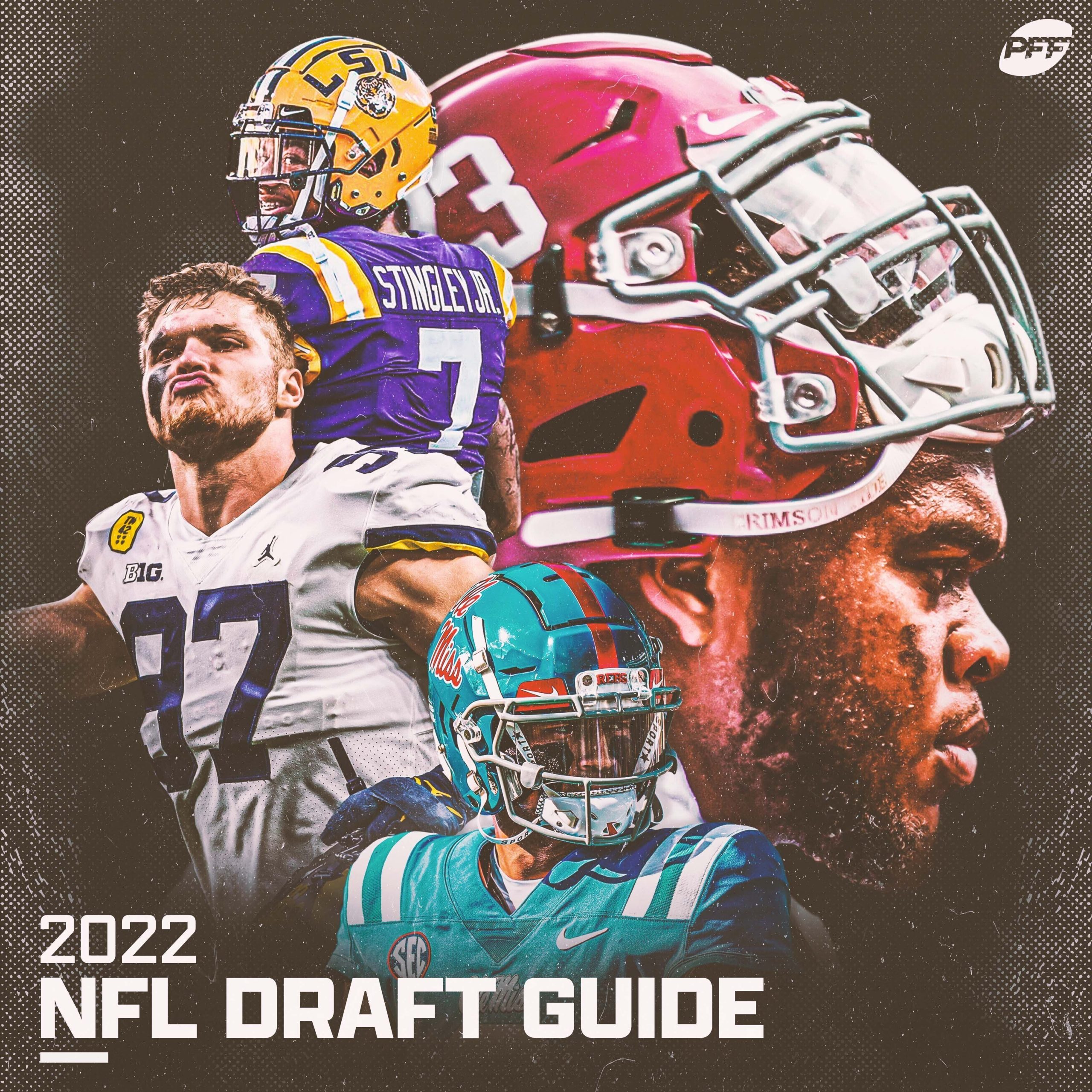 This is a very strong class for offensive linemen and offensive tackles in particular. Of course, all the focus will be on the guys at the top, but that means there are some potential steals to be had lower in the draft. And one potential steal is Louisiana Lafayette's Max Mitchell.
Mitchell obviously comes with some level-of-competition concerns, but he earned the single highest PFF grade among the nation's tackles in 2021. He allowed just 13 pressures across 430 pass-blocking snaps playing right tackle, and just one of those pressures came against Texas, where he was pass protecting on 47 snaps and also had to play on the left side.
Mitchell isn't the best athlete in the world, but his technique is excellent, and his play has been spectacular against a lower level of competition. He's precisely the kind of offensive lineman who often gets overlooked at draft time but ends up starting games quickly and making an impact, even if his ceiling is limited at the next level.
Athleticism plays in a big way for edge rushers. Yes, there are successful NFL pass-rushers who don't have plus traits in terms of speed, quickness and explosiveness, but they are outliers. There is a very strong connection between those traits and NFL success, so looking for athletic players is always a good starting point.
Connecting those traits to proven college production leads to an even stronger correlation to NFL success, which should draw eyes to Oklahoma's Nik Bonitto. He's been the most productive pass-rusher in this class on a per-snap basis over the past two seasons and earned a pass-rush grade just behind Aidan Hutchinson in 2021. Bonitto produced 52 pressures on just 263 rushes this past year and was as effective the year before that.
His relative lack of size (248 pounds at the combine) may limit his role at the next level, at least early on, but what he does well is the most valuable aspect of being an NFL edge rusher. His ability to affect the quarterback should make him massively coveted.
---
2022 NFL Draft position rankings:
Top 10 players at every position
QB | RB | WR | TE | iOL | OT | DI | EDGE | LB | CB | S
---
This is not a good quarterback class. There are concerns with each of the "elite" prospects at the top, and it doesn't get much better as one moves down the rankings.
Most drafts typically have a few enticing late-round prospects who are easy to fall in love with, even if they are obvious long shots to make an impact at the next level, but this group is short on even those players. The exception I would point to is Southeastern Louisiana's Cole Kelley.
Kelley once played at Arkansas before transferring closer to home. And even at Southeastern Louisiana, he didn't win the starting job immediately. Over the last two seasons, he earned PFF grades above 90.0 each year and has obvious physical tools of a player who began with much loftier ambitions.
Kelley's 92.1 PFF grade ranked just behind the 92.2 posted by C.J. Stroud, Bryce Young and Kenny Pickett. He recorded an adjusted completion rate of 82.2% and racked up 28 big-time throws on his way to 43 touchdowns and 10 picks. He also rushed for 16 more scores, averaging 4.5 yards per rush and 2.9 yards after contact per carry.
Kelley is far from an elite prospect, but in a draft low on even good bets at the position, he's a low-round gamble I would be keen to take.