Welcome to PFF draft week! Just like you, we are excited to get back to football.
Now that we're just a day away from the 2020 NFL Draft, I take my best pass at Round 1. My mock draft makes no trades, as it is just too early to anticipate those yet. Besides, at PFF, we prefer to let our mathematicians crunch the numbers after the trades to give us winners and losers live as those trades are being made. So, please join us over on PFF's YouTube channel before, during and after the draft for a full analysis of every pick. Here we go!
[Editor's note: Check out PFF's 2020 Mock Draft Hub, NFL Draft Big Board and NFL Mock Draft Simulator. PFF Elite subscribers can also download the 1,250-page 2020 NFL Draft Guide.]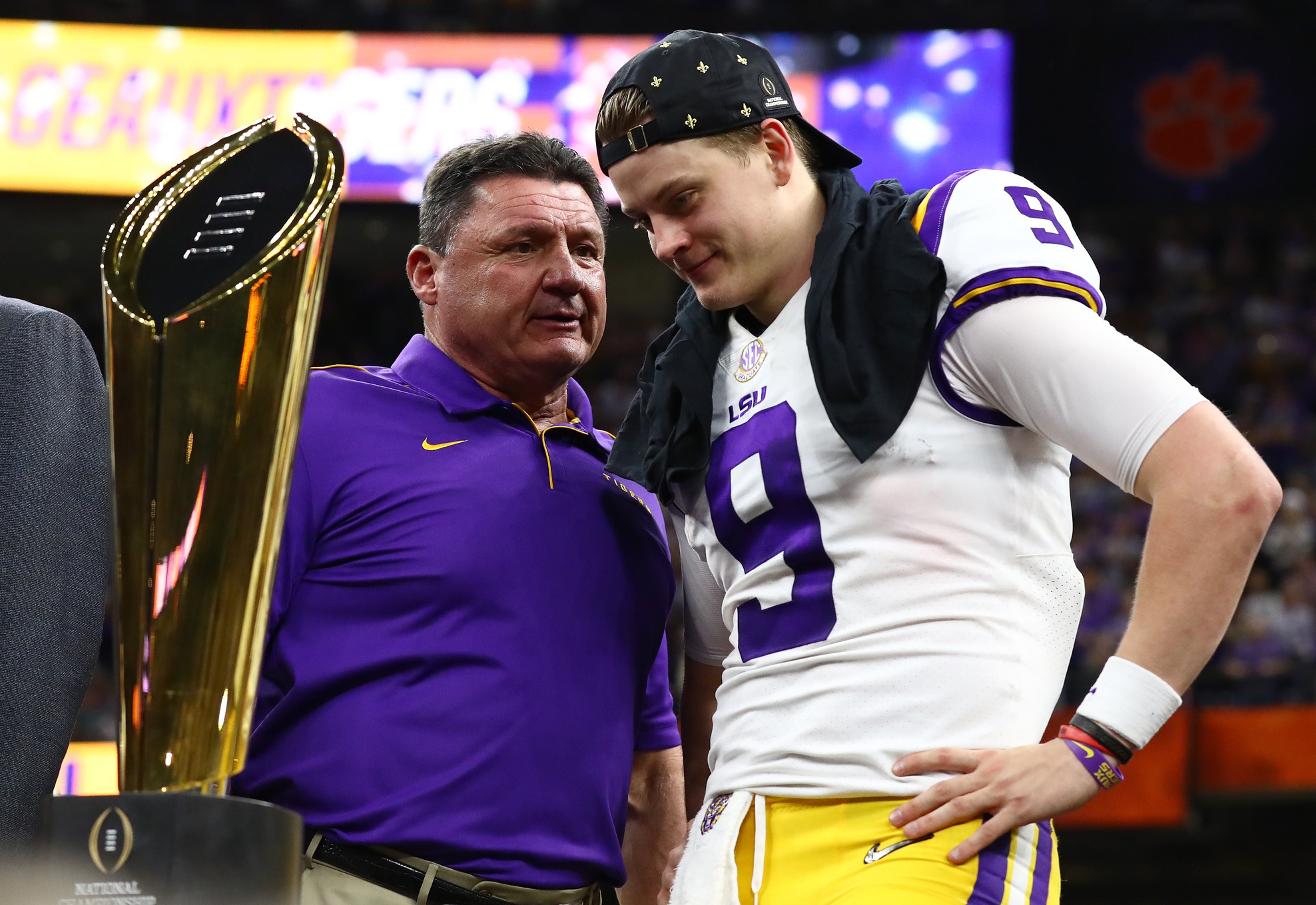 The Bengals have gone to two Super Bowls in their history. In each of those seasons, the quarterback — Kenny Anderson in 1981 and Boomer Esiason in 1988 — was voted League MVP.
The Bengals add back two significant players who were non-factors in 2019: A.J. Green and last year's 11th overall pick, offensive tackle Jonah Williams. They also were much more active in free agency than normal, adding three defensive starters in defensive tackle D.J. Reader and cornerbacks Trae Waynes and Mackensie Alexander.
If Joe Burrow starts for the Bengals, that means 10 of the 16 starting quarterbacks in the AFC will be on rookie contracts. High-priced quarterbacks dilute the rest of the roster, and an Andy Dalton trade could add additional draft capital this year. Joe Burrow doesn't have a cannon for an arm, but his eyes rarely start where he is throwing, his anticipation on throws looks like a 10-year NFL veteran and he throws easily without a step forward. He also has much better movement and running skills than I thought when I first started studying him.
But the thing that clinches this pick for me is Burrow's all-in attitude that the great ones have. He has a leadership style that will add a little swagger to this Bengals team. He brings an arrogance to the position that we haven't seen since Boomer Esiason.
You could watch opposing quarterbacks and just tell that they were thinking about Chase Young — they would drift away from his side, or they would look that way instead of keeping their eyes downfield.
I was amazed at how many offensive linemen tried to put their hands in Young's chest but were simply unable to hit him due to his great work with his hands or flexible body movements. He has a great burst once he's clear and delivers big hits on quarterbacks.
Chase Young feels more like a Ron Rivera pick than Tua Tagovailoa. Plus, I can't imagine Dan Snyder giving up on Dwayne Haskins after he appeared to push for the choice just a year ago.
This feels like the first trade of the night to me. I think the Lions could wait until at least pick No. 6 and still get Okudah. If the Dolphins, Chargers or anybody else wants to move up for a quarterback, this is the spot. Depth at cornerback is one of the strengths of this draft, so trading down makes sense for the Lions.
Make no mistake, Okudah is the best corner in this class, but the Lions can still get a quality replacement for Darius Slay and potentially pick up another top draft pick. If the pick is Okudah, the Lions get a young corner who plays beyond his years and has the ability to see the quarterback and play the receiver. He is a big hitter, physical with receivers and loves studying the game. He doesn't have the speed of a superstar, but he plays like one.
Yes, the Giants need a right tackle and an edge rusher, but Dave Gettleman also loves great athletes. And watching this 238-pound man who runs 4.39 and covers slot receivers makes it hard to take your eyes off this shiny object.
New head coach Joe Judge coached for both Bill Belichick and Nick Saban, so a defense-first approach here shouldn't surprise anyone. Versatility is the key in today's NFL, and no defensive player in this draft comes close to possessing Simmons' versatility. He could almost play almost any defensive position on the field. New offensive coordinator Jason Garrett will probably be pounding the table for a tackle here, but he will just have to wait.
I tried to pick other players here, but that never made sense to me. The Dolphins have so much draft capital that even if Tagovailoa is a bust, they should still have a great draft. But, if Tua lives up to his "Tank for Tua" preseason hype, this could be the franchise-altering pick.
I love to watch Tagovailoa's frenetic pace and footwork — he processes very quickly, has excellent feet and a great pocket presence. Tua snaps from one read to the next and makes quick work of his RPO game. And he throws with his body from the ground up, so he should never have arm problems.
The upside of Tua Tagovailoa is worth the risk. I don't think the Dolphins trade up to get him, but if he falls to Pick No. 5, they pull the trigger and hope he stays healthy. I think a case can be made for letting Ryan Fitzpatrick play another year while allowing Tua to learn the system and heal.
I think the Chargers are a much better team than their record showed last year. This is one of the few secondaries that can compete with the Chiefs' receivers, and the pass-rush with Joey Bosa and Melvin Ingram III is excellent.
Head coach Anthony Lynn just watched Lamar Jackson win the MVP, and while Tyrod Taylor is not Lamar Jackson, he does have a similar playing style and probably throws the ball better. So, I am not taking a QB or trading up to get one here. Instead, I am fixing the problem that has plagued the Chargers for many years — offensive tackle.
Andrew Thomas has arms over 36 inches, and he has quick feet so he is rarely out of position. Picking Thomas here would also allow the recently signed right tackle Bryan Bulaga to stay at his natural position. Andrew Thomas is not a perfect player, but he is PFF's highest-graded tackle in this class, and he can be a force in the run game. Thirty-six-inch arms are a rarity, and the tie-breaker here — he reminds me of Ronnie Stanley coming out or Notre Dame with arms almost 36 inches, as well. Stanley has been one of the best pass-blockers in the league since he came in, and he is coming off the best season of his career playing with a similar quarterback.
Here is my first curveball. After the defensive side lost linebacker Luke Kuechly to retirement, everyone has mocked Isaiah Simmons to the Panthers, but since I have Simmons going to the Giants at pick No. 4, here we are.
Physically, there is nothing Justin Herbert can't do. This former big-armed pitcher has streaks where he looks great. At 6-foot-6 and 233 pounds, he can be a very effective runner, too. When he delivers with that pure "over the top" motion, he just looks the part. The downside, however, is that he can be inaccurate; he can also look uncomfortable in the pocket, and fumbling has been a real issue.
Having said that, Matt Rhule's offense at Baylor attacked down the field, and there is no throw Herbert can't make — so why not take a shot at the most valuable position? Teddy Bridgewater will give Herbert a year or two to sit and learn, and he just might develop into something special. My concern is that not many 6-foot-6 quarterbacks have ever been stars, though. I have no real explanation for that other than quick releases are extremely important.
Arizona is a space team with Kliff Kingsbury and had a much-improved offense last year. Now add DeAndre Hopkins with Kyler Murray, Kenyan Drake, Larry Fitzgerald along with a right tackle in Wills — who is exciting to watch in space — and this offense starts to look really solid.
The 6-foot-4 Wills is shorter and doesn't have the arm length of some in this class, but his kick-step is tremendous. He can cut off almost any defender with his quickness, and he should be a real asset in the screen game getting out on blocks. His balance bouncing from one block to the next is impressive, and his ability to stay locked on blocks downfield is rare.
Great explosiveness, speed and playing energy gives him the nod over the other tackles, but it is close. Deciding between the tackles in this class was tough, the top five are all very good.
The Jaguars almost made a Super Bowl with defensive stars, but now so many are gone. Calais Campbell, Jalen Ramsey and A.J. Bouye are no longer with the team, and even Yannick Ngakoue wants out.
Brown is a tough pick for me because he doesn't impact the passing game enough, but Fletcher Cox has averaged just six sacks per year in his career and he is one of the best players in the league.
I think Brown will get at least six sacks per year. Like Cox, Brown can be physically intimidating inside, has good lateral movement and wiggle to his rush, can walk centers and guards back into the quarterback to give edge rushers a chance, hustles all over the field and might just be a better guy off the field than on. At 6-foot-5 and 326 pounds with his athletic traits, he falls under the category of "God didn't make many guys like him."
I will be stunned if he falls out of the top 10.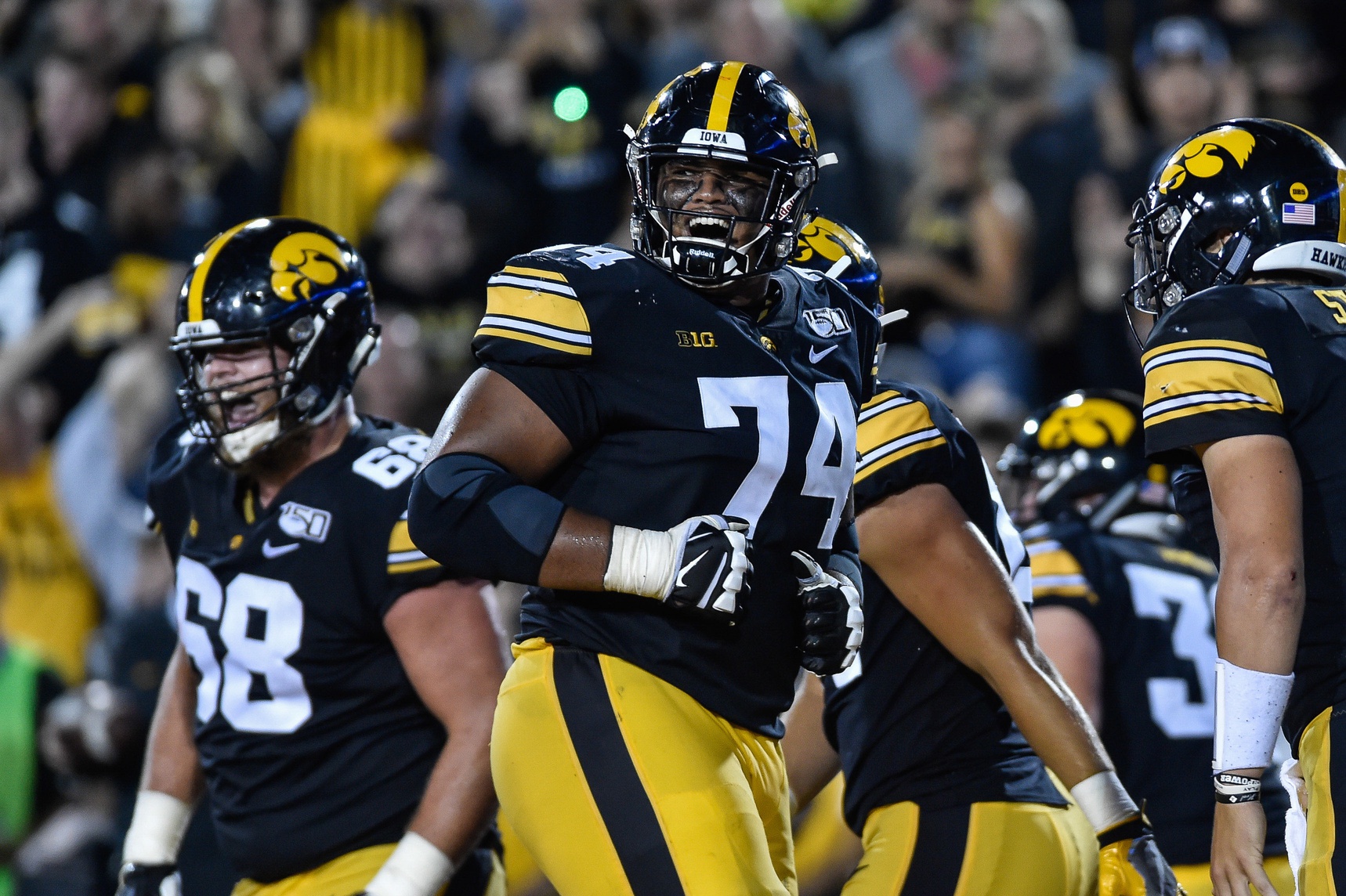 Baker Mayfield had an off-year last year due in part to a lack of protection, so the Browns will look to fix that this year. They already signed Jack Conklin to play right tackle, so Iowa's Tristan Wirfs becomes the left tackle. With Kevin Stefanski taking over as head coach, fixed protection and the receivers in this offense, the Browns could start to compete if Baker can get back to the growth he showed in his rookie year.
Wirfs is a physical freak who ran a 4.85-second 40-yard dash at the 2020 NFL Scouting Combine. His legs look like tractor wheels, he was a wrestling champion in high school and he was the first true freshman to start at offensive tackle in the Kirk Ferentz era at Iowa.
His kick-step is quick and tight, he has powerful hands, a good punch and should never get bull-rushed with those legs. Iowa doesn't get its offensive line in space much, but with his speed and athleticism, he should be great at that, too.
On the negative side, I was a little disappointed in his finishes. I just wanted to see those powerful hands (that remind you at times of Tyron Smith), grab somebody and throw them to the ground just after the whistle blew. If the Browns can get 15% more out of him finishing plays, he could be an All-Pro.
The run on offensive tackles continues. The flagged drug test cost Becton a few spots here. Also, this could easily be the time for the first receiver to come off the board after the Jets lost Robby Anderson in free agency. However, it will be easier to find a receiver in Round 2 than it will be to find a tackle like Becton.
Becton played in an offense at Louisville much like the Shanahan offense — a lot of stretch runs plays and bootlegs off that action. So, having said that, there isn't a lot to evaluate with pure dropback passes or some of the double-team blocks he will be asked to make with the Jets. However, when you watch Becton literally throw defensive players around like children, it is hard not to be impressed. At 6-foot-7 and 364 pounds, watching Becton run a 5.10 40 is just otherworldly. His kick-step is graceful, too — he often gets his left foot down three or four times before contact, and when he makes solid contact with a punch, defenders look like they have been hit by Mike Tyson.
Becton was an inconsistent player in college and has much developing to do at the NFL level. But the Jets have such a need on their offensive line, and Becton has so much upside that it will be tough to pass him up for even one of the top wide receivers in this class.
This is a toss-up between Jerry Jeudy, Henry Ruggs III and Lamb. I ultimately went with Lamb because of his run-after-the-catch ability.
As I went back through my film notes on him, I kept writing things like, "broke five tackles on a play vs. Baylor, five against Texas and six vs. Kansas State." And I loved the way he pressed the corner inside before fading outside on the ball against LSU in the College Football Playoff Semifinal. He also has a great knack for getting open in scramble drills, a skill that would have had greater value with Deshaun Watson or Russell Wilson.
Lamb also has a great feel for reading zone defenses and knowing where to settle. Not often would I take a guy who runs 4.5 as the first wide receiver, but at 6-foot-2, he has good size and is truly unique with the ball in his hands. He is also a punt returner. It's close, but I take Lamb for the Raiders here.
The run on the tackles is followed by the run on wide receivers. Ruggs beats out Jerry Jeudy here because the wounds from the Super Bowl and Tyreek Hill are just too fresh.
The 49ers are already loaded with great possession receivers in George Kittle and Deebo Samuel, and Ruggs' 4.27 speed will give those two stars even more room to operate. The deep-over and peel-back options off that route with a guy like Tyreek Hill or Henry Ruggs will create so many big-play options in Kyle Shanahan's stretch/bootleg offense.
Ruggs is so fast corners have to give him room, so quick throws are almost given to him. His double-moves are deadly with his speed, and his hands are very good. Nick Saban loved getting the ball in Jeudy's hands, and for good reason, but the fit for speed in San Francisco is just so pure that I just couldn't resist Ruggs here.
Javon Kinlaw, the defensive tackle out of South Carolina, was strongly considered here to replace DeForest Buckner, but the 49ers drafting another defensive lineman almost seemed cliché at this point.
I debated this one for a long time. Defensive tackle Javon Kinlaw, offensive tackle Josh Jones and slot receiver Justin Jefferson all make sense here, but I went with Jeudy because he is the best player left on the board and he also plays the slot.
Most people think that offensive linemen protect quarterbacks, but I have always thought it worked the other way — great quarterbacks like Tom Brady, Peyton Manning and Drew Brees protect their offensive lines, and if Brady has receivers who can get open quickly, the rush will rarely get home. Jeudy will be for Brady what he had in New England in Julian Edelman — an escape plan on every play.
My favorite part of Jeudy's game is his acceleration. His big plays come when defenders take wrong angles after the catch, and then he can simply reach his top-end speed quicker than they can. When taking my notes on Jeudy's tape, one of my first was, "Tom Brady would love this guy in the slot." Happy draft day, Tom.
When you're doing mock drafts, there are certain picks that you make that will be crushed. This one will be attacked.
But when I look at Vic Fangio's teams, I never worry about who plays cornerback, as Fangio will scheme success there and find help in later rounds. The Broncos only played man coverage 25% of the time last year anyway.
Fangio wants WR speed for promising quarterback Drew Lock, and he could easily trade up for Henry Ruggs. But if the big three receivers are gone, the 6-foot-3 Mims — who has 4.38 speed and a 39-inch vertical — would be a perfect complement to Courtland Sutton. Sutton is a star, but he is not fast — he ran just a 4.54-second 40-yard dash at the 2018 NFL Scouting Combine.
In addition to his 4.38 40 time, Mims' 6.66 three-cone was the fastest at this year's combine. He didn't run many quickness-related routes at Baylor, but that time shows elite quickness for a 6-foot-3 athlete. I think there is a good chance, as his route tree expands, that Mims becomes this year's version of D.K. Metcalf, and we all will wonder why he wasn't drafted higher. So, I put my stake in the ground here for Mims so I can say, "I told you so," if he becomes a star.
The Falcons have to replace Desmond Trufant, who was a very good player for the team and is probably underappreciated. Since coming into the league in 2013, Trufant has been the sixth most valuable cornerback in the NFL, per PFF WAR.
Florida's C.J. Henderson ran a 4.39 and is a great fit for the Seattle Cover-3 scheme that head coach Dan Quinn runs. He can run with anybody, and at 6-foot-1, he has good size for that "Richard Sherman position" in this defense.
However, by any standard, Henderson's 2019 season was a disappointment. He missed a lot of tackles, so he will be attacked in the run game, and he struggled or seemed disinterested when covering some in-cuts and crossing routes. It is hard to tell if it was a lack of focus or just an off-year, but he easily could have been a top-10 pick with a better season. My belief is that Henderson is much better than he played in 2019, and he's a perfect fit for the Falcons' scheme.
New defensive coordinator Mike Nolan will need help both at cornerback and edge rusher after his team lost Byron Jones and Robert Quinn in free agency. And while K'Lavon Chaisson and Yetur Gross-Matos would both be upgrades on the edge, LSU's Kristian Fulton gets the nod here because of the team's greater need at corner.
Fulton has his flaws, as well. He was suspended at LSU for using someone else's urine for a PED test. He overreacts to fairly simple moves at times, has drawn penalties in key moments and has good, not great speed at 4.46.
However, Fulton really improved as the 2019 season went along. He banged away at Henry Ruggs III and Jerry Jeudy against Alabama, ran tightly with Georgia's receivers without getting tripped up and is not afraid to tackle. Most of all, I really like his change of direction and early detection of receivers' moves. Cornerback is the most important position on the defense, so I am taking a chance with Fulton over an edge rusher here.
This pick is probably wrong given that Josh Jones is still on the board at offensive tackle, as picking an offensive tackle is the safer choice and the greater need for Miami. But when you pair a playmaker at safety like Grant Delpit with Byron Jones and Xavien Howard at cornerback, this defense begins to have an identity.
Delpit won the Thorpe Award as the nation's best defensive back. He is a big-hitter who loves to throw his body around. He is a Malcolm Jenkins– or Tyrann Mathieu-type player who can fill many roles. He's a good blitzer, fills run gaps with great patience but urgency, provides solid man coverage and is comfortable in the middle of the field.
Delpit understands football — you can tell by watching him disguise coverages and blitzes. He got burned taking unnecessary risks at times, and he missed too many tackles, but LSU played in so many blowouts that he probably started thinking about taking chances and making big plays. He also played with a high ankle sprain in his final year, so he didn't run at the combine. Speed is a question, but the film gives you faith in him as a playmaker.
I know, I know — Ja'Marr Chase crushed him in the national championship game. But, the truth is that Chase crushed a lot of good players and he will likely be a top-five pick in next year's draft.
A.J. Terrell runs a 4.42 and is one of the smoothest young cornerbacks you will watch. He is fluid moving in all directions and bounces easily around picks and rubs in man coverage. He plays with an intensity when battling through blocks on WR screens and flashes when he tackles. Terrell even threw a North Carolina receiver into the chain crew on one jam.
He is an exciting athlete with the ball in his hands and could potentially help as a kick returner. I thought he was the second-best corner in this draft, but the hype around C.J. Henderson and Kristian Fulton was too great for me to put Terrell ahead of them. The Raiders complete a great first round with Terrell here and CeeDee Lamb at pick No. 12.
You're welcome, Jacksonville. Josh Jones is one of my favorite players in this draft, but he's just too raw to go much higher than this. Jones doesn't have the athleticism of some of the other tackles drafted ahead of him here, but he loves football and has shown his athleticism pulling and keeping a strong base underneath him while staying on blocks for longer than most.
His kick-step can turn into a turn-and-run sometimes when he gets worried about speed on the edge, but he will learn. His low, tight stance shows what the game means to him, and his arm extension and lockout is something for him to build upon in both run and pass blocking. Yes, he played against lesser competition, but my PFF guys tell me that after a tough first day at the Senior Bowl, he ultimately put in a good performance, which lessens the competition concerns.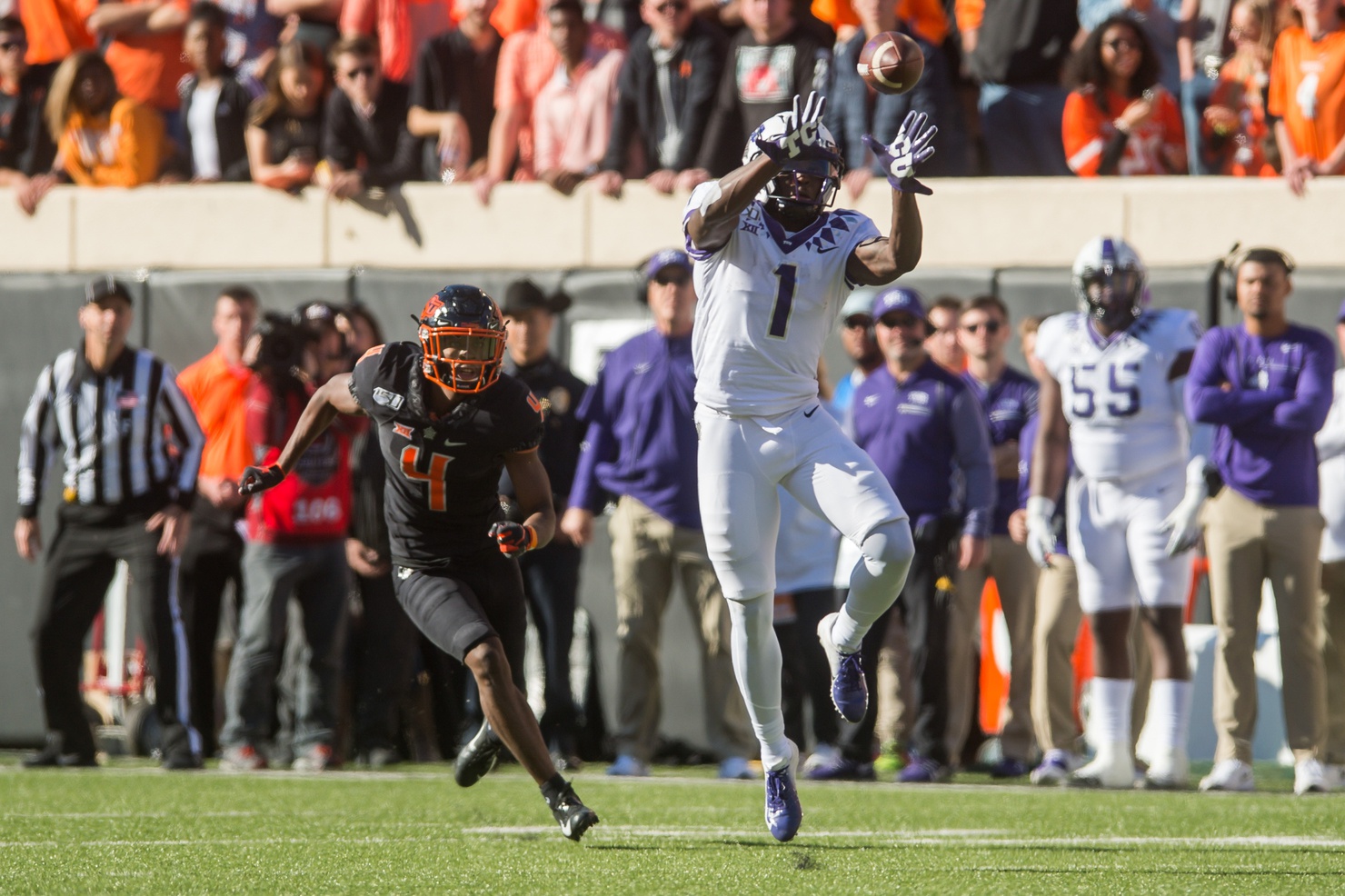 Clemson's Tee Higgins or LSU's Justin Jefferson would not surprise here, but Reagor is a world-class, 26-foot long-jumper who also boasts a 42-inch vertical (think Michael Jordan). His 4.47 speed is a little misleading because when he gets that long-jump stride going, he really gobbles up ground quickly.
At 5-foot-11, he concerns me a little with his size because we know how much Carson Wentz loves to throw above the rim. Reagor didn't have some of the flashy catch-and-run plays of a CeeDee Lamb or a Jerry Jeudy, but he really understands stems and route running; he comes back to the ball well and can outjump almost any corner when necessary. He also had to deal with spotty QB play last year at TCU after being named TCU's MVP in 2018 — Reagor actually had to deal with the worst ball placement of any WR in this draft class, per PFF's advanced ball-placement data.
Expect even more production in Philadelphia with a better quarterback. This would be a solid choice for the Eagles.
The Vikings need a defensive tackle, a cornerback (or two) and a wide receiver now that Stefon Diggs is in Buffalo. But while South Carolina's Javon Kinlaw is likely the best player here, Clemson's Tee Higgins is my choice.
The Vikings have made a living off contested catches by Diggs and Adam Thielen, and Higgins will fit right into that mold. Watching him dunk a basketball, he has to be at least a foot over the rim. An A.J. Green style of player, he was Tennessee's Mr. Football and was heavily recruited in basketball.
His 27 touchdowns at Clemson tied DeAndre Hopkins and Sammy Watkins for most in a career, and Higgins had 13 scores in his final year. At 6-foot-4 and 215 pounds, he can be physically dominant in the red zone — he catches the ball cleanly and is often the single receiver in 3×1 sets, which gives him a lot of one-on-one routes. With Higgins' fades and back-shoulder catch radius, he is a lot for any cornerback to handle. Higgins didn't run the 40, so I always assume the worst, but if he runs close to a 4.5 he could be a steal here for the WR-needy Vikings.
The question will always be about quarterback here, but I don't think Jordan Love is ready. Yes, Love's skills are tremendous, but he just doesn't see the field well enough to run this offense. So, I move to the holes on the defense left by the departures of both Jamie Collins Sr. and Kyle Van Noy, Bill Belichick's two moving chess pieces.
Chaisson is a tremendous athlete. He can rush off the edge, play the run, stand up inside or even drop into coverage — he can just do it all. He is not big at 6-foot-3 and 254 pounds, but he is also not soft when playing the edge. His Gumby-like agility and flexibility makes it almost impossible for linemen to block him. He gave Alabama fits when they played LSU, as Chaisson was just too quick to block and too fast to run away from. Not only does he get off blocks well, but he also pays it off with tackles.
I'm a fan, and I love the pick if Chaisson falls to the Patriots. I'm not sure he makes it this far, though.
After I had only watched the first half of the 2019 season, there is no way I would have had Queen in the first round. However, in the second half of his lone year as a starter, he improved so much that I had to wonder how much more "upside" he has. LSU has a history of producing athletic linebackers, with Deion Jones, Kwon Alexander and Devin White all playing well at the next level.
Queen runs a 4.5 but still lacks experience, though he made some of the game-clinching plays against Clemson that helped his team lock up the title. The Saints have very few holes to fill, and Justin Jefferson — the LSU slot receiver — is a close second choice to teammate Patrick Queen here.
I have Kinlaw falling to No. 25, which will surprise most.
At 6-foot-5 and 324 pounds, he is about the same size as Derrick Brown, who went in the top 10. Kinlaw, however, may very well end up being a better pass-rusher than Brown, which will move the needle for PFF and GMs around the league.
Kinlaw has a few concerns for me, though. He lost 40 pounds coming from junior college, and sometimes those pounds have a way of coming back. He also missed the bowl game with hip surgery, had knee tendinitis at the Senior Bowl and has struggled to take on double teams despite his size.
Kinlaw just plays too high to be a major factor at the next level. Mike Zimmer, however, has a way of getting maximum production out of defensive linemen with his tough-love approach. The Vikings need a cornerback badly, but Kinlaw will never fall below here. He just has too much size and raw talent.
This is another player I could see going much higher. There are a lot of rumors about the Cowboys' interest in the Penn State product, and the Cowboys probably started thinking about the same three letters I did when watching him — J.P.P.
I have seen Jason Pierre-Paul destroy the Cowboys so many times, I'm sure they would like to have a similar player one day. Gross-Matos is a tremendous athlete with wiggle and quickness. He is slippery, as well, and often easily skips over cut blocks. Rarely do defenders get their hands on him — he's like a cheaper version of Chase Young.
Gross-Matos has shown good rush skills inside at 3-technique and even put forth a few good snaps at nose tackle. Teams that stunt will love his quick lateral first step, which often knocks offensive linemen off-balance from the start.
The Dolphins didn't get their tackle here, but they got one heck of a player late in the first round.
It's always safer to assume either a trade down or an offensive lineman when picking for the Seahawks. After all, Pete Carroll and John Schneider have drafted 19 offensive linemen in 10 years.
When I was watching Diggs, though, I kept thinking of that long-corner type fitting in Pete Carroll's Seattle Cover-3 defense. At 6-foot-1, Diggs has a little Aqib Talib in his style of play. Diggs' brother is Stefon Diggs — who is now with the Bills — and Trevon plays a little like him, albeit at a different position. Diggs may not be a physical freak, but he wins in the contested parts of football — he has great QB vision, he is tough and he tackles well.
His ball skills are what you would expect from a high school All-Star receiver who began at Alabama by playing offense, defense and special teams in all 15 games as a freshman. He switched to full-time defense the next year, however, so he does not have a lot of experience. He also comes with concerns about his speed, and he did not run at the combine. When threatened with speed, he can grab a little more than he will likely get away with at the next level.
On the positive side, his hands are constantly harassing receivers running down the field, and his long arms break up a lot of deep balls and slants inside. Diggs is a tough guy whom Pete Carroll will make even better.
Wink Martindale, the defensive coordinator for the Ravens, blitzes more than anybody. The Ravens don't play traditional positions, and everybody on the field is a threat to blitz.
Murray is a special guy. He's the son of a minister, and he was very involved in raising three adopted special-needs siblings. He played a lot in the slot and was almost impossible for backs to block when blitzing. Earl Thomas III did a lot of blitzing last year, but Murray could replace Thomas in that speed-rushing slot position, which would leave Thomas more in the middle of the field where he is so dominant protecting against big plays.
Murray's weakness is taking on blocks and run-stuffing, but the Ravens' defense would play strictly to his strengths and could land him in the Pro Bowl. Murray is a perfect fit here.
Davidson started all of his 51 games at Auburn and is just a big, athletic man. He's 6-foot-3, 303 pounds and runs 5.04, but his best position was playing a wide 9-technique where he was just too much to handle for SEC tackles.
He has enough wiggle to get an edge when rushing inside, and once he has that edge, he is too powerful to stop. I still think he will play some snaps for the Titans on the edge where they have two smaller edge rushers in Harold Landry III and Vic Beasley. Anybody who wants to run at those ends is likely to see Marlon Davidson outside, where he is still dangerous as a pass-rusher.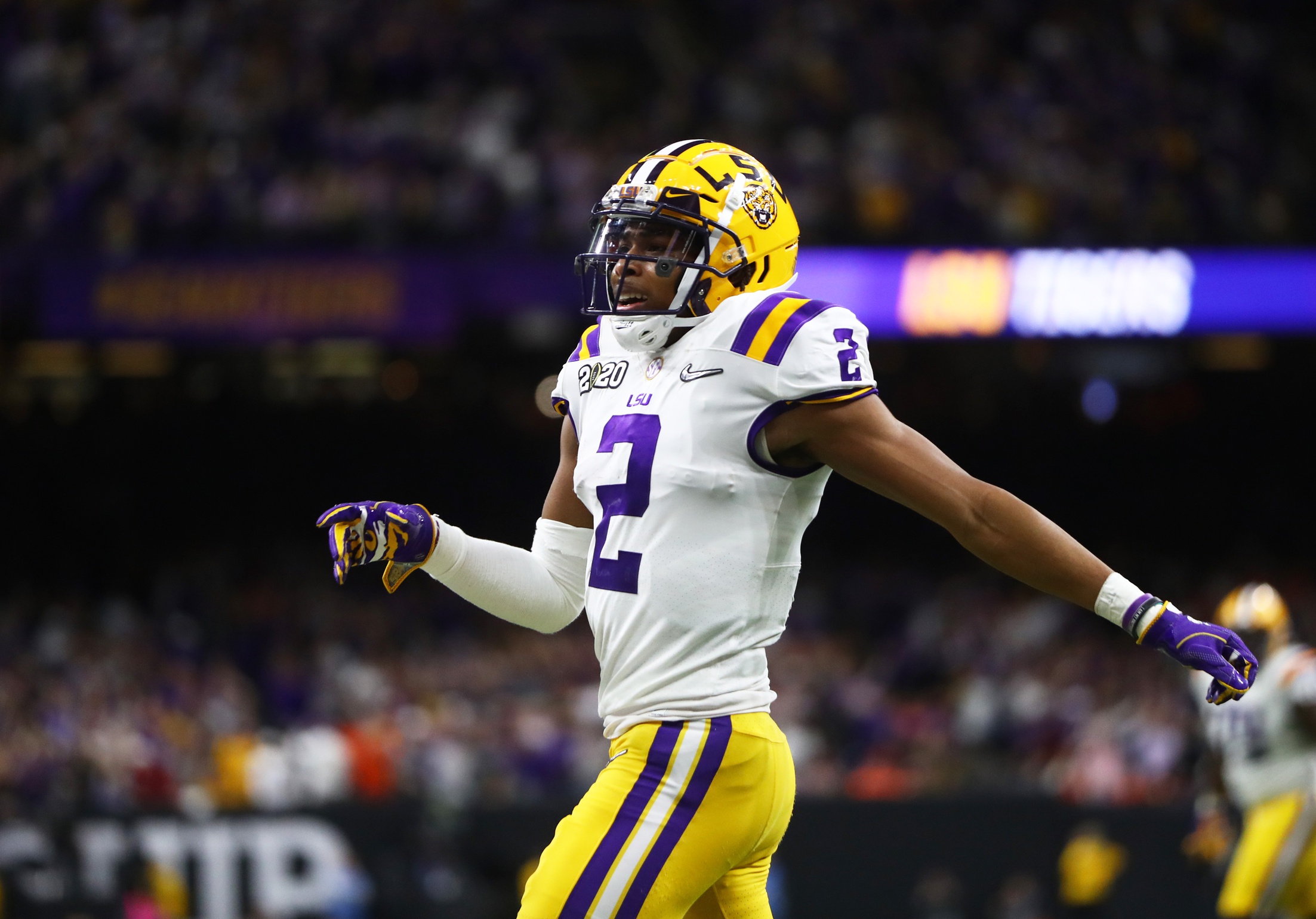 The Packers simply need a difference-maker at wide receiver to go with Davante Adams.
The Packers just don't threaten the middle of the field enough, but at 6-foot-3, Jefferson plays almost a WR/TE slot role, much like Jimmy Graham. He has plenty of size to run those seams that so many teams love, but he also has the quickness and route-running savvy to work in the slot. He actually reminds me of Keenan Allen — he's just so patient setting up inside routes and creating easy throwing lanes for quarterbacks.
Jefferson is so patient with his route running that most thought he was slow, but his 4.43 at the combine ended that speculation. One of my notes on his clever routes was that Julian Edelman could steal some ideas from him, and Edelman may be the most creative route-runner in the league.
He probably goes much higher than this, but Aaron Rodgers would absolutely love him.
This is a likely trade-down spot for the 49ers, but if they stay here, a pass-protecting guard would be a good fit. The Chiefs won the Super Bowl with great plays from Patrick Mahomes and Tyreek Hill, but the truth is that they would never have been in a position to make those plays without big stops by Steve Spagnuolo's aggressive defense.
Niners quarterback Jimmy Garoppolo looked very uncomfortable dealing with the inside pressure from Chris Jones and company. And while Jackson is not a great run-blocker — his base is just too narrow — he has perfect form in pass protection.
I have no doubt that with all the time the 49ers spend teaching the running game, Jackson will improve greatly in that stretch scheme. But, most importantly, that interior pressure that changed the Super Bowl will not be an issue with Jonah Jackson pass protecting at guard.
This was a tough decision between two cornerbacks I really like — Jaylon Johnson from Utah and Jeff Gladney from TCU. And while I would like both of these tough, hard-nosed competitors on my team, Jaylon Johnson is two inches taller at 6-foot, so he gets the nod at pick No. 32.
Gladney is a little faster (4.48) than Johnson (4.5), but Johnson will take some chances and has a very quick change of direction. He will squat and guess some, which leaves him vulnerable to double-moves at times, but he is physical at the line of scrimmage and tackled well despite battling through a torn labrum last year.
He always seems to be close to the ball even when he loses on 50-50 throws. My guess, given his risk-taking and coverage skills, is that Johnson will end up with a healthy number of interceptions. And with an offense like Kansas City's, they can make up for a few of his risks that go awry.