A year after one of the weakest linebacker classes in recent memory, the 2020 linebacker crop offers far more from a depth perspective. Only four linebackers a year ago ended up within our top-85 players, but that number is doubled so far in 2020. This class offers a lot of explosive athletes, but many have serious question marks from either a production or role standpoint when projecting to the NFL.
[Editor's Note: PFF's 2020 NFL Draft Guide is LIVE and available to all EDGE and ELITE subscribers. Download your copy today!]
1. Isaiah Simmons, Clemson
Simmons is a different caliber of athlete from what we expect to see at the linebacker position altogether. Maybe that's why we barely ever saw him playing traditional linebacker in Clemson's innovative 3-1-7 defense. His alignment breakdown from this past season was the following:
| | |
| --- | --- |
| DLine | 116 |
| Box | 299 |
| Slot | 262 |
| Wide | 13 |
| Free Safety | 132 |
At 6-4, 230 pounds, being able to simply fill all those roles is nuts. Being able to fill all of them while still grading out at an elite level is freakish, and it's why Simmons checks in so high on our draft board. He earned grades of 84.4 in run defense, 81.1 as a pass-rusher, and 88.2 in coverage this past season. And the stats are just as crazy as the grades. He got home for 30 pressures on only 73 pass-rushing snaps, allowed only 237 yards in his coverage all season, and only missed nine tackles on 94 attempts. There wasn't a single thing Clemson asked him to do this year that he didn't execute at a high-level. He very much is a Derwin James/Jamal Adams-esque hybrid player, but in a much larger frame.
Arguably the biggest concern with Simmons is a corollary to his biggest strength — we don't know what he'll look like if asked to be a traditional linebacker. He simply doesn't have much experience taking on blocks or making correct reads between the tackles. With how well he's done everything else throughout his career though, we're not that worried.
2. Patrick Queen, LSU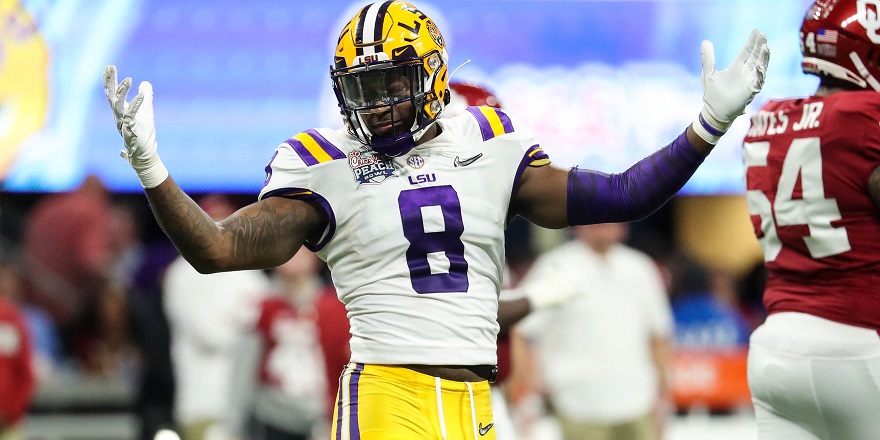 Queen qualifies as one of the biggest breakout players in college football after playing only 255 snaps in his career prior to 2019. He was a player who certainly made a name for himself with his play down the stretch as he racked up nine stops in the College Football Playoffs. Queen is very slightly built at his listed 6-1, 227 pounds and more closely resembles a defensive back than a linebacker at this point. Such is the way the NFL game is going though. Unlike some of the other undersized backers on this list, Queen isn't quite as long or as explosive at this point to explain it away.
While he may not be a complete linebacker, Queen excels in the right area: coverage. He is about as smooth as it gets at the position and only allowed 24-34 targets for 186 yards and 12 first downs last season. Those are as good a collection of stats as you'll see in coverage at the linebacker position in this draft.
3. Willie Gay Jr., Mississippi State
Gay is one of the most confounding evaluations at the linebacker position in this class. His movement skills are top-notch for the position. He'll likely run in at least the 4.5s — if not faster — and gains depth with ease in coverage. In his three seasons at Mississippi State, Gay earned coverage grades of 87.1 (2017), 90.6 (2018), and 90.0 (2019). Over his entire career though, Gay only played 294 snaps in coverage (about one season's worth). There are a number of reasons for this, all of which are concerning to say the least. Gay was a sub-package player his first two seasons for the Bulldogs and then started his 2019 season off sidelined with an injury. After reeling in a pick-six on his very first drive of the season against Kentucky, Gay was subsequently suspended for undisclosed reasons after the game. The off-field vetting for Gay during the draft process may very well be as important as the on-field.
4. Zack Baun, Wisconsin
Baun played edge at Wisconsin and while he primarily rushed the passer, he also dropped into coverage far more than your average edge defender. In fact, 195 times over the past two seasons Baun dropped into coverage on pass plays. He earned coverage grades of 81.3 (2018) and 86.9 (2019) over that span. While that's still a small sample size, it meshes with the fluid movement skills we've seen from him again and again on tape. After checking in at 240 pounds at the Senior Bowl, Baun unsurprisingly stated he wanted to make the switch to off-ball. All of a sudden, his pass-rushing prowess that saw him put up a 91.0 grade while rushing against college offense tackles becomes a serious weapon as a blitzer. His flexibility is superb and he has no problem playing through contact. That ability to defeat blocks also projects well when asked to play the run or defend screens from off-ball. While asking a player to execute a completely different role comes with some risk, Baun has proven to have the skillset to do it.
5. Troy Dye, Oregon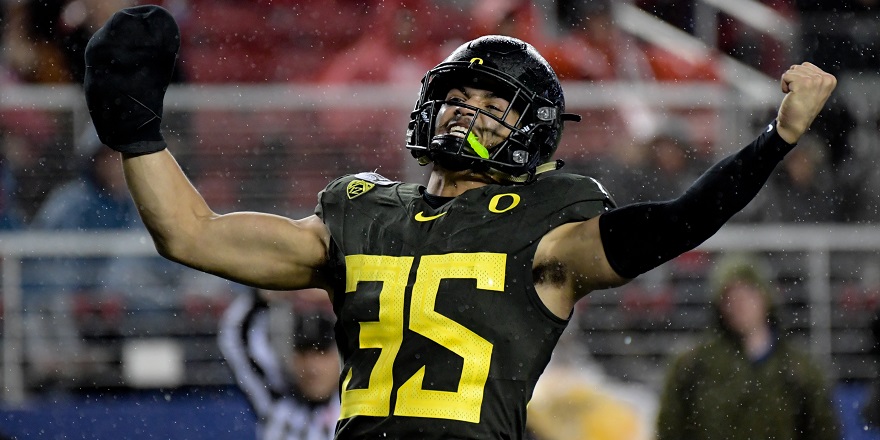 Dye has been producing for Oregon ever since he stepped on the field as a freshman back in 2016. Every single season of his career he's earned above average grades in coverage. He was also one of the best tackling linebackers in football over the past couple years before a hand injury caused him to play with a cast on down the stretch in 2019.
Listed at 6-4, 226 pounds, Dye is very much a modern linebacker that affects the passing game first and foremost. He's got the length to man up with tight ends and shut down passing windows over the middle of the field. He's picked off at least one pass every single year of his career and this past season allowed only 211 yards in his coverage all year long. The biggest thing holding Dye back at the moment is the lack of top-tier athleticism. I'd venture a guess that every other linebacker in the top-seven of our rankings will test out better at the combine in Indy. Without a ton of explosiveness at only 226 pounds, that's a bit concerning transitioning to the NFL.
6. Kenneth Murray, Oklahoma
Murray is the type of linebacker that plays the game of football like they've been shot out of a cannon. That can get him in trouble at times with 50 missed tackles in his three-year career, but I'd rather teach a guy to tone it down than try to get one to speed it up. Murray is very much in the conversation for the most explosive linebacker in the country as he got home on some blitzes in the blink of an eye.
With all the athleticism in the world, it's a wonder why he hasn't been more of a playmaker in coverage over the course of his career. He allowed 82.4% of his targets to be completed in his time at Oklahoma and broke up only 4 of 102 targets with no picks. I will say that his read and react ability looked different down the stretch in 2019 as his processing speed took a noticeable step forward. He finished the year with 66 stops — fourth-most among linebackers in college football.
7. Jordyn Brooks, Texas Tech
Brooks is a shredded 245-pound linebacker who brings the pain snap after snap. He is very much a downhill type of player and taking on blocks in the run game won't be an issue for him. Turning and running downfield though is a bit of a different question. Brooks' 60 stops last season ranked 10th among all linebackers in college football, in large part because he's an exceptionally good tackler. Brooks has missed only 34 tackles on 390 career attempts. Teams that blitz heavy will covet Brooks' services as he got home 44 times on 117 pass-rushes this past season.
8. Akeem Davis-Gaither, Appalachian State
Davis-Gaither filled a similar role to Zack Baun this past season except with far more emphasis on dropping into coverage. He rushed the passer 190 times in 2019 compared to 316 snaps in coverage. The majority of those 190 rushes though were off the edge against tackles which makes his 82.2 pass-rushing grade all the more impressive. For a 219-pound linebacker, the biggest worry is always going to be how they take on blocks and Davis-Gaither has already proven that skill.
His explosiveness pops off the tape when you watch him rush the passer, and you'd never believe he's only 219 pounds. That's obviously on the very small side for the position, but he's the type of athlete that can make it work. His coverage role was often fairly limited compared to what he'll be asked to execute in the NFL which is always going to be a little worrisome, but he more than held his own in the one-on-ones against running backs and tight ends at the Senior Bowl.
9. Malik Harrison, Ohio State
Harrison is a big athlete who has done nothing but improve over the course of his career with the Buckeyes. The worry is that his coverage responsibilities in Ohio State's Cover-1/Cover-3-heavy defense were limited in scope. When coming downhill, though, he can thump with the best of them as evidenced by his 87.1 run-defense grade last season. With how much he improved from junior (72.6 overall grade) to senior (82.6) year, there's reason to think his best football is ahead of him.
10. Logan Wilson, Wyoming
At 241 pounds, Wilson is one of the few linebackers in this class who actually looks the way we used to think a linebacker should. Wilson bullied kids at Wyoming en route to a 91.6 run-defense grade, 85.6 pass-rushing grade and 81.4 coverage grade last season. He's stuffed the PFF stat sheets with 200 stops over the course of his four-year career. Wilson falls this far down the list
because his athleticism pales in comparison to some at the top of this class, but he's far from a liability in coverage. He picked off four passes and broke up five more on 56 targets this past season.