Earlier in the week, The Athletic dropped the single best tool for gauging public opinion on draft prospects: Arif Hasan's annual NFL Draft Consensus Big Board.
The consensus board averages over 50 media draft boards into one 300-player list, making it an incredibly useful resource when it comes to self-evaluation, whether you believe in the Wisdom of the Crowds theory or not.
With that in mind, let's take a look at the players who are higher on the final PFF draft board than they are on the consensus board and try to figure out why that is.
View PFF's 2021 NFL Draft position rankings:
QB | RB | WR | TE | T | iOL | DI | EDGE | LB | CB | S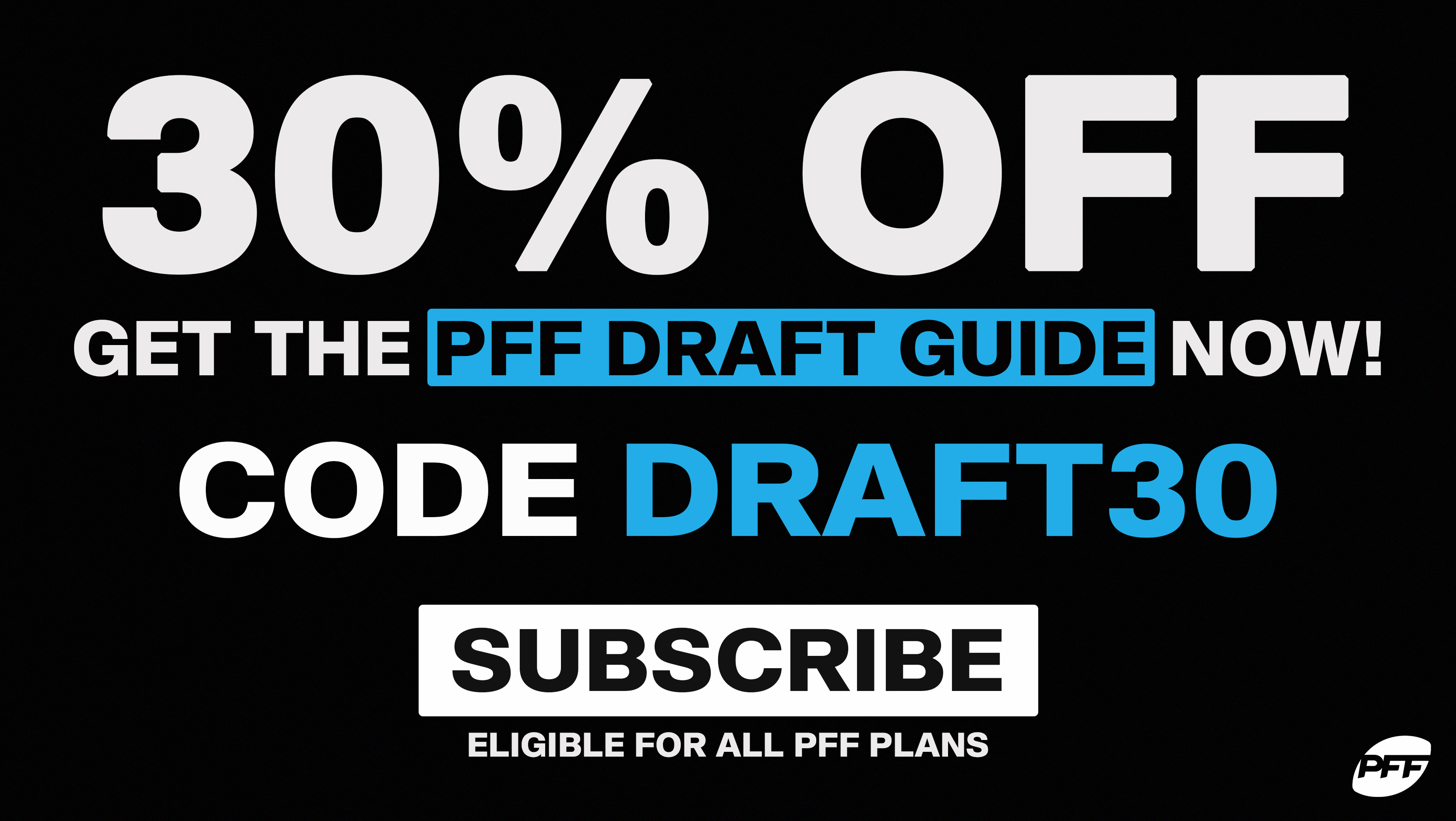 Players PFF is highest on (click here for the full PFF draft profiles)
This one is purely due to positional value. Wilson is certainly not as rare a prospect for his respective position as, say, Florida's Kyle Pitts is at tight end, but if a franchise needed every single position on a football field there is no way it would draft Pitts before Wilson. That's how we assemble the PFF board.
He's big, long, explosive and uber-productive. Truthfully, this is a surprising discrepancy to me. Barmore earned a higher pass-rushing grade as a redshirt sophomore in 2020 than Derrick Brown and Javon Kinlaw did as seniors in 2019.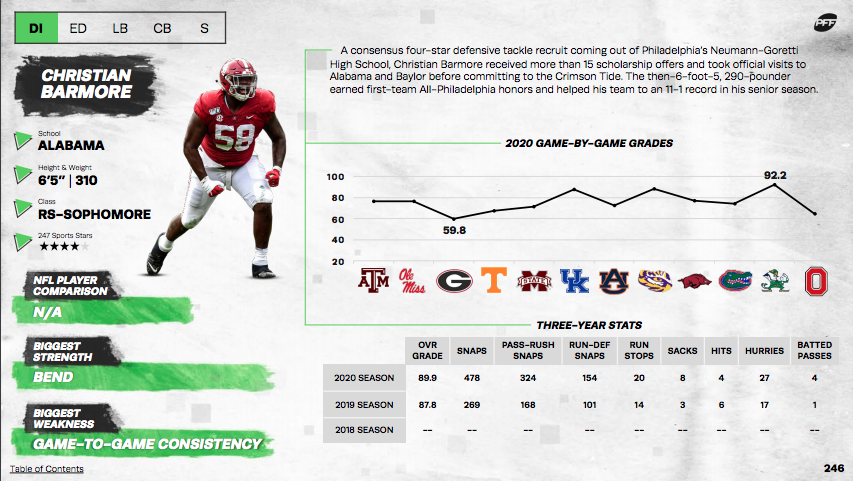 The reason for this difference is obvious, as Little has played 72 snaps over the past two seasons. He suffered a knee injury in Week 1 of the 2019 season that caused him to miss the rest of the year, and he opted out of 2020.
While we haven't seen his development, that doesn't mean it wasn't coming. If you compare only his true sophomore tape to the sophomore tape of any tackle in the class not named Penei Sewell, Little stacks up favorably. He was already making big strides, allowing only one pressure in his final seven games. I'll bank on that development continuing, even though I haven't seen it happening.
Johnson simply hasn't put out a ton of tape, and he hasn't tackled particularly well on the tape he has produced.
The Indiana product has played a grand total of 796 snaps in his career between slot corner and safety, or about one season's worth. He picked off seven passes, broke up six others and missed 18 of his 80 tackle attempts over those snaps. That's a roller coaster of a profile. However, we'll buy into that coverage prowess, as his tape is littered with special plays on the football.
Players PFF is relatively high on (click here for the full PFF draft profiles)
While most see the Tier 1 of this cornerback class consisting of Patrick Surtain II of Alabama and Jaycee Horn of South Carolina, I'd argue Newsome belongs there, as well. He allowed only 93 yards in six games this past season and showed very few holes on tape. It's a limited sample size, but it was dominant.
Moore sits this high on PFF's board because of my steadfast belief that he can hold up on the outside. While he obviously did a ton of damage from the slot, Moore averaged a ridiculous 4.26 yards per route run across 57 routes as an outside receiver over his career. That would be the highest figure in the class. While it's not that simple, Moore plays with the physicality (17 bench reps) at his size (5-foot-9, 178 pounds) to get it done.
This one revolves around our belief that slot cornerbacks are well undervalued in the NFL. Molden just so happens to be the best slot cornerback in this class, having earned coverage grades of 90.9 and 86.2 over the past two seasons. We think he's physical enough to play safety, but he's still bringing value to the table even if he can't.
McNeill is quite obviously raw on tape, but I'll take my chances on the guy who is raw and already dominant from a grading perspective. McNeil's 92.1 run-defense grade this past season was the highest in college football, and he wasn't completely inept as a pass-rusher either, earning a 77.5 grade in that regard. McNeill is also one of the few true juniors in the defensive tackle class, meaning the 20-year-old has a bit of a valid excuse for his relative lack of polish.
The reasoning here will read a lot like Molden's above. He'll be the smallest safety in the NFL when he steps on the field, but it wouldn't be unprecedented for a player of his size (5-foot-9, 178 pounds) to step in and make an impact. In fact, a player almost identical in stature just signed a four-year, $24 million contract this offseason. That player would be new Cincinnati Bengal Mike Hilton, who has been one of the league's best slot cornerbacks over his time in the league.
If Washington can't hack it at safety, he'll at least be a value add in the slot because of his instincts.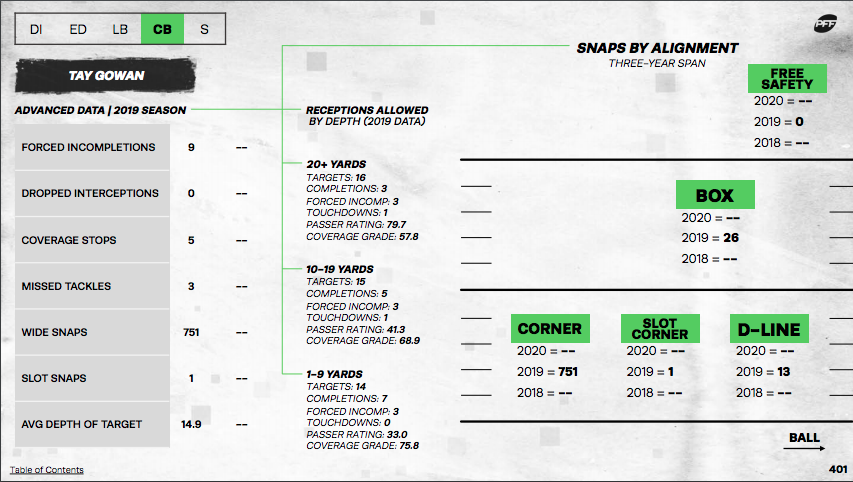 I'm guessing not many people got around to checking out UCF's all-22 from 2019. If not, they missed out on one of the smoothest and most productive tall corners in the draft. Gowan has 4.4 speed at 6-foot-1, 186 pounds. He allowed only 20 catches from 50 targets that season before opting out this past year.
While we're usually lower on running backs, Herbert looks like the rare exception. That is because he's balled out over the past two seasons between Kansas and Virginia Tech, but it's just been on limited sample sizes. He earned a 90.0 rushing grade in 2019 on 42 carries before leaving Kansas, then earned a 91.3 rushing grade on 155 carries this past season at Virginia Tech — all while averaging over 8.0 yards per carry over that span. Honestly, I'm not sure exactly what there is not to like here besides his age at 23 years old, the same as Najee Harris.
Again, I'm not sure many got their hands on the South Dakota State tape from 2019 so that they could watch Johnson. They did likely see him at the Senior Bowl, where he was the highest-graded receiver in attendance in the one-on-ones operating from the slot. He plays a very physical brand of football despite his 5-foot-11, 184-pound stature. That's a necessary trait to be a plus slot receiver in the league.
Palmer's raw stats fall far more in line with the 159th-place consensus ranking than the 71st-place ranking on the PFF board. His 484 receiving yards back in 2018 ended up being his career high. There's reason to believe he can be this class' Terry McLaurin, though, as Palmer similarly lit it up with the highest grade of any outside receiver at the Senior Bowl. He ran a mostly vertical tree at Tennessee that rendered him somewhat underutilized, but he looked like a complete and violent route-runner in Mobile.
---
More of PFF's 2021 NFL Draft tools here: 
2021 NFL Draft Big Board | 2021 NFL Draft Guide | 2021 NFL Draft Stats Export | NFL Mock Drafts | NFL Mock Draft Simulator