Trading away premium draft picks to move up and select a quarterback who won't start right away isn't always a popular decision. Fans typically want to see their team draft an instant-impact contributor in the first round, and it becomes an even tougher sell when the big trade comes after four quarterbacks have already come off the board.
"Why would my team trade away all of that just to take the fifth-best quarterback in the draft?"
The logical answer to that question begins with the sheer top-end strength of this quarterback class. The top five quarterbacks on PFF's 2021 NFL Draft Big Board all rank among the top 13 players overall, with Trevor Lawrence, Zach Wilson and Justin Fields leading the way at first, second and third, respectively. The last somewhat comparable quarterback class came back in 2018 when Lamar Jackson was the fourth quarterback on PFF's big board at 19th overall.
The fifth-best quarterback in the 2021 class is simply not your typical fifth quarterback off the board. But there's also a good chance that the fifth quarterback off the board isn't actually the fifth-best prospect. If the Mac Jones-to-San Francisco buzz doesn't end up being a massive smokescreen, then Fields or Trey Lance could be the guy who slides.
If it's Fields, that's a potential No. 1 overall-caliber player who could be available at the back end of the top 10. Those opportunities don't come around every day, and it's why these teams should have an interest in making a jump into the top 10 should that opportunity present itself.
View PFF's 2021 NFL Draft position rankings:
QB | RB | WR | TE | T | iOL | DI | EDGE | LB | CB | S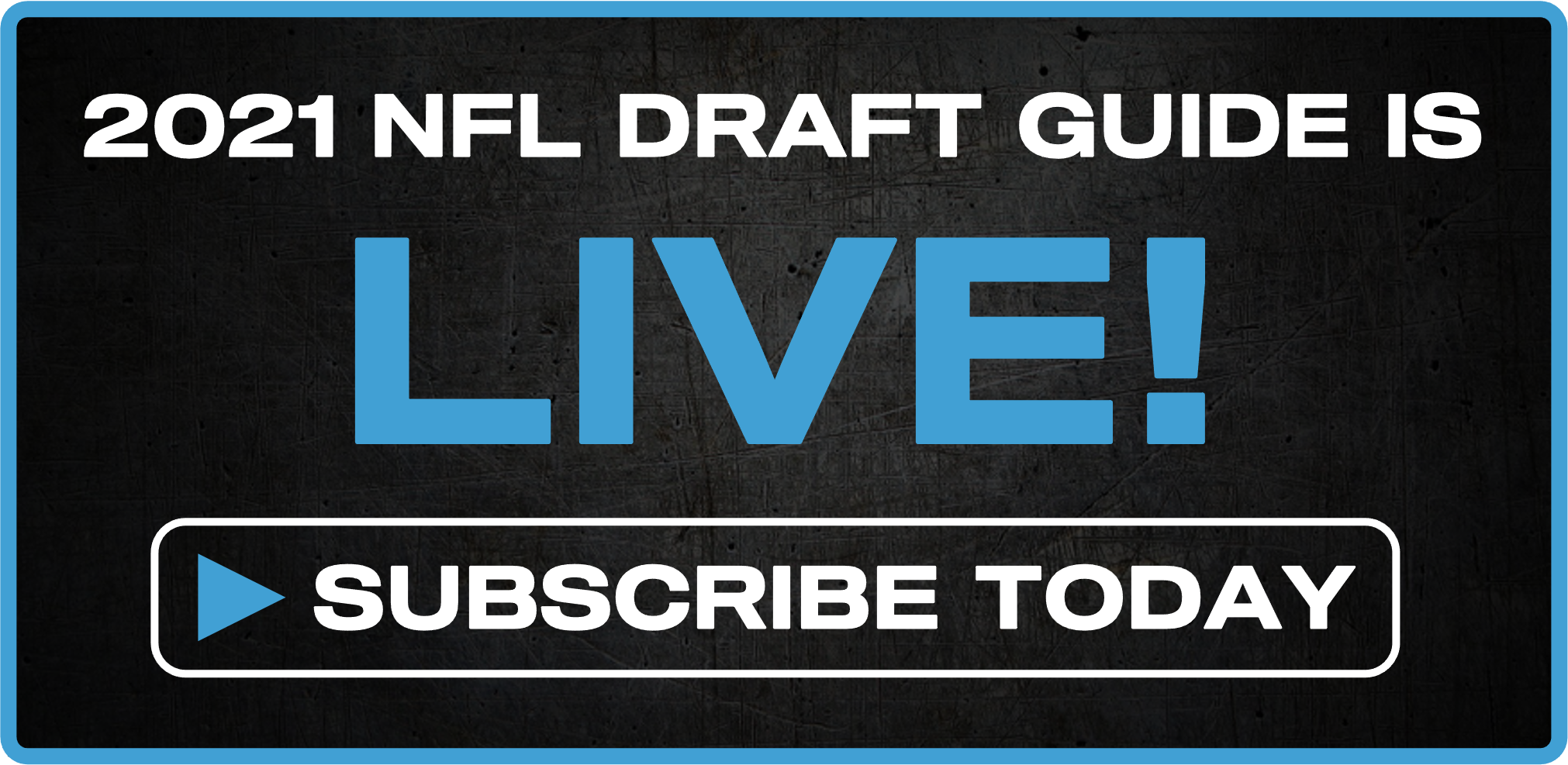 There was a possibility that the Patriots would take a step back to reset in 2021 after a disappointing 2020 season saw them finish third in the AFC East. New England's aggressiveness in free agency has since squashed that possibility.
The Patriots are one of the two teams that have already spent over $100 million in guaranteed money this offseason. They've blown by that mark with $171.5 million in total guarantees, per Over the Cap. The only other team above $100 million is the Dallas Cowboys ($146.2 million), which can largely be attributed to Dak Prescott's new deal.
The Patriots clearly have no intention of taking their foot off the gas pedal and conceding the AFC East to the Buffalo Bills and Miami Dolphins in the short term. The activity this offseason leaves them in an interesting position next year, though.
2021 vs. 2022 cap hits for notable Patriots' free agent signings, per Over the Cap
New England opted to kick the can down the road on a lot of their big-money free-agent signings. And this isn't empty money. The $10 million dead-cap hit should they release Agholor is the smallest of those four players. That leads to the decision that the Patriots will have to make at quarterback.
As I discussed in my mock draft, which had New England trading up to 10th overall, the simplest way to view the decision is in terms of Cam Newton's success in 2021:
Option No. 1: Newton plays well with more talent around him, and the Patriots have to pay him significantly more than $5 million to bring him back.
Option No. 2: Newton struggles again on a team with a mediocre record, and the Patriots are no closer to having an answer at quarterback for 2022. The only difference is that they won't have nearly the same financial flexibility next offseason as they had this year.
The best way to maximize this offseason's free-agent spending is with an effective starting quarterback on a rookie deal. The Patriots are within striking range of obtaining one of those players with a pick inside the top half of the first round, but it will likely require a trade. They shouldn't be afraid to make it happen.
There are plenty of reasons to be excited about Washington with Ryan Fitzpatrick behind center. He projects as an upgrade over what the team had available at quarterback during the 2020 season, whether that be Dwayne Haskins, Kyle Allen or Alex Smith.
Washington's quarterbacks combined for a 60.8 team passing grade during the regular season. The only teams below that mark were the Philadelphia Eagles, Denver Broncos and New York Jets.
Fitzpatrick has played the best football of his career in recent years. His 83.2 PFF grade since 2018 ranks 15th among 32 qualifying quarterbacks, though it has come in split time with Jameis Winston and Tua Tagovailoa.
One can argue that we are due for a "FitzTragic" season given the up-and-down nature of his career that has spanned nine teams now. But Fitzpatrick still provides real upside to this passing attack with his willingness to push the ball downfield into tight windows. That's an element Washington's offense didn't have in 2020.
The Football team also has to realize that Fitzpatrick is 38 years old. He doesn't represent the future of a team that has several solid young building blocks in place. Even Washington's shot in the dark at the position — Taylor Heinicke — is 30 years old with only two NFL starts under his belt. This is as good a time as any for Washington to find their quarterback of the future, considering the strength of this quarterback class and the potential that Washington holds a worse first-round draft pick in the 2022 NFL Draft.
Washington has a balancing act to navigate, as do all these teams that have aspirations of competing in 2021. The Football Team could find a starting-caliber left tackle with the 19th overall pick or another receiving threat to pair with Terry McLaurin and Curtis Samuel. None of that matters unless they lock down the quarterback position, and there is no solution in place there beyond this season.
Finding a quality starter on a rookie contract — whether that be Lance, Fields or Jones — would be massive for a team that will need to re-sign their homegrown defensive line to big deals in the coming years.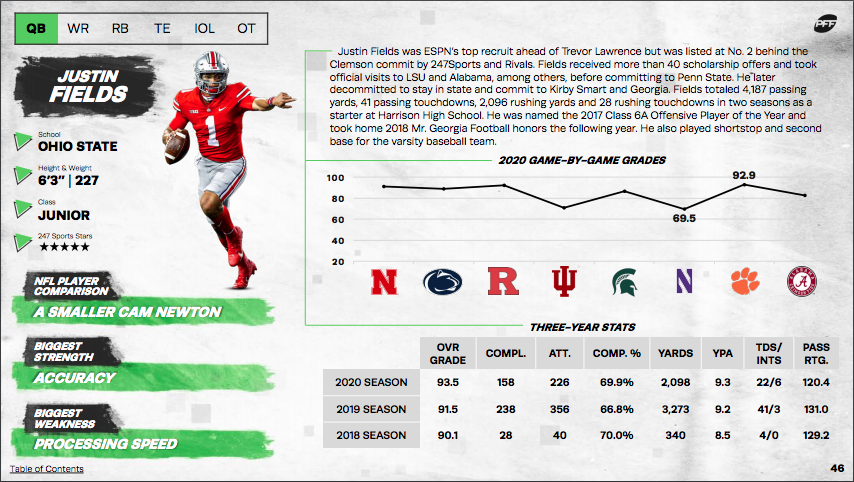 The Steelers have the longest odds on this list to move into the top 10 for a quarterback, given that the highest pick they have to offer in return in this year's draft is 24th overall. There is a recent precedent for them making a big first-round jump, though. Pittsburgh moved up from 20th to 10th overall in the 2019 NFL Draft to select Michigan linebacker Devin Bush, giving up an additional second- and third-round pick in the process. The Steelers could, and should, make a similar leap if a quarterback they believe in falls within their range.
Fields could be that quarterback. CBS Sports' Bryan DeArdo recently reported that Fields had the attention of Steelers head coach Mike Tomlin at Ohio State's pro day. The piece linked to a clip of Tomlin saying to Fields, "You know who we came to see!" Fields responded with, "Yes, sir."
Najee Harris has become the first-round darling of many Steelers fans. It's not hard to see why. Pittsburgh's rushing attack was non-existent last season, producing a league-low 3.6 yards per run play. The Steelers also lost their lead back James Conner to the Arizona Cardinals in free agency.
While it's easy to dispute the value of taking a running back like Harris in the first round, Pittsburgh's offensive tackle group stands out as an area they should address early in the 2021 NFL Draft. Trading up for a quarterback would mean pushing those needs further down the priority list in a year the Steelers look to be making one last run at a Super Bowl behind Ben Roethlisberger, but it's worth wondering how realistic an opportunity the team has to make that run.
The defense still projects to be good, but it could easily see some regression following the loss of four starters. Pittsburgh's offense ranked 27th in yards per play last season (5.0) and only got worse down the stretch. They'll also have to replace three of five starting offensive linemen with no guarantees that Roethlisberger will be able to right the ship at 39 years old, not nearly as mobile as he once was. His 57.3 overall grade across his final five games of last season ranked 30th among 32 qualifying quarterbacks.
There is also no guarantee Pittsburgh will have another opportunity at a quarterback of Fields' caliber outside of the top five in upcoming years, should he be the one to slide. The Steelers will have to shell out big-time money to free agents such as T.J. Watt and Minkah Fitzpatrick next offseason. Neither Roethlisberger, Mason Rudolph nor Dwayne Haskins is under contract, and none of those three figure to be a strong starting option for 2022 and beyond.
Pittsburgh could go the Day 2 route again — as they did with Rudolph in 2018 — on a quarterback such as Kyle Trask or Kellen Mond. It's just a lower percentage bet at the game's most important position.
---
More of PFF's 2021 NFL Draft tools here: 
2021 NFL Draft Big Board | 2021 NFL Draft Guide | 2021 NFL Draft Stats Export | NFL Mock Drafts | NFL Mock Draft Simulator