Several first-round talents remained on the board when Day 2 of the 2021 NFL Draft kicked off, and NFL teams wasted no time selecting those high-value draft prospects. 
Here, we use the information available in PFF's advanced database, big board and 1,283-page 2021 NFL Draft Guide to identify the NFL teams that got the best bang for their buck in Round 2 and Round 3 of the 2021 draft.
View PFF's 2021 NFL Draft position rankings:
QB | RB | WR | TE | T | iOL | DI | EDGE | LB | CB | S
Moore is a slot receiver, but so what? He still should have been a first-round pick. He was a true savage out on the field for Ole Miss, and the sheer number of times he put his body on the line and took a big shot while still holding onto the ball makes him every old-school coach's dream player.
Moore's 96.7% catch rate on passes thrown beyond the line of scrimmage led all FBS wide receivers this past season. He was also strong in contested scenarios despite his small stature, catching 11-of-15 contested targets. That toughness also showed after the catch, with 31 broken tackles on 153 receptions since 2019.
Over the last decade, there has only been one season in which the Jets didn't produce negative expected points added (EPA) per pass play and rank in the bottom half of the NFL in passing efficiency. With Moore joining forces with fellow rookies quarterback Zach Wilson and guard Alijah Vera-Tucker, that might change in 2021.
---
Barmore's fall was expected. Many were concerned about his hot-and-cold streak early on in 2020, and there were rumors that he neither respects nor seeks out coaching. The former could partly be explained by a preseason injury that forced him to miss the first game of the season, and the latter shouldn't be an issue under Bill Belichick. Still, his skill set and performance down the stretch should have been enough for NFL teams to select Barmore in the first round.
Barmore's build, flexibility, explosiveness and hand usage could make him a force to be reckoned with early on in the NFL. We saw it firsthand in the College Football Playoff against two of the nation's best offensive lines, Notre Dame and Ohio State. The Alabama product came away from those two contests with a 91.3 pass-rush grade, a 23.2% win rate and 12 pressures. That pass-rush grade is by far the best we have seen in the College Football Playoff.
---
The Bears made what was hands down the best pick of Round 1 after trading up for quarterback Justin Fields. They followed that up with another trade-up in Round 2 for tackle Teven Jenkins, a first-round talent on the PFF draft board.
Jenkins looked like a school bully on a playground at times for Oklahoma State. No one on the Pokes' schedule could match his upper-body strength, as the 36 reps of 225 pounds he threw up on his pro day (98th percentile among tackles historically) suggests. Jenkins also ranked first in the Power Five in negatively graded run block rate.
He has that nastiness traditional football guys drool over. He may not have supreme length, nor is he the most fleet of foot, but Jenkins is going to be a monstrous addition to his Chicago offensive line that had a clear hole at right tackle. He is going to put guys into the turf from Day 1 in the NFL ranks.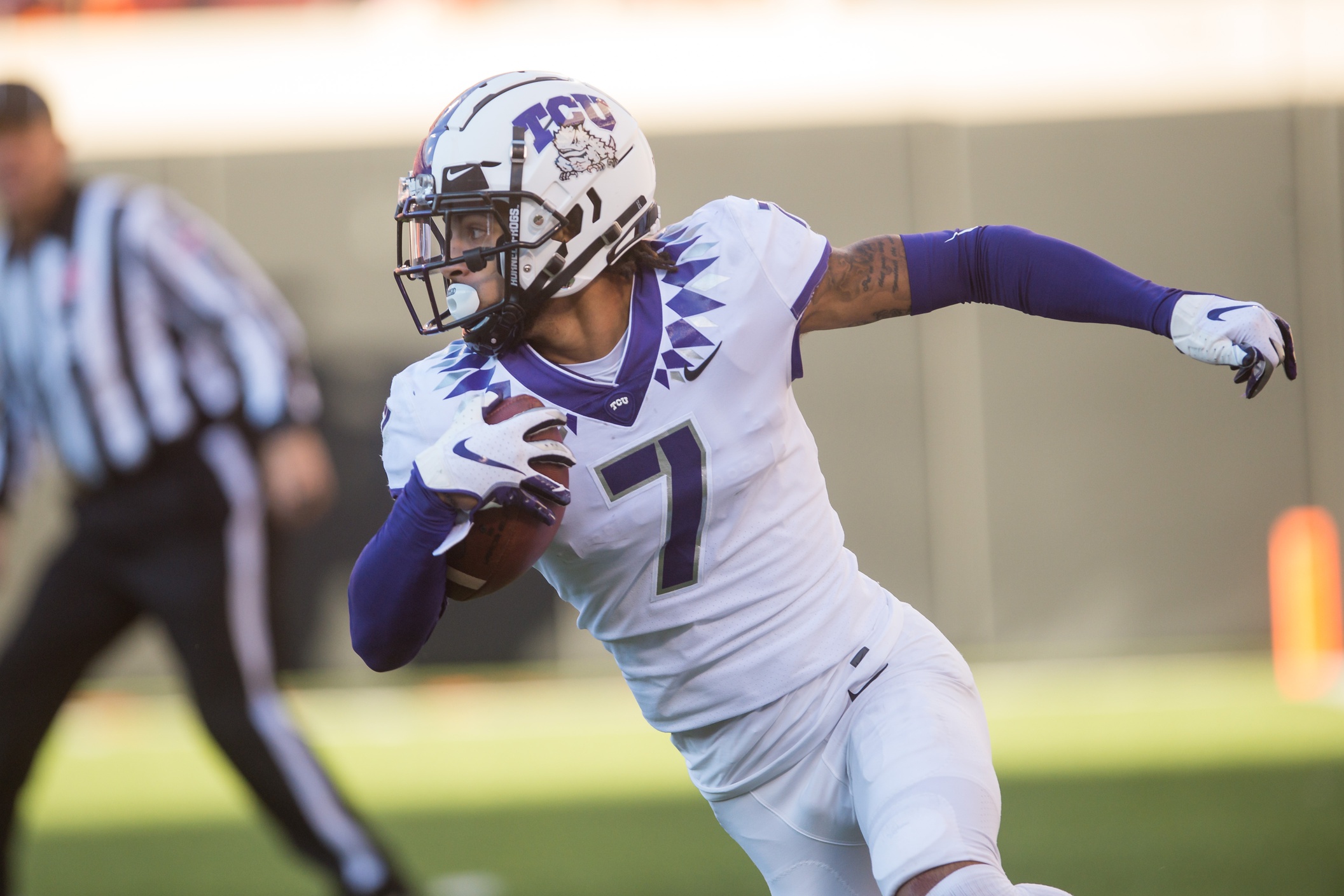 There were very few negatives to speak of in Moehrig's scouting report, so a slide of this magnitude is almost inexplicable. Sure, there were moments where he struggled with his balance and had some difficulty coming back from a false step, and he also had a back issue that flared up at his pro day, but neither of those things is earth-shattering when it comes to his evaluation.
He's now fully healthy and ready to rock in a Gus Bradley defense that will put him in a position to rack up the ball production. After all, Moehrig was a true ballhawk in the Horned Frogs defense over the last couple of years, making a total of 28 plays on the ball, five more than any other Power Five safety. 
---
PFF pegged Little as a first-round prospect, though it's not difficult to understand why the league might not feel the same way. There are some red flags.
Little has played just 72 snaps over the last two years, and he doesn't particularly have the cleanest medical report. Still, the 2017 five-star recruit has the physical tools of an NFL tackle and emerged as a potential top-15 draft selection in his final performances at the college level.
The 6-foot-7, 309-pound tackle notched a 93.3 pass-blocking grade over his last seven starts and allowed just one pressure across 269 pass-blocking snaps. And that pressure came on a stunt against a formidable Washington defensive front. This was a high-risk, high-reward pick by the Jaguars that I fully support.
---
This is going to go down as one of the best picks of the 2021 NFL Draft. How the NFL let Samuel slide to his perfect scheme fit in L.A. — a team that desperately needed cornerback help — is beyond me.
New head coach Brandon Staley needs athletic and instinctive corners to play in his unique defense, and that's precisely who Samuel is. He's a fit for an off-zone system that takes advantage of his inside-outside versatility and won't require him to play press-man coverage. It's a perfect marriage. Samuel makes up for his 5-foot-10, 180-pound frame and just over 30-inch arms with his read-and-react ability and quicks. Despite being undersized, he still ranked second in the Power Five in total forced incompletions (30) since 2018.
Moore's size, injury history, limited collegiate route tree and schemed production all explain why he fell to 49th. Teams obviously doubt that he can handle anything more than an underneath route tree at just 5-foot-7. For an offense like Arizona's, though, the latter point won't be a big issue, as they needed someone like Moore in their offense. And while we have never seen a Moore-sized receiver rack up top-tier production in the NFL, he has the tools to be an exception.
Back in his first year on campus in 2018, which ended up being his only fully healthy year, Moore put up one of the three most valuable seasons by a non-quarterback true freshman in the PFF College era. He broke 37 tackles after the catch, shattering the single-season Power Five record for a wideout. Moore has ridiculous explosiveness and strength that showed up after the catch and at his pro day, where he recorded a 4.29 40, 42.5-inch verical and 6.68 three-cone.
Kliff Kingsbury now doesn't have to force-feed DeAndre Hopkins underneath targets as he did in 2020. They now have a dynamic weapon alongside Hop in Moore.
---
Ojulari slid in the draft because of a knee issue on his medical report, but this slide was way too far, especially since well-renowned surgeon Dr. James Andrews checked out and okayed Ojulari's knee earlier in the pre-draft process.
He may not have plus size and strength, but Ojulari is the most advanced pass-rusher in this class. He's a speed rusher in its purest form, possessing arguably the best cornering ability in the class, and he is also the most technically advanced edge defender available this year. This is why he notched a 91.7 pass-rush grade in 2020, which both led the 2021 class and was the fourth-best mark we have seen from an SEC edge defender in the PFF College era.
---
There are two reasons why Owusu-Koramoah slid: the first is an undisclosed medical concern, and the second is that many teams would struggle to find a specific role for him within their defense. But after making one of the best picks of Round 1 with the selection of cornerback Greg Newsome II, the Browns did what smart teams do and traded up to secure a high-value player.
Owusu-Koramoah is the versatile weapon the NFL is trending toward at the linebacker position. Serving as the "rover" in Notre Dame's defense, Owusu-Koramoah was asked to cover the slot — and he was one of the best in all of college football at doing so.
Some may consider his size and lack of reps between the tackles as a concern, but he has the short-area quicks to hold up there. And he proved he can cover small and shifty slot receivers in college. Look beyond his lack of a true position and join the movement, as Cleveland did.
---
Is Bolton the most athletic linebacker? No. Does he have the modern-day NFL linebacker frame? No. But he is as instinctive a player as they come with top-notch coverage ability overall. That was why he landed as the third-best off-ball linebacker in the 2021 class n the PFF draft board. He racked up more plays on the ball (13) than any other player at the position in the FBS since 2019.
---
Murky medicals paired with a lack of polish caused Marshall to slide drastically, but luckily for Carolina, the Panthers got incredible value for the former five-star recruit at Pick 59. Marshall, who is just 20 years of age, has the physical profile that is alluring at the position. He could add some more meat to his frame, but the 6-foot-3 receiver pairs a massive catch radius with the kind of speed coaches crave at the NFL level. Marshall can snag off-target throws with his long limbs and impressed in contested scenarios throughout his time at LSU. He hauled in 20 of his 32 contested targets over the past two years.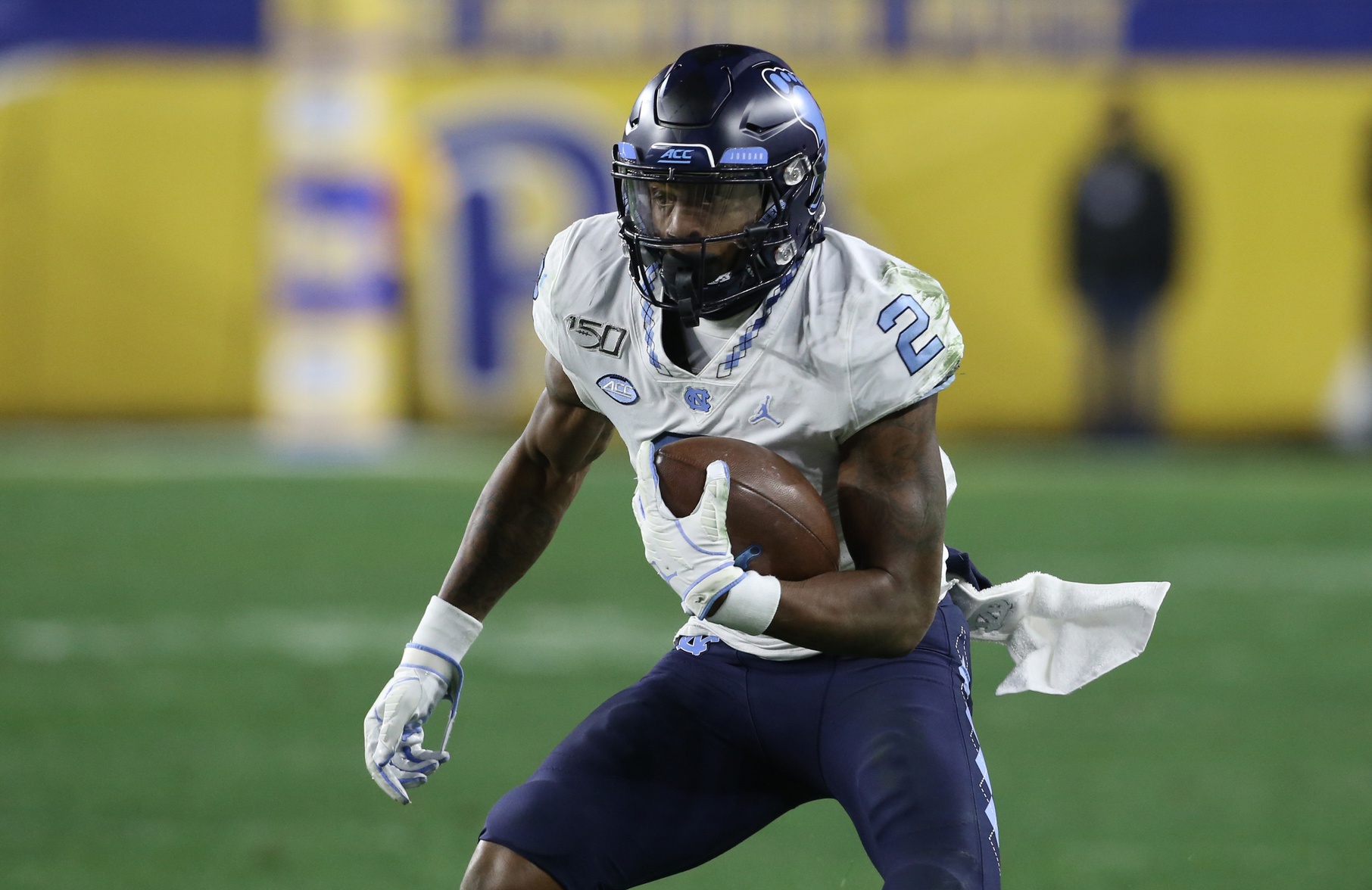 Roughly 38% of Brown's targets over the last couple of seasons have come via some variation of vertical route — over 10 percentage points higher than any other receiver on this list. The rest of Brown's targets consisted of 26% hitches and 11% slants; everything else was under 6%. The term "limited route tree" is an understatement, and that's something the league does not like to see. We, however, think Brown has shown that he has what it takes to take on a more diverse route tree in the NFL. Either way, he's going to a vertical threat at the minimum and has NFL-caliber play strength that'll help him along the way.
Brown was fed vertical routes in UNC's offense, and he won time and time again thanks to his release package and how good he was at handling contact along the route and at the catch point. He tallied 376 yards on contested vertical targets from 2019 to 2020, the second-most in the Power Five. In that span, Brown produced more vertical route touchdowns than any other wide receiver in the country with 16. His strength showed after the catch, too. On throws of nine yards or less downfield, Brown broke 12 tackles on 49 receptions.
---
Perkins checks the flexibility, explosiveness and overall athleticism boxes with flying colors. It's why he finished 2020 as the only edge defender in the FBS with 90.0-plus grades in run defense and as a pass-rusher. The only question is, will he be able to hold up against NFL tackles at 6-foot-3, 247 pounds?
---
The Division III product posted the second-highest win rate of any interior offensive lineman in attendance at the Senior Bowl. and he posted a 32-inch vertical, 111-inch broad jump, 4.86-second 40-yard dash, 4.47-second short shuttle and 7.33-second three-cone at his pro day, all of which surpass the 90th percentile among all interior offensive line prospects historically. Meinerz has all the traits to be the next standout non-FBS offensive linemen at the NFL level, and he really should have been taken much earlier in the 2021 NFL Draft.
---
This is one of the best picks of the 2021 NFL Draft so far. Elijah Molden is going to be solely a slot corner in the NFL, and teams knocked him for that. Tennessee will now reap the benefits of this, as they just got a late-first, early-second-round talent for pennies on the dollar. Slot corners are the most undervalued players in the entire game, and Molden has all the traits to be an excellent one for the Titans, just as he was in college for Washington.
Of the 75 Power Five defensive backs who have logged at least 500 snaps in the slot in the PFF College era (since 2014), no one has earned a higher slot coverage grade (91.2), forced more incompletions (21) or recorded more passing stops (36) than the Washington Huskies defensive back. Despite his 5-foot-10, 190-pound frame, Molden is one of the most physical tacklers in the class. He pairs that with short-area quickness and fantastic eyes in coverage.
There's no reason to think he won't be a quality slot corner at the next level, and just because that's all he is going to be doesn't mean he will be any less valuable than the man covering the outside next to him.
---
More of PFF's 2021 NFL Draft tools here: 
2021 NFL Draft Big Board | 2021 NFL Draft Guide | 2021 NFL Draft Stats Export | NFL Mock Drafts | NFL Mock Draft Simulator