Doing mock drafts before NFL free agency is always more of an exercise in player value than it is in actual prognostication. But now that NFL teams have wooed the blue-chip NFL free agents accordingly, we have a much better handle on the players and positions teams are likely to address come late April.
Below is a list of the most popularly picked players in our mock draft simulator before free agency. Now that the dust has settled from the first wave of deals let's look at the picks that are most likely to change.
View PFF's 2021 NFL Draft position rankings:
QB | RB | WR | TE | T | iOL | DI | EDGE | LB | CB | S
This one better not change.
2. New York Jets: QB Zach Wilson, BYU (47.3%)
Nor this one.
3. Miami Dolphins: T Penei Sewell, Oregon (41.4%) | WR Ja'Marr Chase, LSU (29.6%)
The Dolphins signed center Matt Skura from the Ravens as well as wide receiver Will Fuller V from the Texans. One of those hits decidedly different from the other. While Miami has options along the offensive line, they still don't have certainties. Fuller's one-year deal wouldn't stop me from addressing the wide receiver position, but I would still choose Sewell here.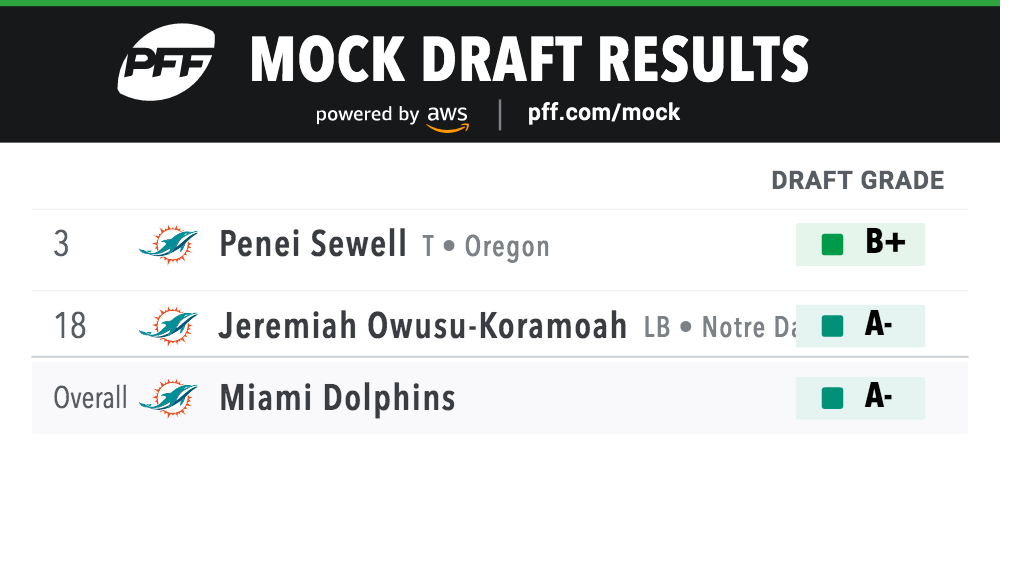 4. Atlanta Falcons: QB Justin Fields, Ohio State (31.4%) | QB Zach Wilson, BYU (27.5%)
While the Falcons didn't technically add a quarterback, they pushed Matt Ryan's cap hits into the future to the point where he'll count $48.6 million against the cap in 2022 and $43.6 million against the cap in 2023. Here's the kicker, though: Even if they cut him in 2022, he'll still count $40.5 million against the cap. The chances of them moving on from that seem slim now.
Riley Reiff ain't stopping me — or anyone else in their right mind — from drafting Penei Sewell. It's still the dream scenario for Bengals fans and quarterback Joe Burrow.
The Eagles were sellers, not buyers, in free agency this year because of their cap situation. That means they remain unchanged after free agency.
7. Detroit Lions: LB Micah Parsons, Penn State (23.2%)
The Lions went the "budget route" in free agency. They added running back Jamaal Williams, receivers Breshad Perriman and Tyrell Williams and traded for defensive tackle Michael Brockers. None of those guys should move the needle on their draft strategy.
8. Carolina Panthers: QB Trey Lance, North Dakota State (31.3%)
Still quarterback. The only debate now is how far they should trade up to get one.
9. Denver Broncos: QB Trey Lance, North Dakota State (23.1%) | CB Caleb Farley, Virginia Tech (21.8%)
Broncos fans seem split on addressing quarterback or secondary. Thankfully, the additions of Ronald Darby and Kyle Fuller made the latter an afterthought. Broncos fans quite obviously want a quarterback, but will the front office agree?
10. Dallas Cowboys: CB Caleb Farley, Virginia Tech (23.8%)
Free agency didn't necessarily affect this pick, but Farley's reported back surgery makes this very unlikely. It's not his first bout of back issues, either.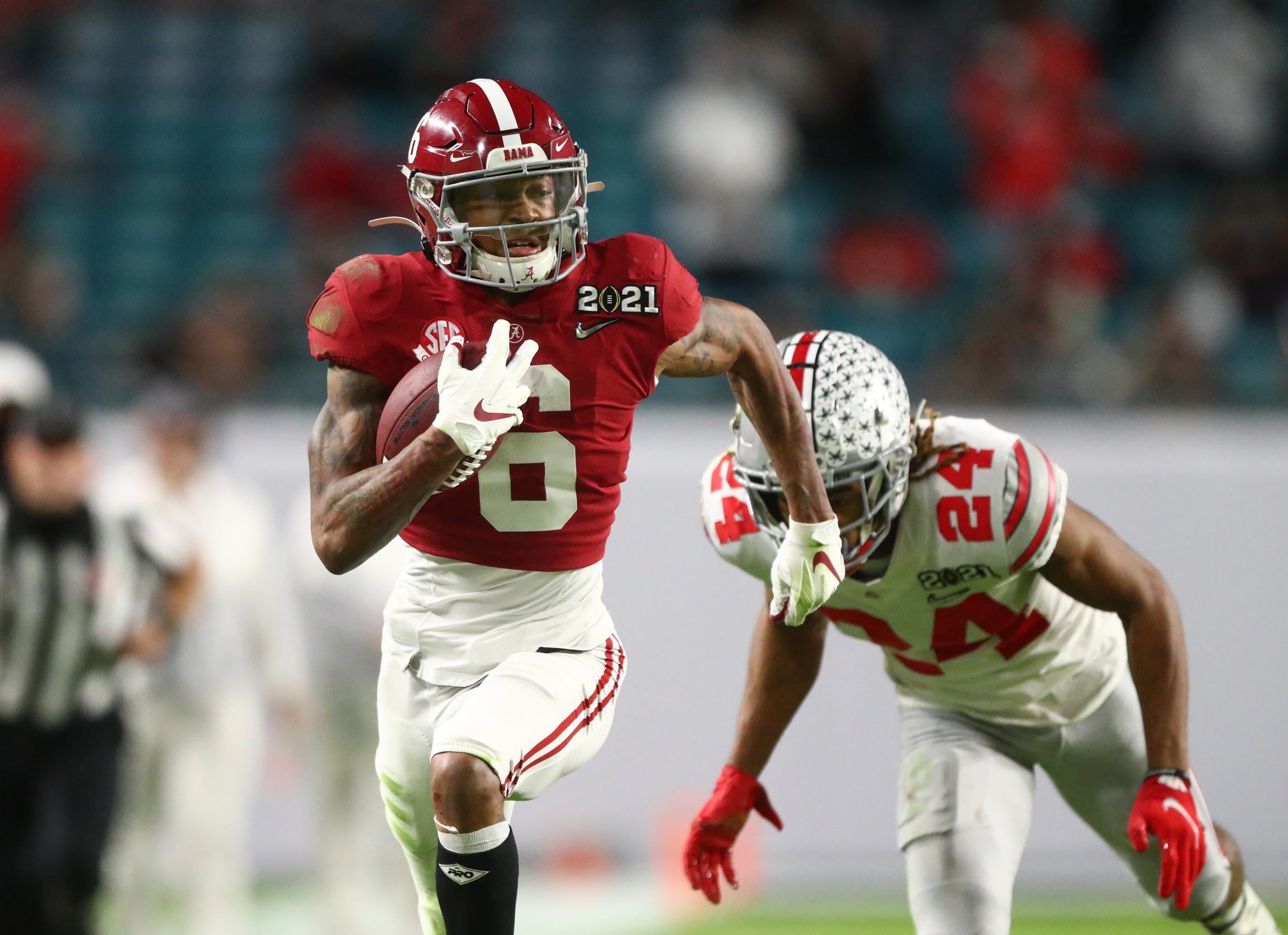 11. New York Giants: WR DeVonta Smith, Alabama (18.6%) | TE Kyle Pitts, Florida (17.3%)
The Kenny Golladay signing may very well alter the Giants' course here. They've plugged several holes in free agency, though, and Smith or Pitts are vastly different than the options already on the roster. It does bring back the possibility of going offensive line again in Round 1.
12. San Francisco 49ers: QB Trey Lance, North Dakota State (17.5%)
Niners fans want a quarterback. I recently mocked them trading up for Justin Fields, as all reports now point to the "big four" quarterbacks being gone well before Pick 12.
13. Los Angeles Chargers: T Rashawn Slater, Northwestern (20%)
The Chargers completely overhauled all three positions on the interior of their offensive line in free agency but are still throwing out Trey Pipkins and his 50.3 pass-blocking grade from a year ago at left tackle. I don't think this one is off the board.
14. Minnesota Vikings: Edge Kwity Paye, Michigan (21.3%)
The Vikings addressed defensive tackle with Dalvin Tomlinson and made a budget play to bring back Stephen Weatherly, but he's not stopping me from addressing the edge. It's either there or somewhere along the offensive line after losing Riley Reiff.
The Patriots' spending spree almost requires a cheap option at quarterback. Even though Cam Newton is cheap now, he won't be in the future if he plays well. Jones can bring cost control to the position for the next five years.
16. Arizona Cardinals: CB Patrick Surtain II, Alabama (19.6%)
With the moves they've made in free agency, the Cardinals look almost locked in at cornerback early on now. Either Surtain or Jaycee Horn will suffice here.
17. Las Vegas Raiders: LB Jeremiah Owusu-Koramoah, Notre Dame (13.5%) | DI Christian Barmore, Alabama (13.2%)
The Raiders did a lot of moving and shaking but eventually went to a lateral move at defensive tackle, losing Maliek Collins and adding Quinton Jefferson. They also ignored linebacker entirely, making it still in play.
18. Miami Dolphins: LB Jeremiah Owusu-Koramoah, Notre Dame (15%) | T Christian Darrisaw, Virginia Tech (13%)
The addition of Benardrick McKinney might be the nail in the coffin for the Dolphins when it comes to addressing the linebacker position. They like Jerome Baker, who offers a similar skill set to JOK, as well. This one could go many different ways, and it will depend heavily on what they do with Pick 3.
19. Washington Football Team: T Christian Darrisaw, Virginia Tech (12.9%) | QB Mac Jones, Alabama (12.8%)
Quarterback is still in play, given that Ryan Fitzpatrick is on a one-year deal, but I think it takes away the chance of a massive trade-up. Darrisaw is still seemingly the pipe dream even after the Football Team retained Brandon Scherff on the franchise tag.
20. Chicago Bears: QB Mac Jones, Alabama (17.7%) | T Christian Darrisaw, Virginia Tech (15%)
The Bears face nearly an identical scenario to the Football Team at quarterback and offensive line. As you can see with the percentages, though, Chicago fans are a little more desperate for a quarterback. Signing Andy Dalton doesn't change that desperation, but it might signal that Ryan Pace is out of the quarterback market and needs to win now to save his job.
21. Indianapolis Colts: Edge Jayson Oweh, Penn State (15%) | Edge Gregory Rousseau, Miami FLA. (12.8%)
Colts fans get Chris Ballard at this point. Two long edge rushers are the dreams here. One of the quietest teams in free agency after the Carson Wentz trade, Indy still looks primed to go edge early.
22. Tennessee Titans: Edge Azeez Ojulari, Georgia (14.8%) | Edge Gregory Rousseau, Miami FLA. (13.8%)
This one likely changes the most. After shelling out big bucks for Bud Dupree, it's highly unlikely they double down. They could still attack the interior of their defense here — I mocked Alabama defensive tackle Christian Barmore to the Titans earlier this week — and while they have options at cornerback, the moves that cut their starting duo might make the position a priority, as well.
23. New York Jets: CB Jaycee Horn, South Carolina (13.2%)
The Jets had arguably the worst cornerback room in the NFL last season, but the position went untouched by GM Joe Douglas through the first week and a half. That's not a big deal, but it does mean that I'd expect them to dip into that well early and often in the draft.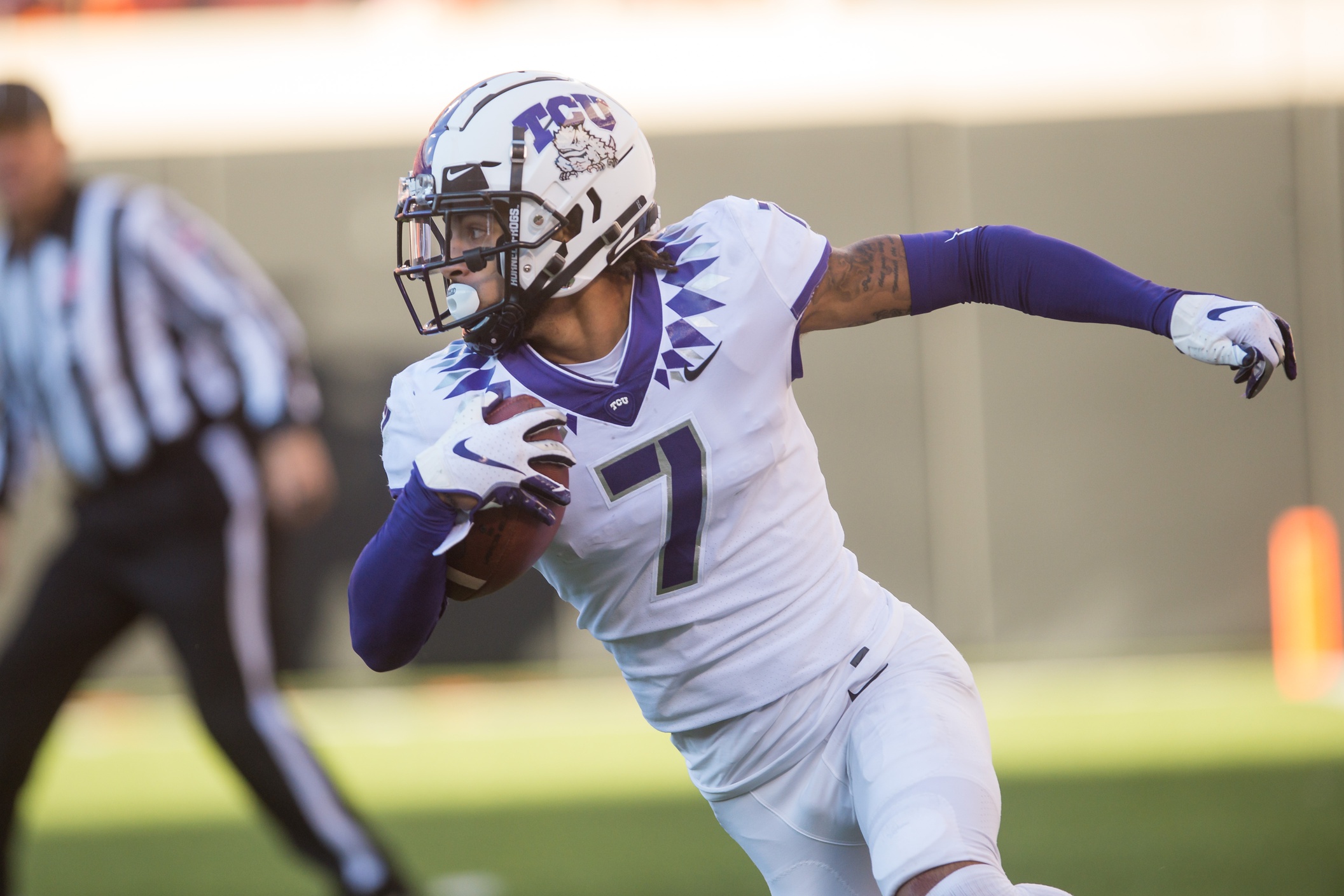 24. Pittsburgh Steelers: S Trevon Moehrig, TCU (10.1%) | T Teven Jenkins, Oklahoma State (7.8%)
The Trevon Moehrig fit here is interesting, as the Steelers look locked in with Minkah Fitzpatrick and Terrell Edmunds at least next season. Losing what they did along the offensive line makes that the most glaring need on the roster and the team is very likely to address it with the deep class.
25. Jacksonville Jaguars: CB Jaycee Horn, South Carolina (12.6%) | S Trevon Moehrig, TCU (10.3%)
One might think that the Shaquill Griffin signing takes them out of the cornerback sweepstakes, but this is a new regime in Jacksonville. New defensive coordinator Joe Cullen came over from Baltimore, where they have consistently invested in their nickel corner despite paying their starting two heavily.
26. Cleveland Browns: LB Jeremiah Owusu-Koramoah, Notre Dame (19.6%)
Cleveland addressed linebacker on the cheap in free agency by bringing back Malcolm Smith and poaching Anthony Walker Jr. from the Colts. Those moves looked like a calculated way to avoid drafting the position early on. Defensive end looks to be the clear target now.
27. Baltimore Ravens: WR Rondale Moore, Purdue (11.5%) | WR Kadarius Toney, Florida (10.8%)
The people want weapons for Lamar Jackson. The Ravens' front office does too, and they were reportedly "in" on some of the top free-agent wideouts. Thankfully, it's a good draft class to need one, as well.
28. New Orleans Saints: CB Asante Samuel Jr., Florida State (21%) | CB Jaycee Horn, South Carolina (14%)
After the secondaries that Saints fans sat through in the early and mid-2010s, I don't blame them for wanting a corner. After losing Janoris Jenkins, pairing someone across from Marshon Lattimore would seem wise.
29. Green Bay Packers: LB Nick Bolton, Missouri (8.5%) | WR Rondale Moore, Purdue (8.4%)
Packers fans are admittedly torn. They've yet to add any outside talent in the draft; they have only retained the likes of Aaron Jones and Kevin King. They'll have to see how the board falls, but offensive tackle should be added to the positions above, too.
30. Buffalo Bills: T Teven Jenkins, Oklahoma State (15%) | G Alijah Vera-Tucker, USC (14.2%)
The Bills did well to retain their outgoing offensive linemen, but guard was a need even before that. Either Jenkins or Vera-Tucker would be an upgrade at that spot.
31. Kansas City Chiefs: G Alijah Vera-Tucker, USC (9.8%) | LB Zaven Collins, Tulsa (8.4%)
The Chiefs shored up the interior of their offensive line but left a glaring hole at tackle. Vera-Tucker profiles more at guard and Collins seems like a luxury, given their other needs. Texas tackle Sam Cosmi, come on down!
32. Tampa Bay Buccaneers: Edge Jaelan Phillips, Miami FLA. (16%)
There may happen to be a sizable crossover between Bucs fans and Hurricanes fans down in Florida. Even so, it would be a fantastic pick. While he wouldn't start, Phillips would still see enough snaps in sub-packages to make an impact.