Comparing current NFL draft prospects to those of years past is standard procedure in draft evaluation, though most comparisons are built on the memory recall and subjective opinion of the particular evaluator.
This will be the first in a series of articles comparing the 2021 draft prospects to prior years and picking out the most similar comps with a clearly delineated and quantifiable method.
PFF data scientist Eric Eager has done tremendous work building college-to-pro projections, which are built off the robust college data we've collected since 2014 and have been applied to exercises like building an "Analytics" Mock. In this analysis, I will use some of our advanced stats for comparison but primarily rely on traditional stats to go back further to compare the 2021 prospects to draft classes going back to 2006.
Without the NFL Scouting Combine this season, the important measurables like weight and 40-yard dash will be reported through the various pro days.
View PFF's 2021 NFL Draft position rankings:
QB | RB | WR | TE | T | iOL | DI | EDGE | LB | CB | S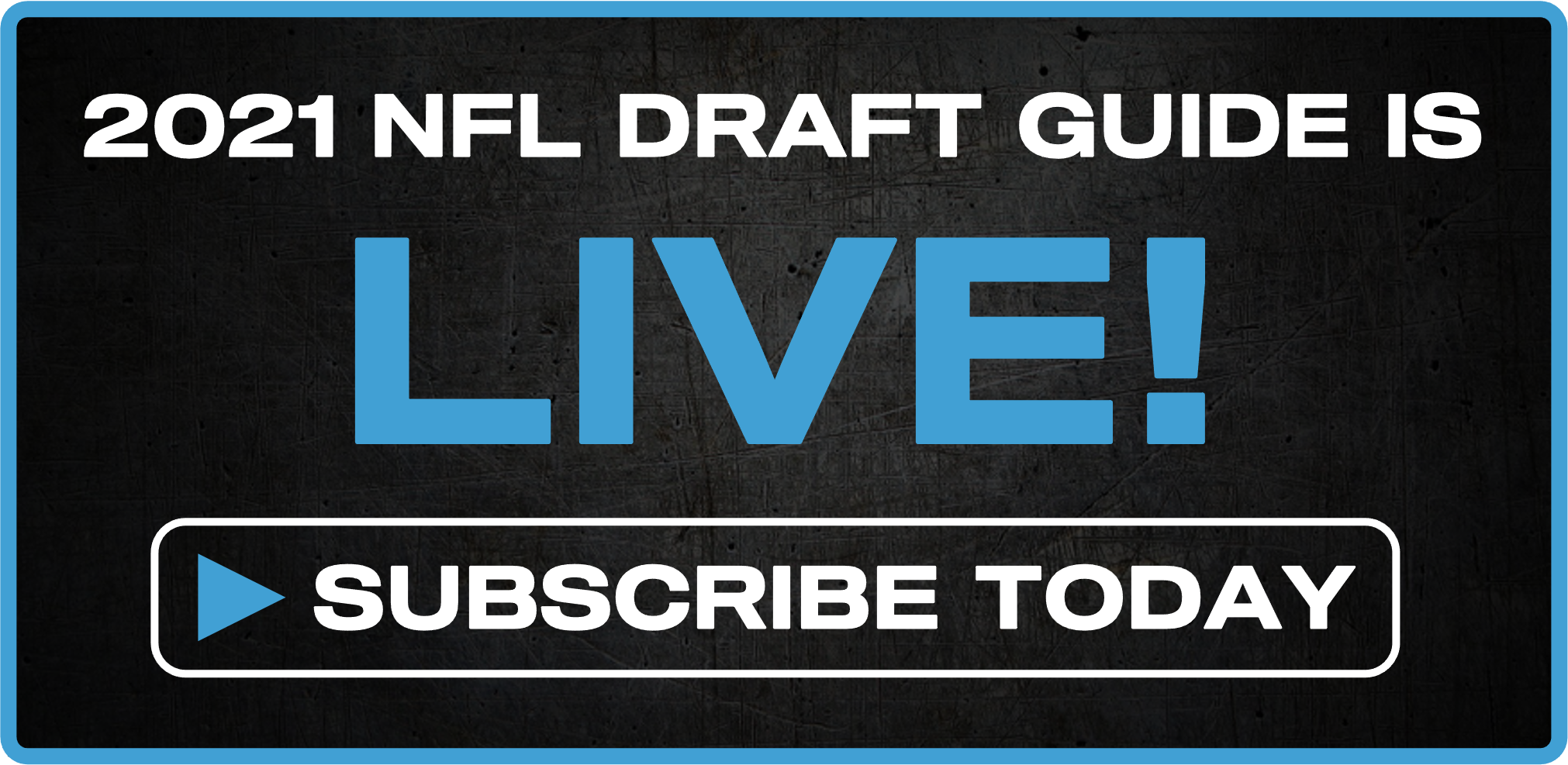 METHODOLOGY
The comps below were derived from a two-step process. First, I converted all the most statistically relevant stats and measurables to percentiles based on the thousands of prospects who have entered the NFL since 2006 at each position. Then, I filtered the total universe of past prospects by those who had draft positions, weight and 40 times within a 10th percentile in either direction of Alabama WR Jaylen Waddle. For undrafted players, I assigned a numerical draft position of 300.
The rest of the matching features were transformed by principal component analysis (PCA). I found the closest statistically comparable players by the euclidean distance between the players' principle components, listed in the top 10 below.
The metrics for PCA are career market shares for receiving yards and receiving touchdowns, best-season market shares for receiving yards and touchdowns, yards per route run, and yards per reception.
For Waddle's draft position, I'm using an estimate based on the mock data collected at GrindingTheMocks.com. For the weight and 40 time, I'm using the numbers from his pro day, with a 0.03-second penalty added to the 40 time to reflect the uncertainty of pro-day timed measurements.
Most comparable players
Waddle's comps aren't the most impressive bunch for a couple of reasons. First, the Alabama wideout doesn't have eye-popping production numbers. He started strong as a true freshman, recording 848 receiving yards and seven touchdowns, translating to an 18% market share of yards and 14% of touchdowns. He slipped back in his sophomore year, with 13% market shares in yards and touchdowns while being overshadowed by DeVonta Smith, Jerry Jeudy and Henry Ruggs III.
Waddle was a year behind the others and the only one of the top four Alabama receivers who wasn't draft-eligible in 2019, which could partly explain why he wasn't prioritized in the offense. It's also important to consider the unprecedented nature of playing alongside four future first-round wide receivers in the same offense.
Waddle finally broke out as a junior in his final season, hitting 29% market share of yards and 24% in touchdowns. But while those are good numbers, they aren't elite.
He was on a much stronger pace before injuring his ankle, averaging 140 receiving yards per game, equating to a 35% market share of a historically productive passing offense. That was only for four games, but it gives a glimpse of what he was capable of, even while competing for production with Smith.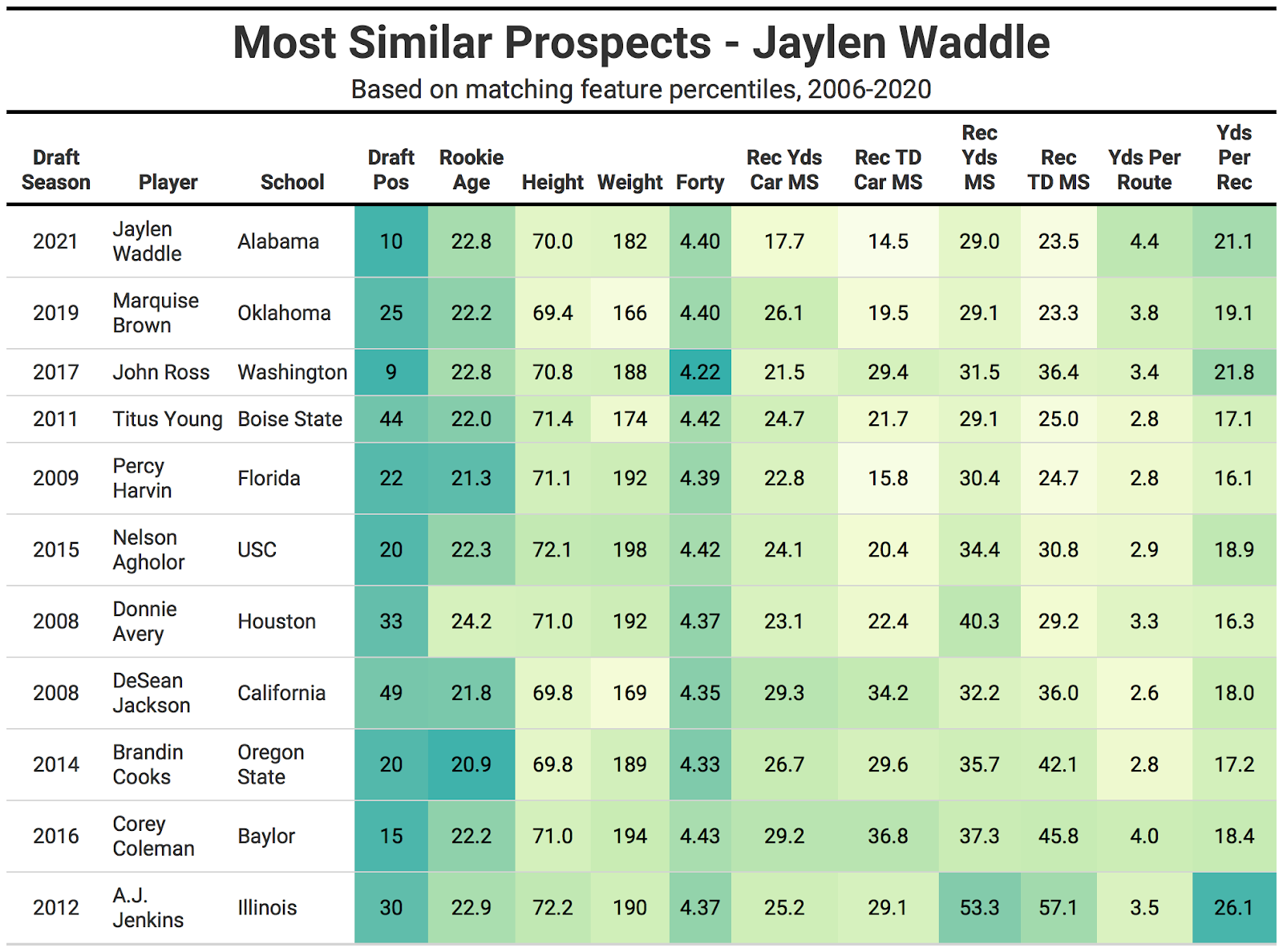 Waddle's comps are held down by his superficial production numbers and his relatively old age for an early-declare true junior. It's easy to say with hindsight that Waddle is a much better prospect than comps such as John Ross and Corey Coleman, but those receivers were viewed as potential stars at the time despite some red flags on their resumes.
There are also concerns about Waddle beyond the lack of production, with a significant injury taking him out of most of 2020 and affecting his pre-draft workouts.
Free for 7-days. Subscribe to continue reading and unlock
All premium content with the best insights + analysis in the game
NFL Draft Guide, Big Board + Mock Draft Sim
Fantasy Draft Kit and Nathan Jahnke's award winning rankings
Bet smarter with PFF player mismatches and expert betting insights
NFL and CFB player grades and premium stats
Unlock all PFF data trusted by all 32 NFL teams
Already have a subscription? Log In