The 2021 NFL Draft is a day away, and big boards across the football industry are getting locked and loaded in anticipation. Entering this final stage, some players take notable tumbles down draft boards, while others rocket up the ranks.
Let's highlight some of those more notable risers and fallers and analyze whether the climb or drop was warranted by placing a buy or sell tag on the player.
View PFF's 2021 NFL Draft position rankings:
QB | RB | WR | TE | T | iOL | DI | EDGE | LB | CB | S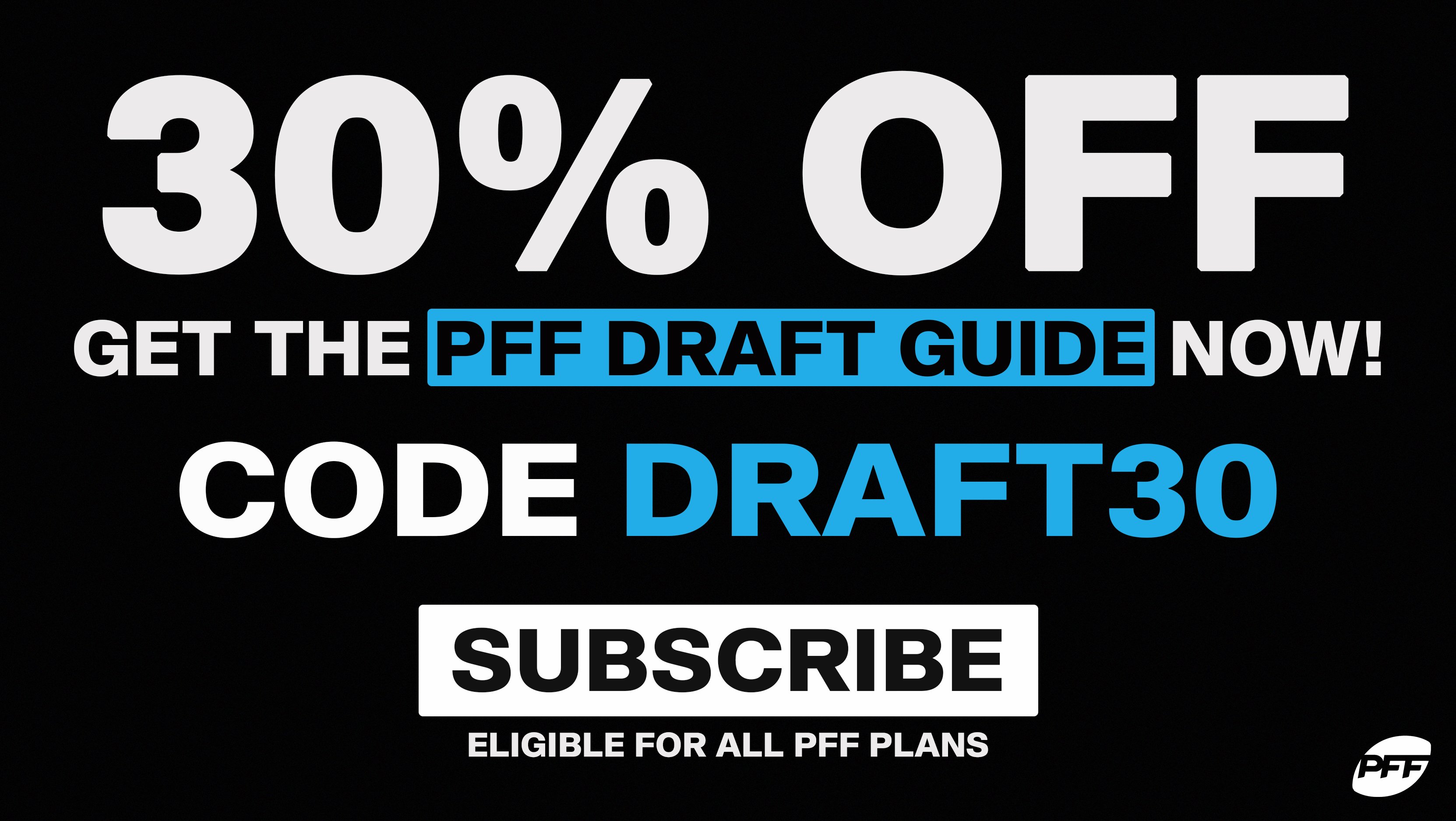 RISERS
Johnson came out of nowhere in the eyes of some. He was quietly the best player in Tom Allen and Kane Wommack's defense at Indiana and had an eye-popping interception against top quarterback Justin Fields.
He intercepted four passes and broke up four others in 2020, building on his previous career production. Johnson started out as a slot corner and ended up as a key deep safety in the Hoosiers defense, producing an 89.3 coverage grade throughout his time with the team. However, he played only 406 career coverage snaps. For perspective, Trevon Moehrig, PFF's No. 1-ranked safety in the class, played 388 coverage snaps in 2020 alone.
Johnson clearly has the ball skills and the hips you want on the back end, but his lack of experience and tackling issues (22.5% missed tackle rate in his career) could scare off some teams. Those concerns are relatively minor when stacking him up against other safeties in this class, though.
He should be the second safety off the board, after Moehrig (third if including Elijah Molden in that bunch), and is more than deserving of being drafted in the middle of the second round.
Davis looks like he was crafted in a lab to play the position — a big reason for his reported leap up draft boards. He stands at 6-foot-3 with 33-inch arms and is such an explosive athlete, posting a 42-inch vertical, 132-inch broad jump and 4.37-second 40-yard dash at his Pro Day.
With that frame and athleticism, Davis has a chance of going in the first round. But if that's the case, I wouldn't be a fan of the pick. If he were selected in the mid-to-late second and it's down to just him and Jabril Cox as the best off-ball linebackers remaining, I could get behind it.
The Kentucky product performed admirably in the run game and had no issue taking on blocks. He recorded an 87.5 run-defense grade in his lone season as a starter for the Wildcats in 2020, ranking fourth among Power Five off-ball linebackers. It's the coverage experience that gives me pause in taking him over Jeremiah Owusu-Koramoah, Zaven Collins or even Nick Bolton. He played a lot of spot-drop zone coverage and had little exposure to man looks. Davis did make a few plays on the ball, but that's not fully indicative of the hill he has to climb to become a reliable coverage player in the NFL.
There is a small, small chance we could hear Eichenberg's name called late in Round 1 depending on if we see a run of tackles, but either way, he now looks like an early second-round pick. While he has shorter arms and doesn't stack up athletically to Texas' Sam Cosmi or North Dakota State's Dillon Radunz, he is NFL-ready from a technical standpoint and, as noted in PFF's 2021 NFL Draft Guide, has one of the highest floors in the class.
Eichenberg played more than 2,600 snaps over the past three years and showed notable growth throughout that span; his PFF grade improved from 63.1 to 80.5 to 89.9. Over the past two years, Eichenberg didn't allow a single sack. In 2020, there was only one blemish on his grading profile from a pass-protection standpoint — in Week 6 against Florida State when he played with his left eye swollen shut. Take that game out of the equation and he is the third-highest-graded Power Five tackle in pass protection. Talk about a true football guy.
He does need to work on his hand usage, as he won't get away with throwing a two-handed punch in the NFL, but Eichenberg looks like the next Notre Dame offensive lineman to blossom into a quality starter at the next level.
In August 2019, we were hearing chatter of Walker Little being a possible top-10 selection in the 2020 NFL Draft. The 2017 five-star recruit had the physical tools and showed massive growth throughout his 2018 campaign.
His true junior season would last only one game, though, as he suffered a season-ending injury 72 snaps into the opening contest. Little then decided to opt out of the 2020 season due to COVID-19 concerns and focus on the 2021 NFL Draft. With him having played just 72 snaps in over two and a half years, the concerns are legitimate, but in recent weeks, Little has been rising up boards.
He notched a 93.3 pass-blocking grade over his last seven starts and allowed just one pressure across 269 pass-blocking snaps. And that pressure came on a stunt against a formidable Washington defensive front. After the three premier tackles — Penei Sewell, Rashawn Slater and Christian Darrisaw — come off the board, Little should be in the same conversation as Teven Jenkins for OT4.
Mills was a five-star recruit and the No. 1 pro-style quarterback in the 2017 class. However, he started only 11 games with Stanford (all in 2019 and 2020) due to injuries and being second on the depth chart for some time. He flashed a few good traits within that small sample of tape, such as quick decision-making, but there was also plenty to work on.
Mills produced a 78.6 passing grade over the past two years, which ranks last among the top 10 quarterbacks in the 2021 NFL Draft class. He also recorded a 3.3% turnover-worthy play rate, placing him ninth among that same group. While some of the top-tier quarterbacks dazzle when it comes to creating off structure, Mills isn't going to provide anything in that department.
We have never really seen an unproven five-star recruit all of a sudden find their footing in the NFL, and I don't expect Mills to be the first. In my opinion, it wouldn't be justifiable to draft him any earlier than late in Round 3.
FALLERS
Given what has been reported with Farley's medicals, I would be willing to bet that his back problem won't be a long-term issue. 
Doctors at the medical evaluations in Indianapolis told Farley he would be ready for Week 1 and that his back issue shouldn't be a long-term problem, but still, risk is present. He tore his ACL in 2017, underwent a back procedure in 2019, opted out of 2020 due to COVID-19 concerns and endured another back operation in March. Farley is now likely to fall into the last 10 picks or so of Round 1 and should at least be CB3, if not CB4, off the board. It's totally understandable why teams may be spooked, but I still don't think he should slide past Pick 16; he's too good of a player when healthy. 
I recently outlined one stat you need to know for each of PFF's top 32 prospects, and Farley's was that he averaged 1.5 catches allowed and 1.5 plays on the ball against Power Five receivers in 2019 (both top-five marks). He ended that campaign, his final college season, with a 90.5 coverage grade. He has the ideal frame of an NFL corner, at 6-foot-2 and 207 pounds with 33 ⅜-inch arms, and we know he has the make-up speed.
Farley will be one of the fastest players on the field at the NFL. Just check out his 4.28-second 40-yard dash prior to the back operation in March. He has the long speed, ball skills, production and ideal build to thrive, so I'd be willing to take a chance on his injury history.
Rousseau's draft projections are all over the map. NFL Network's Ian Rapoport said last week that there are many across the league talking about the several question marks surrounding Rousseau's NFL potential. At the same time, his agent, Drew Rosenhaus, has said teams have told him they would take the Miami product in Round 1 if he is still on the board. We will soon get our answer, but Rousseau has undoubtedly fallen down some boards over the past few months, which I believe to be well-warranted.
Rousseau is a physical freak at 6-foot-7 with 34 ¾-inch arms and 11-inch hands, but he is a 2020 opt-out who has limited reps under his belt. His production at Miami wasn't great, either — especially when he played as a true edge defender and went one on one against offensive tackles. Rousseau rushed the passer just 283 times in his college career, and he did so in a versatile fashion, lining up from 0-technique to stand-up outside linebacker.
His pass-rush grade when aligned outside of the tackle in 2019 sat at 71.3, which failed to crack the top 50 in the Power Five. His middling Pro Day performance didn't help any. Rousseau packed on some weight since the last time we saw him, and he posted below-average agility times and jumps.
The entire 2021 edge class is risky, but Rousseau's red flags are a little bit more concerning than those of Kwity Paye, Jayson Oweh, Jaelan Phillips and Azeez Ojulari.
You won't find any other outlet or team with Barmore higher on their big board than PFF. Many are concerned about his hot-and-cold play early on in 2020, but his performance down the stretch should ease those worries. Not to mention, Barmore's slow start could have been explained by a preseason injury that caused him to miss the first game. There are also rumors that he's sliding because he isn't one to respect or seek out coaching, although conflicting reports exist.
Barmore went toe to toe with two of college football's top offensive lines in the College Football Playoff, Notre Dame and Ohio State, and he feasted in the pass-rush in those two outings. He came away with a 91.3 pass-rush grade, a 23.2% win rate and 12 pressures against the Fighting Irish and the Buckeyes combined. That pass-rush grade is by far the best we have seen in the College Football Playoff since its inception.
Barmore's build, flexibility, explosiveness and hand usage could make him a force to be reckoned with early on in the NFL. He is by far the safest defensive lineman prospect in the class from a talent perspective.
Some people once viewed Davis as the top interior offensive lineman in the class and a surefire first-round pick, but his 2020 campaign brought his draft stock back to earth, and it has only gotten worse as of late. Now, he's a late second-round pick at best.
The guard declined in both facets of play and saw his 82.6 PFF grade from 2019 fall to 66.3 in 2020. He did play through a nagging knee injury last season, though. It didn't require surgery, but there is still a big question mark about whether it's a long-term issue. Teams are probably better off pursuing one of the many tackle-to-guard convert candidates as opposed to Davis in Round 2.
Mayfield's draft stock is truly all over the place. In some places, he's still slotted in as a late first-, early second-round pick, and in others, he's projected as a Day 3 selection. Mayfield is an unrefined young prospect, but he flashed high-end reps with his physicality and looked like he had the athleticism of an NFL tackle. The latter point has recently come into question after a poor Pro Day showing, though.
Mayfield managed to play in only a couple of games in 2020, showing mere modest improvement from his subpar 2019 campaign. That year, he posted a 70.2 PFF grade and allowed 27 total pressures, 12 of which came against NFL talent at Ohio State and Penn State. If he goes relatively early this week, it clearly has nothing to do with his college production. This tackle class is too deep and talented for a team to take a chance with Mayfield on Days 1 or 2.
---
More of PFF's 2021 NFL Draft tools here: 
2021 NFL Draft Big Board | 2021 NFL Draft Guide | 2021 NFL Draft Stats Export | NFL Mock Drafts | NFL Mock Draft Simulator