We're starting off the positional ranks for the 2021 NFL Draft with arguably the strongest positional group in the class. This quarterback group is special. Whether it's in top-end talent or depth, the 2021 signal-caller class stacks up favorably against any we've seen since we started grading for the 2015 NFL Draft.
More of PFF's 2021 NFL Draft tools here: 
2021 NFL Draft Big Board | 2021 NFL Draft Guide | 2021 NFL Draft Stats Export | NFL Mock Drafts | NFL Mock Draft Simulator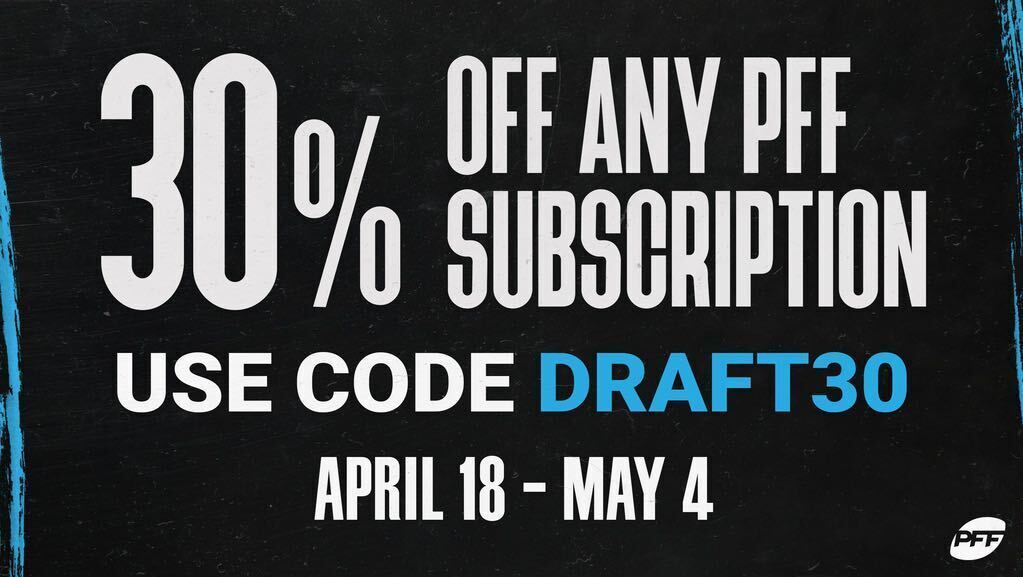 The best quarterback prospect we have ever scouted. There may not be one singular thing Lawrence hangs his hat on, but he's got the fewest weaknesses of any quarterback we have ever graded.
Call him a one-year wonder if you want, but he earned an impressive 78.8 passing grade as a true freshman before injuries derailed his sophomore campaign. This past season, his 95.5 passing grade was the highest in the country. His off-platform arm talent and special throws make him an elite quarterback prospect.
You name it, Fields has it. Even with the "bad" on tape this year, Fields still earned his second consecutive passing grade over 92.0. Add in his 4.43 speed, and it's easy to see how his ability can open up a playbook.
Lance has physical tools for days, and he's already been exceptional at taking care of the football. As a redshirt freshman, Lance produced a 1.7% turnover-worthy play rate. For context, Trevor Lawrence's turnover-worthy play rate was 3.6% last season.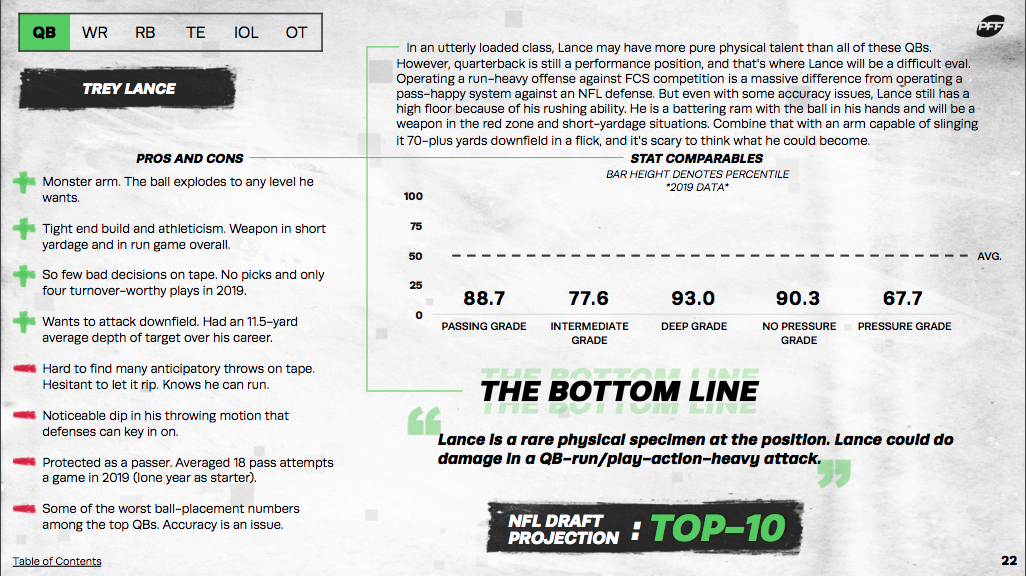 Jones produced the second-highest passing grade in college football last season at 94.8, but he also benefitted from the easiest situation of any quarterback in the college game. His underneath accuracy is his calling card, which can still be a pathway to success in the NFL. He was the most accurate quarterback in the country on passes thrown under 10 yards downfield in 2020, per our ball-placement charting.
Trask balled out in the loaded Florida offense this past season. He led the country with 41 big-time throws. He's not particularly toolsy, but he is exceptional at working from the pocket and making big plays.
A former five-star recruit, Mills has had an injury-plagued time at Stanford and has fewer than a dozen career starts. We saw a distinct improvement in his five games this past season, though, as he earned an 82.9 overall grade on the year.
Mond has the tools to hack it as a starter in the league, but we've rarely seen the high end on his tape over three seasons as a starter. His 81.3 passing grade with Texas A&M this past season was the highest of his career.
It had to be frustrating for Newman to watch quarterbacks skyrocket up draft boards left and right with their play this season. He decided to opt out after transferring from Wake Forest to Georgia despite not even being a lock to go on Day 2. The arm and mobility are there, but his performance in Wake Forest's simplistic offense down the stretch of 2019 — where he had grades in the 50s in three of his final four games — will give evaluators pause. If he does fall to Day 3, Newman could be one of the best value picks in the entire draft.
It was Buechele who started in the now-infamous "Texas is Back, folks" win over Notre Dame in 2016. That was the high point of his Texas career, though, as he never quite lived up to expectations after that. However, Buechele's comfort level noticeably improved after transferring to SMU, and his natural gunslinger talent took over. Even though he was without James Proche and Reggie Roberson for much of the year, Buechele still put up the most efficient season of his career. He's got more than good enough natural arm talent and excels at off-platform throws. His accuracy and level of competition will be his biggest concerns.