Not every secondary player in football is created equal, and not every role is the same in that area of the field. Just because two players are labeled in the same position doesn't mean their roles are similar.
Yes, the top cornerbacks off the board in a given NFL draft have to be studs who can make plays in press coverage, but after that, the teams need to find players who can either function in a multitude of roles or excel in one particular role.
To fill all the different roles that teams have in the secondary, we've built a five-man unit of the best draft-eligible players to fill each role: weakside cornerback, strongside cornerback, slot corner, box safety and free safety, with some absolute killers on the back end.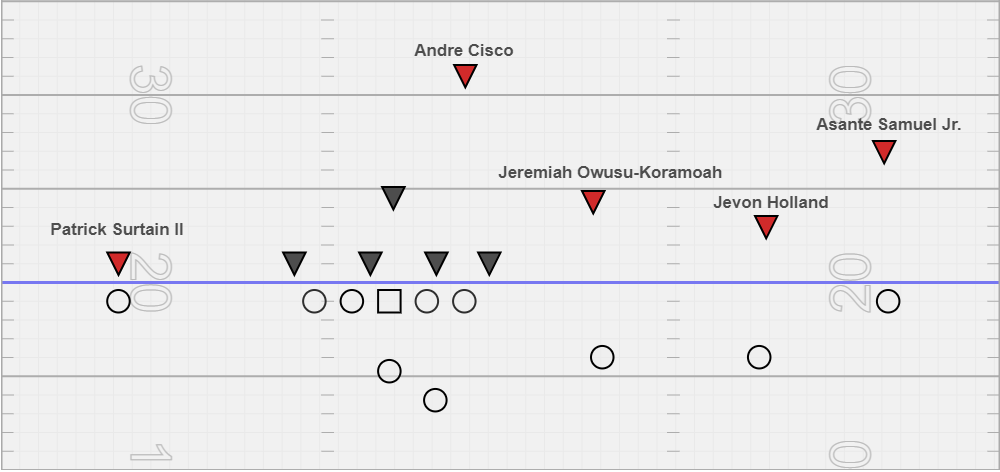 If we're building a defensive backfield unit, the first position you want to address is who is going to line up against isolated receivers and press them out of the game.
In this draft, the answer is clearly Patrick Surtain II.
Putting the Alabama cornerback on the other team's best receiver allows us to allocate more resources to cover the rest of the eligible receivers. Surtain has patience and plays with supreme position maintenance at all times. He has the requisite athletic ability — maybe not at Caleb Farley's level, but certainly way above any NFL threshold — and forces quarterbacks to make pinpoint passes to beat him.
He has a great "hop and burst" move where he can make ground up suddenly and effectively to end up in the hip pocket of his enemies who have inevitably gained a step of separation off the line of scrimmage. He's not grabby and doesn't commit many penalties. You can just leave him in press coverage and let him work.
No one played more snaps in press coverage last season than Surtain II, and he was thrown at only 37 times, allowing 16 catches on 366 press coverage snaps. Nobody wanted to test him because he's that good.
On the other side of the field, Virginia Tech's Caleb Farley or South Carolina's Jaycee Horn manning the opposite side cornerback position would be easy solutions. However, you might want a different type of cornerback than Surtain II, especially to the wide side of the field.
That's where Asante Samuel Jr. comes in.
He's excellent in press coverage, sure, but he's elite in off coverage. Whether it's off-man coverage or as a Cover 2 corner — which is what Florida State often tasked him to do — Samuel sees the play develop in front of him and uses his quick instincts to step in front of throws and get his hands on balls.
While Surtain II is going to show the quarterback a picture and dissuade him from even throwing the ball in that direction, Samuel is going to exhibit a rosier picture, but he bursts out of his T-step and makes you pay.
If FSU's football team hadn't completely crumbled, Samuel's stock would be higher. He played at a high level every season, even if the defense around him faltered. FSU's defense went from 57th in EPA per play in 2019 to 111th this past season, and that perception might be hurting the cornerback. Whichever team snags him in the 2021 NFL Draft is getting great value.
Oregon's Jevon Holland from Oregon is the pick to cover slot receivers. Holland is the third-highest-graded cornerback from a slot alignment over the past two seasons among players with at least 100 such snaps. And he opted out of the 2020 season, too, but still has the 17th-most  slot coverage snaps over the past two seasons.
Some college slot cornerbacks get moved around in the NFL, but it does feel like Holland will continue to take on that role at the next level. He wants to find the ball in the run or bubble-screen game, which is important for a slot guy because NFL teams attack players in those ways if they perceive it as a weakness.
One NFL team is going to have a fun time trying to figure out what position to play Owusu-Koramoah in. At Notre Dame, he was a hybrid Sam/Nickel linebacker, but NFL teams will wonder if he has the coverage ability to hold up against slot receivers at the next level. Will he be able to play against No. 2 receivers to the trips side, as he did at Notre Dame?
Owusu-Koramoah is such an explosive athlete, so you'd hope he can just play his natural position and be part of a new breed of Sam linebackers. There are thoughts about moving him to Will linebacker, and he did play some snaps in the box based on offensive formation, but we're going to split the difference here and play him as a sort of box safety.
A team probably won't want Owusu-Koramoah at nickel, which would force him to play in too much space, so we bring him one step inside — but not as quite a true linebacker. JOK is as explosive a football player as there is in this class for his size, but you hope he's not another tweener type of player who falls between the cracks.
At the end of the day, Trevon Moehrig played a lot of different roles in TCU's defense and will probably end up as a stud safety in the league. But if we're picking for value to get a guy just to play in center field, Cisco is the choice.
He's a ball-hawking player with rangy speed, not only to get from seam to seam but sideline to sideline. The ball tends to find him, or maybe it's the other way around. He's not a perfect player, but an NFL team is going to love the idea of being able to find an athlete like this and then coach out all the deficiencies.
He just needs to trust the role he's given on a play-for-play basis and then let his athleticism shine. Cisco is a great later-round player who will haul in interceptions from Day 1; he had six over the last 11 games of his college career.
---
Courtesy of PFF's 2021 NFL Draft Guide, find PFF's top draft prospect, biggest riser and wild card to watch at each position here: