The 2021 defensive line class might not be the greatest in recent memory, but I am here to tell you that there are good pieces available no matter your team's needs. Whether you want an edge defender who can really get after the passer, a nose tackle who can stop the run or even an edge player capable of setting the proverbial edge, the 2021 NFL Draft class has guys you are bound to fall in love with.
Getting after the quarterback is the priority No. 1 for this position, and there are quite a few guys who can get the job done here. I'm going to go off the board a bit with Duke's Chris Rumph II, as he had a tremendous 2019 season but fell off quite a bit in 2020. If he's going to hit in the NFL, it will be because he found his 2019 form.
| | | |
| --- | --- | --- |
| Stat | 2019 | 2020 |
| Pass-rush snaps | 198 | 240 |
| Pass-rush grade | 92.7 (4th) | 78.1 (44th) |
| Pass-rush win rate | 30.3% (1st) | 21.7% (12th) |
| Pressure rate | 25.1% (1st) | 18.3% (7th) |
I'll always fall for these pass-rushers who are physically gifted and already have a complete set of pass-rush moves. And that's who Rumph is — his dad is an NFL defensive line coach, and you can tell that he was taught how to use his hands, set up moves and play the half-man from an early age.
The nice thing about Rumph is that Duke lined him up in unusual spots. Over the last two seasons, he played just under 70% of his snaps lined up as an edge player on passing snaps but around 25% of his snaps as an off-ball player in the hope of getting a running start to use his length and athleticism. The skill level is absurd with this player, but he'll fall in the draft because of his 2020 season and his lankier frame. If he becomes a later-round selection and can find his 2019 form, you're getting great value.
I debated between Oweh and Georgia's Azeez Ojulari but ended up going with Oweh. I love Ojulari's willingness to be physical in the run game when taking on blocks, especially kick-out blocks from pulling linemen, but it just feels like Oweh has a tad more playmaking in him strictly from a run-defense standpoint.
Whether the play is to him or away from him, Oweh always seems to make plays in the backfield. He recorded 22 defensive stops in the run game on only 171 run-defense snaps in 2020 — he tied for the fifth-most defensive stops in the country, and Penn State only played seven games the whole season.
The Penn State product gets off blocks quickly and efficiently. And while he's not the biggest player in the world, he uses his intelligence and athleticism to make plays in the opposing team's backfield. With Oweh — and Ojulari, for that matter — you're getting a very good pass-rusher, too.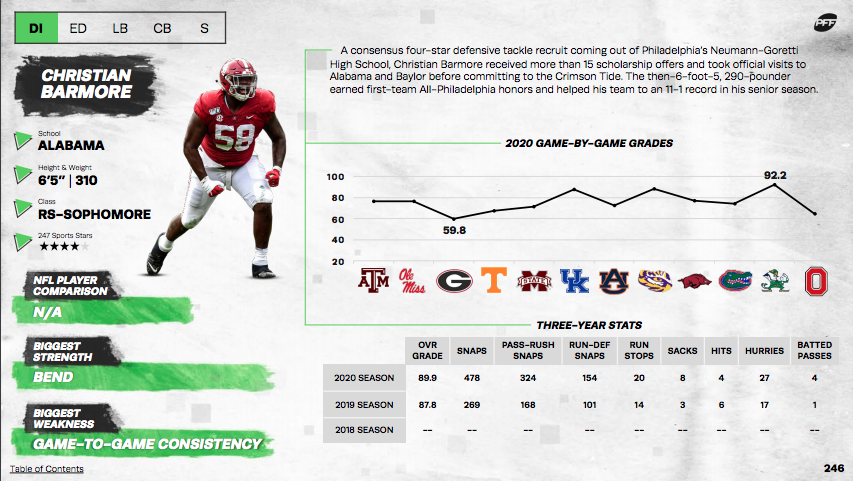 Alabama's Christian Barmore is another player with a tremendous pass-rushing skill set — he is one of the first high-level interior players to have been influenced by Aaron Donald's game.
Barmore has excellent hand usage; he is light on his feet, possesses moves that most edge rushers do not and has graded at an elite level the last two seasons. There was some concern going into the season that his play might fall off with a bigger workload, but that didn't happen. He went from an 88.1 pass-rush grade on 168 snaps in 2019 to a 91.5 grade on 324 pass-rush snaps this past season.
It might feel like he wasn't the same player in 2020, but that's because his pressure rate fell from 19.1% in 2019 to 12.7% in 2020. However, his win rate stayed similar, dropping only 1.7 percentage points in 2020. The win rate staying the same is probably more important than the fluctuation in pressure rate, and that's backed up by his grade improving by a few points.
Every team will be looking for the next Aaron Donald, and if Barmore falls to the second half of the first round, there's certainly some good value there.
Tarron Jackson, Coastal Carolina's fantastic edge prospect, played a bunch of snaps as a 4-technique and was outstanding against the run. Still, he's an outside prospect, so we won't use him here. In the end, Graham gets the nod over Ohio State's Tommy Togiai.
Graham produced the best run-defense grade in the FBS (82.8) from an inside alignment last season. And that number was actually down from his 86.5 run-defense grade from inside in 2019. The 6-foot-4, 293-pounder played 193 snaps against the run last year, and six of his 12 solo tackles resulted in a loss or no gain for the opposing offense.
Fellow Longhorn Joseph Ossai will get more publicity during the draft cycle, but if you are looking for a solid interior run defender on Day 3, Graham is your guy.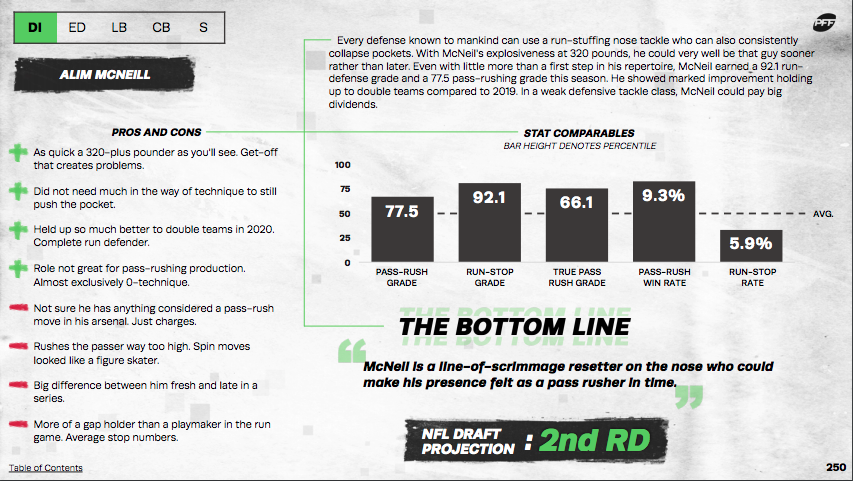 This is almost a no-brainer because we don't usually see nose tackles with this much athleticism.
I didn't think there was a point in separating nose tackles into pass-rushers and run defenders because you're generally not asking your nose to win much in the passing game. That said, McNeill is a superb pass-rusher from the nose alignments, which is what makes him stand out. His pass-rush grade over the last two seasons is 84.0 — awesome for a nose.
McNeill is a very patient pass-rusher who sets up centers before hitting them with a push-pull or club-swim counter move against the grain to get to the quarterback. He could end up playing in the NFL for a lot of years — he is one of the most fun prospects to watch in this draft.
---
Courtesy of PFF's 2021 NFL Draft Guide, find PFF's top draft prospect, biggest riser and wild card to watch at each position here: