Historically, the NFL draft has been held in the eastern time zone as over half the NFL's teams reside on eastern standard time. Coinciding with that, only five of the league's 32 teams have addresses inside the pacific time zone, on the west coast. During draft season, there is much ado about whether there is an east coast bias or whether east coast players simply get more publicity over the years and during the offseason.
Regardless of truth behind any bias for the east coast or towards the west coast athletes, we at Pro Football Focus grade every single player on every single play of every single game, regardless of coast. With that, we can shed light on talented west coast players who put forth very productive careers, albeit may be undeservingly out of the spotlight.
Here are 10 underrated prospects who may be less-heralded because of their location west:
Luke Falk, QB, Washington State
Falk put together a very productive 2016 season, his 87.2 overall grade tied him with Sam Darnold and was higher than Josh Allen's (84.7) or Josh Rosen's (84.5). In 2016, Falk's 78.8 adjusted completion percentage ranked third among all FBS quarterbacks but that number dipped to 75.2 in 2017. The percentage of dropbacks that Falk was under pressure increased from 20.1 percent in 2016 up to 26.1 in 2017. He handled the increase in pressure admirably however, and his adjusted completion percentage of 68.1 when under pressure tied him with Rosen at No. 8 among all FBS quarterbacks last season.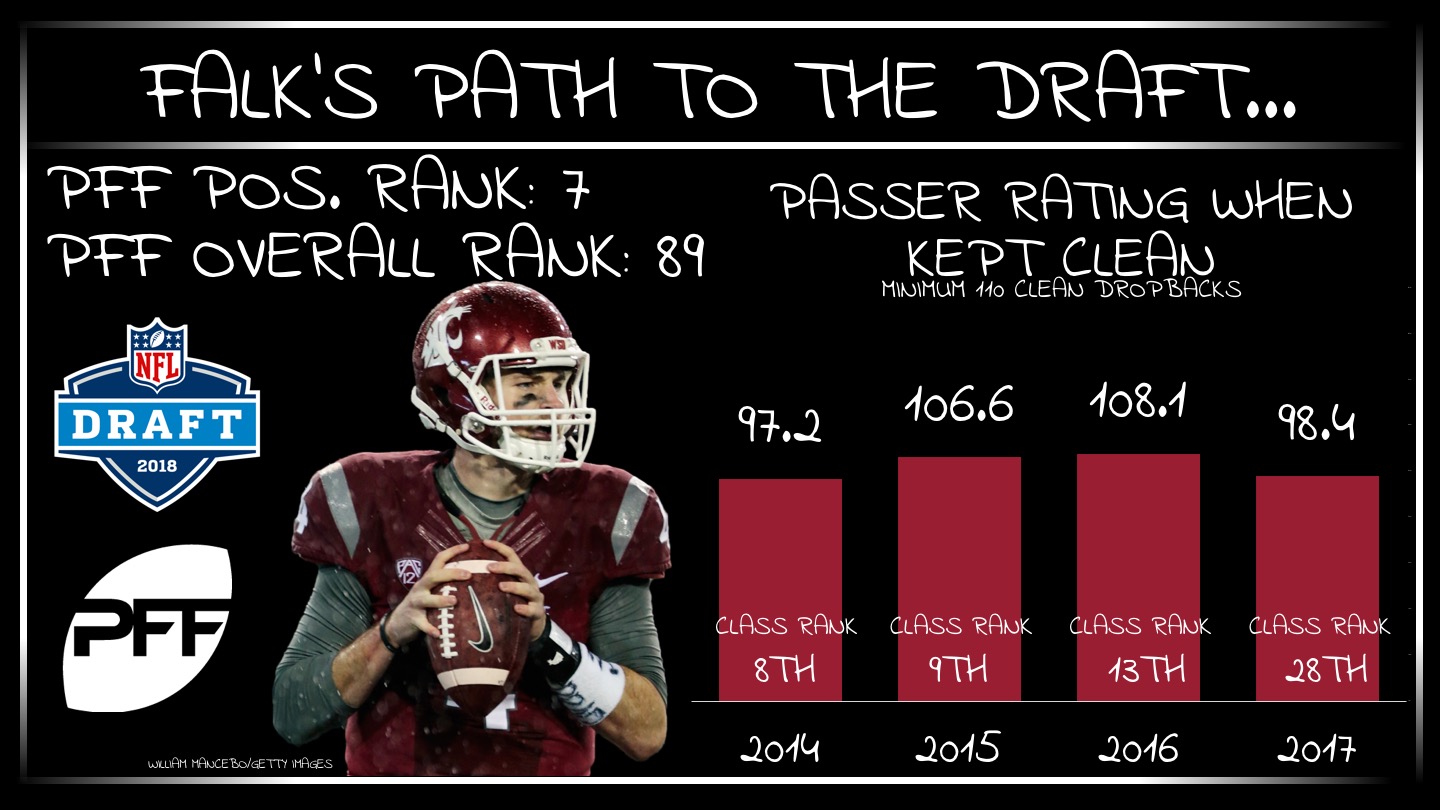 Unfortunately in 2017, Falk suffered a broken bone in his non-throwing wrist during the second game of the season. The injury forced him to play with a cast which was removed following each game so questions wouldn't be asked about it during press conferences. The injury limited his 2017 performance and Falk wasn't able to play in the team's bowl game while recovering from surgery.
Falk only possesses average arm strength and mobility but what really separates him as a prospect is his football intelligence. He was responsible pre-snap for determining the alignment of the defense and if a run play was more advantageous, then he had the authority to change the called play. That style of offense has given him a wealth of experience other prospects might not have, and while Falk lacks the arm strength of the top quarterback prospects, his intellect will really appeal to NFL teams and he should see his stock start to rise as the draft draws closer.
Jalen Davis, CB, Utah State
Davis was a combine snub largely due to his lack of size, but he showed well athletically at his pro day with a 36-inch vertical and 40-yard dash times in the 4.4s. On the field, Davis is a ballhawk who looks to make plays on the ball and has excellent ball skills when he gets there, as proven by his five interceptions along with his 12 passes broken up in 2017. Opposing quarterbacks didn't have much success targeting Davis in 2017 and his 30.5 passer rating when targeted ranked third among all draft-eligible cornerbacks.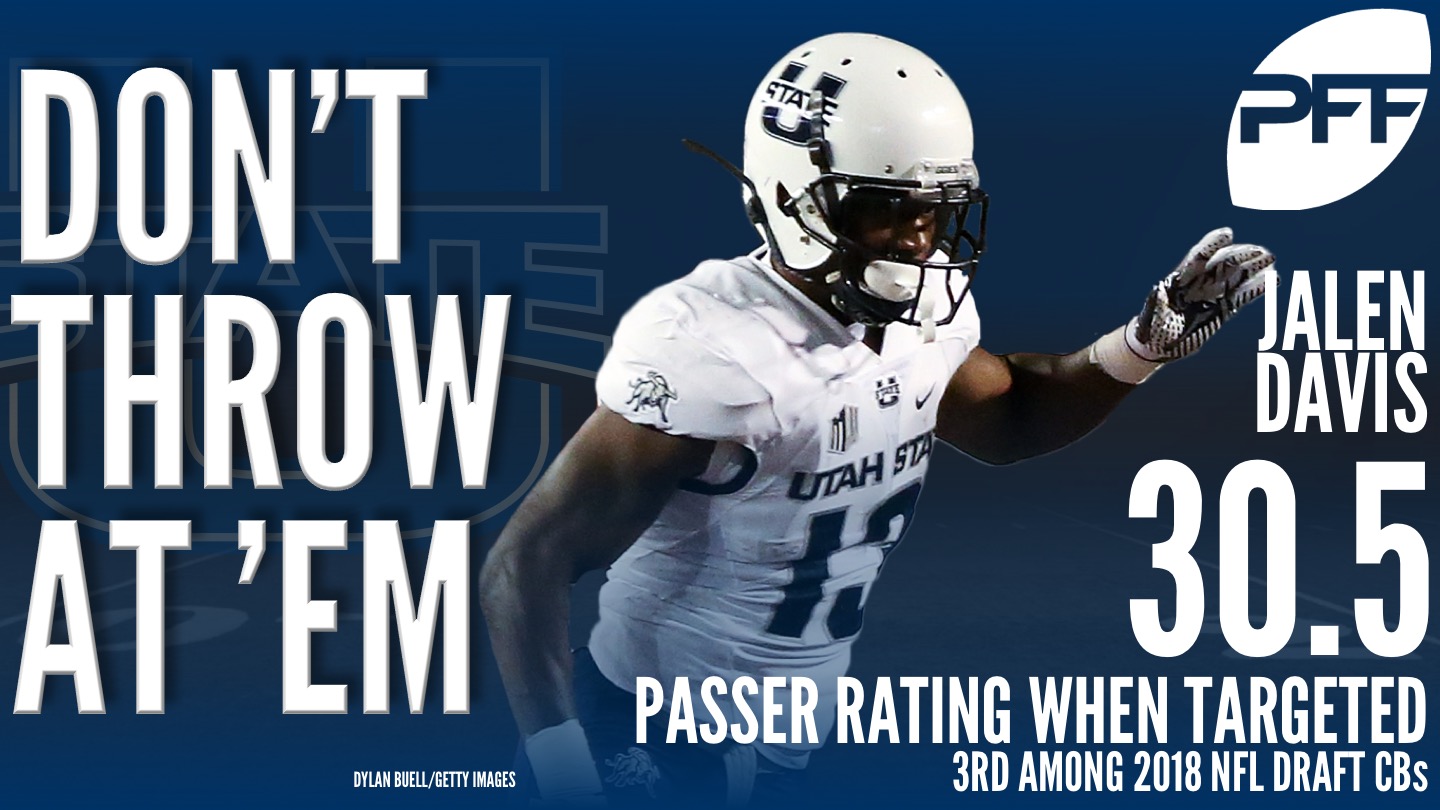 Davis can play outside, in the slot or on the back end at safety. He played 173 snaps in the slot and 328 outside in 2016. In 2017, Davis played 350 snaps in the slot and 310 outside. He is at his best in the slot and opposing quarterbacks only had a 27.7 passer rating when targeting Davis there, a number which ranked first among all draft-eligible cornerbacks. NFL teams will value his positional versatility and his ability to make plays on the ball.
Tyrell Crosby, OT, Oregon
Crosby is our No. 5 ranked tackle and doesn't get as much recognition as some of the other tackle prospects in the class but his production deserves attention. Crosby was an outstanding pass-protector in 2017 as he didn't allow a sack and only two hits and five hurries on his 340 pass-blocking snaps. Crosby's pass-blocking efficiency rating of 98.5 tied for sixth among all FBS draft-eligible offensive tackles. He is also an excellent run-blocker, especially on the move, and his 85.3 run-blocking grade ranked 10th among all FBS tackles. NFL teams will also highly value that Crosby has considerable playing time at both tackle spots, as he played 909 snaps at right tackle in 2015 and 937 snaps at left tackle in 2017.
Hercules Mata'afa, Edge/DI, Washington State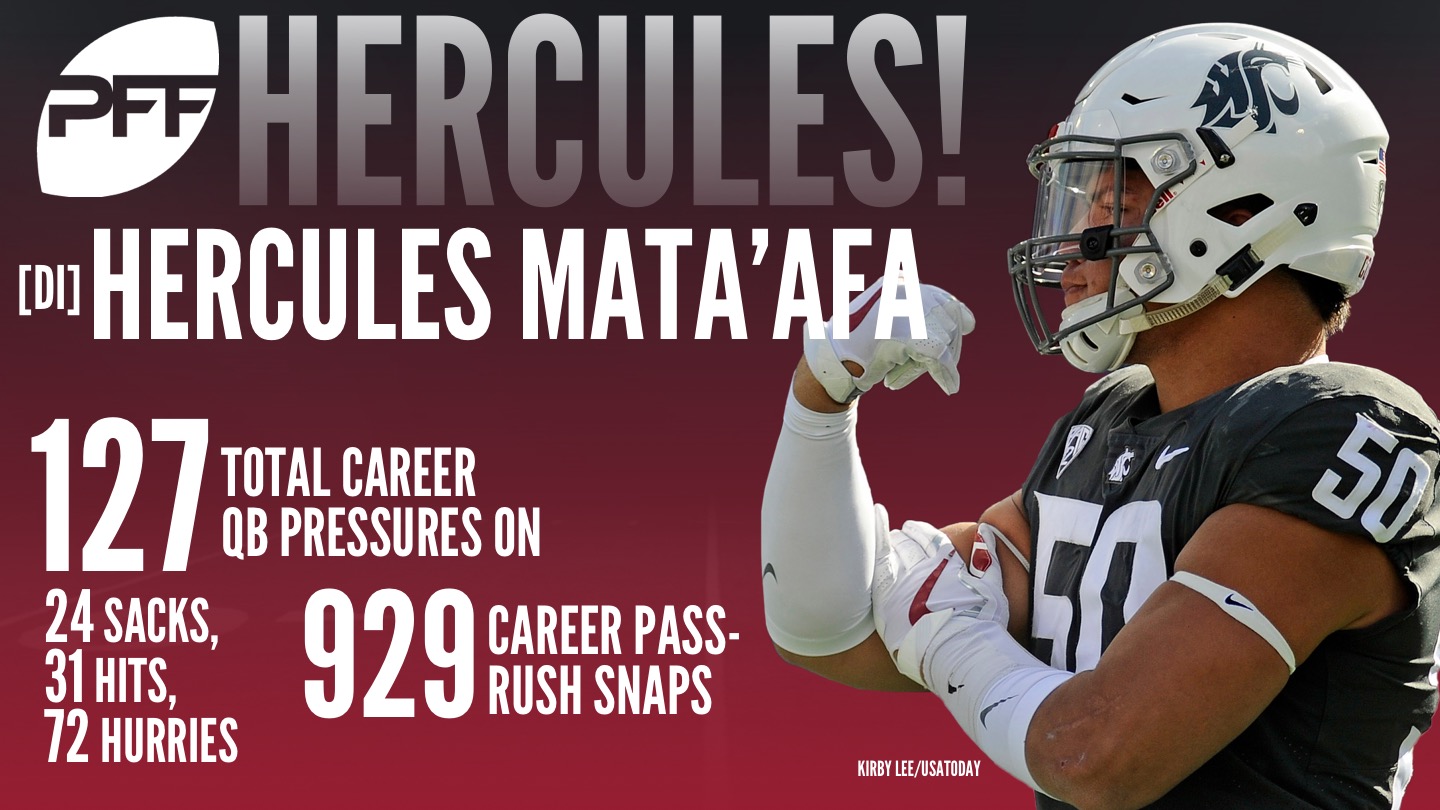 Mata'afa is undersized – 6-foot-2, 254-pounds – and didn't test particularly well athletically at the combine, but all he does is produce when he is on the field. Mata'afa's lack of traditional defensive tackle size plus his pass-rush production was reminiscent of Tedy Bruschi coming out of Arizona, but as he didn't test as well as Bruschi athletically, teams might not move him off the ball in the way that Bruschi was used by the Patriots. Mata'afa wins with quickness at the snap and excellent hand usage to defeat blocks. He is at his best when rushing the passer and had 11 sacks, seven hits and 15 hurries on 290 pass-rush snaps in 2017. His 9.5 pass-rushing productivity rating ranked fifth among all draft-eligible defensive tackles. NFL teams will likely see different ways to deploy Mata'afa, some might want to move him out to more of an edge-rusher role while some might let him continue to rush from the interior in sub-packages.
Dejon Allen, OT/OG, Hawaii
Allen played left tackle last season for Hawaii and was one of the best pass-protecting tackles in the country. Allen only allowed one sack, two hits and seven hurries on his 399 pass-blocking snaps and his pass-blocking efficiency rating of 98.1 ranked 12th among all FBS draft-eligible offensive tackles. He lacks the ideal size to play left tackle in the NFL – 6-foot-2, 295-pounds – and will likely switch inside to guard or center however, the fact that Allen was able to thrive as a pass protector in space at left tackle likely will make teams feel that he should be able to hold up well inside where rushers have less room to operate. Allen has a history of playing inside as well, as he played 704 snaps at right guard in 2014 and 809 snaps at right guard in 2015 before moving out to left tackle in 2016. Allen is also a stout run-blocker and his run-blocking grade of 85.6 ranked seventh among all FBS tackles.
Uchenna Nwosu, Edge/LB, USC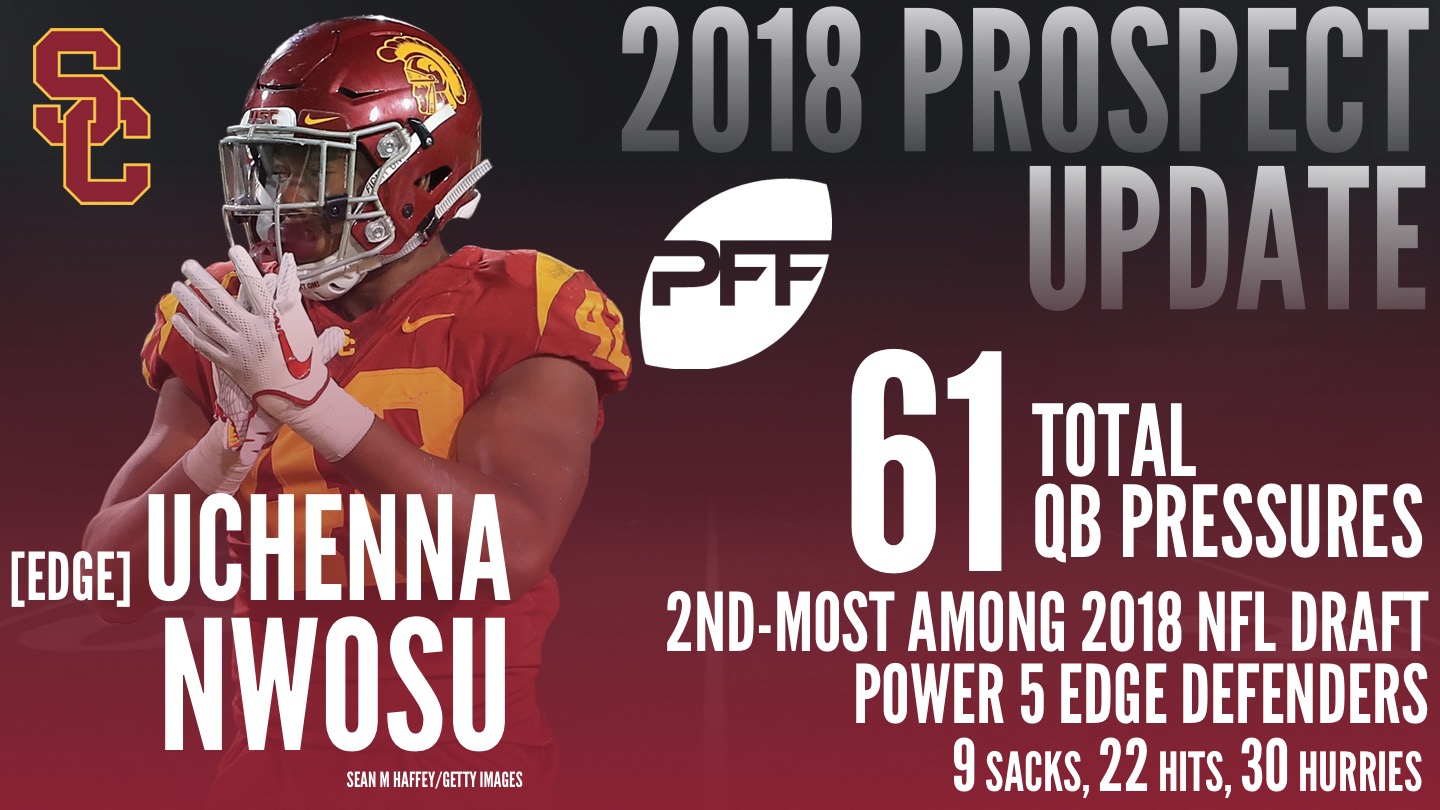 Nwosu blew up last season as a pass-rusher when he generated 10 sacks, 22 hits, 29 hurries and 10 batted passes on his 417 pass-rushes. Nwosu is still largely winning with athleticism as a pass-rusher but his technique is continuing to improve. He might be viewed by some NFL teams as an off-the-ball linebacker due to his size and athleticism but he is at his best when he is rushing off the edge. Titans head coach Mike Vrabel worked Nwosu out at USC pro day and coaches who will be highly game-plan specific with how they use their defensive personnel will be able to find multiple ways to use Nwosu based upon their opponent.
Michael Gallup, WR, Colorado State
Gallup is a long-time PFF favorite and our No. 1 rated wide receiver for the draft. He has finished the past two seasons in the top 10 in yards per route run among the wide receivers in the draft class. He is a physical player who can use his strength to win at the catch point and he also has the long speed to run by cornerbacks. He performed well at the Senior Bowl against top competition, as he won 50 percent of his 1-on-1 pass route reps in practices. Gallup's consistent production stands out among the wide receivers in this draft class.
Quenton Meeks, CB, Stanford
The big thing a team will get with Meeks is a very high football IQ. His father was an NFL defensive coach for over 20 years and has no doubt taught Meeks a thing or two. He also has ideal size for a NFL cornerback at 6-foot-1, 209-pounds with 31 3/4-inch arms. At the combine, Meeks showed explosive athleticism with jumps of 39-inches in the vertical and a 10-foot-8-inch broad jump. He then ran a 4.49 40-yard dash at his pro day. Meeks improved his overall grade (84.4 in 2017) and coverage grade (83.9 in 2017) each year at Stanford and he spent most of his time playing outside corner and that is where he fits in the NFL. Meeks' consistent development along with his size and intelligence will make him attractive to teams during the draft.
Phillip Lindsay, RB, Colorado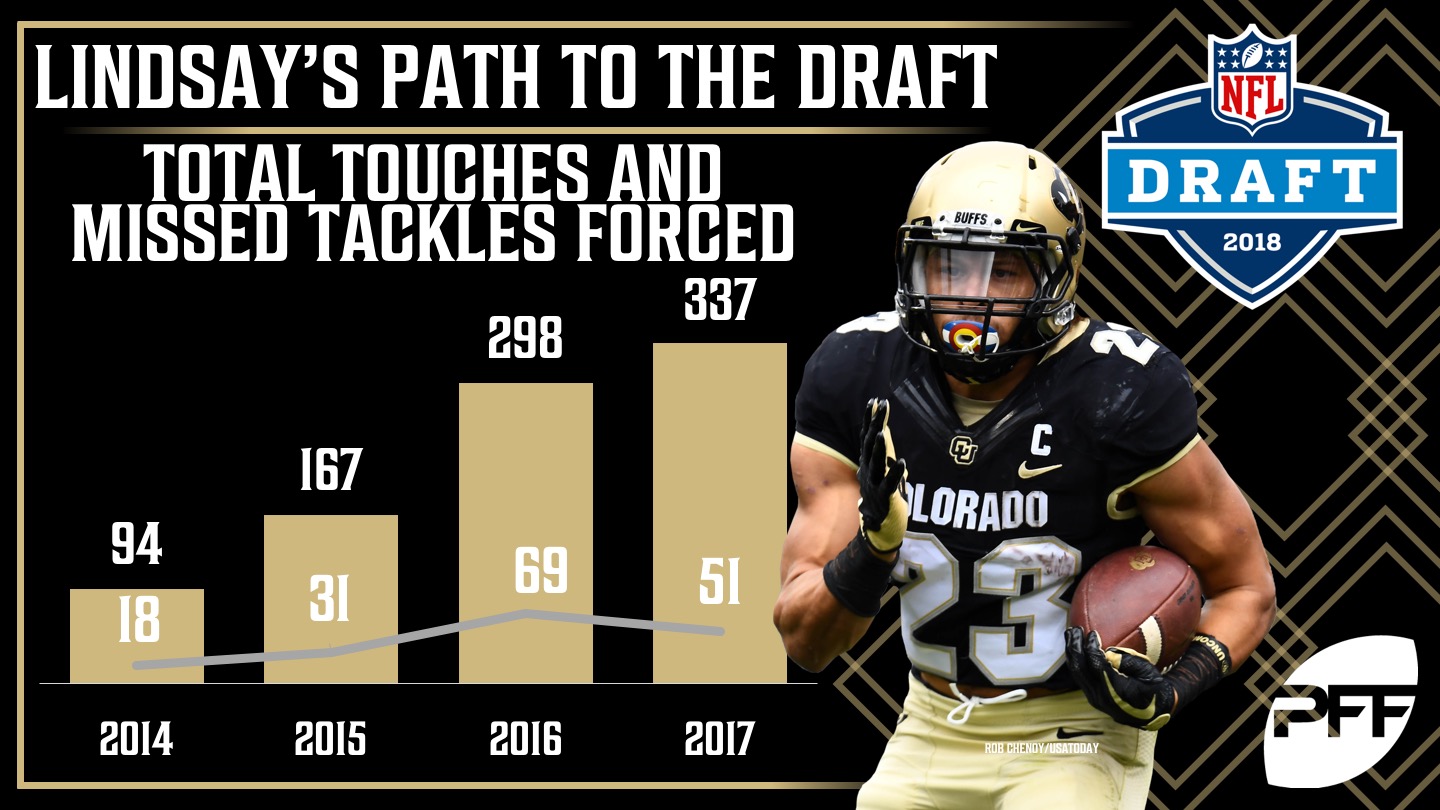 Lindsay is only 5-foot-7, 185-pounds and his lack of size is the only reason he is constantly overlooked. Lindsay was a combine snub but ran a 4.39 40-yard dash at Colorado's pro day, showing he has breakaway speed. He is one of the more sure-handed players in the draft class, as he has only dropped four passes in his four-year career at Colorado. Lindsay is an outstanding pass-protector, which is the one skill that usually keeps rookie running backs on the sideline. In 2017, Lindsay's 91.2 pass-blocking grade ranked first among all FBS running backs. Lindsay's combination of sure hands and quality pass protection could see him on the field on third downs in the NFL.
Phillip Lindsay is vicious in pass protection. Here he is in 2016 punching Solomon Thomas' helmet off his head. pic.twitter.com/edHpx6Jn9M

— Jordan Plocher (@PFF_Jordan) March 28, 2018
Justin Reid, S, Stanford
Reid is the younger brother of NFL safety Eric Reid and just like his brother, Justin showed off ideal physical traits at the combine when he ran a 4.4 40-yard dash, posted a 36.5-inch vertical and 128-inch broad jump and a lightning quick 6.65 3-cone drill. Reid graded positively in coverage, as a pass-rusher and against the run in 2017. In coverage, Reid had nine plays on the ball in 2017 with five interceptions and four passes broken up. He played 232 snaps at free safety but on 465 snaps he was lined up in the slot in 2017. Reid has played the majority of his snaps in the slot the last two seasons and his ability to play either position is highly coveted by NFL teams.
2018 NFL Draft
---
Mock Drafts: 1 (Oct. 31, 2017) | 2 (Jan. 18, 2018) | 3 (March 8, 2018) | 4 (April 3, 2018)
Top 100 Draft Board | Top 10 WRs on the route tree | WR prospect fits | DI prospect fits | Underrated west coast prospects | 5 boom-or-bust prospects
Position ranks: QB | RB | WR | TE | OT | OG/C | EDGE | DI | LB | CB | S
Draft Quarterback Study: Lamar Jackson
Draft Corner Route Trees: Josh Jackson | Minkah Fitzpatrick | Denzel Ward | Donte Jackson | Isaiah Oliver | Carlton Davis 
Predictive Analytics: PFF College grades translation to NFL for pass-rushers | PFF College grades translation to NFL for QBs