The tight end class for the 2018 NFL Draft features several players who can cause mismatches at the next level, none more apparent than South Dakota State's Dallas Goedert, who tops the charts on our draft board among tight ends.
Here are the top players at the tight end position for the 2018 NFL Draft.
Version 2 of the 2018 NFL Draft Guide is here! For PFF Edge & Elite subscribers, a comprehensive guide featuring player profiles of signature stats, grades and exclusive PFF content including position by position rankings. Find out more information here and join PFF now!
[Editor's note: These rankings were originally posted on February 28, edited on April 9 following the 2018 NFL Scouting Combine and various pro day workouts, these rankings have evolved one final time on April 23 as we are just days away from the 2018 NFL Draft.]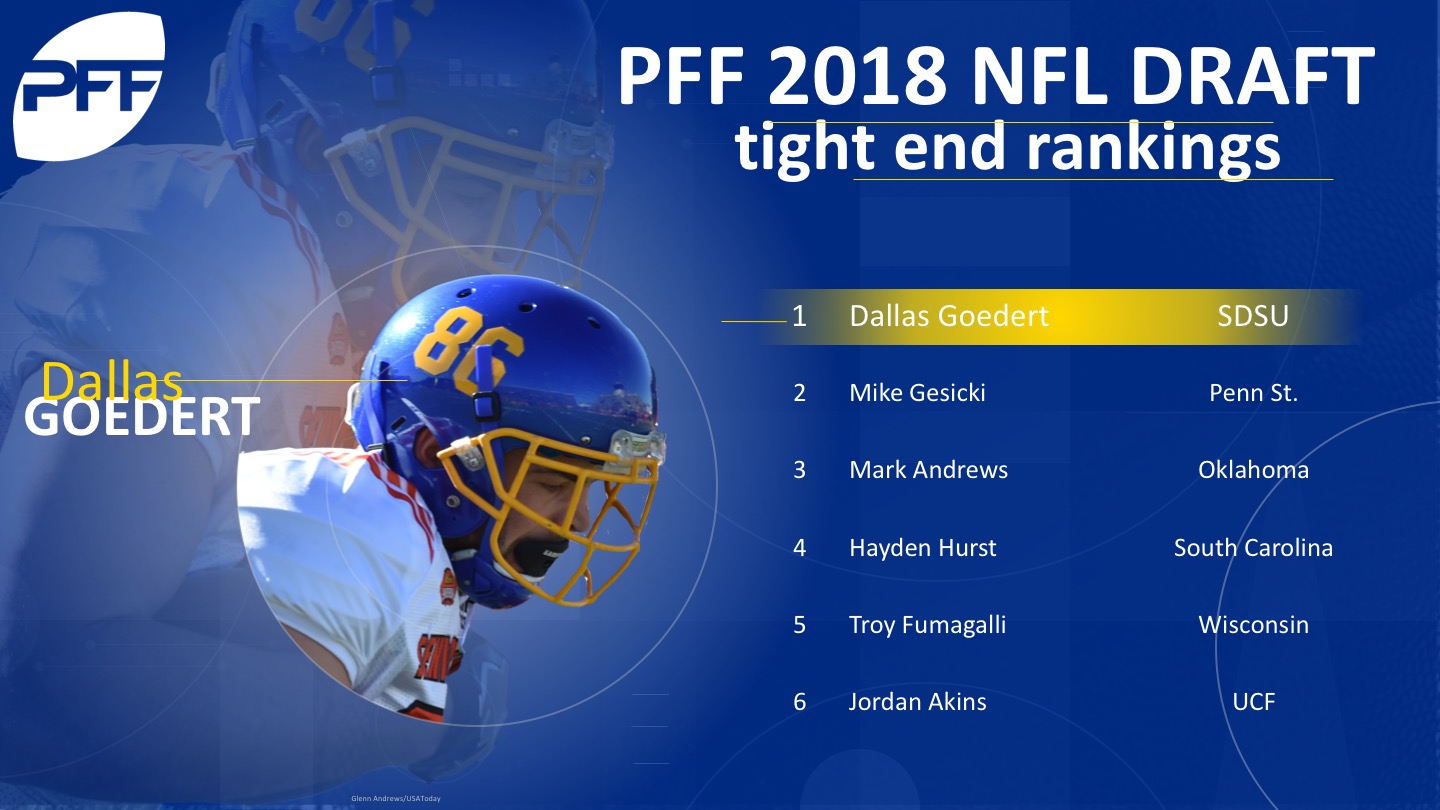 1. Dallas Goedert, South Dakota State
One of the best offensive playmakers in the draft, Goedert is weapon both before and after the catch. He has the size and body control to make spectacular catches and also the athleticism to create after the catch as he tied for the national lead with 12 missed tackles forced and averaging a gaudy 8.2 yards after the catch per reception last season. Goedert dominated FCS competition, but also showed well when facing FBS teams during his career, and he has offensive mismatch potential at the next level.
2. Mike Gesicki, Penn State
Gesicki excels at using his long frame to create big plays on off-target throws and in contested situations while using his long strides to glide down the field. His size and body control makes him an option against safeties and linebackers when lined up on the outside. Gesicki has struggled in the run game, failing to crack a 60.0 run-blocking grade in any year of his career, so he'll have to be managed at the next level in order to tap into his contested-catch ability.
3. Mark Andrews, Oklahoma
A glorified slot receiver in Oklahoma's offense, Andrews has the quickness to separate and create yards after the catch (6.0 yards after the catch per reception over last three years). He improved his ability to catch off-target throws and he projects as a mismatch weapon capable of lining up in-line, in the slot or on the move. Like many of the top tight ends in the class, Andrews has work to do in the run game, but he's one of the top receiving options available and a threat to create big plays at all levels of the field.
4. Hayden Hurst, South Carolina
A sure-handed option, Hurst has only three drops on 103 catchable passes in his career and he has the size, body control and after-the-catch skills to improve any passing attack. He's not afraid of contact after the catch where he's averaged 7.0 YAC/reception in his three years and he has the catch radius to make plays in contested situations (caught 7-of-11 contested catches last season). Hurst is boom-or-bust in the run game where he still misses too many blocks, but he adds a strong pass-game element with the ability to contribute in multiple roles.
5. Troy Fumagalli, Wisconsin
Fumagalli isn't special in any one area, but he's one of the better all-around tight ends in the draft. He knows how to create plays at the intermediate level, using his body and a good catch radius to give his quarterbacks a chance. He's a sure-handed option with only 12 career drops on 145 catchable attempts, and he's improved as a run-blocker every year where he's able to handle defensive ends better than most tight ends in the class.
6. Jordan Akins, UCF
Another good athlete at tight end, Akins gets to top speed quickly and it shows in his ability to separate and create after the catch. He had an excellent showing during Senior Bowl practice after ranking fifth among draft-eligible tight ends with 1.93 yards per route last season. Akins has showed improvement in the run game where he has the ability to locate second-level targets, but it's his ability to stretch the seam that gives him a chance to make an impact at the next level.
7. Jaylen Samuels, NC State
Position is but a name for Samuels who is part tight end, part slot receiver, part running back. He did it all for NC State and can fill a similar role at the next level as he's excellent with the ball in his hands and capable of becoming a key part of "gimmick" plays. He has had his struggles as a blocker, but those can be mitigated if he's used on the move and in the slot where his quickness and after-the-catch ability are an asset in a creative offense.
8. Ian Thomas, Indiana
An athletic tight end, Thomas can create mismatches on the outside and he averaged 8.9 yards after the catch per reception despite not forcing a missed tackle on his 29 career receptions.
9. Deon Yelder, Western Kentucky
Yelder broke out with a strong 2017 season, grading at 83.7 overall. He caught 76.8 percent of his targets last season, despite dropping six of his 75 catchable targets.
10. Christopher Herndon IV, Miami (Fla.)
Herndon showed strong big-play ability last season, forcing nine missed tackles on only 40 receptions and averaging 9.3 yards after the catch per reception.
11. Tyler Conklin, Central Michigan
Conklin has been a solid big-play threat for Central Michigan, and they were willing to use his size to make plays on the outside. He averaged 13.9 yards per reception during his career, though he dropped eight of his 93 catchable targets.
[Editor's note: These rankings were ever-evolving as we headed towards the draft. Comments, questions or for further information, follow @PFF_College.]
Position ranks: QB | RB | WR | TE | OT | OG/C | EDGE | DI | LB | CB | S