We learned a lot more about some teams than others in the 2020 college football season.
Due to the pandemic, we saw schedules that ranged from full 12-game slates to just three games for some teams. The COVID-impacted season also added another wrinkle when it comes to returning production, as last year did not count toward players' eligibility. As such, we have an unprecedented amount of production coming back in 2021.
Because of these factors, there are some teams that have become much more difficult to project going into the 2021 college football season. 

Click here for more PFF tools:
PFF Fantasy Draft Kit | PFF Betting Dashboard | PFF Fantasy Rankings
PFF Fantasy Projections | NFL Premium Stats | Win Totals Tracker
Offense
There aren't a lot of familiar faces in Provo after an incredible 2020 season. Second overall pick Zach Wilson is gone, as well as several offensive linemen and the team's top receiver. If the personnel losses weren't significant enough, the Cougars also lost offensive coordinator Jeff Grimes to Baylor.
The new faces almost everywhere, combined with the complete outlier 2020 was compared to its average, BYU is arguably the toughest offense to nail down going into the 2021 season.
Jaren Hall will likely replace Wilson at quarterback. He did not play in 2020 and has played only 55 dropbacks in his career. However, PFF analyst Anthony Treash was optimistic on Hall's outlook in his article highlighting breakout candidates in 2021.
Baylor Romney is another candidate to replace Wilson and has a little bit more of a sample size to look at. Romney generated a 71.9 passing grade across 96 dropbacks in 2019.
Replacing Brady Christensen, PFF's top-graded tackle of 2020, will be a tall task. The Cougars also lost their next two highest-graded linemen in Chandon Herring and Tristen Hoge. Still, it does return four offensive linemen with a decent amount of playing experience, and all graded well in 2020. It's unlikely that the BYU offensive line ranks in the top 10 in pass-blocking and run-blocking grades this season after it did so in 2020, but the drop-off may not be extremely significant. 
At receiver, BYU actually still looks strong despite losing its go-to guy in Dax Milne. The program returns Gunner Romney and Neil Pau'u, who had a solid workload and graded well in 2020. Additionally, BYU brought in brothers Puka Nacua and Samson Nacua, who will also provide production.
Samson had racked up over 1,000 yards in his four-year career at Utah prior to the transfer, and Puka averaged over 50 yards per game in his two-year Washington career while battling injuries. Puka Nacua has a lot of talent and could really produce this year if he can stay healthy, as he was the top-ranked recruit in Utah back in the 2019 class.
No matter who replaces Wilson, he will have plenty of weapons at his disposal in the passing game, which provides reason for optimism despite the uncertainty entering 2021. 
The Sun Devils only played four games in what was a complicated 2020 season. The offense started out with relatively mediocre performances against USC and UCLA but exploded against weak Arizona and Oregon State defenses to close the year.
After those final two games, Arizona State's offense looked like one of the best in the country on a per-game basis. Are we overreacting to two games against poor defenses in a very shortened season? 
| | |
| --- | --- |
| Opponent | Expected Points Added Per Play |
| USC | 0.041 |
| UCLA | -0.050 |
| Arizona | 0.450 |
| Oregon State | 0.408 |
| | |
| National Average | -0.019 |
The Arizona State running game is something that we can be relatively confident in. It graded well in every game and tied with Ohio State for fourth in PFF team rushing grades.
However, the passing game is a cause for concern if the Arizona State offense wants to live up to expectation in 2021. The passing attack graded below 50.0 in half of its games last season and never graded above 80.0, not even in the 70-point performance against Arizona.
Out of 138 quarterbacks who threw at least 90 passes, Jayden Daniels (97 attempts) ranked 126th in accurate-throw percentage a season ago. He'll need better pass protection up front, as well, as the Sun Devils' offensive line ranked just 92nd in our pass-blocking efficiency metric last year.
The Gators will be replacing a Heisman Trophy finalist at quarterback, maybe the best tight end we've ever seen in college football, a first-round receiver in Kadarius Toney, along with Trevon Grimes' 589 yards and nine touchdowns from 2020.
The offense ranked top-10 in passing rate a year ago, which was a much different philosophy than many expected from Dan Mullen. The longtime head coach has a history of producing quarterbacks with significant rushing production, which is probably more of what we'll see this year with Emory Jones under center.
Jones is a great athlete, and the highest-rated quarterback recruit Dan Mullen has ever had as a head coach. He's very athletic and produced an 86.1 rushing grade on 34 attempts last season, which led the country among quarterbacks with at least 30 rushing attempts.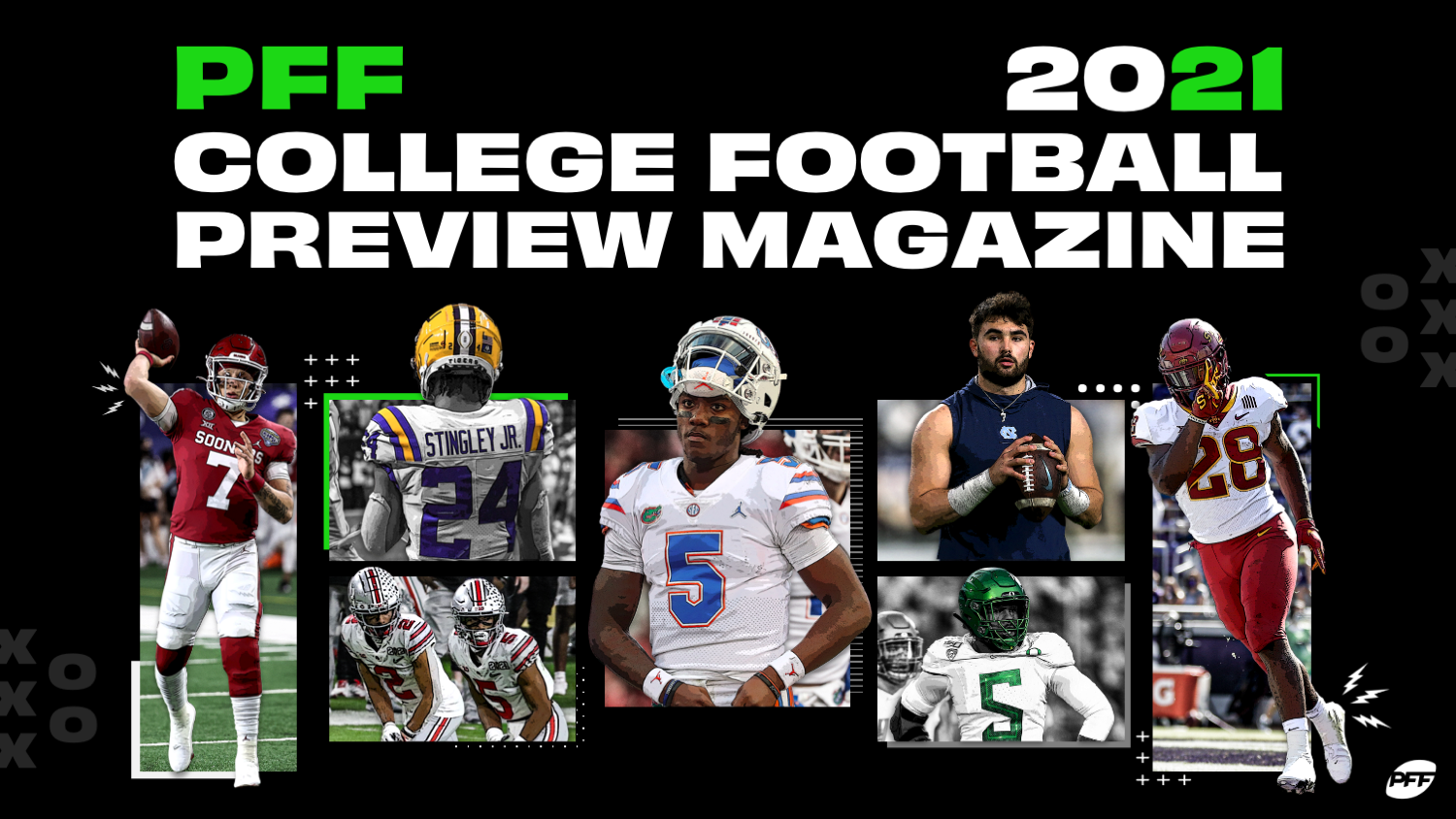 Florida is also incredibly deep at running back this season, returning Dameon Pierce, Malik Davis and Nay'Quan Wright, who all contributed significantly in 2020.
Pierce was the best runner, ranking 15th in rushing grade among Power Five running backs with at least 100 attempts. Davis was the passing weapon, ranking fourth on the team in receptions. Wright was a mix of both, totaling more than 200 rushing yards and receiving yards.
If that wasn't enough, Florida brought in an elite transfer in Demarckus Bowman, who transferred from Clemson during his true freshman season. Bowman was a five-star and the 20th-ranked recruit in the country in 2020, according to the 247Sports Composite Rankings. Lorenzo Lingard is in the mix, as well, another former five-star running back prospect in his own right.
Florida will need all the production it can get from that unit because the pass-catchers have a lot to prove going into the year.
Losing so much production at receiver and tight end means that several pieces are going to need to take significant steps forward to have another solid passing game in 2021. The returning leader in receptions is Malik Davis, who was one-third of a running back committee last year. The top options at receiver will likely be Jacob Copeland, former Penn State five-star commit Justin Shorter and sophomore Xzavier Henderson. Their snap counts and grades from 2020 are shown below.
As you can see, Florida will either need improvement from these three or another weapon to emerge in the passing game. The deep threats are Copeland and Henderson, who were the only receivers on the team last year with an average depth of target of more than 15 yards.
However, Florida will need to find a receiver that can create with the ball in his hands to fill Kadarius Toney's shoes. None of these three averaged more than 5.0 yards after the catch per reception in 2020, and they aren't really built to make people miss in the open field.
Defense
Subscribe to PFF Edge to continue reading
Already have a subscription? Sign In