Year after year, a handful of college football players start the season as relative unknowns and end the campaign as bona fide superstars. And while it's difficult to predict which players will embark on this ascent, we can narrow down the best candidates to go from small-sample darling to full-time hotshot using PFF's extensive database.
A few weeks ago, I highlighted the top 25 breakout candidates who have the best chance of becoming a household name by the close of the 2021 college football season. As one could assume, all of those players came from a Power Five program, with a lot of those players benefitting from a five- or four-star pedigree. This time around, the focus is on those from non-Power Five programs who could emerge as small-school stars this fall.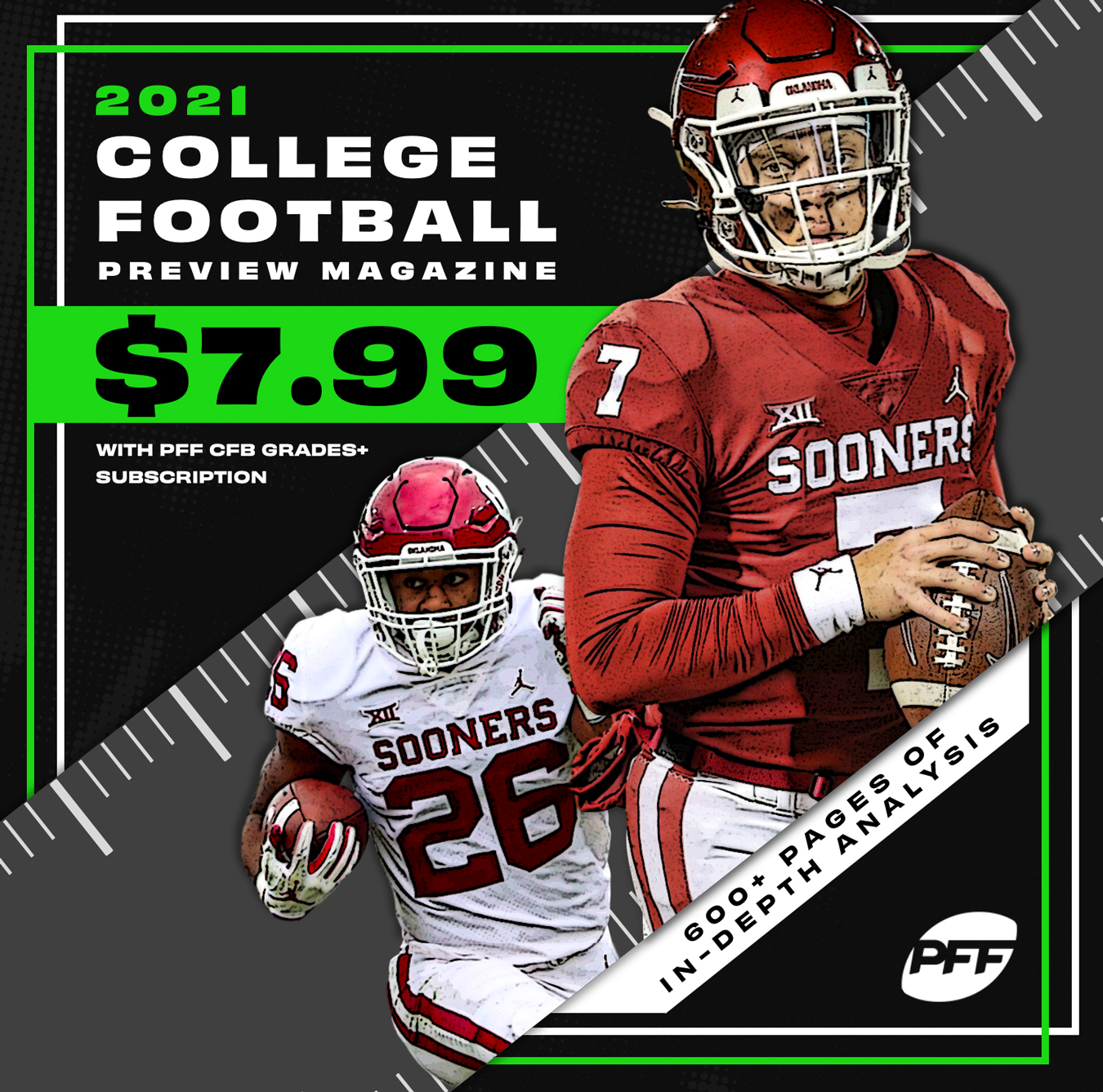 247Sports Recruiting: 2016 Three-Star (Overall: 722nd, Dual: 20th)
Career Snaps: 144
Hall is set to receive the impossible task of replacing BYU legend Zach Wilson, who last season earned the highest single-season PFF grade ever given to a non-Power Five quarterback.
The last time Hall saw game action was in 2019. He showcased toughness, athleticism, arm strength and an ability to play on the move, all things coaches desire at the quarterback position, ultimately earning a 77.3 PFF grade across 55 dropbacks.
Hall is unlikely to replicate the level of production Wilson provided. Still, he certainly has the talent to rank among the nation's top non-Power Five quarterbacks and hold off the kind of debilitating regression that will threaten this BYU program. The only thing he needs to do is avoid injury and play the season from start to finish, something he has struggled with in the past.
247Sports Recruiting: 2018 Three-Star (Overall: 412th, TE: 19th)
Career Snaps: 338
Whyle barely saw the field during his first two years on campus, mustering just 78 snaps and six targets from 2018 to 2019, but his workload increased dramatically in 2020 — and so did the production.
The 6-foot-6, 235-pound tight end averaged 12 routes per game in 2020, and all he did was generate a 92.9 receiving grade and 2.94 yards per route run, both of which trailed only Kyle Pitts for the best among FBS tight ends.
Whyle will now look to sustain this production with an even larger role this fall, and there's nothing in his profile that suggests he's not up to the task. The fourth-year Bearcat averaged 8.0 yards after the catch per reception on 15 underneath receptions in 2020, demonstrating the ability to work in space underneath, and he caught 100% of his catchable targets — notably going 3-for-3 in contested scenarios — on the year. He also showed that he could hold his own out wide, catching 4-of-5 targets for 45 yards and two scores when split out as a wide receiver.
Whyle should be the focal point of Cincy's offense in 2021. Watch out for the name.
Josh Whyle: PFF receiving stats since 2018
| | | | | | | |
| --- | --- | --- | --- | --- | --- | --- |
| Season | PFF Rec. Grade | Tgt. | Rec. | Yds. | TD | Passer Rating Generated |
| 2020 | 92.9 | 34 | 28 | 353 | 6 | 137.3 |
| 2019 | 66.9 | 4 | 2 | 51 | 0 | 95.8 |
| 2018 | 45.8 | 2 | 0 | 0 | 0 | 39.6 |
247Sports Recruiting: 2015 Three-Star (Overall: 551st, WR: 68)
Career Snaps: 729
Things have seldom gone right for the 24-year-old Green, who saw only 12 targets in his two years with the Sooners back in 2015 and 2016, sat out in 2017 due to former transfer restrictions and spent most of his 2018 and 2019 seasons on the Ark State sidelines because of injury.
Despite the adversity, Green pieced together a productive six-game season in 2020, hauling in 32 catches for 542 yards and five scores before yet another injury shut him down for the year. Simply put, he has business to finish if he can stay healthy for the rest of the year.
Green has all the requisite tools to become one of the most dangerous vertical threats in the Group of Five. He pairs his 6-foot-5, 197-pound frame with good speed, a solid release package and top-tier route-running chops, making him a challenging opponent for any cornerback. He can sauce corners at the line of scrimmage, manipulate them in off-coverage with route stems or use his frame to his advantage downfield.
Over 46% of his 54 targets came from passes thrown 20-plus yards downfield in 2020, the second-highest rate in the FBS. His 325 deep receiving yards ranked 29th. Not too shabby for playing in only six games.
247Sports Recruiting: 2018 Four-Star (Overall: 366th, CB: 34th)
Career Snaps: 270
Boykin began his collegiate career at Notre Dame, where he was expected to become a marquee defensive back for the Fighting Irish. Now, the Minutemen are the ones reaping the benefits of Boykin's skill set after he shined on a small sample in his first year on the field for UMass in 2020.
Across four games against Georgia Southern, Marshall, FAU and Liberty last year — all of which came on the road — Boykin saw 20 targets and allowed only four combined first downs and touchdowns, all while forcing five incompletions.
He has the length to play man coverage and certainly brings the physicality, evidenced by the fact that he didn't give up a single catch across 10 man-coverage targets last year. The problem is that he can go overboard at times, just as he did against the Thundering Herd when he got flagged on three separate occasions.
UMass may not be the cream of the college football crop, but they could have something special with Boykin.
247Sports Recruiting: 2020 Three-Star (Overall: 2,555th, TE: 119th)
Career Snaps: 84
Fairweather came to FIU as a three-star recruit who started playing football as a junior in high school. He ran just eight routes in his first three games as a true freshman but ran 40 over his last two outings, finishing the year with a 90.8 receiving grade and an average of 3.44 yards per route run.
The 6-foot-4, 233-pound tight end has a good blend of size, strength and all-around athleticism, and he didn't look out of place as a route-runner. He looks like the real deal.
247Sports Recruiting: 2018 Two-Star (Overall: N/A, LB: N/A)
Career Snaps: 234
After showing up on campus at 6-foot-2, 205-pounds, and playing only 26 snaps his first two seasons, Michel packed on 25 pounds and etched out a backup job in 2020. While he still has a lot of room to grow with his play strength, Michel didn't let that get in the way as the year progressed, and he also showed much-improved hand usage while piling up win after win with his nasty spin move.
In all, Michel produced an 82.3 pass-rush grade across 107 rushes and won on 19.1% of those reps. He looks like he could join Taylor Riggins to form one of the Group of Five's top edge tandems.
247Sports Recruiting: 2020 Three-Star (Overall: 1,567th, WR: 214th)
Career Snaps: 124
Rucker barely got a look in during his 2020 true freshman campaign, running only 46 routes in his first seven outings before receiving a starting nod ahead of the last game of his true freshman season. And out of nowhere, the 6-foot-2, 190-pound receiver exploded with a 93.2 PFF grade, catching nine passes for 310 yards and four touchdowns.
Rucker ended up catching only 16 passes all year long. Yet, he still came away with four deep receiving touchdowns — and all four had a step or more of separation, a testament to the same kind of speed that also helped him break seven tackles and average 11.9 yards after the catch per reception.
Ark State will be a team to keep an eye on this fall. They have two breakout candidates at wide receiver with Corey Rucker and Dahu Green, in addition to Layne Hatcher taking over the starting quarterback job on a full-time basis.
247Sports Recruiting: 2018 Two-Star (Overall: 2,744th, OG: 127th)
Career Snaps: 165
McCracken played only 61 snaps in his first two years with Ohio, but he earned a full-time job along the interior during the shortened 2020 season and put up the kind of pass-rush production that has to excite the Bobcats coaching staff.
The 6-foot-3, 300-pound interior defensive lineman has a lot of strength in his hands. He generated a 91.0 pass-rush grade and a 26.7% win rate while recording nine pressures on 43 rushes last season.
247Sports Recruiting: 2018 Three-Star (Overall: 1,320th, ILB: 53rd)
Career Snaps: 158
Van Fossen's main contributions have come via special teams so far, as he has hardly seen the field on defense in his three years with the Bearcats. Still, he's performed well when given the opportunity.
The 6-foot-2, 220-pound linebacker has earned an 81.5 PFF grade across 158 career snaps, racking up an impressive 17 defensive stops in the process. He's broken up a couple of passes, too, and has put up a positively graded play rate against the run that ranks among the very best in the conference.
While Jarell White was a talented player, the Bearcats should have no issue with replacing him with Ty Van Fossen.
247Sports Recruiting: N/A — JUCO transfer from College of the Sequoias
Career Snaps: 143 (with SJSU only)
Wright is a threat to push the pocket on any true pass-rush opportunity he gets. His powerful 6-foot-5, 315-pound frame gifts him a physical advantage over most Group of Five linemen he faces, an advantage that became more and more apparent as the year went on. He recorded an 89.1 pass-rush grade over his final three outings of the season, pairing that with a 24.4% win rate. And he did that while playing everywhere across the line.
If he can sustain that level of production over the full year while having the edge tandem of Viliami Fehoko and Cade Hall alongside him, San Jose State will challenge for best pass rush in the Group of Five.
247Sports Recruiting: JUCO 2020 Three-Star (Overall: 144th, OLB: 8th)
Career Snaps: 108 (with Houston only)
Last year, Houston gave Jones the opportunity to rush the passer 63 times in his first year as a Cougar. He impressed immediately, tallying eight pressures on 14 opportunities in his season opener against Tulane. He closed out the season with an 84.2 pass-rush grade, a 30.2% win rate and a 22% pressure rate.
The scary part is that his pass-rush toolbox still has a lot of room to expand. He has a good get-off and showed the ability to consistently win the edge. This Houston line may have lost a first-round pick, but it can still be one of the most dangerous pass rushes in the Group of Five, with Logan Hall, Derek Parish and David Anenih all returning alongside Jones.