After quite the offseason, football is officially back, and with that our new and improved betting tools at PFF. Like in 2019, PFF's Betting Dashboards (Greenline) will be available for both all NFL and all NCAA games between FBS teams as a part of your PFF ELITE subscription.
Subscribe to PFF's ELITE subscription using promo code KICKOFF30 to get access to PFF's NFL & NCAA Betting Dashboards at 30% off.
The goal of PFF Greenline is to leverage our play-by-play data, the same data used to power our fantasy projections, strength of schedule metric, win totals simulations and player grades, to pick a side, total or moneyline when appropriate. This data comes together to form our PFF Elo rating system, offensive, defensive and special teams ratings, along with coaching and scheme metrics. Injury information is incorporated in real-time as well.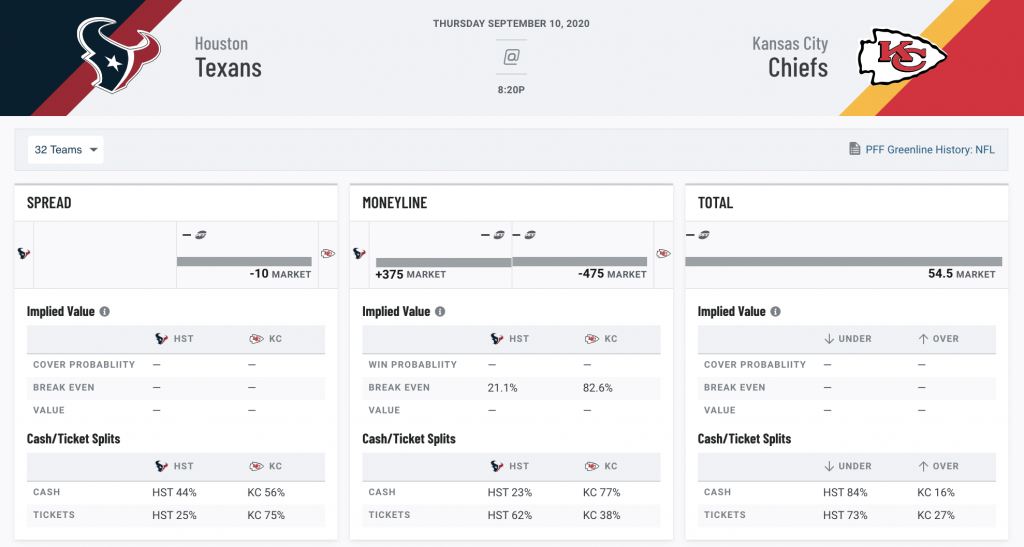 Since Eric Eager and George Chahrouri have been writing their spread picks column in 2017, they are 85-73-7 (53.8%) against the spread, 6-3 (66.7%) on win totals, and 128-115-11 overall, including a number of > +100 draft propositions (including from the 2020 draft). They are the co-hosts of the PFF Forecast podcast, which will air each Monday morning along with their spread picks column. Thursday's podcast will preview this week's games, and highlight any major movements in the market. Ben Brown is back to write his NCAA spread picks column each week, while Kevin Cole will continue to offer ground-breaking insight on showdown contests for standalone games.
All Greenline data from the 2019 NFL and NCAA seasons can be found HERE, which will be updated during the 2020 season, as well. 
New in 2020
After increasing our offering from NFL to NCAA in 2019, we're adding two new products to our betting offering in 2020:
The gambling space is evolving, and with (especially in the NFL) lines sharper now than they've ever been, folks have been moving to more exotic markets like player props. We are no different, as a great deal of our betting content this offseason has been in that space.
We have combined our fantasy projections with some market information to give you guys access to our player props tool, which allows you to see the right side of each available prop at each available price. Since prop markets are pretty fluid, and prices less often the standard -110 on each side, we felt that this was an important tool for betting in these markets. 
PFF Daily Betting Podcast 
Beginning this fall, Brown, Cole, Eager, Chahrouri and new PFF betting analyst Lee Sharpe will host a daily podcast on all things betting related, covering both the NFL and the NCAA. We will cover look-ahead-lines, full slates of games, alternative betting opportunities and player props.