Throughout the years, PFF data scientists have developed and conducted numerous studies to better understand and predict performance.
While many of these seminal works have furthered the conversation and certainly linger in the background, the goal in this space is to identify how the findings manifest in particular weekly matchups and to source the matchups or interactions the betting market has overlooked.
Some bets will track traditional markets, but others will look to more exotic markets to ensure we utilize the best market for the particular thesis or angle. 

Angle: Pittsburgh's self-inflicted offensive wounds won't allow them to fully take advantage of the matchup with the Raiders.
• The Steelers offense has been dreadful to start the season, ranking last in practically every efficiency metric.
• This is partly due to facing tough defenses in the San Francisco 49ers and Cleveland Browns. However, there are some genuine reasons to be bearish on the Steelers offense and their ability to elevate their production in this matchup against the Raiders, especially if we consider the Steelers' inability to force coverage mistakes. 
• In a 2022 article, we discussed the concept of perfectly covered plays and how that influences offensive production. On a given play, a coverage mistake turns an NFL offense into the league's best, whereas no mistake makes them almost twice as bad as the worst NFL offense.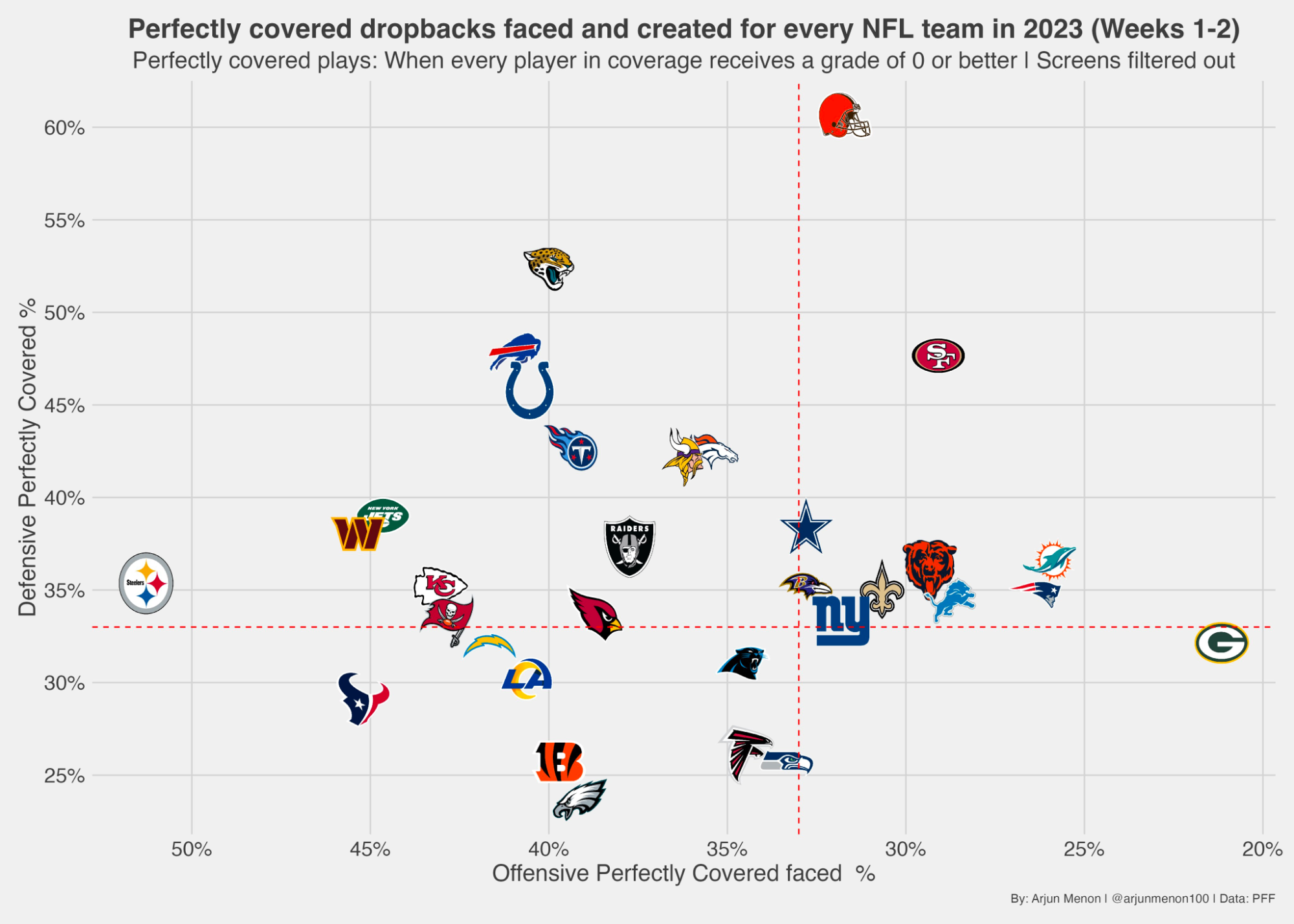 • As you can see, the Steelers are dead last in their ability to force coverage mistakes, which is a function of scheme, ability at the wide receiver position and matchup.
• As the research indicates, the offense drives far more of the perfect coverage rates than the defense, suggesting that these issues will persist no matter the matchup, especially as Diontae Johnson is hurt and Allen Robinson II and George Pickens have proven incapable of separating at a high rate. 
• Similarly, if we look at throws to tight windows, the Steelers perennially rank atop the league, further suggesting they are running themselves out of far too many plays.
• This is to say that according to our research, the Steelers are less matchup-dependent than a team like the Saints or Giants, who we would sooner upgrade because of their matchup. 
Bottom line/bet: The market is pricing in a meaningful upgrade for the Steelers offense, likely because they play the Raiders. But considering their tendency to create poor offensive environments, the matchup upgrade is unwarranted.
Steelers team total under 20.5 (-110) & Las Vegas Raiders -2.5 (-110)
---
Angle: Ryan Tannehill's traits make him particularly sensitive to a poor matchup vs. the Browns 
• One of the main themes in our study on quarterback scrambling relates to how certain QB traits interact with other facets of the game and which situations elevate certain QB skills over others.
• This note will certainly be a staple in this column, but let's focus on how it relates to Ryan Tannehill this week.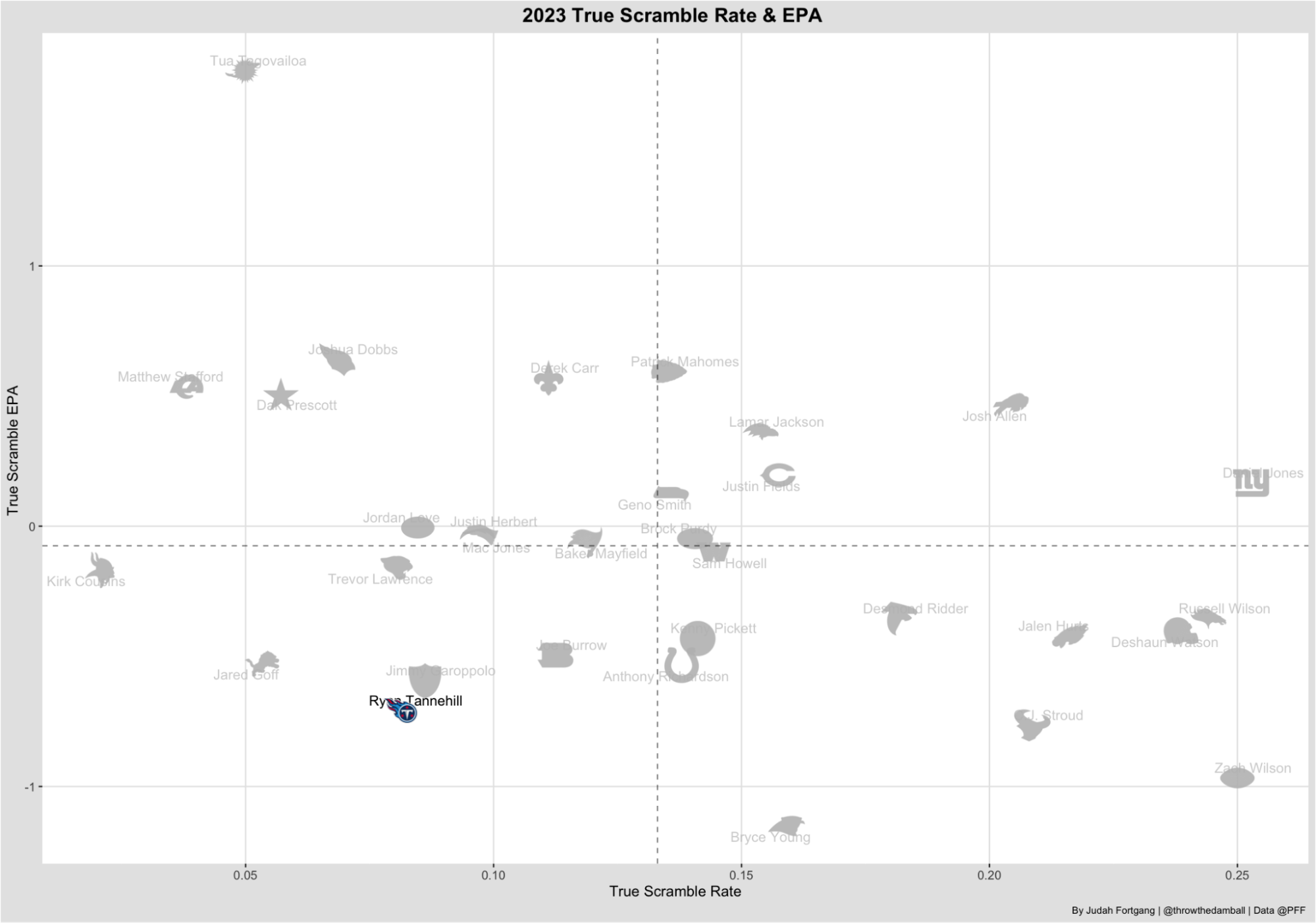 • This graph shows that Ryan Tannehill rarely scrambles and is ineffective when doing so.
• In our study on scrambles, we discuss how this combination means that a QB is more dependent on his situation and surrounding context than a QB more toward the right and higher up on the Y axis.
• And the situation for the Titans seems bleak, considering their matchup with the Browns and their pass rush.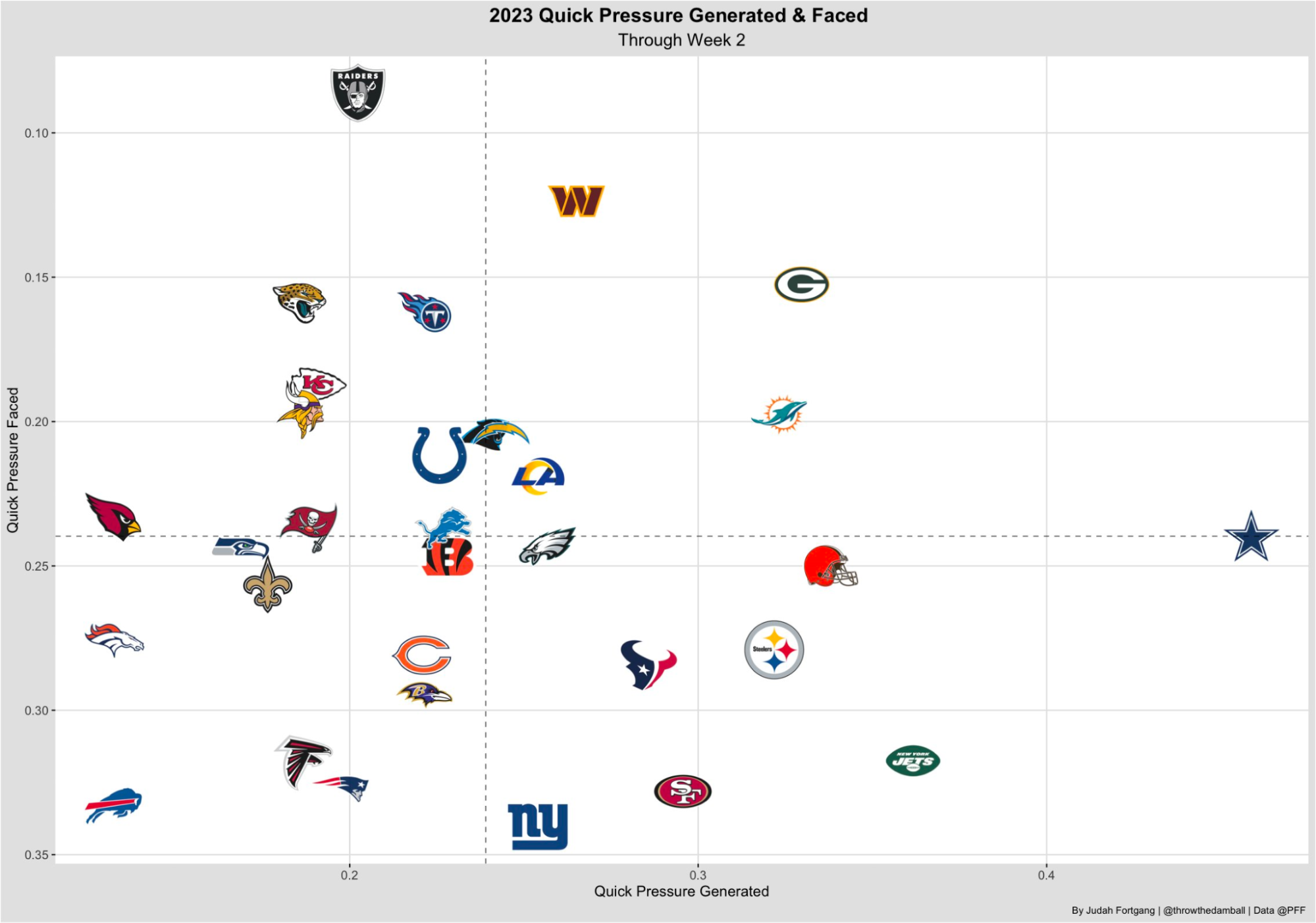 • The Browns defense has been absolutely dominant up front, generating a quick pressure on close to 35% of plays, six percentage points higher than last year's leader. Considering Tanehill doesn't run and create for himself, this matchup magnifies that weakness.
Bottom line/bets: The mismatch between the Browns' defensive line and the Titans' offensive line is magnified, given Tannehill's reluctance and inability to scramble well. Bets fading the Titans' passing offense and betting on the Browns' sacks are firmly in play, and Ryan Tannehill under 209 passing yards (DraftKings) will be a priority play.
---
Angle: Dolphins tear apart the Broncos' man-heavy defense and weak secondary.
• How could we debut this new column without mentioning our go-to man-zone angle — the impetus for multiple same-game parlay wins last year, including two from the Dolphins in Week 2 and 8? 
• The two main findings from this research suggest that man coverage, more so than zone, reflects the talent on the field — it's coverage where good receivers beat inferior cornerbacks and vice versa.
• Targets are also more predictable in man coverage. Accounting for matchups, there is far less variance as to who will earn the targets compared to zone. 
• Under new defensive coordinator Vance Joseph, Denver has played more man coverage than any other team in the NFL, which poses a major issue against the high-flying, man-beating Miami defense.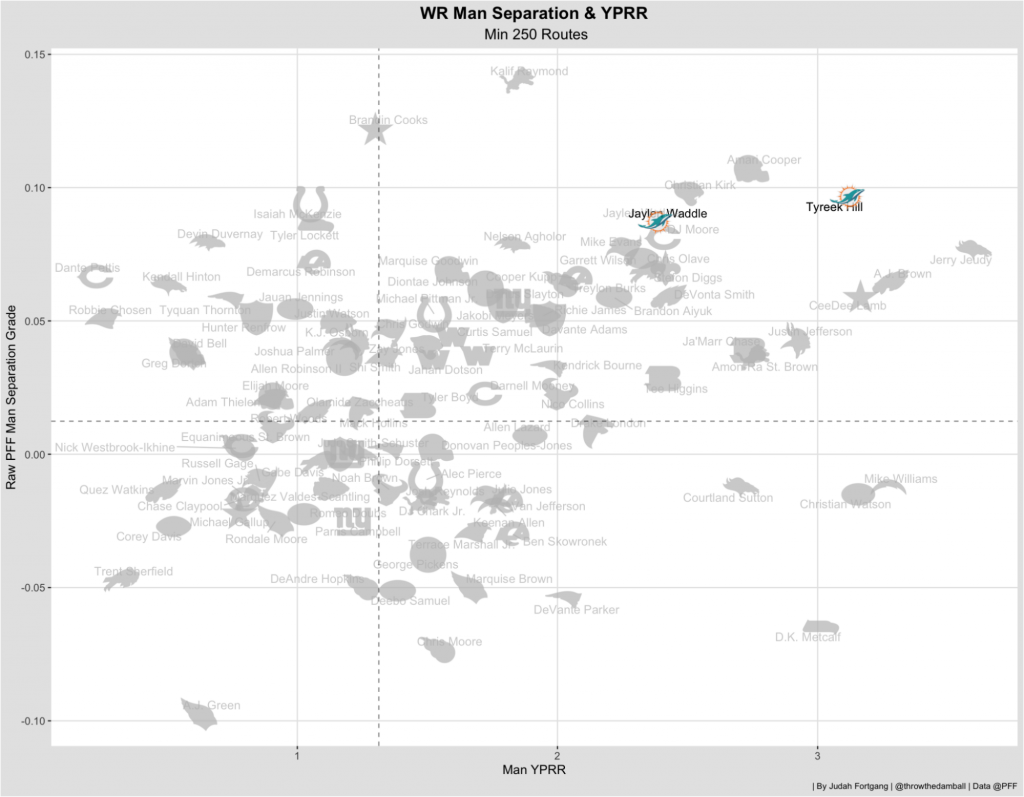 . 
• Since arriving in Miami, Tyreek Hill has been the NFL's best receiver against man coverage, and Jaylen Waddle is not far behind.
• Even if Jaylen Waddle misses the game, the Dolphins offense is set to have matchup advantages everywhere, as head Mike McDaniel will move Hill around the formation to avoid Patrick Surtain and instead run routes vs. Damarri Mathis (PFF's worst-ranked CB) and former UDFA slot CB Essang Bassey (who has never eclipsed a 55.0 coverage grade).
• The market's props are pricing in median projections, but because of the matchup advantages magnified by man coverage, this sets up for a right-tail game. 
Bottom line/bets: Playing man coverage against the Dolphins, especially without elite CBs, presents the NFL's biggest mismatch.  I'll be looking to bet Miami passing overs and building deep SGPs with Hill and Waddle (or even River Cracraft and Braxton Berrios if Waddle misses the game).