• SGP Brandon Aiyuk 100+ receiving yards/anytime TD/ Jimmy Garoppolo 275+ yards /49ers win vs Rams: It's Aiyuk time with Deebo down. L.A. stout vs run and defending tight ends, setting up Aiyuk for heavy volume.
• Garoppolo thrives in clean pockets (0.44 EPA is NFL's second-best mark), which the Rams allow plenty with NFL-worst 23% pressure rate.
• SGP Joe Mixon 2 TDs / 100+ rush yards / Bengals win vs Browns: Cleveland allowing by far the worst rush EPA in NFL; Mixon leads NFL in red-zone touches and should have a favorable game script.

Last updated: Oct. 30, 10:00 a.m.
Estimated reading time: 3 mins
---
· While same game parlays (SGPs) are big money makers for the sportsbooks, that does not mean betting edges don't exist. SGPs offer two unique opportunities unavailable in other markets: they uniquely tell a story that we can create through props, spreads, and totals; and (2) SGPs allow us to combine outcomes that are correlated through a particular game angle, but will not be priced into the odds set by books.
· The goal in this space, then, will be to hit on SGPs that either tell unique stories about games and/or uncover correlated outcomes available only through SGPs.
Story: Lions corners can't cover Tyreek Hill and Jaylen Waddle in man coverage
• The Dolphins play the 2nd-most man coverage in the NFL, on 50% of plays. As we studied at PFF, man coverage lets the talent play out more so than zone. Great coverage will almost always defeat weak receiving, and great receiving will almost always defeat weak coverage

• According to PFF's Successful Coverage Over Expected metric, the Lions' 3 starting cornerbacks are among the league's worst in coverage.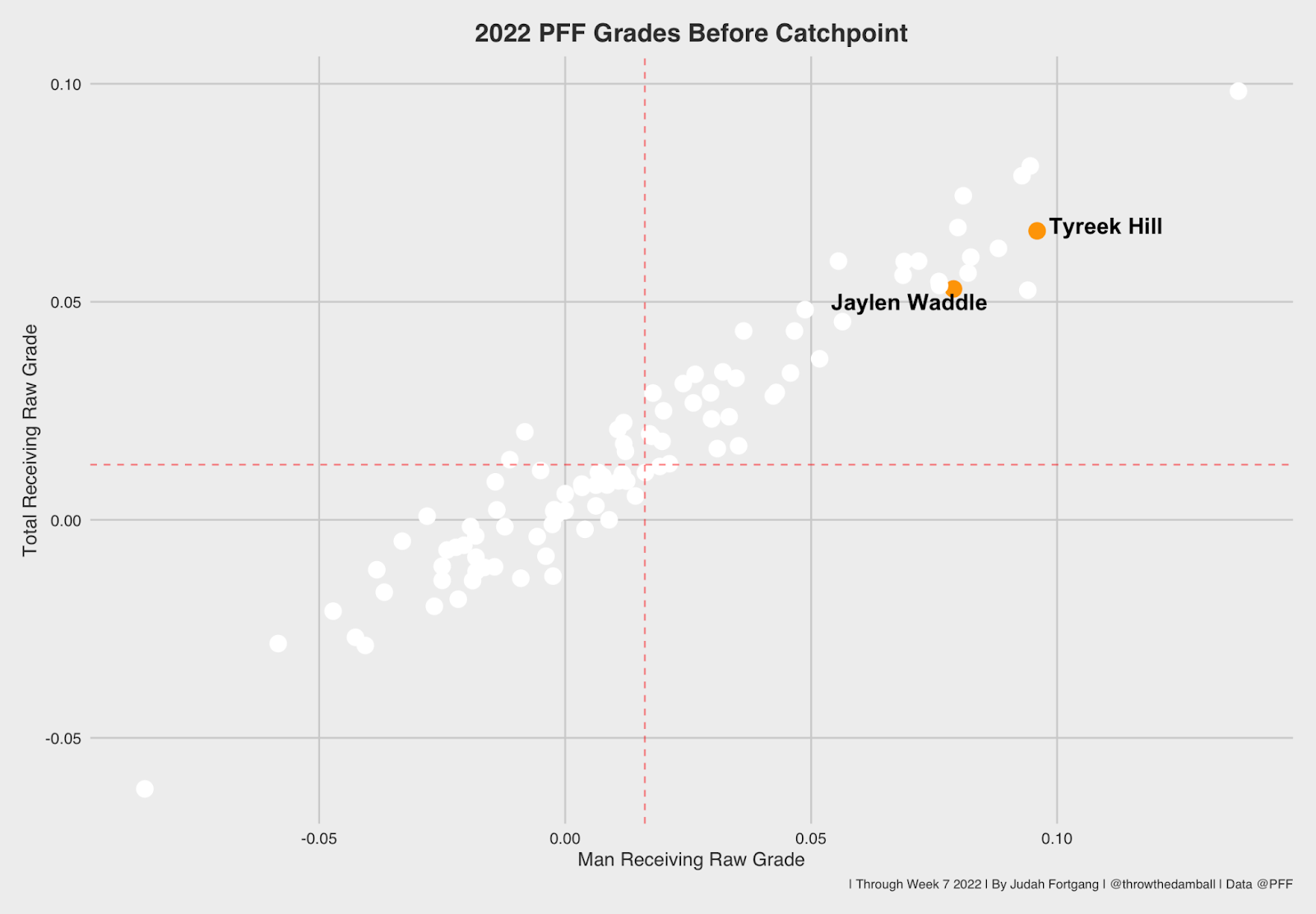 • This could spell some serious trouble against the dynamic duo of Tyreek Hill and Jaylen Waddle who, as you can see, have thoroughly dominated man coverage this year. 
• Good receivers against bad corners while in man coverage is a recipe for fantasy goodness and receiving overs. 
FanDuel SGP Build (+1800)
• Tua Tagovailoa 300+ Yards passing
• Tyreek Hill 100+ Yards receiving 
• Jaylen Waddle 100+ Yards receiving
• Miami Dolphins ML 
Story: With a clean pocket all day, Garoppolo and Aiyuk lead SF to victory. 
• The Rams only generate pressure on 23% of their plays — which is the worst mark in the NFL.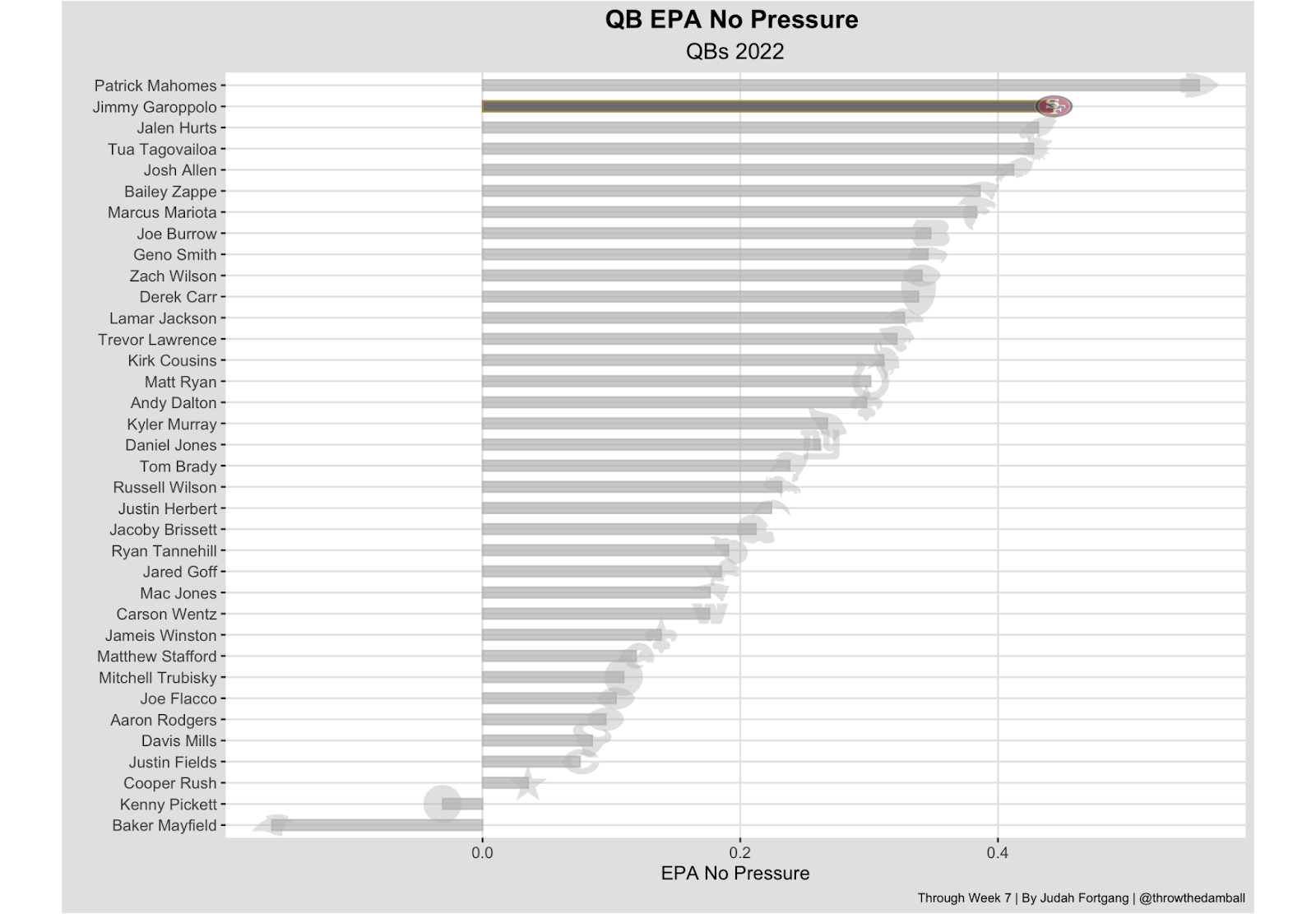 • Jimmy Garoppolo's production has been elite when his pocket is kept clean, with the NFL's 2nd-best EPA when not under pressure (0.44).
• Volume should be on Garoppolo's side, as the Rams are the best in the NFL in Rush Defense EPA, and teams run 4% above expected against them.
• With Deebo Samuel out and the Rams allowing the fewest targets per game to tight ends, Brandon Aiyuk is set to step into a featured big role in what should be an efficient and voluminous spot.
FanDuel SGP Build (+3668) 
• Brandon Aiyuk 100+ Yards Receiving 
• Jimmy Garoppolo 275+ Yards Passing
• San Francisco 49ers ML
• Brandon Aiyuk TD
Story: Joe Mixon finally gets going against the NFL's worst run defense. 
• Although Joe Mixon has struggled so far this season to the tune of 3.3 yards per carry, a matchup with a Browns defense allowing by far the worst Rush EPA in the NFL might just be what the Dr. ordered. 
• Not only has the Browns run defense been inefficient, but teams run over expected against them 6% of the time, suggesting that there will be plenty of volume on Mixon's side as well.
• Mixon only has 3 TDs so far this season, but his 27 red-zone touches are the most in the NFL. The opportunity is present and it is only a matter of time before Mixon punches those in for scores. 
FanDuel SGP Build (+1435) 
• Joe Mixon 100+ Yards Rushing
• Joe Mixon 2 TDs
• Cincinnati Bengals ML