• After entering Sunday with NFL's third-lowest Perfectly Covered Play Rate, Washington delivers easily the best defensive coverage performance of Week 7 in upset of Packers.
• The Commanders had both Week 7's highest Perfectly Covered Play rate and the fewest coverage mistakes, ringing the Packers' panic sirens.
• Denver Broncos CB Patrick Surtain led NFL corners in Week 7 True Coverage Rate (nearly 97%); Jets LB C.J. Mosley led non-DBs with more than 22 coverage snaps (97.9%).

Last updated: Tuesday Oct. 25, 3:30 p.m.
Estimated reading time: 8 mins
---
Following our extensive research on coverage in football, and the creation of Perfectly Covered Plays and Adjusted Coverage Rate, we now have recent data to analyze from the seventh week of the NFL season.
Let's evaluate how each team and defender performed in coverage in Week 7.
Perfectly Covered Plays
A "Perfectly Covered Play" is where every coverage player on the field earns a coverage grade of zero or better on a single play. Here are the defenses that created the most Perfectly Covered Plays in Week 7, compared to how often their offense faced Perfectly Covered Plays. The league average in Week 7 was 39.8%, down significantly from last week's average of 44.8%, and up from the 2019-2021 league average of 38.5%.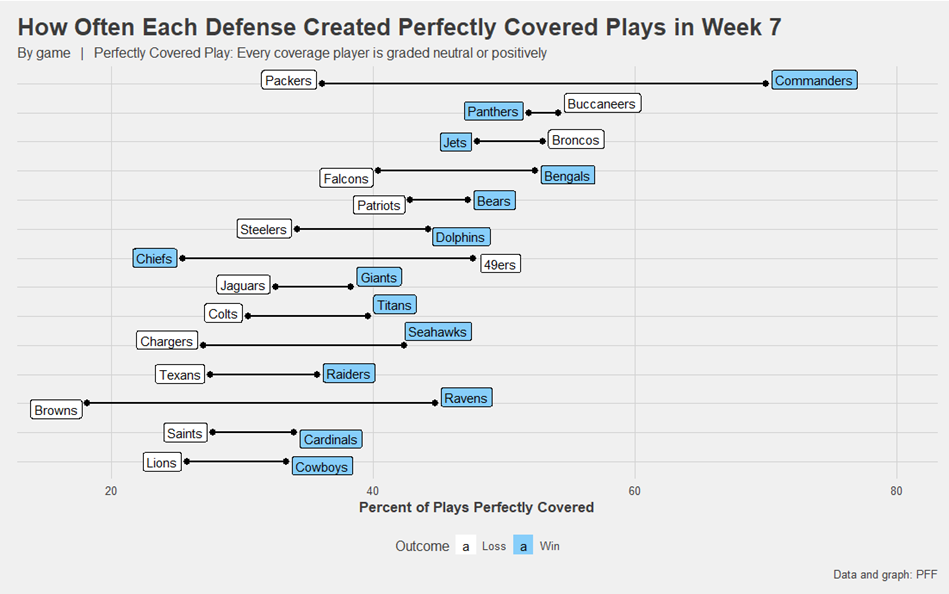 The Washington Commanders, a team that has the 3rd lowest perfectly covered play rate this season, shocked the league against the Green Bay Packers and put up by far the best defensive coverage performance of the week, where they perfectly covered 70% of plays. The next team was the Tampa Bay Buccaneers at 55%, which is 15% lower than the Commanders.
The Cleveland Browns perfectly covered the lowest percentage of plays this week, at less than 20%. The Kansas City Chiefs and Detroit Lions also had less-than-stellar defensive coverage performances. Despite all the injuries to the San Francisco 49ers defense, they still perfectly covered nearly 50% of their defensive plays this week.
This week, the winning team created more Perfectly Covered Plays 11/14 times. That's the highest of the season, and this week showed that it paid off to have the better defensive coverage unit.
Perfectly Covered Plays is not just a defensive stat; preventing such plays is relevant for offenses, too. The Packers offense struggled to get into a rhythm the entire game and faced the highest percent of perfectly covered plays this week. It's time to hit the panic button with their offense, as their receiving corps hasn't had much chemistry this year. The Carolina Panthers' offense (yet again) faced the second-most perfectly covered plays, followed by the New York Jets.
Individual True Coverage Rates
Keying in on individual players, we can see who performed the best in coverage this week in terms of their True Coverage Rate, the percentage of the snaps for which they earn a coverage grade of zero or better.
Note: The True Coverage Rate league average (from 2019-2021) was 80% for cornerbacks, 88% for linebackers and 91% for safeties.

Duke Riley and Devin White were the only linebackers to cover receivers 100% of the time this week. However, they both only played 20 coverage snaps, whereas the Jets' C.J. Mosley had nearly a 98% true coverage rate on a massive 47 coverage snaps.
The Commanders' CB unit had the best week by any NFL CB corps this season, with all 3 of their cornerbacks in the top 5 in terms of their true coverage rate. However, Patrick Surtain II had the highest percentage of locking down receivers at nearly 97%.
It's only Week 7, and Jevon Holland has now had 5 perfect weeks in coverage. He's looking to be one of the best safeties in the league right now, consistently locking down opposing offenses. Juan Thornhill has become a key player in the Chiefs secondary, being perfect in coverage this week and adding 5 pass breakups in the process.
Noteworthy Statistics
Jets cornerback Sauce Gardner added 3 more pass breakups on Sunday to extend his lead in terms of pass breakup rate. He's broken up over 25% of passes that he's been targeted on.
The Atlanta Falcons really missed cornerbacks A.J. Terrell and Casey Hayward this week, as the Cincinnati Bengals offense was able to rip through their defense. Hayward is currently on the IR, while Terrell is considered week-to-week. The Falcons' backups didn't have drastically low true coverage rates this week, but their mistakes were costly ones, giving up way too many big plays to the Bengals receivers.
The 49ers defense did perfectly cover a high percentage of plays against the Chiefs, but they had 3 out of the 12 plays this week with -1.5 coverage grades. The Chiefs were able to capitalize on these 49ers blown coverages in the form of big plays.
Rookies of the Week
We can also check in on some 2022 draft picks based on how they performed in coverage. The rookies with the highest True Coverage Rates in Week 7 were:

Quay Walker returns to the top this week after two average weeks, and he just edged out Houston Texans rookie LB Christian Harris. Seattle Seahawks CB Coby Bryant has been one of the worst rookie cornerbacks in coverage this season, but he had an amazing game locking up Los Angeles Chargers receiver DeAndre Carter and takes the top spot this week. The Lions got some much needed secondary help as safety Kerby Joseph had a good day in coverage.
However, some rookies struggled a little this week, with cornerbacks Martin Emerson (62%) and Derek Stingley (76%), and safeties Dane Belton (76%) and Bryan Cook (77%) having the lowest true coverage rates in their respective positions. The conversation of whether the Texans should've taken Gardner over Stingley should be starting soon, as Stingley has been consistently toward the bottom of this statistic each week, while Gardner has been well above average. Belton, the Giants' fourth-round rookie, had a rough day and was unable to cover Jacksonville Jaguars tight end Evan Engram, while Cook struggled covering Brandon Aiyuk.
Team-Specific True Coverage Rates (Coverage Mistakes) 
Let's take true coverage rates and calculate which teams made the fewest coverage mistakes (having the highest true coverage rate) and the most coverage mistakes (having the lowest true coverage rate) in Week 7.

After perfectly covering the highest percentage of plays this week, the Commanders also made the least amount of coverage mistakes. In a shock of a game, the Panthers defense was able to completely shut down the Buccaneers offense, holding them to just 3 points. Their impressive coverage unit was a major factor in their win, and it provides a bright spot for a team that doesn't have much to be happy about this season.
The Browns had a bad day in coverage against the Baltimore Ravens and had by far the most amount of coverage mistakes this week. 25% of the time, their coverage player allowed a receiver to get open. The Chiefs made the second-most coverage mistakes, but were able to get the win against the 49ers with their offense.
Cumulative Statistics
So far this season, the cumulative Perfectly Covered Play rate is 41.3%. Over the course of the season, we will learn which teams are the most successful at creating Perfectly Covered Plays, and so far, here are the top and bottom 3 teams in terms of their Perfectly Covered Play Rate this season:
Top 3 in Perfectly Covered Play Rate
• 49ers (49.1%)
• Rams (48.1%)
• Bengals (48%)
Bottom 3 in Perfectly-Covered Play Rate
• Seahawks (28.6%)
• Patriots (31.3%)
• Browns (32.1%)
Even with all the injuries to their secondary, the 49ers reclaim the top spot in terms of perfectly covered play rate, mainly from other teams faltering. The Los Angeles Rams are consistently trending in the right direction, and now enter the top 3 after a slow start to their season.
The Seahawks are trending in the right direction and had another good day in coverage, boosting their cumulative perfectly covered play rate up over 3%. The gap between them and the New England Patriots is down to less than 3%, and one more great game in coverage could bump them out of last place. The Commanders, a team that was consistently in the bottom 3, improved to 25th, with a perfectly covered play rate of 37% in their great game against the Packers.
Evolving Man and Zone Rates
Some teams' man and zone rates will vary by opponent, while some will stay steady throughout the season. This week, the league as a whole ran man coverage 30.6% of the time, which brings the cumulative average to 29.7%, therefore running zone on 70.3% of plays. We can see how each team's percentage of running man and zone coverage evolves each week. Here are the teams that ran the most man and zone so far this season:
Top 3 in Man-Coverage Rate
• Giants (51.3%)
• Lions (50.2%)
• Patriots (49.6%)
Top 3 in Zone-Coverage Rate
• Rams (89.3%)
• Vikings (88.5%)
• Seahawks (80.5%)
The Giants used over 60% man coverage this week against the Jaguars, moving ahead of the Lions and Patriots as the team using the most man coverage this season. The Lions and Patriots both opted for more zone schemes this week, and it did not pay off for them, as they both allowed the opposing offenses to accumulate a ton of points and yards.
There weren't a ton of changes in the teams that run the most zone coverage this week, but the Seahawks opted for almost an entirely zone scheme this week after testing out some man coverage in previous weeks.
---
Also check out weekly Man and Zone Analysis articles coming out soon for more in-depth analyses on this and predictions based on Week 8 matchups.