• NFL coverage players rarely outperform their college numbers, although the most notable cornerbacks to do so include J.C. Jackson and Marcus Peters.
• Since 2015, the best teams at drafting skilled college coverage players are the New York Giants and Kansas City Chiefs.
• The colleges that have produced the most skilled NFL coverage players since 2015 are LSU, West Virginia and Virginia.
---
The transition from college football to the NFL is not easy. Coverage players, in particular, face far more talented wide receivers and tight ends with advanced route-running skills and increased physicality in the league. And that leads to some coverage defenders who excelled in college failing to replicate their high level of play in the NFL. 
Since 2014, PFF has been collecting defensive coverage data for college football and giving out coverage grades on plays where the defender was either targeted or made a play on the ball. This is similar to the coverage data PFF has been tracking for the NFL since 2006.
Previously, we created an Adjusted Coverage Rate metric for NFL players since 2006, which encompasses factors such as pass breakups and expected points added (EPA) allowed. Now, we can do the same for college players, as well as see which NFL teams drafted and which colleges produced the most skilled coverage players.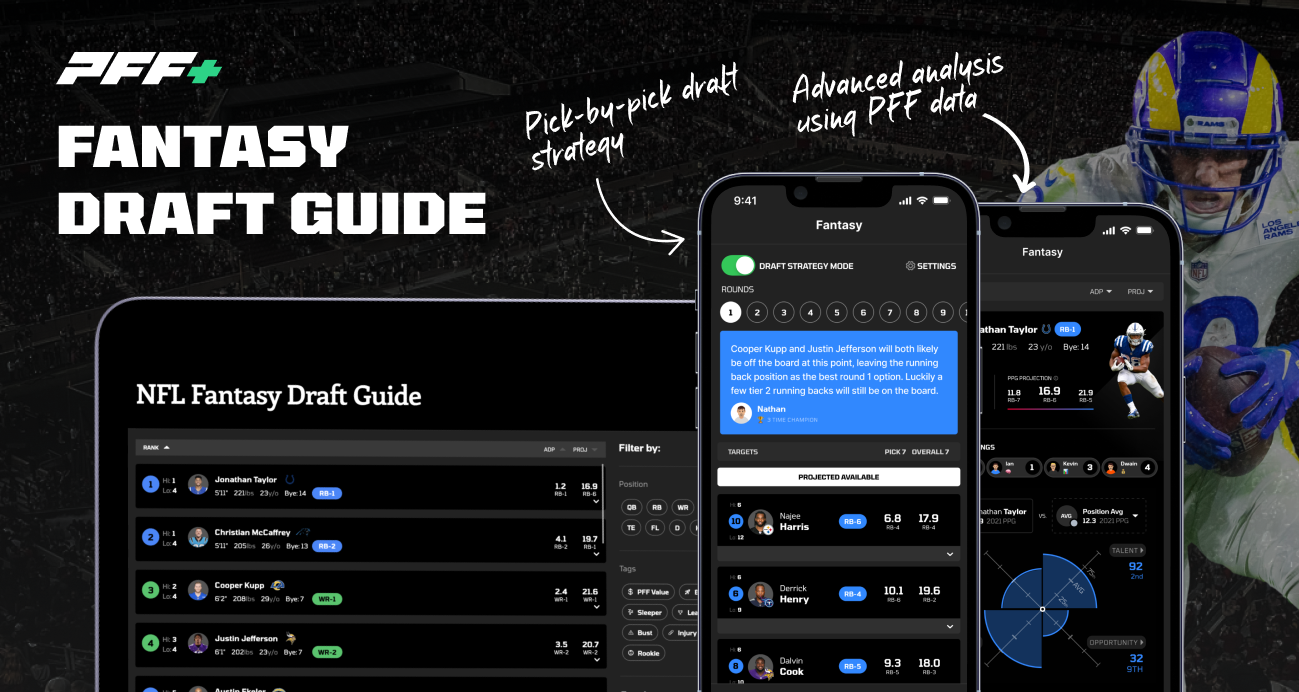 How Coverage Defenders Perform in College
Expectedly, defenders who don't make it to the NFL have significantly lower stats in coverage compared to those who were drafted, as they show up last in every statistic below (except for target rate).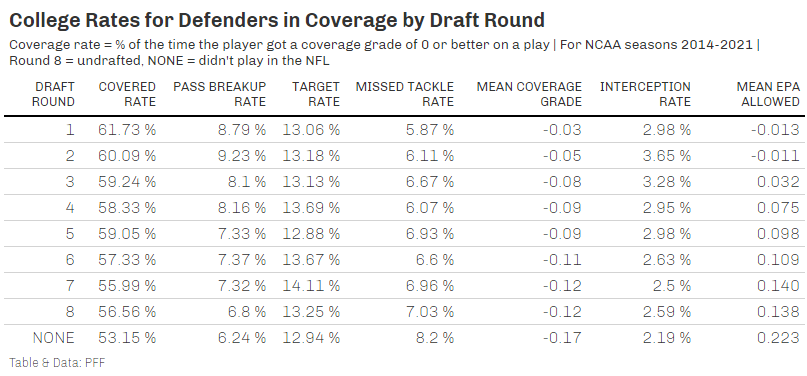 The statistic that sticks out the most in the table is "Mean EPA Allowed," as players who never made it to the NFL have a significantly higher EPA allowed for NCAA offenses than players in the NFL, meaning they gave up more plays to offenses whereas players who made it to the NFL mitigated the number of big plays allowed. 
Analyzing this by round, first-round picks have performed the best in terms of the rate for which they cover receivers and miss tackles, and they also allow the least EPA to NCAA offenses. However, second-round picks have been the best in terms of breaking up passes and getting interceptions. Further breaking this down by position, second-round linebackers have performed better in coverage in the NCAA than linebackers drafted in the first round by a good margin. Also worth noting is that undrafted cornerbacks who made the NFL have much better NCAA coverage numbers than ones drafted in the seventh round. This may be a testament to teams taking chances on cornerbacks late in the draft who may not have produced the best college stats but who could successfully develop into something more than a "safe" pick.