In the inaugural week of the Alliance of American Football, most of the offenses looked a little out of sync. Offensive lines looked porous, and most quarterbacks couldn't do much through the air – except for the Arizona Hotshots. Led by our top-ranked player in the AAF, John Wolford, the Hotshots currently have the best team offensive grade (78.9) in the league, and their offense looked the closest to an NFL offense in terms of being able to move the ball down the field.

[Editor's note: The stats mentioned in this article can be found with a PFF Elite subscription. Join now for every game of the AAF season!]
The highest-graded quarterback in the AAF after one week of regular season action is John Wolford, the former Wake Forest quarterback. His accuracy was second to none, with an adjusted completion percentage of 84.0%, ranking first in the league and nearly ten percentage points higher than the next quarterback. Wolford was unstoppable in the quick passing game; on throws occurring less than 2.5 seconds after the snap, he completed 14-of-18 attempts for two touchdowns and a passer rating of 138.9, ranking first in the league. Wolford was especially good on deep passes (20-plus yards downfield), as he completed three-of-five attempts (with one drop) for 107 yards, two touchdowns, and a passer rating of 143.8, leading all quarterbacks.
Wolford also did extremely well in two of our favorite metrics at PFF, big-time throw percentage and turnover-worthy play percentage. On 29 pass attempts, Wolford produced four big-time throws, good for the top big-time throw percentage (13.8%) in the league so far. To make that mark even more impressive is the fact that Wolford committed zero turnover-worthy plays, making him the only starting quarterback to pull off such a feat in the first week. For comparison, Birmingham Iron's quarterback Luis Perez, who also had a good game, had two turnover-worthy plays.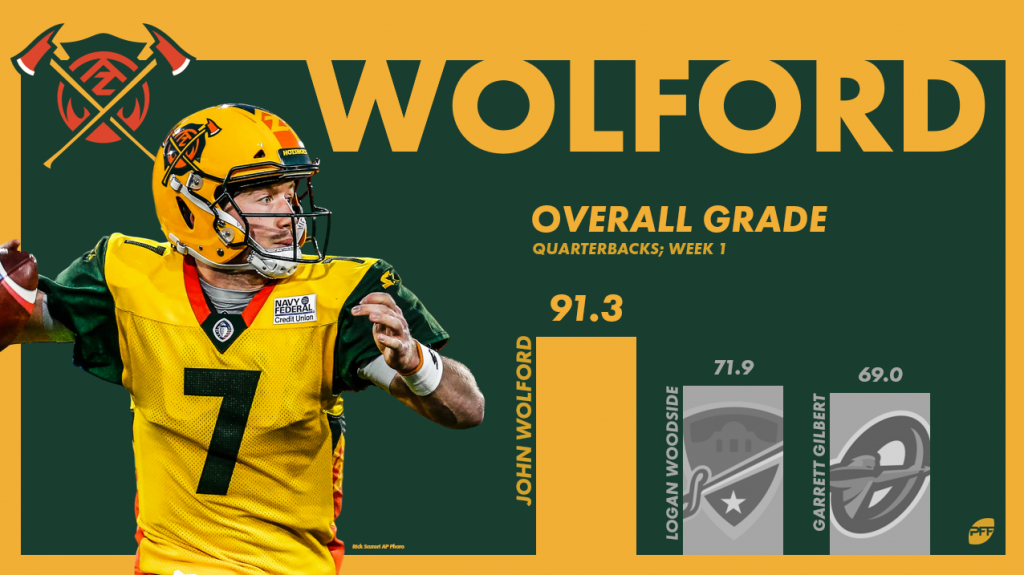 In addition to Wolford's elite performance, the Hotshots' also had two receivers finish with top-five receiving grades for the week. Rashad Ross, the former receiver for the Washington Redskins, earned the top receiving grade (86.9) out of 34 qualifying wide receivers. On seven targets, Ross had five receptions for 103 yards, two touchdowns, and generated a passer rating of 153.3, ranking second at the position. Richard Mullaney also had a big game for Arizona, and he finished with the fifth-best receiving grade of Week 1. On five targets, Mullaney had five receptions for 57 yards, three first downs, and generated a passer rating of 114.2.
To make things even better for the Hotshots, the best receiving grade on their roster doesn't even belong to a wide receiver; it belongs to tight end Gerald Christian who earned an elite receiving grade of 92.7 –  first out of 17 qualifying tight ends. Christian caught all three of his targets for 44 yards, two first downs, one touchdown, and generated a perfect passer rating of 158.3.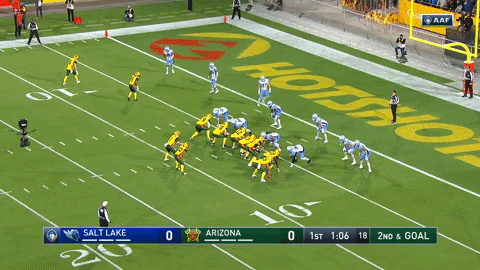 Arizona's offensive line also did their part to help the team. As a unit, they allowed nine pressures on 34 pass-blocking snaps, giving them the second-best pass-blocking efficiency rating in the league (85.3). It's clear after one week that offensive line play will struggle a bit in the AAF, at least early on in the season, but the Hotshots at least looked like one of the best in the league. When keeping their quarterback free from pressure, Wolford completed 13-of-22 attempts for 226 yards, three touchdowns, no interceptions, and a passer rating of 133.7, ranking first out of ten qualifying quarterbacks. If Arizona's offensive line can continue to keep a clean pocket at a league-high rate, Wolford should be able to take the Hotshots a long way this season.
Much like the NFL, the AAF should be dominated by teams that can move the ball through the air. Going into the first week, most sportsbooks had the Hotshots as the favorites to win the first ever AAF championship, and their league-leading 275 passing yards certainly back that up now. The Hotshots' offense looked fluid and picked up chunk plays regularly, and if Wolford's past grades are any indication, Arizona should continue to roll.