The Alliance of American Football's inaugural season kicks off on February 9, 2019, and we here at Pro Football Focus will be grading every single player on every single play of every single game in the same level of detail that we do the NFL and major NCAA football slates.
With our proprietary grading system expanding, our wealth of data has already shined a light on some players to watch from the new league whether it be from their time in college or their time in the NFL, we have grades from nearly every player on the AAF 52-man rosters for all eight teams. Our Names to Know series will cover every team for the AAF's first season while giving a brief background on each player's unique skill set that they showcased previously in their careers.

We kick things off today with the Arizona Hotshots, head coached by Rick Neuheisel.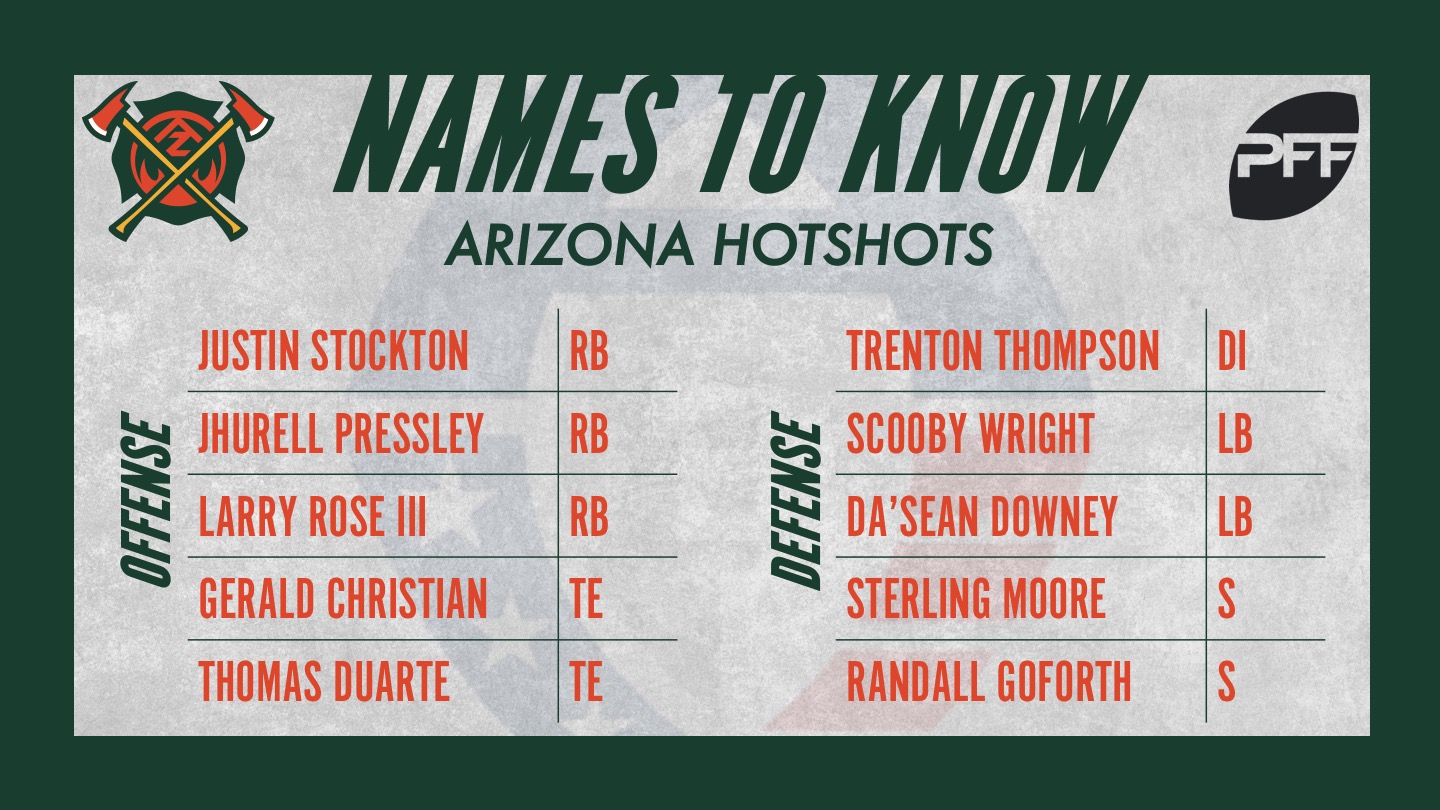 Justin Stockton, RB
Stockton tallied just three carries for four yards in the preseason opener, but his track record from Texas Tech follows him here. In four years of grades at Texas Tech, Stockton tallied 1,153 career snaps and totaled 294 carries for 1,715 yards. During his final season in 2017, he gained 417 yards after contact, broke 29 tackles and had 22 runs of at least 10 yards.
Jhurell Pressley, RB
Pressley got the majority of touches in the preseason-opening first quarter for Arizona, reaching just 17 yards on four carries; however, his time at New Mexico saw him run for 48 carries of at least 10 or more yards from 2013-14. He broke 48 tackles in that same span and gained nearly 1,000 of his rushing yards after contact with the Lobos, grading out with a career-high 87.7 in 2014. His potential breakaway running style may bode well for an offense trying to figure out their quarterback situation during their first season.
Larry Rose III, RB
Rose was a dominant runner while at New Mexico State, reaching a career-high grade of 84.7 in 2016 with the Aggies. His physical rushing style should complement Stockton and Pressley in the backfield as he gained 2,355 of his 4,570 career rushing yards after contact and broke an astounding 147 career tackles. Fumble issues were a downfall in his college career as he lost eight but if he can tighten that up, he adds a threat out of the backfield both as a runner and as a receiver as he hauled in 134 receptions and 1,244 receiving yards over his four-year career.
Gerald Christian, TE
While he's played just 18 regular season snaps in the NFL back in 2016, Christian's track record from the University of Louisville in 2014 is a prime example of his potential impact. He finished the 2014 season as the ninth-highest graded tight end in the country while he averaged 5.6 yards after the catch per reception. At 6-foot-3, 250 pounds, Christian is a big frame across the middle of the field for the Hotshots.
Thomas Duarte, TE
Duarte spent time with the Miami Dolphins over the past three preseasons but managed all of two regular season snaps. Still, his career-year with the UCLA Bruins in 2015 lands him here as he hauled in 60.5% of his targeted passes for 871 yards, 10 touchdowns, 31 first-down receptions and forced eight missed tackles after the catch. He and Christian could form one of the better tight end groups in the league.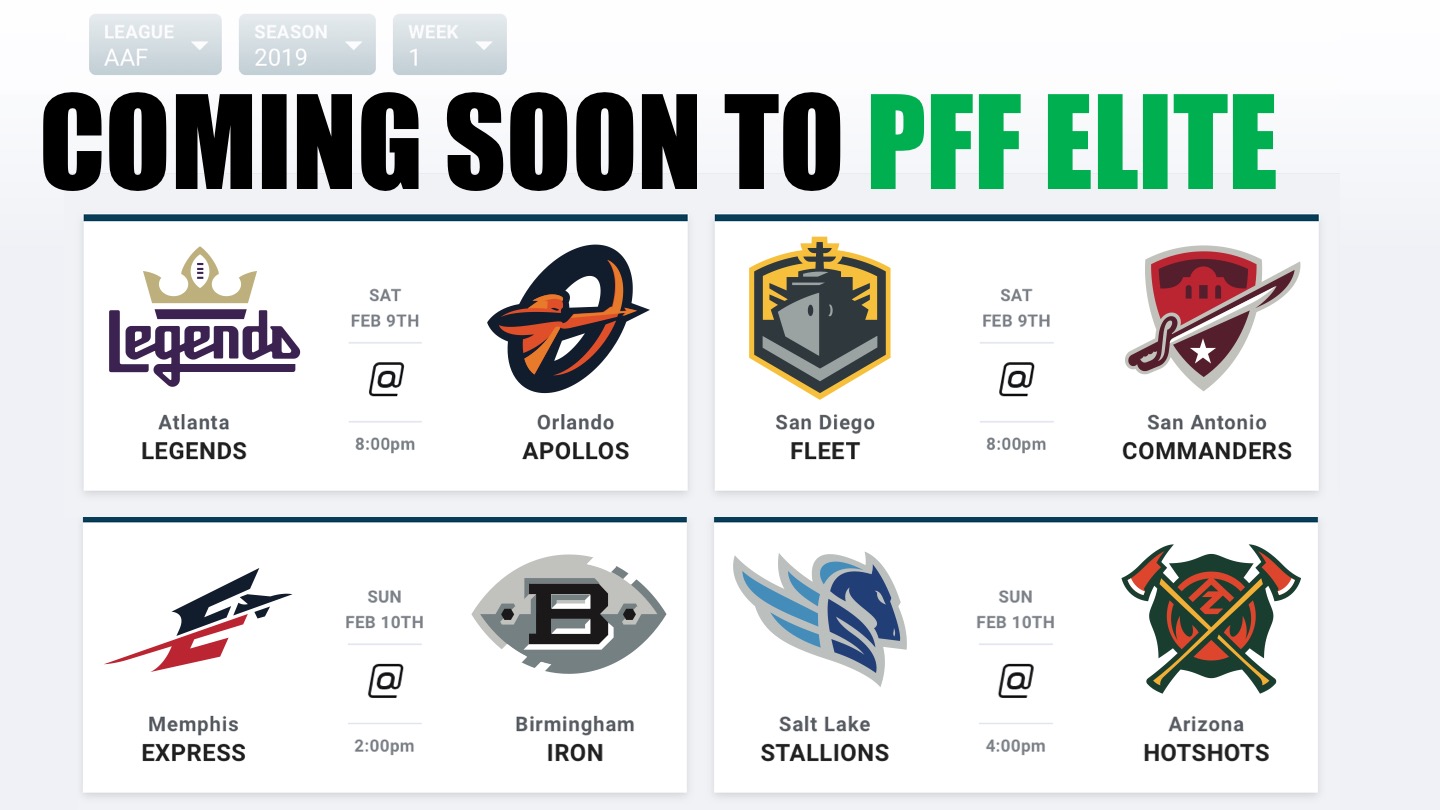 Trenton Thompson, DI
A physical specimen, Thompson dominated for Georgia along the defensive interior. He never graded below 70.0 overall and saw a career-high 83.0 overall grade in 2016. Never much for a pass-rusher, however, his 41 career pressures over 559 career pass-rushes saw him sign with the Cleveland Browns, but never manufacture any snaps. What he may have lacked in pass-rushing, he more than made up for against the run as he registered an elite run-defense grade of 91.1 in 2016 and made 63 defensive stops on his 78 solo tackles.
Scooby Wright, LB
A PFF favorite for some time, Wright's elite grade of 92.0 during the 2014 season for the Arizona Wildcats saw him all over the field. He recorded 48 QB pressures on 255 pass-rush snaps, 84 defensive stops and racked up a ridiculous 136 total tackles. Injury shortened the 2015 season and he has mustered all of just 16 regular season snaps in the NFL level. Still, if he Wright could bring back some of that 2014 magic, he could be one of the better linebackers in the AAF.
Da'Sean Downey, LB
A rare player in which we have every snap he's ever played over four seasons, Downey has never graded below 60.0 overall and finished back-to-back seasons from 2016-2017 with above-average grades while at UMass. He added a pass-rushing skill set to his resume in 2017, bringing in 41 total pressures on 301 pass-rushes while also making 34 defensive stops. If he can cut back on the 15 missed tackles on just 60 attempts, Downey's track record as a 3-down linebacker could add significant value for the Hotshots in 2019.
Sterling Moore, S
Moore has been around for a while in NFL circles, totaling 3,226 career regular season snaps for four different teams but managed just 108 snaps for the New Orleans Saints in 2017. Moore has flashed some high-level ability during his time in the NFL, including entering the league in 2011 with a career-high 76.5 overall grade for the New England Patriots. His exit from the league came on the heels of allowing 11 touchdowns against just six career interceptions and 17 penalties. His experience on the back end should still pay dividends for a roster with a majority of players who have not played meaningful professional snaps.
Randall Goforth, S
Another UCLA Bruin to make the list, Goforth logged 1,906 career snaps in our grading system with UCLA, seeing a career-high overall grade of 73.5 when he logged a career-high amount of snaps (1,001) in 2015. He logged six interceptions and nine additional pass breakups on 116 career targeted passes, relenting just a 65.4 passer rating when targeted. Given a chance to play a heavy amount of snaps seems to be beneficial for Goforth, and may be wise for Arizona to give him a shot.
The QB battle all season – Trevor Knight vs John Wolford vs Jack Heneghan
Knight is the name to know here as he was a former Oklahoma-transfer to Texas A&M but he never quite lived up to that hype while with the Aggies. Wolford has the highest career grades of the trio as he set records while at Wake Forest and finished with a career-high grade of 88.9 overall in 2017. Heneghan hails from the Ivy League and Dartmouth College after spending the preseason in 2018 with the San Francisco 49ers. Heneghan actually finished as the highest-graded Hotshots QB from their preseason debut as he logged the entirety of the game's fourth quarter snaps.
Other names:
Brant Weiss, OT
Freddie Martino, WR
Richard Mullaney, WR
Will Sutton, DI
Nyles Morgan, LB
Kieron Williams, CB