• Cleveland Browns created NFL-best 65% Perfectly Covered Plays in Week 1, trailed closely by the Minnesota Vikings and Cincinnati Bengals.
• The L.A. Chargers, Seattle Seahawks and Washington Commanders created the fewest Perfectly Covered Plays, more than 20% below NFL average.
• The Detroit Lions played the most man coverage in Week 1 (65%), whereas the Seattle Seahawks were in zone at the highest rate (97.9%).
• New users who bet $10 or more at BetMGM will receive a free year's subscription to PFF+ — a $79.99 value.
Estimated reading time: 6 mins
Following our extensive research on coverage in football, and the creation of Perfectly Covered Plays and Adjusted Coverage Rate, we now have recent data to analyze from the first week of the NFL season.
Let's evaluate how each team and defender performed in coverage in Week 1. 
---
Perfectly Covered Plays
A "Perfectly Covered Play" is where every coverage player on the field earns a coverage grade of zero or better on a single play. Here are the defenses that created the most Perfectly Covered Plays in Week 1, compared to how often their offense faced Perfectly Covered Plays. The league average in Week 1 was 41%, up from the 2019-2021 league average of 38.5%.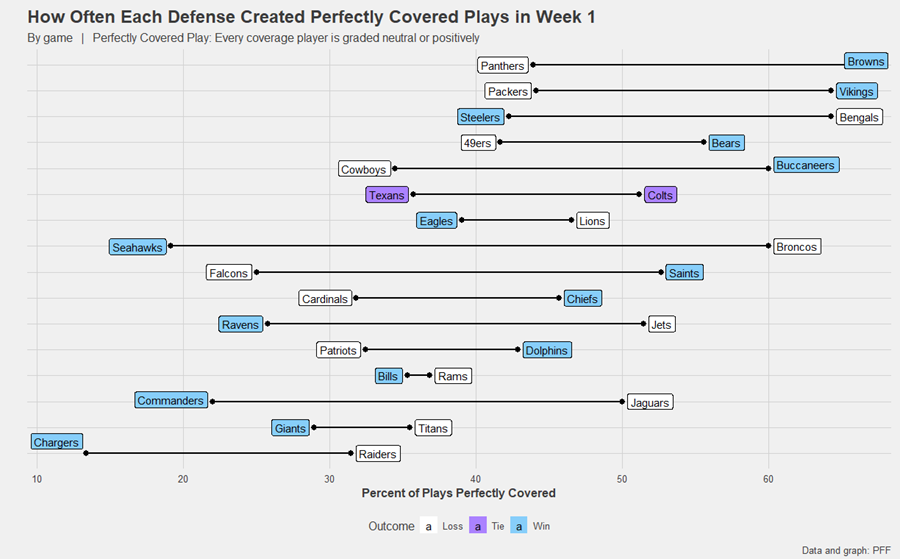 • The Cleveland Browns defense created the most Perfectly Covered Plays this week, with over 65% of their defensive plays being perfectly covered. The Minnesota Vikings and Cincinnati Bengals were not far behind.
• On the other hand, the Los Angeles Chargers, Seattle Seahawks, and Washington Commanders defenses struggled the most to create Perfectly Covered Plays, generating them 20% lower than the league average.
This week, the winning team created more Perfectly Covered Plays 7/15 times. It's worth noting that the bottom three teams in the statistic this week (the Chargers, Seahawks, and Commanders) all won their games. This is especially impressive for the Commanders and Seahawks, whose offenses under new quarterbacks Carson Wentz and Geno Smith faced Perfectly Covered Plays 50% and 60% of the time, respectively. 
Perfectly Covered Plays is not just a defensive stat; preventing such plays is relevant for offenses, too.
• The Las Vegas Raiders' offense with new weapon Davante Adams was able to confuse the Chargers defense, avoiding Perfectly Covered Plays over 80% of the time. On the other hand, over 65% of the offensive plays the Carolina Panthers ran were perfectly covered by the Browns, which could be signs of some slow building team chemistry with Baker Mayfield now at the helm. 
Individual True Coverage Rates
Keying in on individual players, we can see who performed the best in coverage this week in terms of their True Coverage Rate, the percentage of the snaps for which they earn a coverage grade of zero or better. 
Note: The True Coverage Rate league average (from 2019-2021) was 80% for cornerbacks, 88% for linebackers and 91% for safeties.

• Great week for safeties, whose position saw 9 players from different teams with a 100% true coverage rate. Devin McCourty started off his 13th NFL season with a bang, while the Raiders finally received some secondary help from Duron Harmon. Bengals S Jessie Bates also had a great game after signing the franchise tag, proving he's poised for a big payday in the near future.
• Up-and-down Bengals CB Eli Apple makes the top 5 thanks to a great day locking up the Steelers receivers, while rookie Martin Emerson takes another top spot for the Browns, whose coverage unit seems to be looking scary already. 
• Five linebackers had perfect true coverage rates in Week 1: This quintet is highlighted by a pair of Browns in Jeremiah Owusu-Koramoah and Anthony Walker. Kyzir White is also looking like a great addition to the Philadelphia Eagles coverage unit after a great season with the Chargers last year. 
Noteworthy Statistics
This week also brought great primetime games, with a big storyline coming out of the Bills CB room: which rookie will replace Tre'Davious White while the Pro Bowler continues recovering from an ACL tear.
• Bills first-round pick Kaiir Elam had a true coverage rate of 72.9%, while sixth-rounder Christian Benford's was 90.3%. Benford earned the start in that game and backed it up with his play, so keep an eye out for how the Bills utilize both cornerbacks in the coming weeks. 
• Seahawks S Jamal Adams left the game with a knee injury early on Monday night, when backup S Josh Jones had to replace him. Jones ultimately produced a subpar true coverage rate of 75%, which was the second lowest among all safeties this week, trailed only by the Chargers' Derwin James, who just received a big payday over the summer but struggled this week.
Rookies of the Week
We can also check in on some 2022 draft picks based on how they performed in coverage. The rookies with the highest True Coverage Rates in Week 1 were:

• Martin Emerson: As previously mentioned, the Browns cornerback had an impressive first game in the NFL, ultimately earning the highest true coverage rates for all cornerbacks in Week 1, not only rookies.
• Green Bay Packers LB Quay Walker came off an impressive preseason in coverage by doing the same thing in Week 1.
• Indianapolis Colts S Nick Cross also was impressive in his debut.
However, some rookies struggled a little this week, including Elam (72.7%), Houston Texans CB Derek Stingley Jr. (78.6%) and Chicago Bears S Jaquan Brisker (83.3%), each of whom had among the lowest true coverage rates for rookies.
Stingley struggled matching up against Colts star WR Michael Pittman Jr. most of the game, while Brisker left a handful of pass-catchers wide open. Similarly, almost every time Elam was matched up against Cooper Kupp, the Rams' All-Pro receiver was wide open. 
Team-Specific True Coverage Rates (Coverage Mistakes)
Let's take true coverage rates and calculate which teams made the fewest coverage mistakes (having the highest true coverage rate) and the most coverage mistakes (having the lowest true coverage rate) in Week 1. 

• The Vikings, Bengals, and Browns were the top 3 in terms of creating Perfectly Covered Plays this week, and they all make the top 5 defensive true coverage rates in Week 1. The Browns, Bengals, and Broncos each had at least 1 standout player, while great performances by both of the Vikings' safeties contributed the most to their high placement. 
• The Arizona Cardinals did a decent job at creating Perfectly Covered Plays, but they struggled immensely overall when the play wasn't perfectly covered. All three of the Chargers cornerbacks had true coverage rates below 70%, the lowest of any position all week. All three were beat by Davante Adams and Hunter Renfrow more often than not.
• Even though they had a commanding victory, each player in the Baltimore Ravens coverage unit had true coverage rates below the league average for their position against a less-than-stellar New York Jets offense that couldn't capitalize on the Ravens coverage mistakes. 
Cumulative Statistics
It's only been one week, but so far this season, the cumulative Perfectly Covered Play rate is 41%. Last season, the Los Angeles Rams had the highest Perfectly Covered Play rate, while the Detroit Lions had the lowest. Over the course of the season, we will learn which teams are the most successful at creating Perfectly Covered Plays, and so far, here are the top and bottom 3 teams in terms of their Perfectly Covered Play rate this season: 
Top 3 teams at creating Perfectly Covered Plays
• Browns (65.7%): In Week 2, they face a Jets' offense that was able to evade Perfectly Covered Plays 75% of the time, so we'll see whether Cleveland can replicate the success it had against the Panthers.
• Bengals (64.3%)
• Vikings (64.3%)
 Bottom 3 teams at creating Perfectly Covered Plays
• Chargers (13.3%)
• Seahawks (19.1%)
• Commanders (22%)
· The Raiders' offense faced the least amount of Perfectly Covered Plays so far, and they face a Cardinals team next week that struggled to cover the Chiefs pass-catchers, so look out for Davante Adams and Hunter Renfrow getting open pretty easily again. 
Evolving Man and Zone Rates
Some teams' man and zone rates will vary by opponent, while some will stay steady throughout the season. So far, the league as a whole ran man coverage 26% of the time and zone on 74% of plays. Here, we can see how each team's percentage of running man and zone coverage evolves each week. 
Top 3 Man Coverage Teams in Week 1
• Lions (60.5%)
• Cardinals (47.7%)
• Bengals (42.9%)
Top 3 Zone Coverage Teams in Week 1
•Seahawks (97.9%)
• Vikings (95.2%)
• Bills (94.1%)
Even though it was only week 1, the Detroit Lions were the only team to run man coverage more than zone, playing man 60% of the time. From the Thursday night game, the Bills and Rams both ran zone coverage over 90% of the time, and on Monday night, the Seahawks almost ran entirely zone coverage the whole game.
---
•  Stay tuned to see how these rates change throughout the season, as some teams will change their game plans by opponent and previous success.
• Also check out weekly Man and Zone Analysis articles coming out soon for more in-depth analyses on this and predictions based on Week 2 matchups.