In addition to our Training Camp Takeaway series that kicked off last week, we at PFF are also hot on the trails of some intriguing rookies to keep your eyes on as we progress through the preseason. Some rookies are wowing during their first training camp and may be pushing hard for some well-deserved, extra snaps during preseason games.
With our wealth of knowledge both at the NFL and FBS level, here are some under-the-radar rookies that have been turning heads and that you may get to see a lot of this preseason, and what they did in college a year ago: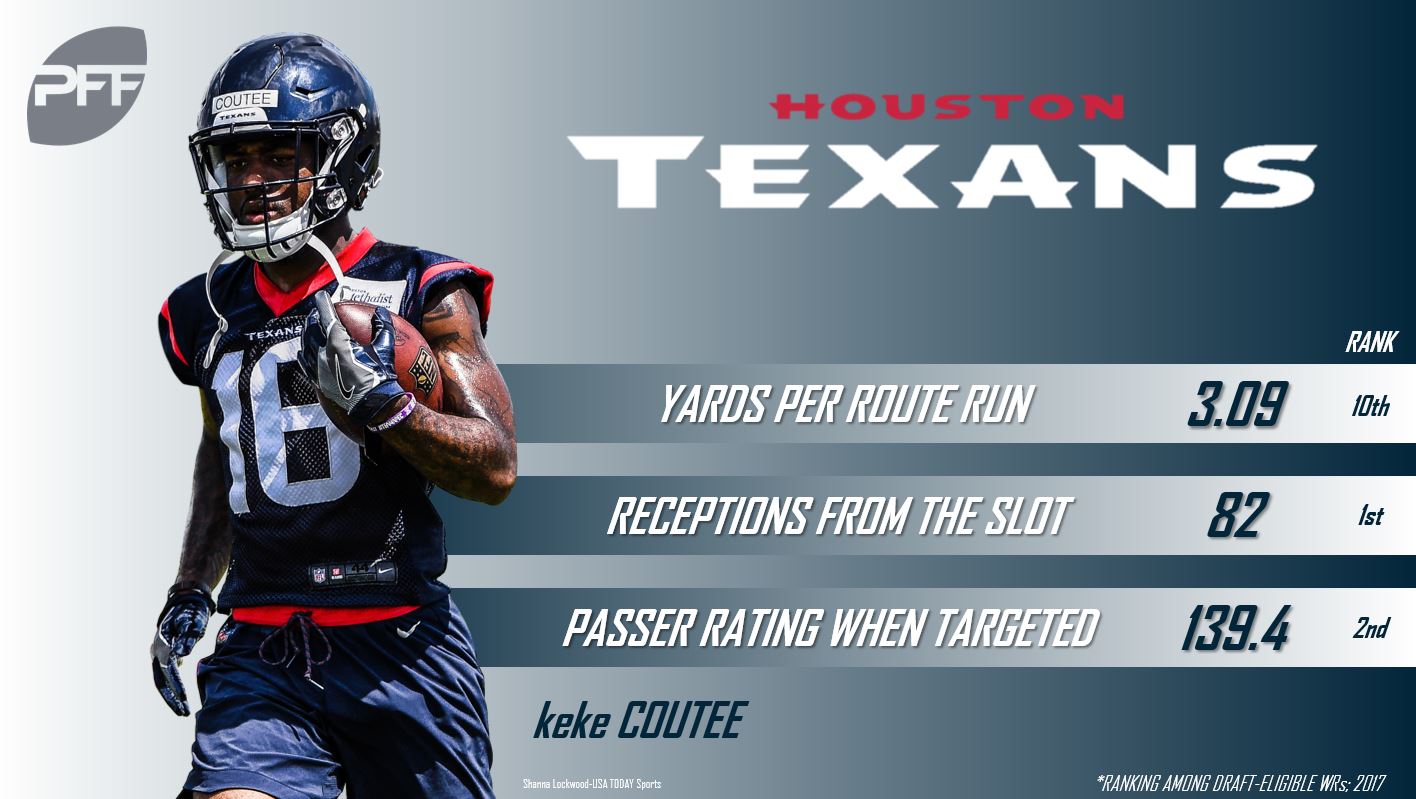 The Houston Texans receiving corp is filled with talent, but Coutee's unique skillset can propel him up the depth chart quickly. DeAndre Hopkins and Will Fuller V will be staples in the pass game on the outside, while the rookie Coutee will battle the likes of Bruce Elllington and Braxton Miller for slot-receiving duties. Coutee's speed and body control make him a vertical threat, and the Texans may be able to maximize his value on jet sweeps and other 'space' plays from the slot. Coutee led all draft-eligible wide receivers in yardage from the slot with 1,265 yards last season at Texas Tech, and he ranked first in slot receptions with 82. Improvement can be had in production from the slot for the Texans as Ellington led the team with 224 slot snaps in 2017, catching 54.5 percent of his targets, 58th among qualifying wide receivers.
It appears to be a three-way battle for the lead back role for the Colts this season. Second-year RB Marlon Mack looks to be the frontrunner, but rookies Hines and Jordan Wilkins will push him for work throughout camp and the preseason. Hines brings outstanding speed and athleticism, but he needs to become more dynamic and confident as a receiver to be a high-impact player at the NFL level. Hines also has the speed to be a home-run threat on any play. In 2017, Hines consistently worked for extra yardage, averaging 3.8 yards per carry after contact. The leading Colts rusher last season – Frank Gore – averaged only 2.5 yards after contact per attempt, tied for 26th among running backs. Hines also carries good pass-blocking ability, as he ranked fifth among draft-eligible running backs with a 98.2 pass blocking efficiency last season at NC State. This is a welcome sight as Mack and Gore finished 47th (94.1) and 50th (93.9), respectively, in pass-blocking efficiency a season ago.
Harrison joins a Jaguars defense loaded with elite talent at seemingly every level, but he has the ability to push for snaps at safety behind Tashaun Gipson and Barry Church. Harrison does his best work closer to the line of scrimmage, where he can cover tight ends and bigger receivers and finish plays against the run. In 2017, the rookie generated a run-stop percentage of 6.7 when lined up in the box (within eight yards of the line of scrimmage) which ranked 10th among draft-eligible safeties. Although Jacksonville has one of the best defenses in the league, their safeties struggled stopping the run last season. Gipson and Church combined for 14 missed tackles and produced run-stop rates of 5.9 percent and 5.8 percent, finishing T-48th and 51st, respectively, among qualifying safeties. Harrison has an excellent feel for the game, may have shown small lapses when playing deep safety and covering shifty slot receivers or horizontal routes in man coverage. At any rate, Harrison can fill multiple roles for the Jaguars defense if he plays to his strengths and will be an interesting player to watch throughout camp and in the preseason.
Landry will look to work his way into the pass-rushing rotation during camp as he currently sits behind veterans Brian Orakpo and Derrick Morgan on the depth chart. Although his production took a big hit last season, the rookie edge rusher had a sensational season during his junior year. Last season's slump could have been as simple as a lingering ankle injury that ended his 2016 campaign, but if fully recovered, his off-the-charts athleticism suggests he will translate well to the NFL level. Landry generated 69 pressures during his junior season at Boston College, tied for sixth among all edge defenders. His outside pressure rate of 13.6 percent last season ranked 10th among draft-eligible edge defenders. Landry will give the Titans some much-needed youth on the edge, perhaps leading to an uptick in pressures for 2018. Orakpo and Morgan ranked 32nd (7.7) and 34th (7.5), respectively, in pass-rush productivity last season.
Under-the-radar rookies to watch series
---
AFC East | AFC North | AFC South | AFC West
NFC East | NFC North | NFC South | NFC West