In addition to our Training Camp Takeaway series that kicked off last week, we at PFF are also hot on the trails of some intriguing rookies to keep your eyes on as we progress through the preseason. Some rookies are wowing during their first training camp and may be pushing hard for some well-deserved, extra snaps during preseason games.
With our wealth of knowledge both at the NFL and FBS level, here are some under-the-radar rookies that have been turning heads and that you may get to see a lot of this preseason, and what they did in college a year ago: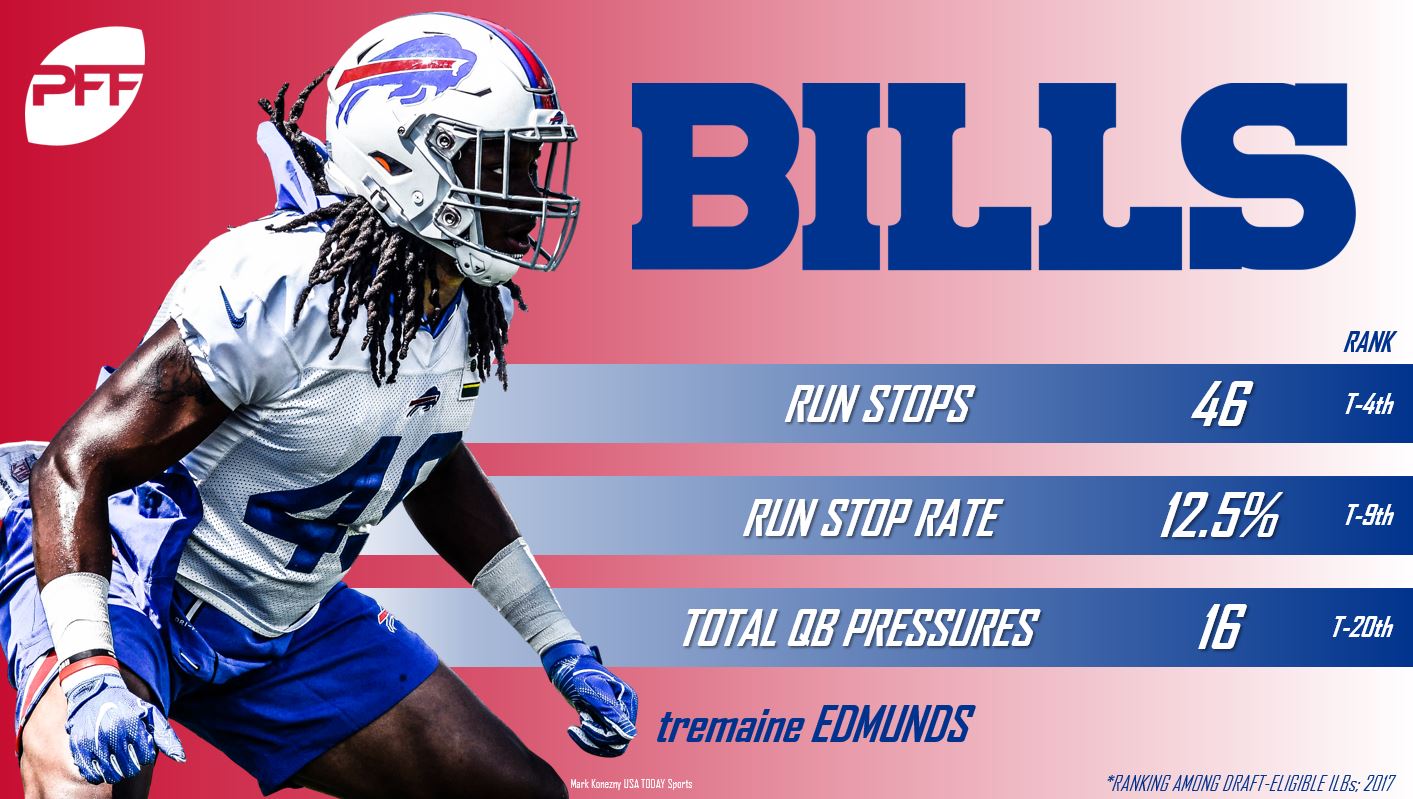 Although Edmunds was a first-round pick, he has flown somewhat under-the-radar as most of the talk of camp has been focused around fellow first-round pick Josh Allen and the quarterback competition. The Bills allowed former linebacker Preston Brown to sign with the Cincinnati Bengals in free agency leaving a major hole in the middle of the defense. The opportunity is there for the rookie to be an instant contributor to the defense this season. Edmunds is a physical monster at the linebacker position with an athletic profile unmatched by any other linebacker that came out of the draft, and at just 19 years old he has plenty of room to grow. His production was outstanding at Virginia Tech with 128 defensive stops over the past three seasons. Edmunds was also a significant factor on the blitz in 2017, notching six sacks and 16 pressures. This is an added bonus for the Bills who produced a 39.5-percent pressure rate on blitzes last season, fourth-lowest mark in the NFL.
Fourth-round pick Ballage is currently battling for snaps behind Kenyan Drake and Frank Gore on the Dolphins running back depth chart. Ballage offers intriguing potential and versatility, and teams noticed, as his stock rose leading up to the draft. Ballage was extremely impressive as a receiver during the week of Senior Bowl practices, winning consistently in all practice situations. He is an impressive athlete in a big body, and he has the ability to perform well as runner, receiver and returner at the NFL level despite his relatively pedestrian college production. The rookie running back only averaged 2.7 yards per carry after contact over his college career and broke only 15 tackles on 167 carries in 2017 with Arizona State. He will need to improve in this area to compete with the likes of Drake, who led NFL running backs at 4.5 yards after contact per attempt. The skills and potential are there for Ballage to succeed with the Dolphins, and he'll be an exciting player to monitor throughout the preseason.
Atop the Patriots cornerback depth chart sit Stephon Gilmore, Jason McCourty and Eric Rowe, who are all better suited on outside coverage. However, a second-round pick Dawson, could find an opportunity to push for snaps in the slot this season. Dawson is currently battling with the likes of Jonathan Jones and Cyrus Jones among others for slot coverage duties as we head into 2018. Throughout his collegiate career, he allowed a 47.5-percent catch rate in coverage, and his 0.77 yards per coverage snap ranked 22nd among draft-eligible cornerbacks in 2017. Last season at Florida, Dawson allowed a passer rating against of just 37.1, and while in slot coverage he allowed just 13 receptions on 30 targets over 170 snaps for the Gators. Jonathan Jones led the Patriots with 269 snaps in the slot last season, allowing a passer rating of 92.8, but the team also matches safeties in slot coverage at a high rate as well. New England finished with the fifth-highest snap rate in terms of safety usage in the slot with a mark of 17.9 percent last season. The utilization of the 5-foot-10 Dawson will be an interesting aspect of the defense to monitor throughout the preseason.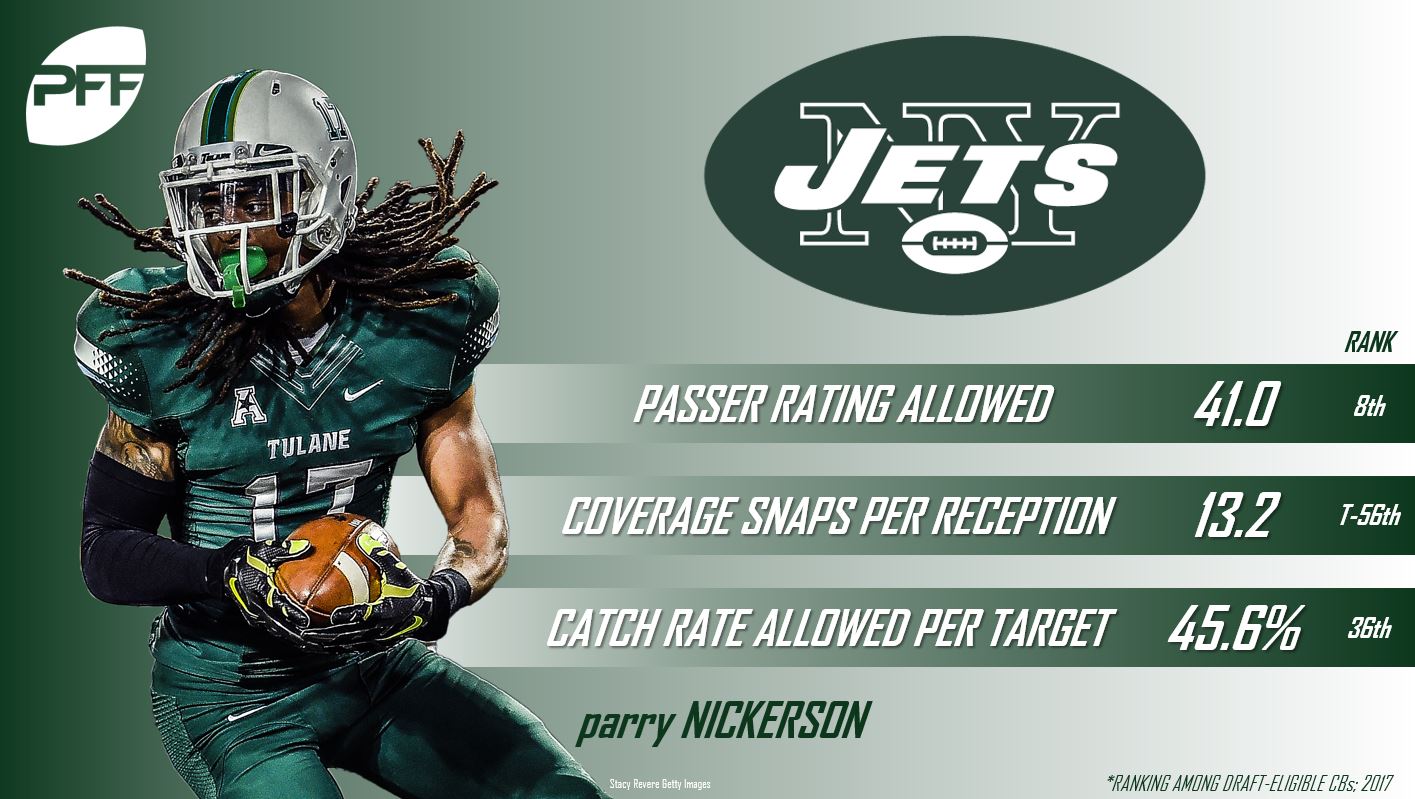 As a sixth-round selection by the Jets, Nickerson enters the cornerback room buried behind current starters Trumaine Johnson and Morris Claiborne, but his talent could be too hard to ignore throughout camp. Far from many people's radars, Nickerson had three good years of PFF grading, and he was exceptional in coverage the past two seasons allowing a NFL passer rating of just 41.0 (2017) and 32.5 (2016) when targeted. The rookie cornerback also allowed just two touchdowns over those two seasons, and he had only one game in 2017 in which he surrendered more than three receptions. He is a welcome sight to the Jets defense who recorded an overall coverage grade of just 53.4 a season ago, worst in the NFL. Nickerson has the athleticism and enough size and length to play at a high level in the NFL, and he will be a player to observe leading up to the season.
Under-the-radar rookies to watch series
---
AFC East | AFC North | AFC South | AFC West
NFC East | NFC North | NFC South | NFC West