We have reached the halfway point of the season, which means it is time to see which rookies have played the best with the PFF Midseason All-Rookie Team. For some positions like running back and cornerback, there was a lot of worthy players who just missed out. For others, some players made the team by default of being the only player with significant playing time.
This team comes from our exhaustive All-22 review processes and the play-by-play grading of every player on every play of every game, which gives you the most comprehensive analysis in the industry. If you'd like to compile your own rookie All-Pro team, you can do so with PFF Elite, where you can find several signature statistics for every offensive and defensive position in football, thanks to Premium Stats 2.0.
As always, we will match the All-Pro system when it comes to offensive and defensive formation, with a flex player for both sides of the ball that can be either a receiver, slot weapon, tight end or running back on offense, and anybody in the defensive secondary on defense.

OFFENSE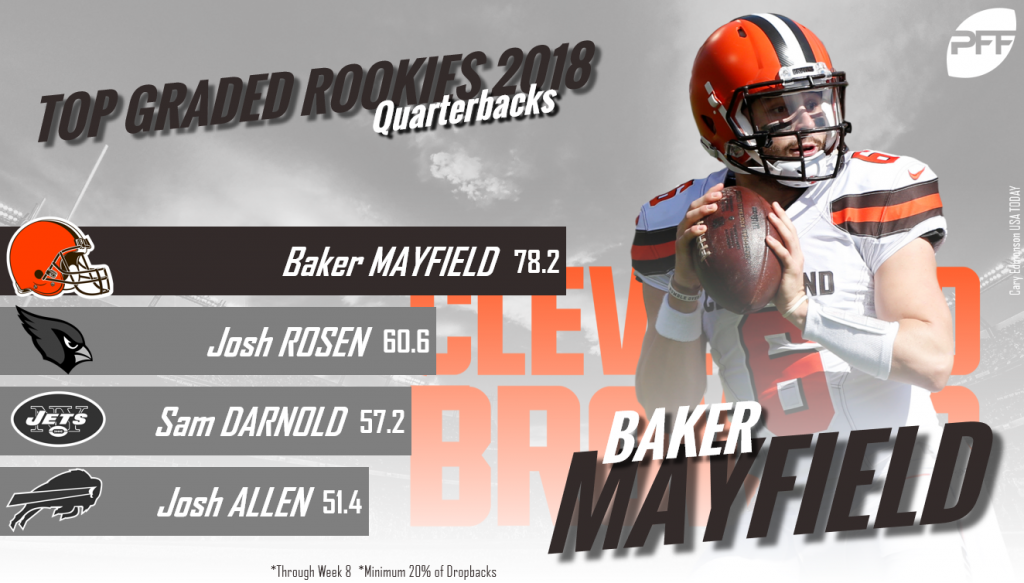 Baker Mayfield started his career with a bang and produced game grades above  80.0 in each of his first three games. Since then though, he's hit some rocky waters. From Weeks 6-8, he's surpassed the 70.0-grade threshold just once, and he's coming off his worst game as a pro so far. Despite the rough stretch, the former Oklahoma signal-caller is still ranked 16th among quarterbacks with a 78.2 overall grade, and he leads all rookie quarterbacks with 16 big-time throws.
Lindsay's performance over the first half of the season is not just a Cinderella story. The undrafted back out of Colorado has outperformed his classmates and is turning heads seemingly every time he touches the ball. Through Week 8, Lindsay has benefitted from a great run-blocking offensive line and has gained 52.2% of his rushing yards before first contact, which leads all qualifying backs and makes him the NFL's only running back to gain more than half of his yards before contact. He's also averaged an NFL-high 2.98 yards before first contact per attempt, more than a whole yard ahead of premier running back talents like Todd Gurley (1.72), Kareem Hunt (1.10) and Melvin Gordon II (1.96). At the halfway point of the campaign, Lindsay ranks sixth in total rushing yards (531) and fourth in yards per carry (5.71) among running backs with 60-plus attempts.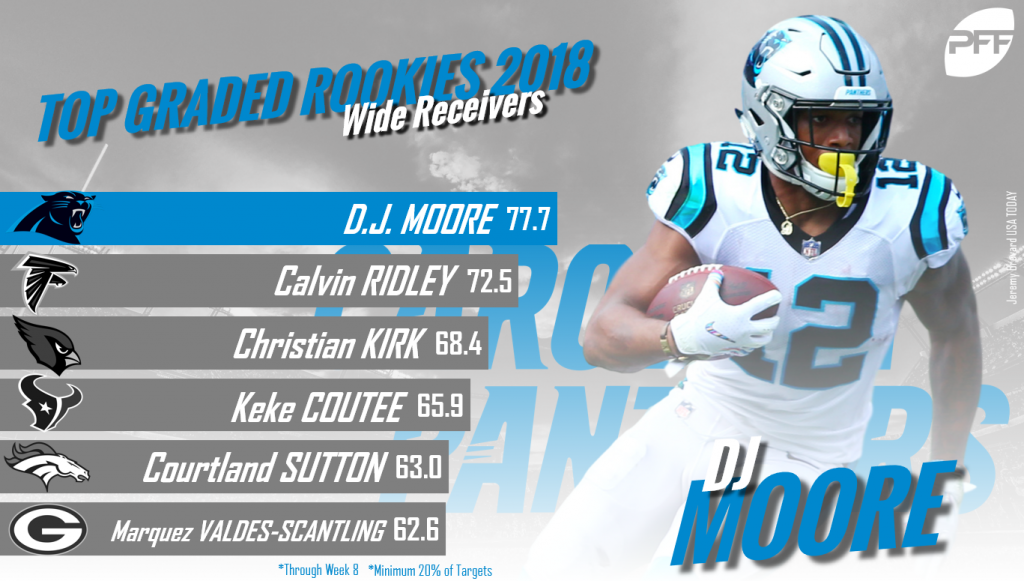 Through eight weeks, The former Terrapin has caught 18-of-19 catchable targets for 281 yards and one touchdown and has averaged 2.68 yards per route run, which is the best mark among all rookies at the position. Just like he showed in college, the Panthers' rookie wideout has been mightily impressive with the ball in his hands and has also racked up 165 yards after the catch, averaged 9.2 yards after the catch per reception and has forced five missed tackles, all of which lead receivers from the class of 2018.
The Falcons' first-round pick has been incredibly productive over the first half of his rookie season. In seven games, he's hauled in 27-of-34 targets for 392 yards and six touchdowns and generated a near-perfect WR rating of 154.3, which is not only the best mark among rookies, it's the best mark ever recorded by a first-year receiver over the first half of a season.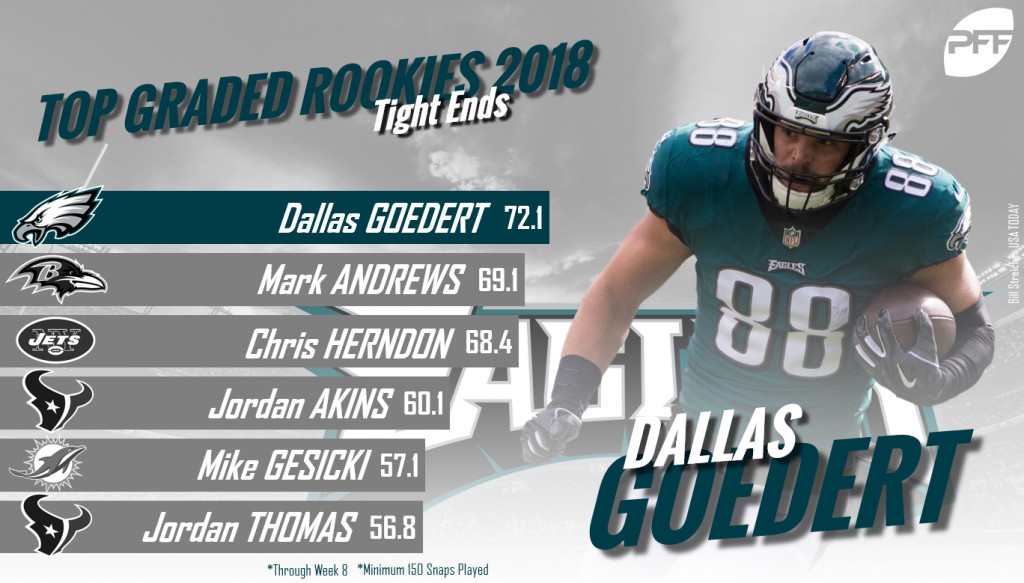 The former South Dakota State tight end has very much lived up to his scouting report over the first eight weeks of the season, catching all 18 of his catchable targets for 188 yards and three touchdowns. Over the first half of the campaign, Goedert has caught two contested passes, forced two missed tackles and has generated a passer rating of 107.5 on his red-zone targets, which is the fifth-best mark among all tight ends with at least five red-zone targets this season.
Barkley has been the same tackle-breaking, homerun-hitting playmaker he was advertised as in his first eight games as a professional, and he has made an impact both as a runner and a receiver this year. On the ground, Barkley has averaged 3.17 yards after contact per attempt and forced 19 missed tackles, both of which rank 10th among the 77 rookies in the PFF era who logged at least 50 attempts over the first eight games. As a receiver, Barkley's 497 receiving yards, 547 yards after the catch, 188 yards after contact, nine explosive plays and 25 forced missed tackles are all the best marks ever recorded by a running back with at least 10 targets over the first eight games.
The former Auburn guard has found a home on the right-hand side of the Colts' offensive line, and he has done a great job of keeping quarterback Andrew Luck upright over the first half of the season. Smith has allowed just eight quarterback pressures on his 177 pass-blocking snaps, which has resulted in a pass-blocking efficiency of 97.3 – the best mark among rookie tackles.
Through eight weeks, Hernandez's overall grade of 72.9 is not only the highest grade among rookie guards this year, but it's also the 14th-best mark ever recorded by a rookie guard over the first half a campaign. Through eight games, Hernandez has been a bright spot on an otherwise putrid offensive line and has allowed 13 pressures on 350 pass-blocking snaps. He's also provided support for Barkley and the Giants' ground game, earning a 67.5 run-blocking grade – the best mark among rookie guards this year.
As we mentioned above, not all the spots on this team are awarded on merit. Sometimes, it's just good to be in the right place at the right time. This year, Mason Cole is the only first-year player to see meaningful snaps at center, but he is currently ranked 36th among 38 centers with a 49.7 overall grade. Cole has endured his fair share of struggles in both facets of the game, but he has especially struggled in pass protection, where he's allowed 17 pressures (the second-most among centers) on 279 pass-blocking snaps.
Touted a once-in-a-generation kind of player heading into the draft, the former Notre Dame guard has logged a whopping 589 total snaps so far this year, which is the most ever recorded by a rookie guard over the first eight weeks of a season. Nelson has been a key player in the Colts' running game, but his best work has come in pass protection, where he's allowed pressure on just 3.9% of his pass-blocking snaps, second to only Hernandez among rookies at the position.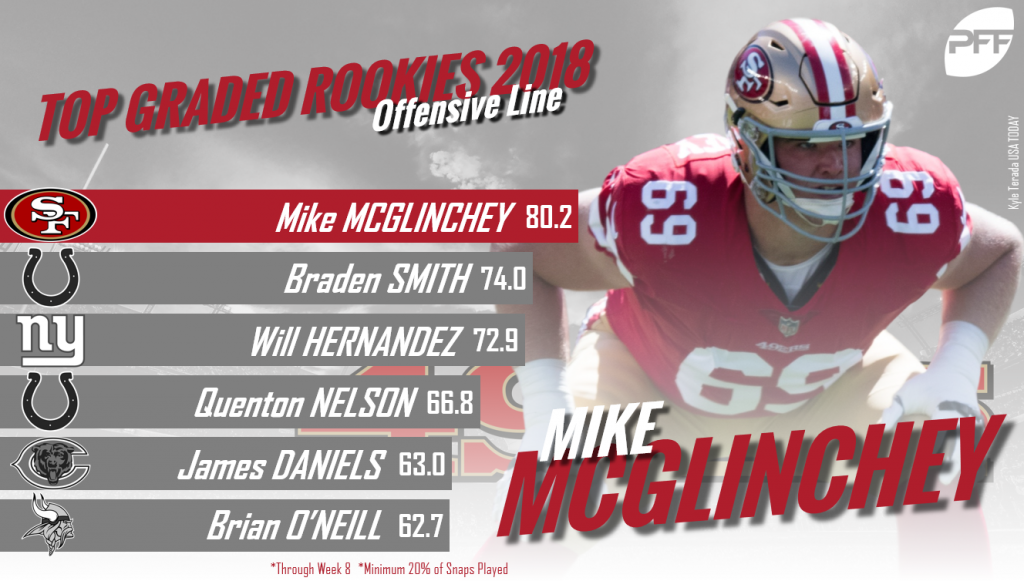 With eight games of his debut season to go, Mike McGlinchey's play has made him a darkhorse candidate for Offensive Rookie of the Year honors. Through eight weeks, McGlinchey has performed head and shoulders above everyone as a run-blocker, which is evidenced by his league-leading run-block grade of 88.6, and while his pass-blocking performances have been a little less impressive, he's still outperformed the majority of his class and allowed pressure on just 5.9% of his pass-blocking snaps – the second-best mark among rookie offensive tackles.
DEFENSE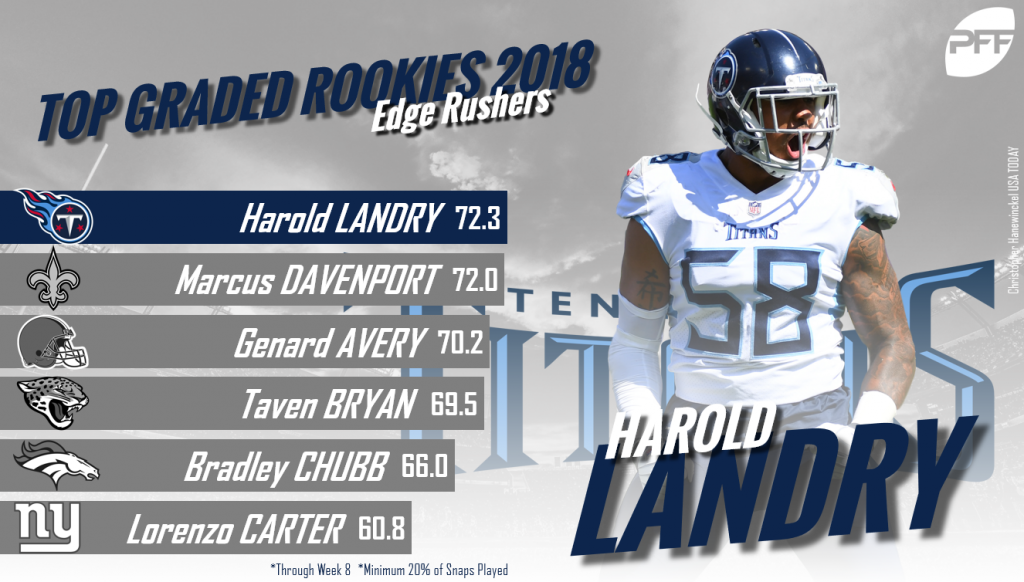 With question marks surrounding his ankle injury and dip in production his final year, the former Boston College edge defender fell to the Tennessee Titans 10 picks into the second round. Fortunately for Tennessee, Landry's second-round status didn't take away from the fact that he was a first-round talent. Over the first half of the season, Landry has produced a sack, two hits and 11 quarterback hurries on his 134 pass-rushing snaps, and his 14 total pressures are tied for sixth among rookie edge defenders.
Davenport has played sparingly over the first half of the season, but his Week 8 performance proved that he's more than capable of producing if he's given a chance. On a career-high 37 defensive snaps against the Vikings in Week 8,  he racked up a career-best six total pressures, which included two sacks and four hurries, taking his season total up to 14 total pressures – which ties Landry for sixth-most among rookie edge defenders. To go with his production in the pass-rush, Davenport has also produced six defensive stops against the run, which are good for fourth among rookie edge defenders.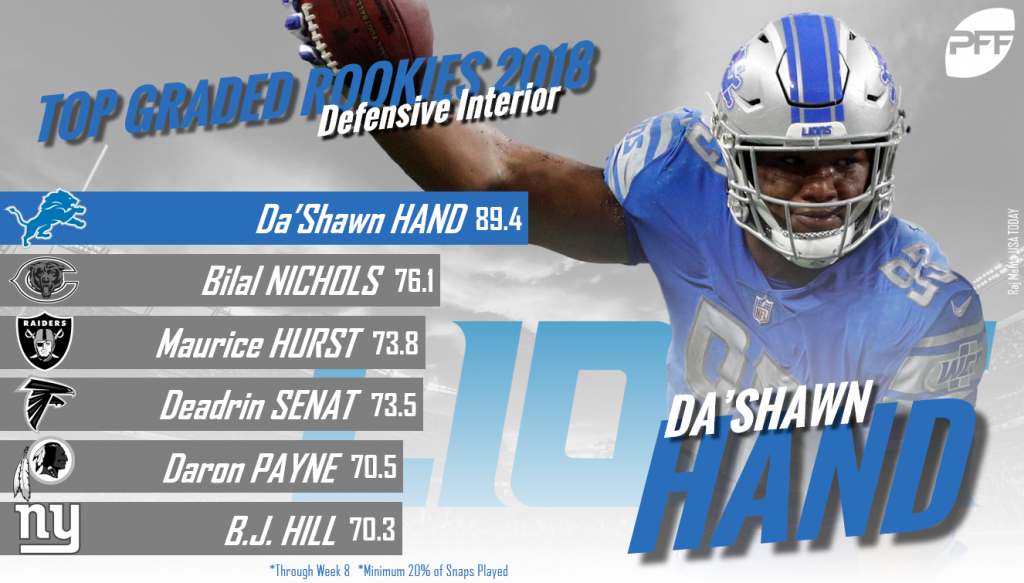 Through eight games, Hand's overall grade of 89.4 is not just the best mark among all rookies this year, it's the second-best mark ever recorded by a rookie defender over the first eight games of a season and just narrowly misses out on the top spot that's currently held by Aaron Donald (91.2). The fourth-round pick currently ranks 15th among interior defenders with 12 run stops, he hasn't missed a tackle in run defense and he also ranks 18th among players at the position with a pressure percentage of 12.5%.
It took Hurst a couple of games to get acclimated to the NFL, but he's graded north of 70.0 in four of his five games since Week 3. Hurst has shown an early penchant for getting his hands up to knock down passes at the line of scrimmage, as he's currently tied for second among all interior defenders with three batted passes, and he also ranks fourth among rookie interior defenders with 10 defensive stops.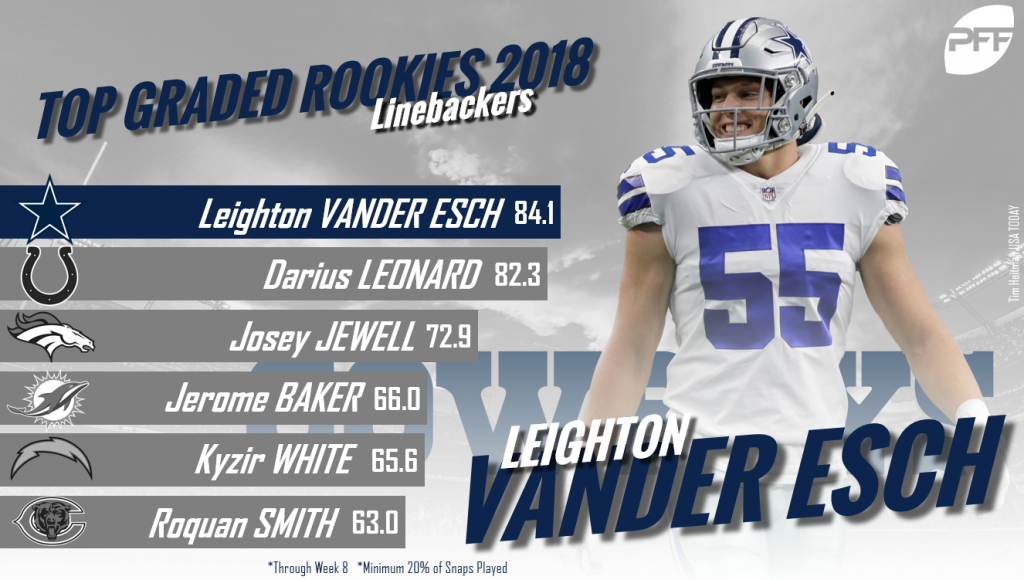 Even as a rookie, the former Boise State Bronco is already one of the most complete linebackers in the game. Vander Esch ranks fifth among linebackers with at least 25 run-defense snaps with a 13.0% run stop percentage, and his average of 7.3 yards allowed per reception ranks third among 43 linebackers with at least 25 targets.
It is becoming more commonplace to see collegiate athletes from non-power five conferences excel in the NFL, and Colts rookie linebacker Darius Leonard is quickly adding his name to that list of accomplished athletes. Through eight weeks, Leonard is tied for first among linebackers with 31 total defensive stops and his six tackles for loss or no gain is tied for first among rookie linebackers.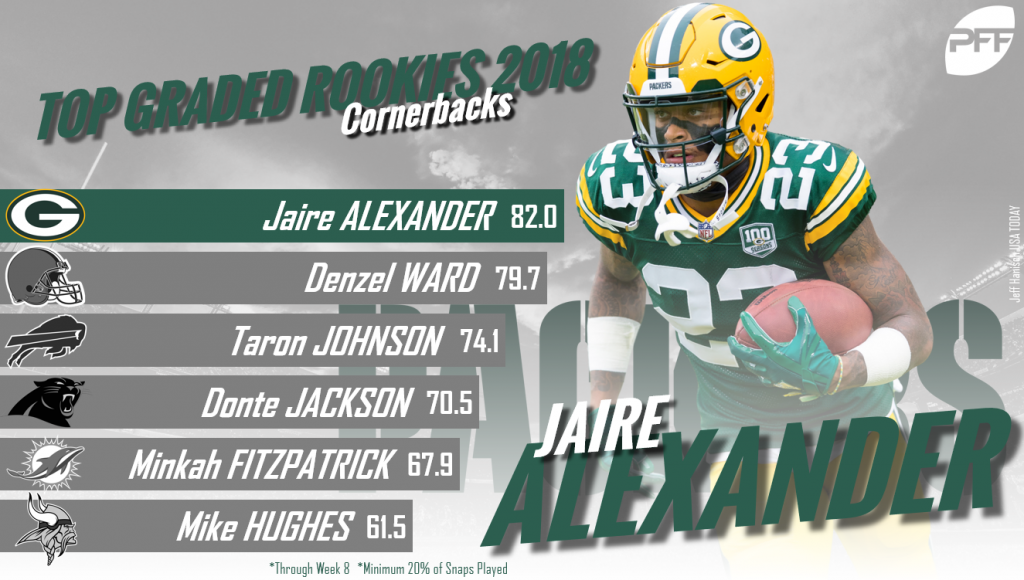 As his Week 8 game showed, the former Louisville cornerback is more than capable of taking over a game. Through eight weeks, Alexander has either broken up or intercepted a whopping 25.7% of the targets thrown his way, and he is allowing a passer rating of just 55.7 on throws into his coverage this season, the sixth-lowest mark among cornerbacks.
The fourth overall pick has had some down games this year, but he's passed the 80.0-grade threshold three times this season, including in Week 3 when he earned an elite 90.9 overall grade against the New York Jets. Ward is tied for first among cornerbacks by either intercepting the ball or forcing an incompletion 14 times this season and his nine coverage stops are tied for 10th most among cornerbacks. All told, he's allowed a passer rating of just 72.5 this year, and he's done that despite being on pace to be the most targeted rookie cornerback in PFF history.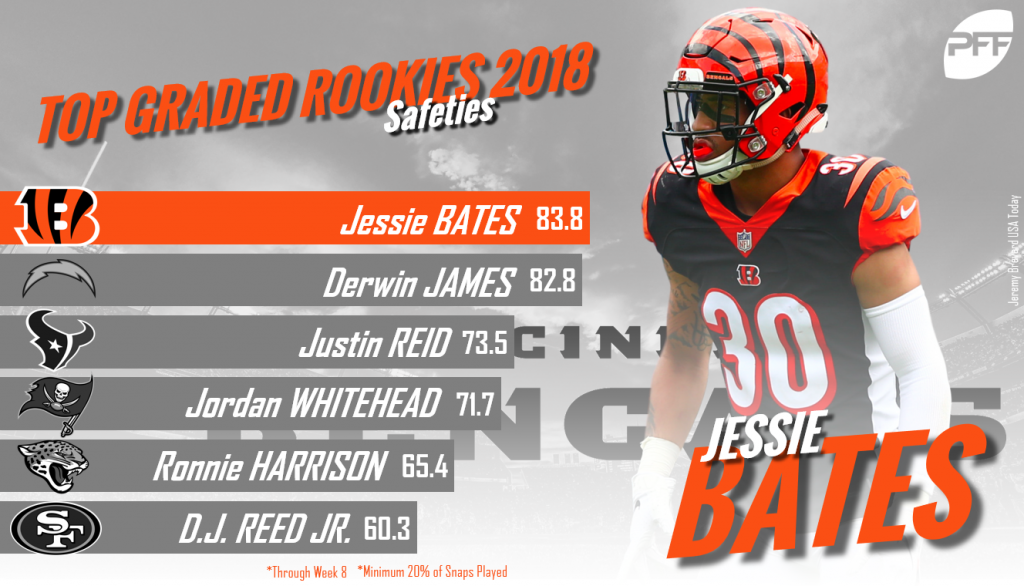 Bates' performance as a rookie has been a bit of a roller coaster this season, but his elite Week 8 performance solidified his position as one of the league's best first-year safeties. Over the first eight weeks, there have been 68 safeties who've been targeted at least 10 times as the primary defender in coverage, and Bates ranks fourth among that group by just allowing just 59 receiving yards. All told, he's allowed a passer rating of just 19.5 on throws into his coverage, the league's second-best mark.
Over the first half of the season, Derwin James has been everything the Chargers had hoped for and more. He is tied for third among safeties with nine coverage stops, and he's allowed just a 74.4 passer rating on throws into his coverage, which ranks 21st among 68 safeties with least 10 targets. James is also just one of seven safeties who've rushed the quarterback at least 25 times this season, and his 11 total quarterback pressures are by far the most among that group. James can do it all and has been nothing short of a steal for the Chargers' defense.
The Texans' third-round safety has shone on the backend of the defense this year. Through eight games, he's produced 15 solo tackles and four defensive stops against the run, and he's also logged two interceptions and two pass breakups from just 12 targets in coverage.