Phillip Lindsay has played well above expectation coming out of Colorado as an oft-overlooked undrafted free agent this past season, as the Denver Broncos rookie running back ranks sixth in total rushing yards (531) and fourth in yards per carry (5.71) among running backs with 60-plus attempts this season. But Lindsay's gaudy box-score numbers and his Cinderella story aren't enough to make him the favorite for Offensive Rookie of the Year.
Beyond the box score, Lindsay does lead all rookie running backs with an overall grade (79.4) and rushing grade (80.7), but, to quote PFF's William Moy, fellow rookies "Kerryon Johnson and Saquon Barkley are right on Lindsay's heels" and closing fast. Johnson (77.8) and Barkley (77.3) are ranked second and third, respectively, behind Lindsay among rookies in overall grade, and Barkley has maintained such high marks on nearly double the offensive snaps of Lindsay and Johnson.
Additionally, Cleveland Browns' Baker Mayfield and San Francisco 49ers' Mike McGlinchey have both earned higher overall grades than Lindsay on the offensive side of the ball through the first eight weeks. And Lindsay's lead as the top rookie running back is far from guaranteed.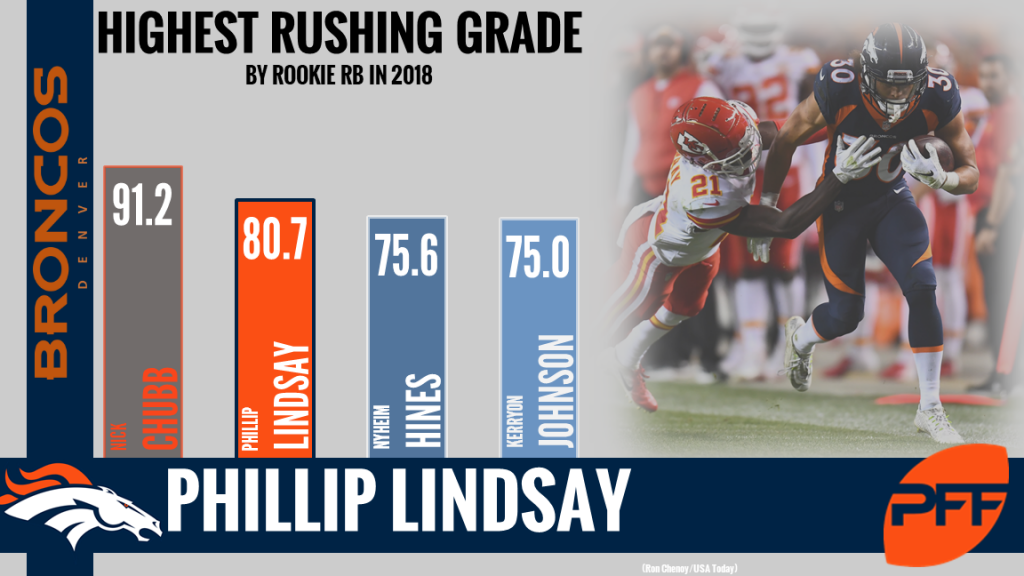 Lindsay has yet to face the same level of adversity as the likes of Johnson and Barkley, which in no way is an indictment of his play but instead a compliment to his offensive line.
Lindsay has been contacted at or behind the line of scrimmage on just 32.3% of his carries this season, the league's second-lowest percentage. Conversely, Johnson and Barkley have taken on contact or behind the line of scrimmage on 42.9% and 54.1% of their carries, respectively.
Johnson and Barkley have also done more in the face of defenders, ranking tied for sixth and ninth in yards after contact per attempt at 3.30 and 3.17, respectively. Both backs also rank inside the top-10 in forced missed tackles per touch. Conversely, Lindsay ranks 25th in yards after contact per attempt (2.73) and T-20th in forced missed tackles per touch (0.14).
Now, Lindsay's lackluster figures and ranks, again, are more of a product of his offensive line than his own play, hence his fourth-ranked overall grade. He has simply had far, far fewer opportunities to make defenders miss or run through contact because of the run-blocking efforts of his offensive line.
Through Week 8, Lindsay has gained 52.2% of his rushing yards before first contact, which leads all qualifying backs and makes him the NFL's only running back to gain more than half of his yards before contact. He's also averaged an NFL-high 2.98 yards before first contact per attempt, more than a whole yard ahead of premier running back talents like Todd Gurley (1.72), Kareem Hunt (1.10) and Melvin Gordon II (1.96). Lindsay has also been tackled on first contact on 79.6% of his carries through Week 8, the third-highest percentage among qualifiers.
Put simply, Lindsay has done everything he's been asked of and taken everything he's been given running in Denver's third-ranked run-blocking offense so far this season, which, in turn, has undoubtedly put him in the conversation for Offensive Rookie of the Year and propped up his overall and rushing grades. However, the race for OROY is 17 weeks long, and he won't hold his head above water in the competition if he doesn't start taking his game to the next level.