There's the shifty Saquon Barkley, the savior Baker Mayfield, the speedy Calvin Ridley and a slew of other impressive rookie talents vying for the Offensive Rookie of the Year title in 2018. When all is said and done, a skill position player will likely come out on top. But as for a darkhorse, San Francisco 49ers Mike McGlinchey has been sturdy on the offensive line in his rookie year — however, he'll have to break a massive barrier to come out on top in the race, as no offensive lineman has ever won the award.

McGlinchey is no stranger to beating the odds, however. He went from a 60.6 grade in 2014 on minimal snaps to becoming the highest-graded FBS offensive lineman in 2017 at 92.5. And in 2016, he was flagged 11 times — tied for ninth-most among FBS offensive linemen. He reduced that to only three in 2017.
Now, as a top-10 draft pick and a stalwart on the 49ers' offensive line, McGlinchey is showing out, particularly as a run-blocker. His 88.6 run-block grade is the best among NFL offensive linemen through Week 8, and while he has admittedly struggled in pass blocking, he has shown the potential to develop into an all-around player in the coming years.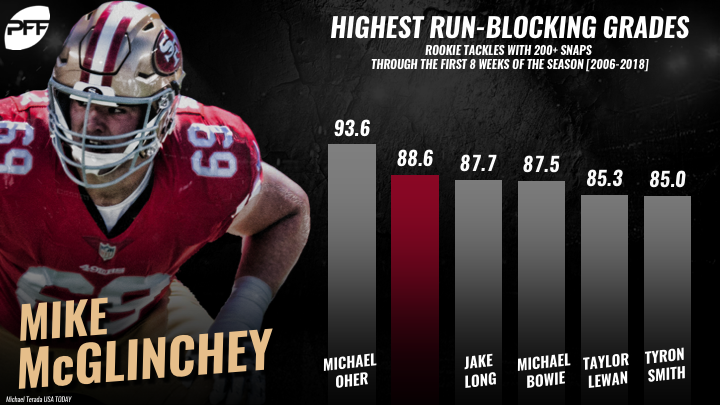 When rushing to the right or left of McGlinchey, running back Matt Breida has fared well. He's accumulated 134 yards on just 16 rush attempts — and both of his rushing touchdowns on the year have come on either side of the 315-pound rookie.
Even more impressive is Breida's yards before contact with McGlinchey in tow. Among running backs with 10 or more attempts on runs to the left or right of their right tackles in 2018, Breida leads the NFL with 5.4 yards before contact — a staggering number given that Detroit Lions running back Kerryon Johnson is in second with only 4.1 yards before contact, and the league average is a meager 1.5 yards.
If for some reason that isn't impressive enough, Breida is averaging 1.1 yards before contact when running to the next to the rest of his offensive line, a mark that ranks 35th of 48 qualifying running backs. The stark contrast between Breida's success with the help of McGlinchey compared to the rest of his offensive line and compared to the rest of the NFL shows how invaluable the rookie tackle is to a 49ers offense with a sputtering passing game.
If there's a facet of McGlinchey's pro skillset that will drag him out of the Offensive Rookie of the Year conversation, it's pass blocking. In college, it was much of the same — McGlinchey's run-blocking prowess translated to a better run-block grade than pass-block grade in all four years at Notre Dame. His 62.4 pass-block grade in 2018 is tied for 61st among tackles.
Nevertheless, McGlinchey deserves to be in the conversation at the very least. Last year's top run-blocking offensive lineman, Philadelphia Eagles center Jason Kelce, also excelled with a 95.3 run-block grade despite a 72.9 pass- block grade — and we all know how the Eagles' season ended. McGlinchey's success won't lead to a Super Bowl this year, but his continued progress is a step in the right direction for the 1-7 49ers and his OROY aspirations.