It is becoming more commonplace to see collegiate athletes from non-power five conferences excel in the NFL, and Colts' rookie linebacker Darius Leonard is quickly adding his name to that list. The 2018 second-round pick is currently ranked fifth among all rookie defenders and second among rookie linebackers with an 82.3 overall grade. This mark is the second highest grade for a rookie linebacker since former 49ers linebacker Chris Borland's stellar 2014 campaign.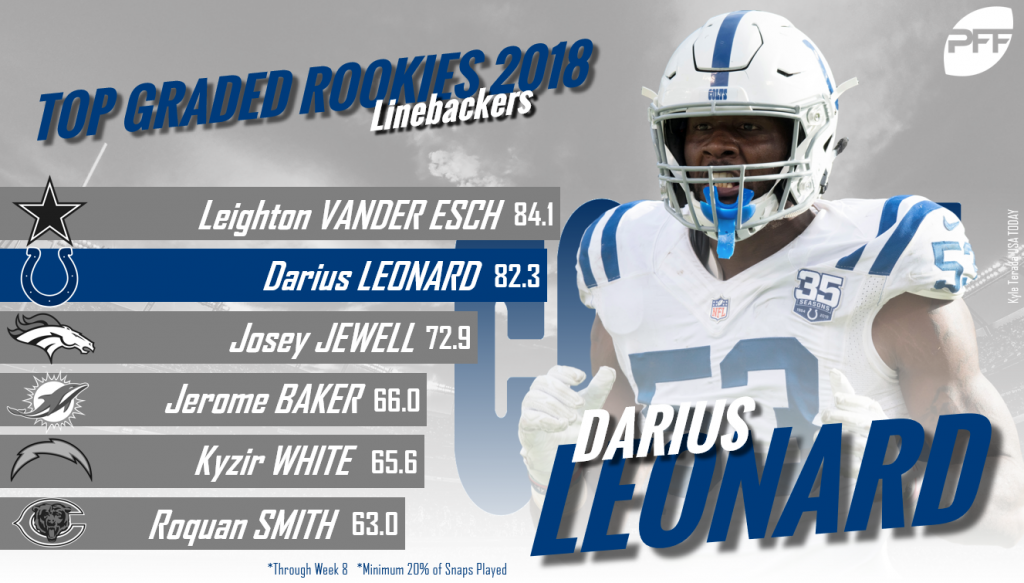 Leonard was the only player from South Carolina State drafted this year and is just one of eight Bulldogs drafted this millennium. With all that said, how is Darius Leonard becoming one of the top rookie phenoms in the NFL?
His sure-handed tackling ability is one of the many reasons he was widely regarded as a promising linebacker prospect coming out of college. Leonard ranks inside the top-10 in tackling efficiency on both pass and run plays, missing just three tackles compared to his 66 successful tries.
One of Leonard's most impressive feats is that he is tied for first with former Defensive Player of the Year Luke Kuechly with 31 total defensive stops (tackles that constitute a "loss" for the offense) at the mid-point of the season. Leonard has been all over the field, securing a league-leading 66 total tackles as well as 18 assisted tackles. 
In a league that appreciates versatility, Leonard is incredibly valuable. Through eight weeks, Leonard has played 402 of his 470 snaps in the box, but he has also played 52 snaps as a slot cornerback and 14 snaps in various other positions around the field. His coverage ability rivals his effect in against the run, as he's accumulated a top-three coverage grade (76.1) among all rookie linebackers in the NFL. He has been targeted 46 times and has yet to allow a touchdown.
Though he has not had much of an opportunity to rush the passer (19 pass-rush snaps), Leonard has pressured opposing quarterbacks six times in 20 attempts. His best pass-rush performance came in Week 3 against the Philadelphia Eagles when he sacked Carson Wentz twice in six rushes. This high-end efficiency has earned a pass-rush productivity mark of 26.3 – the best mark among rookie linebackers with at least 10 pass-rushing snaps. 
Leonard has unquestionably become the anchor for a Colts team that has seen three of their top-five graded defensive players have sizable declines in production. The rookie linebacker is now the highest-graded player on the defense, and he has had a dramatic impact on keeping Indianapolis' defense from falling below par.