After watching the Eagles offensive line dominate the Pats front on their way to a Super Bowl win, front offices around the league will assuredly prioritize the big fellas in free agency this spring. It's not an incredibly strong class on the whole, but there are five legit plug-and-play starters to be had. Let's take a look at the strengths and weaknesses of each.
Tackle
The only tackle with anything close to a competent grade hitting free agency this offseason, Solder can basically name his price with how tackle needy the league is. Throughout his career, the Patriots left tackle has been the definition of solid – grading above 70.0 for every single season of his career. Reliability is the best ability for an offensive tackle and Solder certainly offers that.
He's coming off arguably the worst season of his entire career though. Solder allowed a career high 51 total pressures, including seven in one game against the Chargers. His 83.2 run-blocking grade was still one of the best figures in the league though, and at only 29 years old it's unlikely he's already on the downslope of his career. Expect the line for his services to be long if the Pats allow him to make it to free agency.
Guard
The cream of the offensive line crop, Norwell is coming off a season in which he was named a PFF All-Pro left guard. He was the only starting offensive lineman in the NFL last year to not allow a single sack or hit all season, while his 13 total hurries allowed were the second-best figure of any guard in the league. While guard may not be as premium a pass protection position as tackle, that kind of performance will have franchises quarterbacks around the league begging their GMs to sign him.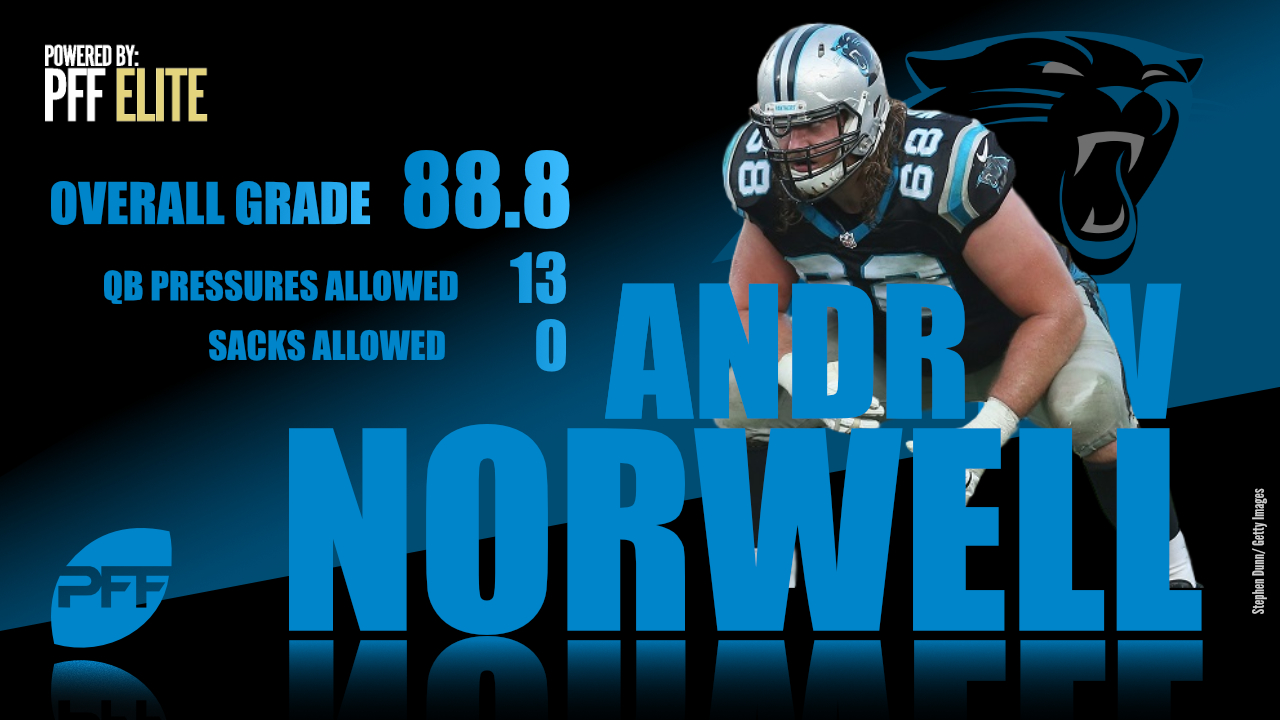 Oh, and he's pretty good as a run blocker too. His 83.4 run-blocking grade was eighth best among guards, and that wasn't even his career high in that regard. He graded out better as a run blocker each of the last two years with an 84.1 run-blocking grade in 2016 and 87.6 in 2015. The former undrafted free agent has nothing more to prove and the only question mark left for him is how much he's going to get paid this offseason.
At one point, Pugh looked on his way to becoming one of the league's elite guards, but injuries and position switches took their toll the past two seasons. He only managed 1,186 snaps over the past two years, with 2017 being the lowest-graded season of his entire career. That's concerning, as he also comes with a back injury that hampered him throughout this past season.
While Pugh played right tackle his first two seasons in the league and for 308 snaps this past season, it's likely teams will still try to sign him as a guard where his best seasons occurred. In 2015, Pugh's 84.5 overall grade was 10th-best among all guards in the NFL. He followed that up with an 81.2 overall grade in 2016, but he was clearly a different player after a sprained knee sidelined him for five weeks in the middle of that season. The injury red flags are obvious, but when fully healthy Pugh is an impact starter.
While the Colts offense line as a whole has been sup-par for entirety of Andrew Luck's career, Mewhort has been a consistent bright spot. That was, until a recurring knee injury has landed him on injured reserve each of the last two seasons. Mewhort has been limited to fewer snaps (979) than even Pugh since 2015 and has seen a similar dip in performance battling through them. Mewhort had a career high 84.1 overall grade in 2015, but has been trending the wrong way since. He followed it up with a 79.1 in 2016 and now is coming off a 46.1 in 2017. The money Mewhort gets in free agency will almost entirely come down to his medical evaluation and he's a strong candidate for a one-year 'prove it' deal to show he can be the same player he once was.
[Editor's note: Read more about the free agency class of 2018 with the first ever PFF Free Agency Guide, which dropped for all PFF Edge & Elite subscribers. Not a subscriber? Sign up today and receive your copy with detailed profiles, exclusive PFF stats and much more.]
Center
Richburg's story isn't all too dissimilar from his linemate Justin Pugh's. After earning an 86.5 overall grade (third best among centers) in his second season in the NFL (2015), Richburg has been unable to replicate that performance since. He too is coming off a season that ended with him on injured reserve after suffering a concussion in Week 4.
At his best though, he's arguably the top pass-protecting center in the NFL. He allowed 23 total pressures over the course of the 2015 and 2016 seasons, with only two of those resulting in sacks. He's been more inconsistent as a run blocker, but much of that stems from his aggressiveness, where he often trades some ugly losses for dominant blocks. When at the top of his game, he's one of the most scheme diverse and talented centers in the league.
2018 free agency
---
Free Agent Tracker / 2017 free agent hits
2018 Free Agent Previews
---
Arizona Cardinals / Atlanta Falcons / Baltimore Ravens / Buffalo Bills /
Carolina Panthers / Chicago Bears / Cincinnati Bengals / Cleveland Browns /
Dallas Cowboys / Denver Broncos / Detroit Lions / Green Bay Packers /
Houston Texans / Indianapolis Colts / Jacksonville Jaguars / Kansas City
Chiefs / Los Angeles Chargers / Los Angeles Rams / Miami Dolphins /