Indianapolis Colts
Pass Game Supporting Cast – Tier 4
Overall Team Supporting Cast – Tier 3
[Editor's note: The Supporting Cast metrics measure performance of players other than the quarterback, utilizing PFF grades and clustering analysis to group them into tiers from best (Tier 1) to worst (Tier 4). Passing Game Supporting Cast is indicative of supporting players contributing more to passing stats while Overall Team Supporting Cast includes other portions of team performance as well. For more information on support cast rankings, listen in weekly to the PFF Forecast podcast.]
Excitement has begun to grow in Indianapolis prior to the start of 2018 training camp. The Indianapolis Colts have brought new members of the coaching staff in several areas, and second-year GM Chris Ballard has continued flipping the roster in an effort to add talent and depth across the board.
With new coaches and players coming in, there could easily be a dozen or more new starters on the team in 2018 – especially on defense – where the Colts will be transitioning to a more traditional 4-3 defense from the hybrid 3-4.
Andrew Luck's Return
Of course, the biggest storyline in Indianapolis heading into training camp will be the return of Andrew Luck. Although he hasn't played in an NFL game since the regular season finale in 2016, should he come back to his previous form and produce like he did that year, Colts fans, and staff alike, should be happy. While there has been a notion lately that Luck isn't an elite quarterback, his numbers in 2016 tell a different story – as he was one of only four quarterbacks to earn an elite PFF grade.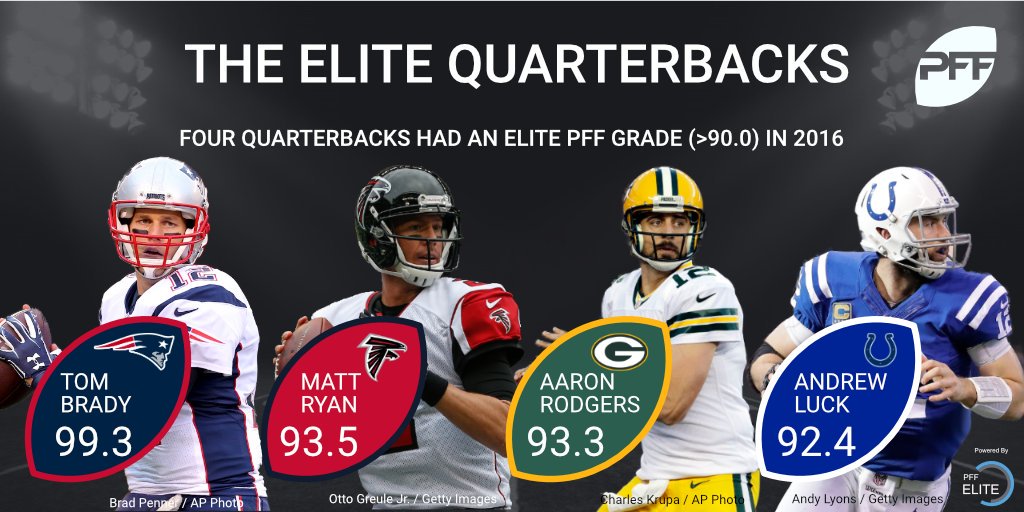 Not only was Luck the fourth-best quarterback in 2016, he was also our most-improved quarterback that season, as his overall grade rose from a career-worst 45.1 in 2015 (ranked 38th at the position) to fourth-best 92.4 in 2016.
In another drastic jump made from 2015 to 2016, Luck improved the most when he held onto the ball for 2.6 seconds or more, which he did 57.5 percent of his dropbacks in both 2015 and 2016. On those passes, his TD-to-INT ratio improved from 0.89 in 2015 (10th-worst) up to 2.37 in 2016 (eighth-best). On those same throws, his completion percentage rose from 46.1 (third-worst) in 2015, to 59.7 (seventh-best) in 2016.
Following the same trend, on longer-developing throws from 2015 to 2016, Luck's passer rating increased from 62.3 (third-worst) to 98.7 (seventh-best).
Putting it into perspective and showcasing how much Luck had to do on his own in 2016, he accomplished most of these impressive feats despite playing behind an offensive line that posted one of the lowest pass-blocking efficiencies since 2006. At the end of the 2016 season, the Colts 69.5 overall team pass-blocking efficiency ranked as the third-lowest score that we've given to a team since PFF began grading every player on every play of every game.
There is no denying the impact that Luck brings to the Colts when he's healthy and on the field. Although it's yet to be seen if Luck will start the season opener, his participation in training camp will be enough to re-ignite the excitement in the Colts' fan base.
Rebuilding from the Inside Out
Since the Colts drafted Luck in 2012, they have had poor play from the offensive line year in and year out. Last season alone, the Colts had 10 different offensive linemen play at least 140 snaps and used them in 18 different combinations. With the exception of left tackle Anthony Castonzo, the entire line struggled in run-blocking and as a result, Colts running backs averaged just 1.07 yards before contact, the third-lowest in the NFL. Although Luck has proven he can play behind subpar offensive line play, Ballard seems determined to keep his franchise signal-caller upright.
With their improvements this offseason, the Colts offensive line jumped from finishing 25th in our 2017 season-end offensive link rankings, to 17th in our preseason offensive line rankings released last week.
Undoubtedly, the highlight of the offensive line is sixth overall pick Quenton Nelson. The former Notre Dame star was considered the fourth-best player on our PFF Draft Board, after finishing the 2017 season with a 95.1 overall grade – the highest grade for a guard across the entire nation and the second-highest grade we've ever given to a guard in the PFF College era.
Nelson's grade in 2017 was nearly 4.0 points higher than the next closest in the class. Additionally, he ranked sixth among draft-eligible guards in pass-blocking efficiency in 2017 (99.0) and first in run-blocking success percentage in 2017 (94.6).
For more in-depth analysis on Quenton Nelson and the rest of the 2018 NFL Draft class – it's not too late to grab the 2018 NFL Draft Guide –

Ballard has made it clear that it's finally a priority to build protection around their most valuable asset. Adding Nelson in the first round and Braden Smith in the second round gives the Colts two young cornerstones along the line. While the Colts may believe that Smith will be the final piece on the interior of the line, he will have to prove he's ready to take the job away from veteran guard Matt Slauson, who has been working with the first team during most of the spring workouts.
Furthermore, Indy will be hoping for a jump in production from rising third-year player in center Ryan Kelly. He failed to reach 400 snaps last season due to injury, but even when on the field, he seemed to have regressed from his slightly promising rookie campaign.
PROJECTED STARTING LINEUP:
Left Tackle: Anthony Castonzo, 82.0 overall grade
Left Guard: Quenton Nelson, 95.1* (2017 college grade)
Center: Ryan Kelly, 39.9
Right Guard: Matt Slauson, 45.0
Right Tackle: Austin Howard, 71.6
Young talent on defense
As it currently stands, all three levels of the Colts new-look defense will be littered with young talent. Veteran Jabaal Sheard was perhaps Indy's best defensive player last season while registering an elite 91.3-graded season as Sheard was able to generate 66 pressures with a pass-rush productivity of 11.6.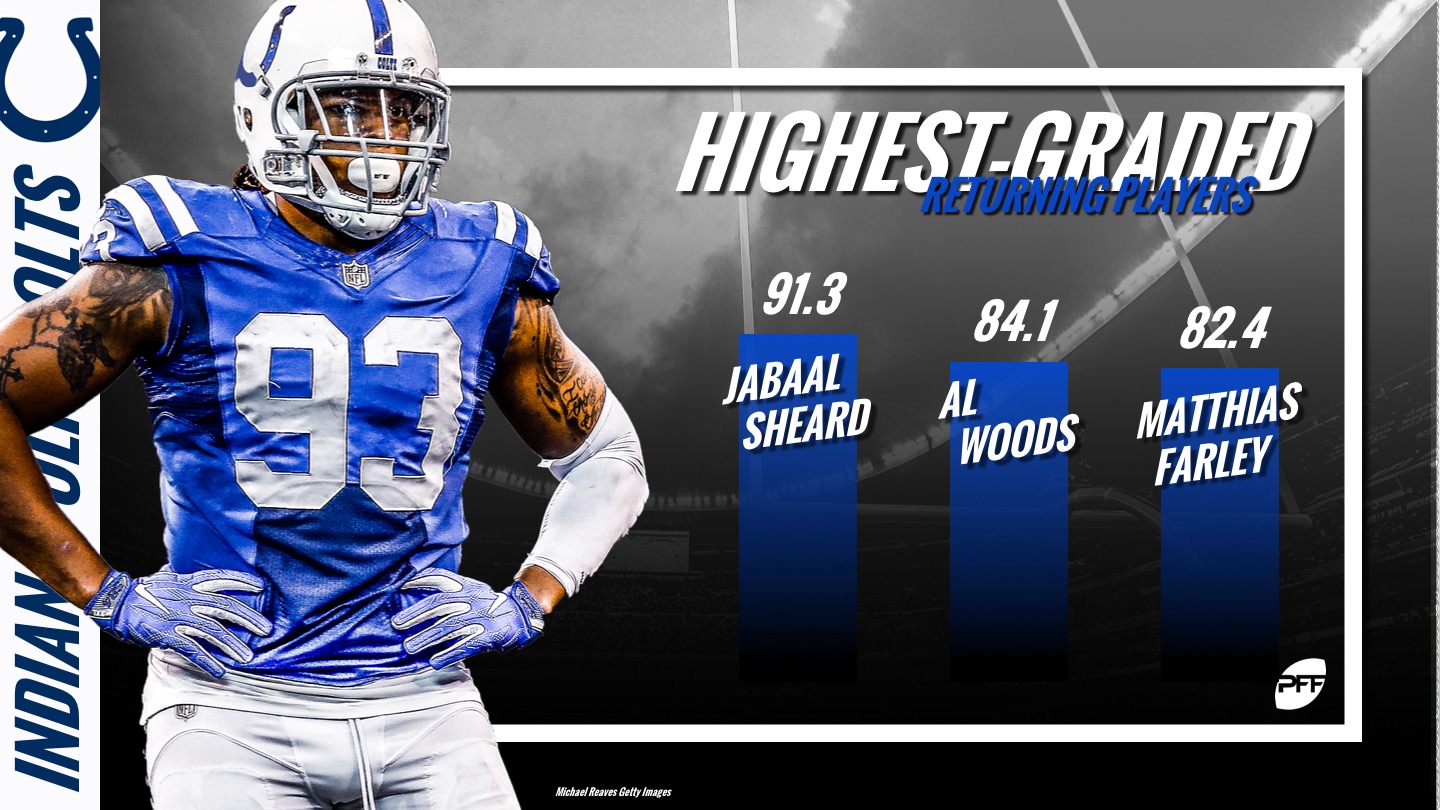 However, while Sheard should continue to be a force off the edge for Indianapolis, the defensive line has young players in Tarell Basham, Tyquan Lewis and Kemoko Turay that will be looking to impress in their new 3-technique roles. If the Colts can prove their attacking scheme will boost production behind Sheard and the other young defensive ends on the roster, the defense should be much better in 2018.
At the linebacker position, the Colts are slated to have Darius Leonard and Anthony Walker manning the middle. Behind them, this group is very young and inexperienced. While they used three of their selections in the 2018 NFL Draft on linebackers to help shore up the front seven, it's undrafted linebacker, Skai Moore, who may be the most intriguing young prospect for the Colts.
Out of South Carolina, Moore should be a valuable addition to Indianapolis' defense given his premier coverage ability. Though lacking the prototypical height-to-weight ratio for modern-NFL linebackers, Moore, the fifth-ranked linebacker in the draft class, earned a coverage grade of 88.7 in 2017, which edged out the eighth overall pick in the draft, Chicago Bears linebacker Roquan Smith.
Depending on how many linebackers the team keeps, the Colts could likely have three rookies not only make the roster at this position, but also make an impact in 2018.
The Colts are just as youthful in the secondary as they boast a couple of second-year players who saw significant playing time a season ago, and did so admirably in cornerbacks Quincy Wilson and Nate Hairston, and safety Malik Hooker.
It's imperative that Hooker and the rest of the young players on Indy's defense stay healthy and find a role for themselves in the new scheme. Nothing is set in stone, but this unit could go from being one of the worst to at least respectable in 2018.

POSITION BATTLES TO WATCH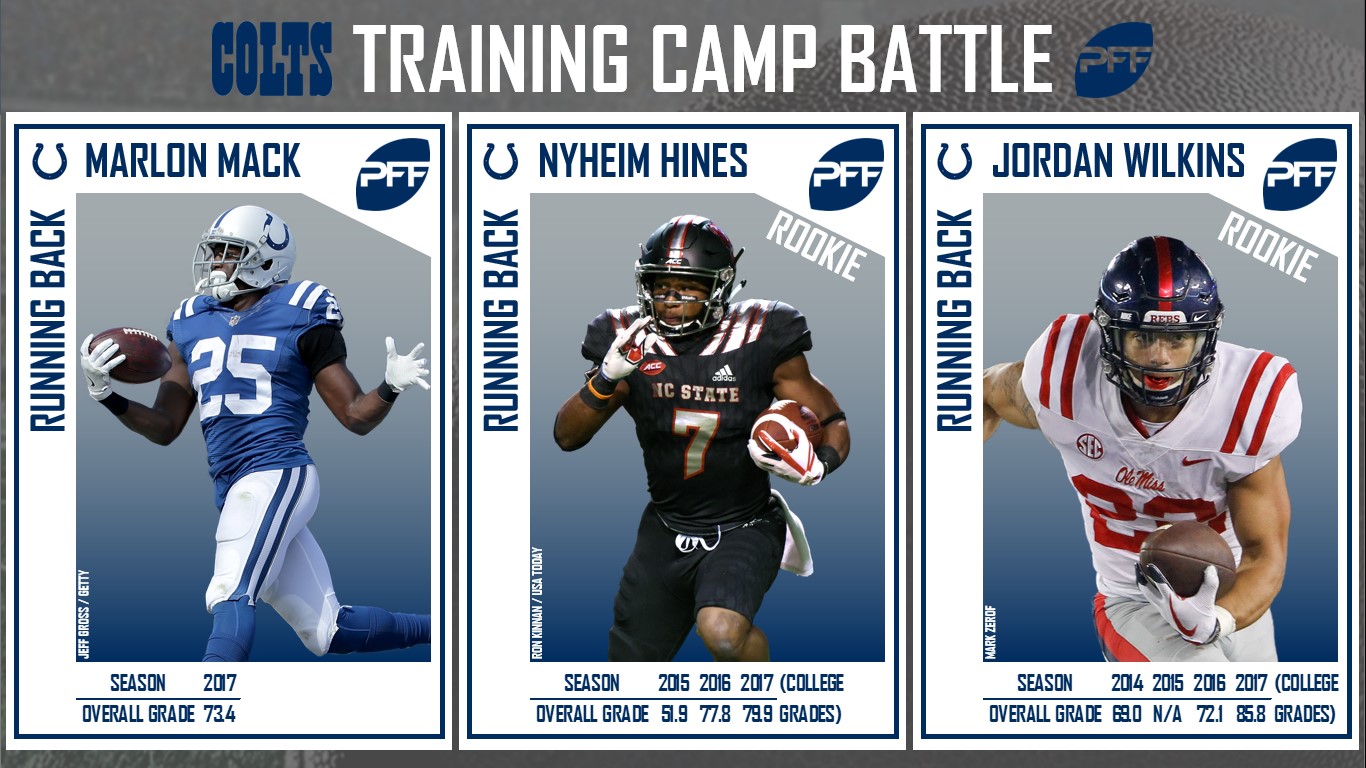 2018 PFF NFL Training Camp Previews
---
Arizona Cardinals | Atlanta Falcons | Baltimore Ravens | Buffalo Bills | Carolina Panthers | Chicago Bears | Cincinnati Bengals | Cleveland Browns | Dallas Cowboys | Denver Broncos | Detroit Lions | Green Bay Packers | Houston Texans | Indianapolis Colts | Jacksonville Jaguars | Kansas City Chiefs | Los Angeles Chargers | Los Angeles Rams | Miami Dolphins | Minnesota Vikings | New England Patriots | New Orleans Saints | New York Giants | New York Jets | Oakland Raiders | Philadelphia Eagles | Pittsburgh Steelers | Seattle Seahawks | San Francisco 49ers | Tampa Bay Buccaneers | Tennessee Titans | Washington Redskins