Pick five NFL analysts and ask them which wide receiver they would take, and you might very well get five different answers (all justifiable). Your preference this coming season has a lot to do with personal choice, as well as who is throwing them the ball. However, determining the most valuable receiver heading into next season is a little more science than feel. Using PFF play-by-play grading and mapping performance in each facet to wins gives us a metric, PFF Wins Above Replacement, that allows us to do just that. WAR is roughly the number of wins a player earned over a practice squad player over the course of a given season. PFF WAR is by far the most consistent and predictive player metric (and it goes across positions) we have found, and so we will let it start the conversation here.
Since entering the league in 2013, Houston Texans wide receiver DeAndre Hopkins' value has fallen a bit short of Atlanta Falcons star Julio Jones and his prodigious production in each of his first five seasons, with the former saddled with an unrivaled level of disgusting quarterback play. The 2018 season was a different story, however, as Hopkins led all wide receivers by generating 1.9 WAR, over half a win more than Julio, and earning a 92.4 overall grade (Julio — 90.9) while playing 331 more snaps than Jones. Availability is important, and having DeAndre Hopkins on the field on virtually every snap is more valuable than having him (or Jones) on the field 85% of the time. This has been a staple of Hopkins' game, having played the highest percentage of available snaps among all wide receivers since he entered the league.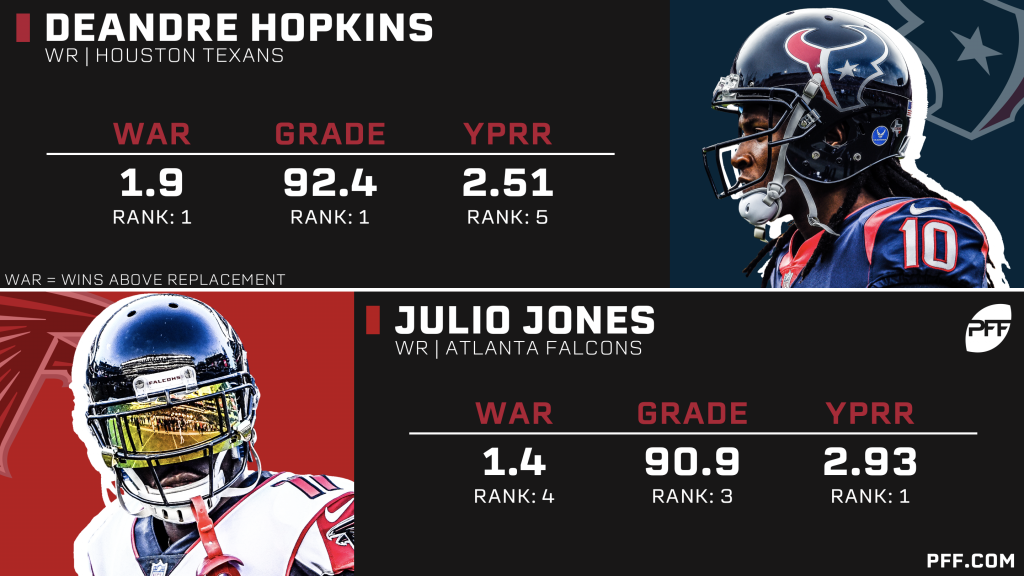 Jones is often lauded for leading the league in yards per route run, one of the most stable efficiency metrics for wide receivers. In 2018, Jones averaged 2.93 yards per route run compared to 2.51 for Hopkins. While this uptick in efficiency is not trivial, Hopkins' achievement in this area is still top notch, and when applied over the aforementioned difference in sample size, the gap in value shrinks and eventually reverses. Additionally, Hopkins was not just dependable when it came to staying on the field, his hands were also on a planet of their own; Hopkins didn't drop a single pass on 169 targets while Jones dropped eight passes on his 166. To put it simply, Hopkins was not costing his team yardage, expected points, wins or whatever else you use to measure value when everyone else did their job correctly — and that epitomizes what you want in a superstar player.
Adding another layer to Hopkins' WR1 status is the difference in the accuracy of the targets thrown DeAndre's way. PFF charts the ball location of every throw, delineating between throws that are placed in the perfect location, on the receiver's frame and throws that are catchable but not accurate (they are off the receiver's frame). To give you a sense of the difference, passes that are deemed perfect or on the receiver's frame generated 10.7 yards per pass with a completion rate of 93%, whereas catchable inaccurate throws generated 7.9 yards per pass attempt and a 75% completion rate. To put it simply, not all catchable throws are created equal and the more inaccurate throws you see, the harder it is to be successful. Hopkins saw a catchable but inaccurate pass on 27% of his targets last season, 13% more than Jones. While not a knock on Jones, this data suggests Hopkins simply had a harder job than Julio and needed to do more to help his team win in 2018 (and he did).
We realize this is a big exercise in splitting hairs given the brilliance of both of these players, but since we will inevitably get hate mail (send to @PFF_Eric, please) for listing one player above another, it's good to provide justification. With Deshaun Watson another year older and Matt Ryan in the prime of his career, we have a feeling that we'll be splitting these hairs again in 2019, and we look forward to continuing the discussion once the season starts in the next few months.