The New Orleans Saints' efforts to extend Drew Brees' career are working about as well as they could have hoped. For a player who came to the team with lingering injury concerns, he's been one of the NFL's ironmen, now into his 40s.
Brees has had only two seasons in the PFF era (2006-18) with fewer than 1,000 snaps, and 2018 actually saw his fewest plays on the field in the highest-graded season of his career. Quarterbacks aren't supposed to peak in their 18th season, but the Saints surrounded him with offensive line talent to keep him more comfortable in the pocket than anyone else.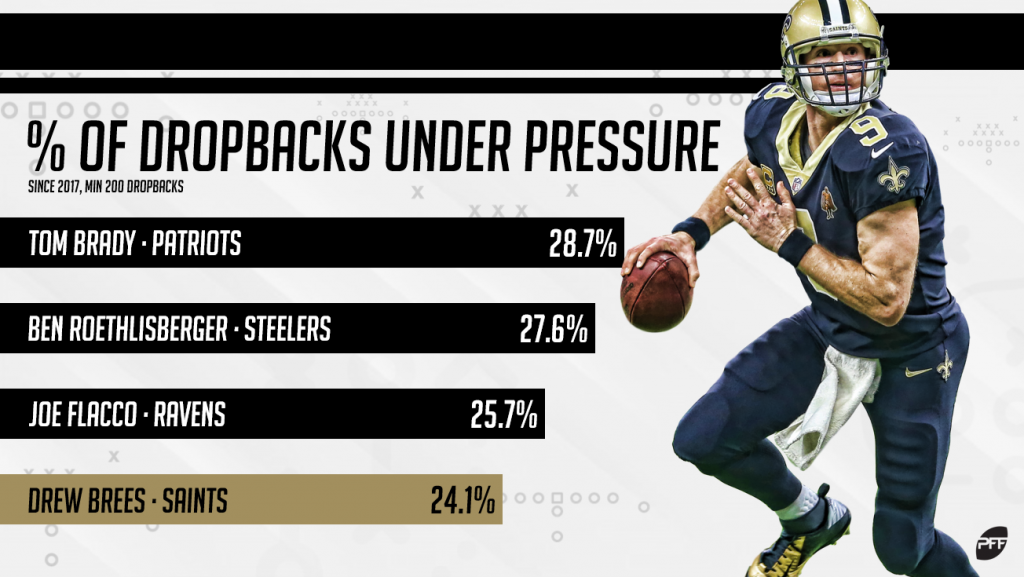 Since 2017, no quarterback had a lower percentage of their dropbacks under pressure. Over the last two seasons, Brees faced pressure on 257 dropbacks. Kirk Cousins was under pressure on 260 dropbacks in 2018 alone.
New Orleans deserves credit for investing in the offensive line to keep their quarterback young. Their projected starting five is expected to include three top-50 picks with Andrus Peat at left guard, rookie Erik McCoy at center and Ryan Ramczyk at right tackle along with a left tackle and right guard who both rank among the 10 highest-paid players at their positions. Left tackle Terron Armstead, right guard Larry Warford and Peat rank as the three highest-paid players, after Brees, on the Saints' salary cap this season. New Orleans will spend the fourth-most money of any team on their offensive line as a whole in 2019, according to Over The Cap.
With Max Unger at center last year, the offensive line allowed the second-fewest pressures of any team, but they ranked only ninth in pass-blocking efficiency and 13th in pass-blocking grade collectively. What separates them from the rest of the league is their consistency. Brees had only three games last season where he was under pressure on more than 30% of his dropbacks. Dak Prescott had 13 such games, and Aaron Rodgers and Patrick Mahomes each had 11. In the last two seasons, the Saints' offensive line allowed the lowest percentage of quick pressures coming in less than 2.5 seconds (16.7%), the second-lowest sack rate (4.2%) and the third-lowest rate of unblocked pressures (4.7%).
It helps that Brees averaged 2.44 seconds per throw over that span, but it's not as simple as a quick passing game taking the onus off the offensive line. On passes taking longer than 2.5 seconds to throw, he had the second-highest completion percentage and third-highest passer rating in the NFL last year. When he has the time to sit in the pocket and deliver passes downfield, defenses have few answers. Brees threw 27 touchdowns and just one interception from a clean pocket in 2018 — the only starting quarterback without multiple picks. Only Mahomes had a higher passer rating while not under pressure.
Defenses tried different ways to make the veteran uncomfortable, but few front sevens caused him trouble consistently. Brees had three games where he faced a blitz on more than 40% of his dropbacks and four games facing blitzes on less than 15%. A similar variation with stunts had little effect on the pressure he faced.
New Orleans' scheme and offensive line have kept Brees almost untouchable in recent years. It's been critical to his longevity and leaves him in position to reach his 20th season in the NFL in 2020.