It's that time of year; optimism reigns in the NFL. After an NFL draft that saw us go 3-0-1 (for +4.3 units) on props last week and a 2018 season where went 3-2 on printed win totals (+2.9), we're ready to offer up some recommendations for season 2019. One recommendation comes out of the AFC South, where the team that has finished last in the division in all but one of the last eight seasons has one of the more intriguing quarterback/coach combinations in the NFL, along with previously successful defensive coordinator armed with a draft class including three defensive backs and the best coverage linebacker in his class.
The second recommendation is a more intuitive one, as last season's NFC East division championship by the Dallas Cowboys was one of the more noisy feats of the 2018 NFL season. Even winning 10 games – achieved only through playing their starters in a meaningless Week 17 game in the Meadowlands – a game won on a miracle touchdown pass from Dak Prescott to Cole Beasley (now in Buffalo), followed by a two-point conversion.
Thus, without further ado, a couple of win totals for the 2019 season. 
[Editor's Note: George Chahrouri and Eric Eager are the minds behind PFF's Greenline product, which provides a real-time look at all NFL games with PFF predictions for the spread, moneyline and over/under. PFF Greenline is available exclusively to PFF's ELITE subscribers. Sign up today!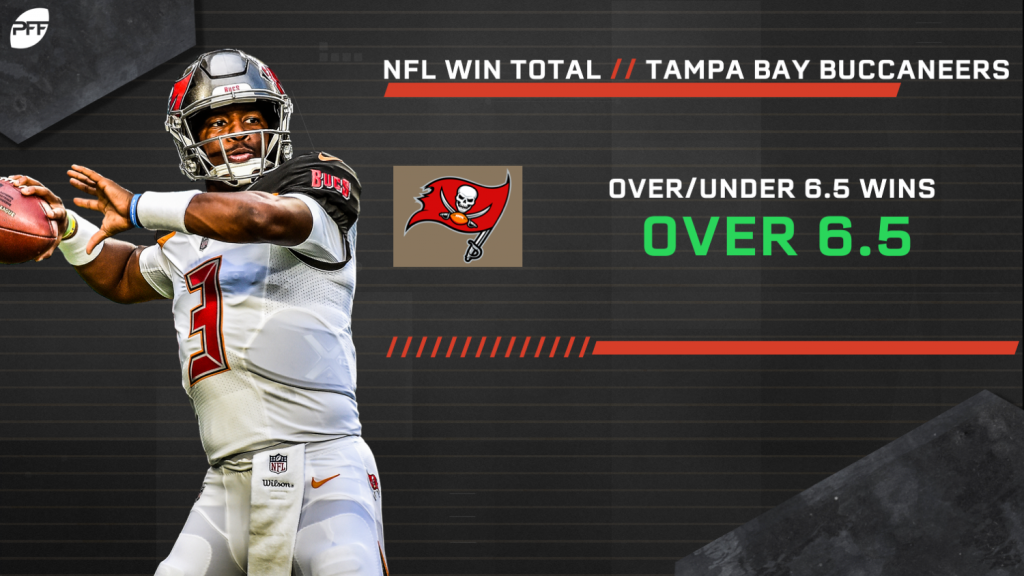 Tampa Bay Buccaneers OVER 6.5 (+110)
Point (Eric Eager): This is probably going to be tough for folks who bet Tampa's over last season, scarred by a 2-0 start that whimpered to a 5-11 finish with a good old-fashioned quarterback controversy stemming from Jameis Winston's suspension, Ryan Fitzpatrick's YOLO Weeks 1-3, followed by up-and-down play from each player.
Gone is Dirk Koetter, in are Bruce Arians and Todd Bowles. Arians' offense is perfectly suited for Jameis Winston, a player who led the entire league in percentage of positively graded dropbacks (32.3 percent). A player with these cards in his deck has historically thrived in Arians' scheme. For example, Carson Palmer, during his MVP-level 2015 season led the entire league with a 33.2 percent positively graded throw rate. We know that positively graded throw rate is not as stable as negatively-graded throw rate, but these anecdotes give us a bit of a picture with respect to fit. To emerge in an NFC South that has historically kept the Bucs at arm's length, a string of persistent positive play is going to be needed, and while it's hard to predict when that will occur, it's fair to say that, unlike quarterbacks with higher floors and lower ceilings, Jameis has the goods.
We currently have the Bucs winning roughly 7.2 games, going over 6.5 wins 63 percent of the time, making this play profitable until the odds become -160 or so. Another reason we like this pick is how well they are building their defense, a defense that was a bottom-three unit in the league in terms of EPA allowed. They let Kwon Alexander, a below-replacement-level player in limited action a season ago, and replaced him with the fifth-overall pick Devin White, widely considered the best coverage linebacker in the draft. They then proceeded to acquire three defensive backs in their subsequent picks, understanding the need to compete in an NFC South that includes Drew Brees, Matt Ryan and Cam Newton. Shaq Barrett has been a good pass-rusher in the past in a part-time role with Denver, and the hope is that he will emerge in a more full-time role in Bowles' defense.
This strikes me as a similar play to the Colts a season ago – great coach, a quarterback with the goods to succeed in a particular offense, and a defense that can do nothing but improve with a plus value at defensive coordinator.
Counterpoint (George Chahrouri): How optimistic is the good Doctor Eager? He is comparing Jameis Winston with the 21st-ranked grade from a clean pocket and 32nd-ranked uncatchable throw rate to Andrew Luck, who ranked eighth and 19th respectively in those stable areas of quarterback play. Arians is no stranger to creating opportunity for great quarterback play, but let's not forget that for every Carson Palmer 2015 season with a 9.0 percent big-time throw rate, there was a 2017 with a 3.1 percent rate of PFF's highest-graded throws (NFL average is 4.4). That level of variance combined with a draft that focused on defense (and to their credit has great potential given the emphasis on coverage and strong choices) leaves the offensive line a bit up in the air with two tackles who ranked in the 40s last season.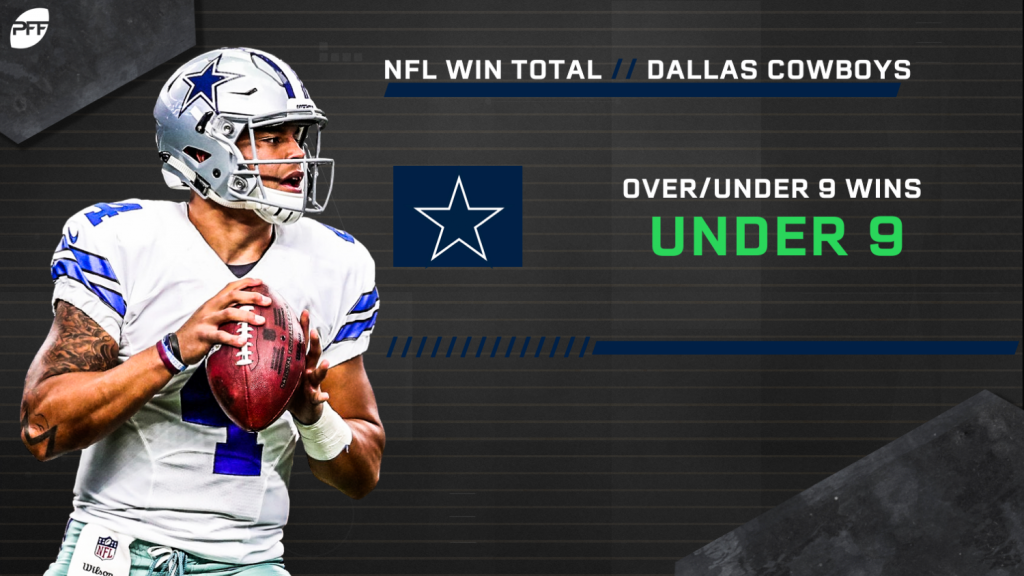 Dallas Cowboys UNDER 9 (-105)
Point (GC): The Cooper trade was a win right? While Cowboy nation will rush to say yes,  it is worth thinking about how much of a win a trade is when it causes further investment in a team for whom nine wins seems very iffy. I won't go all in on that counterfactual with that trade (though a world with Kyler and Lincoln probably exists). Instead, let's focus on how the current Cowboys fare in our 2019 simulation. In 56 percent of the simulations, they end up with less than nine wins, while pushing with exactly nine in 18 percent of the seasons. If I were picking a number for their win total off the top of my head, I would have thought Vegas might have settled at 8.5, but as I said, everyone is buying into Cooper being the savior Dallas needed after a win against a Seahawks team that played with a quarterback in handcuffs (just look up how many times he threw the ball).
There are a couple of major reasons to like the under. First off, the Cowboys won the division, which means they get a lovely first-place schedule and do not acquire a first-round caliber player as the rest of the division did (some more than once). Second, there is the Dak Prescott dilemma (I DO NOT HATE DAK). Dak's rookie season was tremendous, and he had the benefit of a virtually impenetrable offensive line. Tyron Smith has not been quite his dominant self the last two seasons while battling through some injuries, and La'el Collins allowed 46 pressures at right tackle (only Sam Tevi allowed more). Prescott's pocket presence hasn't done him any favors, either. We've attributed league-high 15 sacks to Prescott. When the ball does come out, accuracy is still an issue; the most consistent measures of accuracy are avoiding uncatchable throws (ranked 27th) and making accurate throws to open (more than a step of separation) receivers (ranked 31st of 35). Prescott ranked 18th in grade from a clean pocket, eclipsing nine wins with middle of the pack quarterback play is no easy feat.
This brings me to the ancillary reasons. The Cowboys won 10 games last season thanks to some timely play in the red zone, ranking fifth in EPA per play allowed on third downs in the red zone. Banking on a repeat of something like that is just not so easy. The coverage unit is certainly strong, but you simply cannot be very certain in coverage remaining strong. Last and definitely least is the influx of talent to division rivals. While the Giants will need more than a three-series sample for their new quarterback, they did well to acquire talent throughout the draft while the Redskins stole the better quarterback at pick 15 and the Eagles sured up their offensive line while adding a playmaker for Carson Wentz in J.J. Arcega-Whiteside. The Cowboys could be just as good as they were last year and max out at 8-8.
Counterpoint (EE): I drew the short straw here, but like every situation, there are some reasons to consider on the other side of the bet. For example, while Dallas won their division a season ago, it's not like they have the hardest schedule in the world (17th in PFFELO). Additionally, while they focus in many ways on the wrong things (running, e.g.) and the player at the league's most important position is an average player, at best, the Cowboys have some substantial talent throughout their roster. Byron Jones, Demarcus Lawrence, Leighton Vander Esch and Jaylon Smith are all top-six players at their position in terms of WAR, while their offensive line still boasts substantial talent both on the interior and at tackle in Tyron Smith. 
If the Cowboys' defense doesn't regress and Prescott is given the great infrastructure he enjoyed in 2016, the Cowboys can emerge again as a threat in the NFC East. Much of this bet is an implicit buying in on Washington and/or New York to play better than their market (6.5 and 6, respectively) suggests, but it's also backing the Philadelphia Eagles as they try to reclaim their spot atop the NFC East. With two rookie quarterbacks likely seeing time in the nation's capital and the Big Apple, signal-caller inexperience in the division could spot the Cowboys enough wins to make this under more difficult, but I'm with George – fade the noise of last year's NFC East.