The Kansas City Chiefs agreed to trade Marcus Peters to the Los Angeles Rams on Friday, jettisoning the second of their four most valuable players from 2017 this offseason. While Peters certainly has had his issues, including being dismissed from his college team and briefly suspended by the Chiefs this past season, he's been an unmitigated playmaker between the white lines, leading all cornerbacks in interceptions (19) and tying for third in pass breakups (31) the last three seasons. After being targeted relentlessly (151 times) during his rookie season, Peters settled in a corner that teams shied away from, seeing only 79 passes into his coverage in 2017 (including playoffs).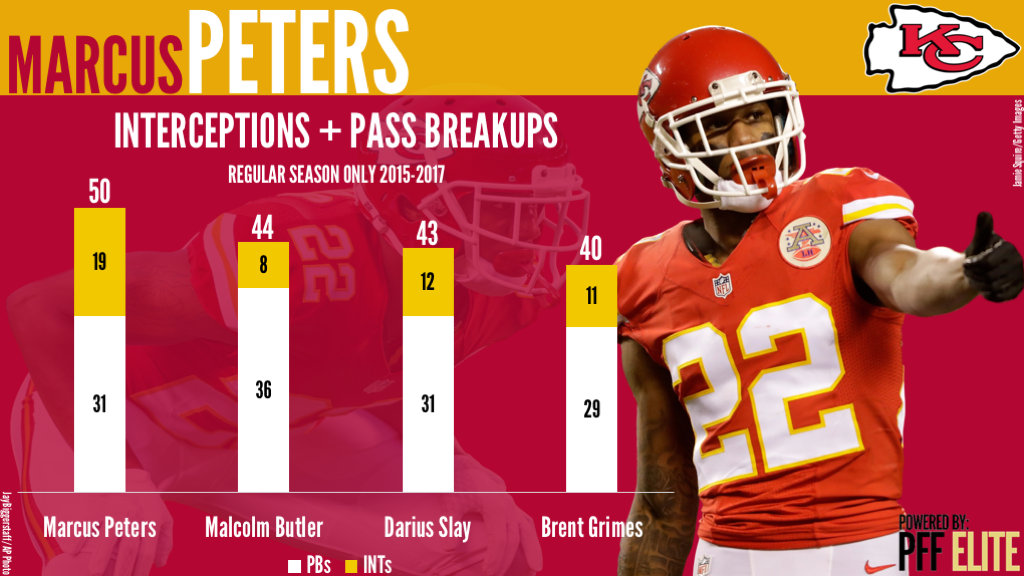 So why would the Chiefs cut bait on a player so clearly valuable after a season where their defensive personnel were never more exposed under Andy Reid and Bob Sutton? We address what this trade means looking backward and forward for the Chiefs, as well as what it means for the Rams as we look toward the future.
Did the Chiefs Get Their Draft Capital's Worth from Peters?
To be short: yes. Using Pro Football Reference's Approximate Value metric (AV, with its limitations understood), the 18th pick in the NFL draft has been worth, from 1994 to 2014, an average of 30.9 AV during a player's time with his drafted team (through an average of about 6.5 seasons). Peters, through three seasons, has produced 29 AV, roughly double the time-adjusted value of said draft position. This number is likely a little short with respect to his actual contribution, as well, since they his ability to eliminate half of the field has helped the Chiefs defense stay relatively above water despite giving significant snaps to players like Phillip Gaines (35.9 overall grade) and Terrance Mitchell (52.3) on the other side.
Not only has Peters provided the three years of plus value at a premium position, the Chiefs acquisition of draft capital in return (the specifics still unknown at this point) will have its own projected future value, from players playing at the discount inherent in rookie contracts, to add to what Peters has already contributed. While it's up to Brett Veach and his staff to make the most of said picks, the acquisition of Marcus Peters with the 18th pick in the 2015 NFL Draft was a positive one for the Chiefs franchise, regardless of the relationship's conclusion.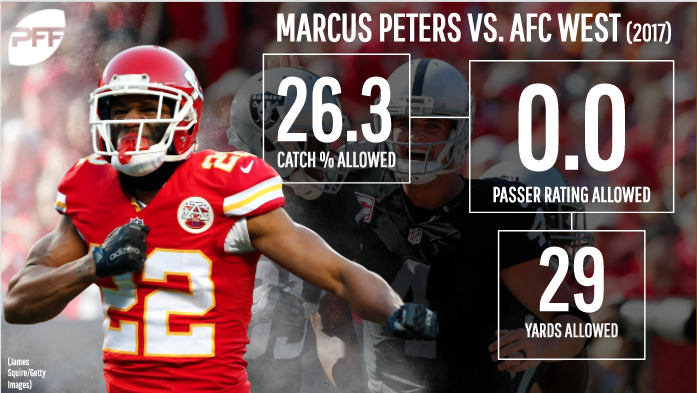 What's Left for the Chiefs' Future?
While the Kansas City/Peters relationship was a positive one looking backward, whether the Chiefs are a better team now than they were before agreeing to ship him to Los Angeles is another story. Armed with additional draft capital, as well as the roughly $3 million in cap space that moving Peters provides, substantial questions arise over whether the Chiefs can adequately replace his presence at left cornerback moving forward.
They addressed a big need in their secondary with the Alex Smith trade last month, acquiring Kendall Fuller from Washington, but there are legitimate concerns over whether Fuller can play as well on the outside as he played inside (where he allowed a 55.0 passer rating into his coverage in 2017). Fewer than 12 percent of his 1,196 career snaps have come as an outside corner, meaning trusting him on the outside as a No. 1 cornerback will be something of an act of faith, should they go that route. Third-year pro Steven Nelson was good in 2016 (only a 78.8 passer rating allowed from the slot) but struggled in 2017 with injuries that held him to just 578 total snaps. Mitchell, who played 705 snaps and allowed the sixth-most passing yards into his coverage among cornerbacks during the regular season, is a free agent and might be a long shot to return to a key role in 2018.
David Amerson was acquired recently by Kansas City in an intriguing move. No stranger to being a reclamation projection, Amerson has shown flashes of brilliance, earning PFF's Comeback Player of the Year award in 2015, only to end up released on February 5 of this year following a season where he earned just a 39.7 overall grade in 287 snaps and a foot injury.
With Amerson et al. a coin flip at best on the outside, the onus is on the Chiefs to use their resources to acquire at least one outside cornerback in free agency or the draft. Legit No. 1 options like Kyle Fuller (84.3), Trumaine Johnson (74.2) and Brent Grimes (82.0) might be out of their reach financially (they are near the bottom of the league in cap space), but less expensive options like Tramon Williams (88.8), Rashaan Melvin (85.7), E.J. Gaines (86.6) and Prince Amukamara (81.2) are available in a large crop of free agents at the position. If a first-round pick is not attained from the Rams, day two options like Carlton Davis (Auburn), Donte Jackson (LSU), Mike Hughes (UCF), Jaire Alexander (Louisville), J.C. Jackson (Maryland), Nick Nelson (Wisconsin), Isaiah Oliver (Colorado) and Anthony Averett (Alabama) are draft options for a Chiefs team without a first-round pick, having traded theirs away last year to acquire quarterback Patrick Mahomes.
Complicating matters for the Chiefs defensively (a unit we've rated as the league's worst, using PFF grades and adjusting for schedule) is that they have long-held holes in their front seven to go along with their new one at left cornerback, with Derrick Johnson (77.3) and Bennie Logan (68.6) free agents and Dee Ford (48.7) coming off an injury-riddled and disappointing fourth season.
While the draft pick compensation they end up getting might change this answer, from the perspective of looking forward, this appears to be a potential loser for Kansas City.
What about the Rams?
While the future value of this trade looks bleak for the Chiefs, it has the chance to elevate Los Angeles from a great story in 2017 to a Super Bowl contender in 2018. Trumaine Johnson was given two seasons to show he was a cornerstone player for the Rams and he responded with the inconsistency that has marred much of his career. While he was able to generate three interceptions and 15 pass breakups the last two years under the Rams' franchise tag, Johnson was beaten for 759 yards during the 2017 regular season (fourth-most yards allowed among cornerbacks) and for another 79 in the playoffs.
Enter Peters, who is a rising star still on his rookie deal, and you have a defense with young stars in Aaron Donald (99.7), Michael Brockers (83.1), John Johnson (85.8) and Peters (85.7) to go with an offense possessing Todd Gurley (91.9), Jared Goff (81.3), Andrew Whitworth (79.8) and Robert Woods (83.2) and one of the league's brightest offensive minds. There are some concerns over the fact that they are missing a second-round pick, are giving up draft capital in the Peters trade, and have a list of upcoming free agents that includes key contributors in Lamarcus Joyner (90.3), Sammy Watkins (76.2), Nickell Robey-Coleman (84.9) and John Sullivan (74.6).
In Conclusion
In Marcus Peters, the Rams acquire one of the league's premiere players at one of the most-valuable positions in football. What Los Angeles ends up giving up to get him, and his ability to play nice with his new coaching staff, are open questions, but one has to view this trade as a winner for the Rams. That said, Peters provided more than his expected contribution in three seasons with the Chiefs, and if they view his orientation towards playing for Andy Reid and his staff an untenable one, the choice to cash out is an understandable decision from their perspective as well.