With the Week 1 slate now in the history books, PFF has come together to give some observations on the first week of the regular season. From Lamar Jackson's demolition of the tanking Dolphins to Dak Prescott's on-field contact demand, here are our takeaways from the first week of the 2019 NFL season.
[Editor's Note: All of PFF's advanced stats and grades for every NFL player are made available in PFF's ELITE subscription. Subscribe today to gain access!]

Monday Night Football observations
---
Houston Texans head coach Bill O'Brien went full send on the win-now philosophy by trading away their next two first-round picks and a second-round pick for left tackle Laremy Tunsil. Match them up against a team in the New Orleans Saints, who have had back-to-back crushing defeats in the postseason and a Hall of Fame quarterback on his last leg, and you have yourself an intriguing matchup. With the game ending on a Will Lutz 58-yard bomb (for the brand) as time expired, this was clearly the game of the week. Read more…
The Ravens offense flashes elite potential
---
Things I didn't expect to be writing about in the 2019 NFL season: The Baltimore Ravens' diverse offense and game-breaking downfield passing attack. After a dominating Week 1 performance against the Miami Dolphins, the Ravens have earned a lot of praise for an offense that can cause problems on multiple levels. So what made their performance so special on Sunday? Let's dig into the game and see. Read more…
Grading all 32 first-rounders
---
The first full week of the NFL regular season schedule is complete, giving us our first real look at this year's first-round rookies. While some of the 32 first-rounders saw plenty of action, others did not qualify for a grade either based on small snap counts or not playing altogether. Through Week 1 of the 2019 season, here are how each of the 32 first-round rookies from the 2019 NFL Draft has graded in their first professional action. Read more…
A.J. Brown already looks like WR1
---
Overreacting to Week 1 performances is a tradition as old as time. Look no further than now journeyman wideout Jordan Matthews who has gone over 100 yards twice in Week 1 despite never going for 1,000 yards in a season.
Though there's a difference, at wide receiver, between racking up free yards on screens or sitting in zones versus actually beating single coverage. The latter is a far more valuable ability at the NFL level, and if you're looking for breakout candidates at receiver, find guys who can do that. Read more…
Mayfield haunted in the fourth quarter
---
All looked well for the Cleveland Browns and sophomore quarterback Baker Mayfield through the first three quarters of Week 1. He completed 22-of-29 passes for 264 yards, one touchdown and one big-time throw, and two of his incompletions were the result of a dropped pass. With three quarters in the books, Mayfield had earned a 90.5 passing grade and a 117.7 passer rating from a clean pocket.
The wheels then proceeded to fall off the Browns hype train in Quarter 4, with every poor throw seemingly leading to an interception. He completed just three of his 12 pass attempts in the last quarter of play, and all three of his turnover-worthy plays resulted in an interception. His elite passing grade through three quarters plummeted to a 21.0 mark in the fourth, and he went from that 117.7 passer rating from a clean pocket to a 0.0 passer rating from a clean pocket in those final 15 minutes.
La'el Collins gets off to a solid start
---
Almost a week after signing a lucrative five-year contract extension with the Dallas Cowboys, offensive tackle La'el Collins hit the grounding running in Week 1. The right tackle didn't allow a single pressure across his 36 pass-blocking snaps, and he powered his way to a 93.9 run-blocking grade — the highest single-game mark of his career.
Kyler Murray showed flashes in Week 1
---
The first overall pick got off to an incredibly underwhelming start, completing just six of his 16 first-half attempts for 41 yards, two turnover-worthy plays and one painfully bad interception. Things did get better though, as the Heisman winner went on to complete 18 of his 28 pass attempts as a part of his side's second-half comeback attempt, recording 183 passing yards, two big-time throws and two touchdowns in the process. The first half is very definitely something to forget from Murray's perspective, but at least the second half showed his ability to make the kind of high-end, downfield throws that few from this class can make. He ended the game by going 5-10 on throws targeted 10 or more yards downfield in this one, generating a passer rating of 124.2 while doing so.
Rookie pass-catchers shine
It's hard not to overreact to Week 1 action when so many rookie pass-catchers had incredible debuts. Marquise "Hollywood" Brown lit the Miami Dolphins' secondary on fire, the Tennessee Titans' A.J. Brown had his way with the Cleveland Browns and cornerback Denzel Ward and T.J. Hockenson racked up a ton of yards to lead the Detroit Lions' passing attack. Read more…
A memorable return for Brandon Brooks
---
Philadelphia Eagles right guard Brandon Brooks got off to a dream start to the 2019 season, his first game action since he suffered a torn Achilles in the Eagles' divisional-round loss last year. He was on the field for 31 pass-blocking snaps and also produced a 100.0 pass-blocking efficiency rating after not allowing a single sack, hit or hurry in the game. He earned an 81.6 overall grade for his efforts, securing a spot on PFF's Team of the Week.
Dak Prescott puts on the best performance of his young career
---
The Jones family has cut their fair share of checks over the last few weeks, but given Dak Prescott's performance on Sunday night, they may be saving their biggest check until last.
Prescott balled out against the New York Giants in Week 1, completing 25-of-32 attempts for 405 yards, four scores and zero interceptions. Included in those 32 attempts were six passes that were targeted at least 20 yards downfield; he completed five of those passes for 155 of his yards and three of his touchdowns.
The biggest takeaway from this performance was the amount of play-action that was used. After Prescott used play-action on just 24.9% of dropbacks in 2018 — 16th among quarterbacks — Prescott opened up the season by using play-action on 46.9% of his dropbacks, a rate that was surpassed by only Lamar Jackson in Week 1. Prescott completed 14-of-15 play-action attempts on Sunday night, recording 2017 yards, three scores and a perfect 158.3 passer rating in the process.
Prescott left the game with an overall grade of 91.2, the highest single-game grade of his career. And after months of contract negotiations between Prescott and the Cowboys, it appears that the fourth-year signal-caller now has the upper hand.
Antonio Brown's skillset is a perfect fit for New England's passing game
---
Who said the NFL offseason wasn't entertaining? At the end of a saga that included frostbitten feet, a helmet endorsement, threats to punch general manager Mike Mayock and a professionally produced video that aired a private conversation with head coach Jon Gruden, Antonio Brown finally got his wish. He was eventually released by the Oakland Raiders after they dealt a third- and fifth-round pick to the Pittsburgh Steelers for the star wide receiver, hoping that his talent would outweigh the dysfunction that marred the end of his tenure with the Steelers. Read more…
Kemoko Turay has career day for the Colts
---
As a rookie, second-round Rutgers product Kemoko Turay flashed high-end pass-rushing ability in bursts but finished the season with just a 67.3 pass-rushing grade. His sophomore season in the NFL got off to a much better start, as he recorded five pressures across just 18 pass-rush snaps on his way to a 94.9 pass-rushing grade against the Los Angeles Chargers. Turay's success needs to be taken with a grain of salt considering the fact that he went up against an experienced offensive tackle in second-year Grambling State product Trent Scott, but it's still a positive sign for the young Colts edge defender.
Kliff Kingsbury brings 10 personnel to the NFL
---
After running little to no 10 personnel (1 RB, 4 WR) in the preseason, Kliff Kingsbury and the Arizona Cardinals ran 60 of their 88 offensive plays (68.2%) from 10 personnel in their Week 1 bout with the Detroit Lions. Arizona averaged just 6.3 yards per pass play from 10 personnel due in large part to an up-and-down performance from rookie Kyler Murray, but the results on the ground game were encouraging. The Cardinals totaled 68 yards from 13 carries (11 David Johnson, 2 Kyler Murray) when running the football from 10 personnel, good for an impressive 5.2 yards per carry.
Le'Veon Bell proves quite elusive in his Jets debut
---
Though he had a modest performance from a box score perspective (92 yards, 23 touches), Le'Veon Bell was electric with the ball in his hands in his New York Jets debut. He forced a whopping nine missed tackles and averaged 3.53 yards after contact per attempt on the ground, and he did so despite being contacted at or behind the line of scrimmage on 11 of his 17 carries on the day. If he gets a little bit more help from his offensive line, the box score will start to look even better for Bell in games moving forward with New York.
Jaguars' Nick Foles out indefinitely, rookie QB Gardner Minshew set to start in his place
---
Jacksonville's worst fears were realized on Sunday afternoon when franchise quarterback Nick Foles suffered a broken clavicle just 11 snaps into the team's Week 1 game against the Kansas City Chiefs. The injury will sideline Foles indefinitely, per The Athletic's Phillip Heilman, leaving the reins of the offense in the hands of first-year quarterback Gardner Minshew.
It's the worst possible start for Nick Foles, who left hero status in Philadelphia to sign a four-year, $88 million contract with the win-now Jags back in March.
Nick Foles entered the season coming off the best two-year stretch of his career, having graded at 73.2 in 2017 and 76.6 in 2018. Among the 52 quarterbacks who played at least 300 snaps over those two years combined, Foles' two-year passing grade of 76.1 ranked 19th.
Foles' first regular season outing with the Jags got off to a good start. He completed five of his eight attempts for 75 yards, with his lone touchdown pass of the day coming from a beautifully thrown deep ball to wide receiver D.J. Chark.  Foles had earned a 90.1 passing grade in the game before a hit by Kansas City's Chris Jones forced him to leave the game.
Minshew filled in well in relief, completing 22-of-25 attempts for 275 yards, two touchdowns and one interception. While 20 of those passes were targeted within nine yards of the line of scrimmage, Minshew did complete all five of his attempts of 10-plus yards downfield, with his best throw of the day coming on a 63-yard deep pass to Chark. Minshew left the field having earned a passing grade of 87.4 on the day, and Jaguars fans will hope he can keep that level of play up for the foreseeable future.
Nick Bosa proves why the San Francisco 49ers took him No. 2 overall
---
Nick Bosa got his NFL career off to a hot start with his dominating effort against the Tampa Bay Buccaneers. The No. 2 overall pick in the 2019 NFL Draft repeatedly beat his blocker, recording a pass-rush "win" on 28.0% of his snaps — the highest among all qualifying defensive players in Week 1.
Of his six pressures Sunday, Bosa recorded five of them against Buccaneers tackle Donovan Smith. It was a clinical performance from Joey Bosa's younger brother and one that was reminiscent of the Chargers' edge-rusher, too.
Bosa will get another favorable matchup in Week 2, as he'll likely face off against the Cincinnati Bengals' Cordy Glenn the majority of the time. Glenn surrendered the 17th-most pressures among tackles in 2018, making it more likely than not that Bosal strings together another commanding pass-rushing showcase early in his young career.
But Bosa wasn't simply dominant in one facet. His run defense was stellar too, notching two tackles and a stop on just 11 snaps. Obviously, a larger sample size is needed there, but nonetheless, it was quite the debut for Bosa.
Amari Cooper is still really good
---
In 12 games with the Cowboys, Amari Cooper has earned a 79.8 receiving grade across 467 routes run, ranking 13th among the 79 NFL wideouts with 200 or more routes since Week 9 of last year (includes postseason and Week 1 of this season). He also ranks eighth in yards per target (10.12), ninth in yards after the catch per reception (5.64), ninth in passer rating when targeted (123.4) and 10th in yards per route run (2.30) among the same group of qualifiers in said span.
Only Tyler Lockett (23.6) has averaged more per target on throws of 10-plus air yards since Week 9 of last year than Cooper (14.7). On such targets, Cooper has hauled in 21-of-37 passes for 544 yards, 16 first downs and five touchdowns. His passer rating when targeted 10-plus yards down the field also ranks eight among qualifiers.
PFF's NFL Team of the Week: Week 1
---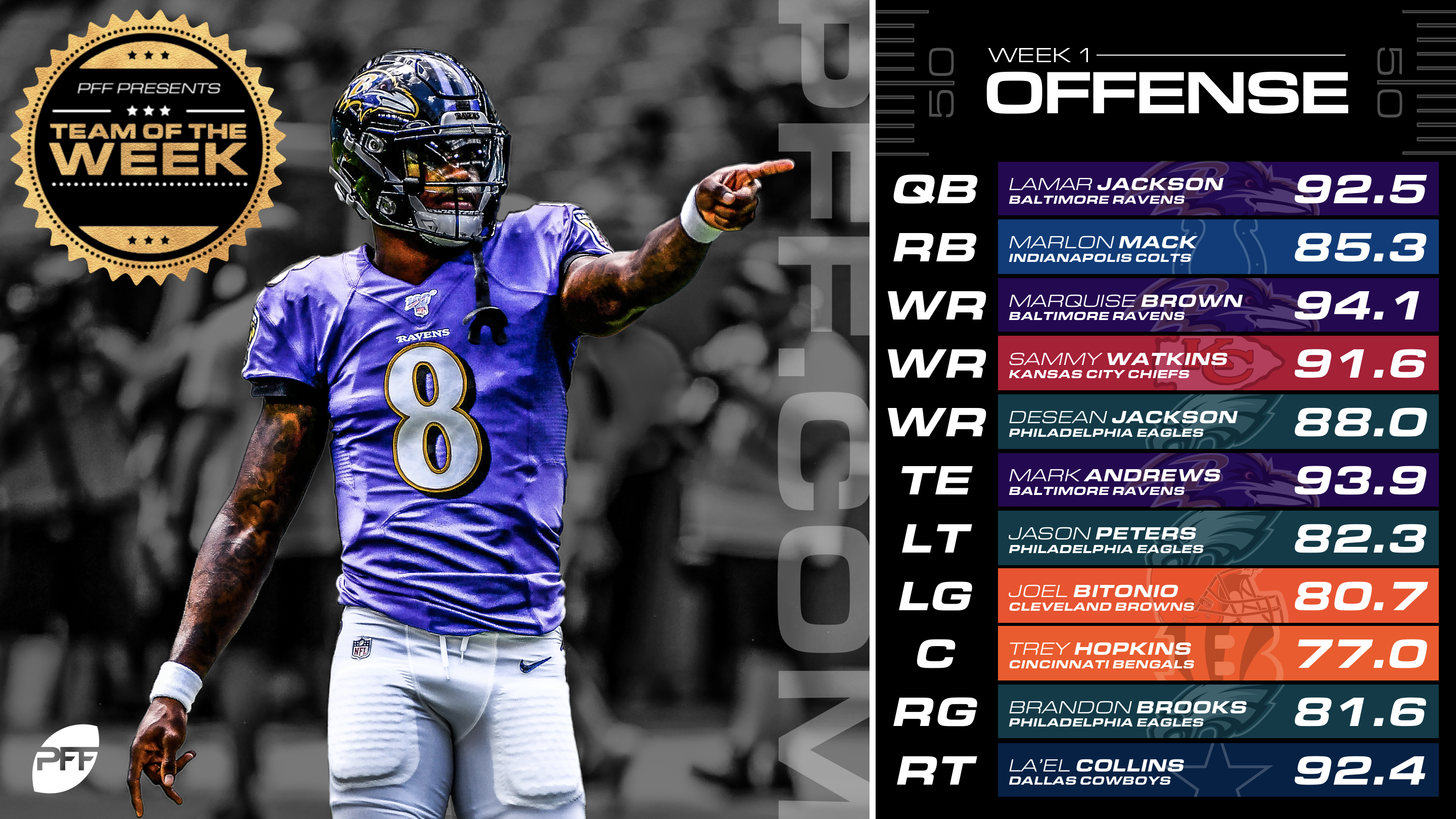 PFF's NFL Team of the Week series features game grades and advanced statistics for the NFL's top players at every position in a given week. All of PFF's ELITE subscribers have access to game grades, advanced statistics, positional snap counts and more in Premium Stats. All of PFF's grades and advanced stats from this week and every other week this upcoming NFL season are made available to ELITE subscribers within 24 hours of the final whistle. Read more…
NFL Week 1: PFF recaps for all 16 games
---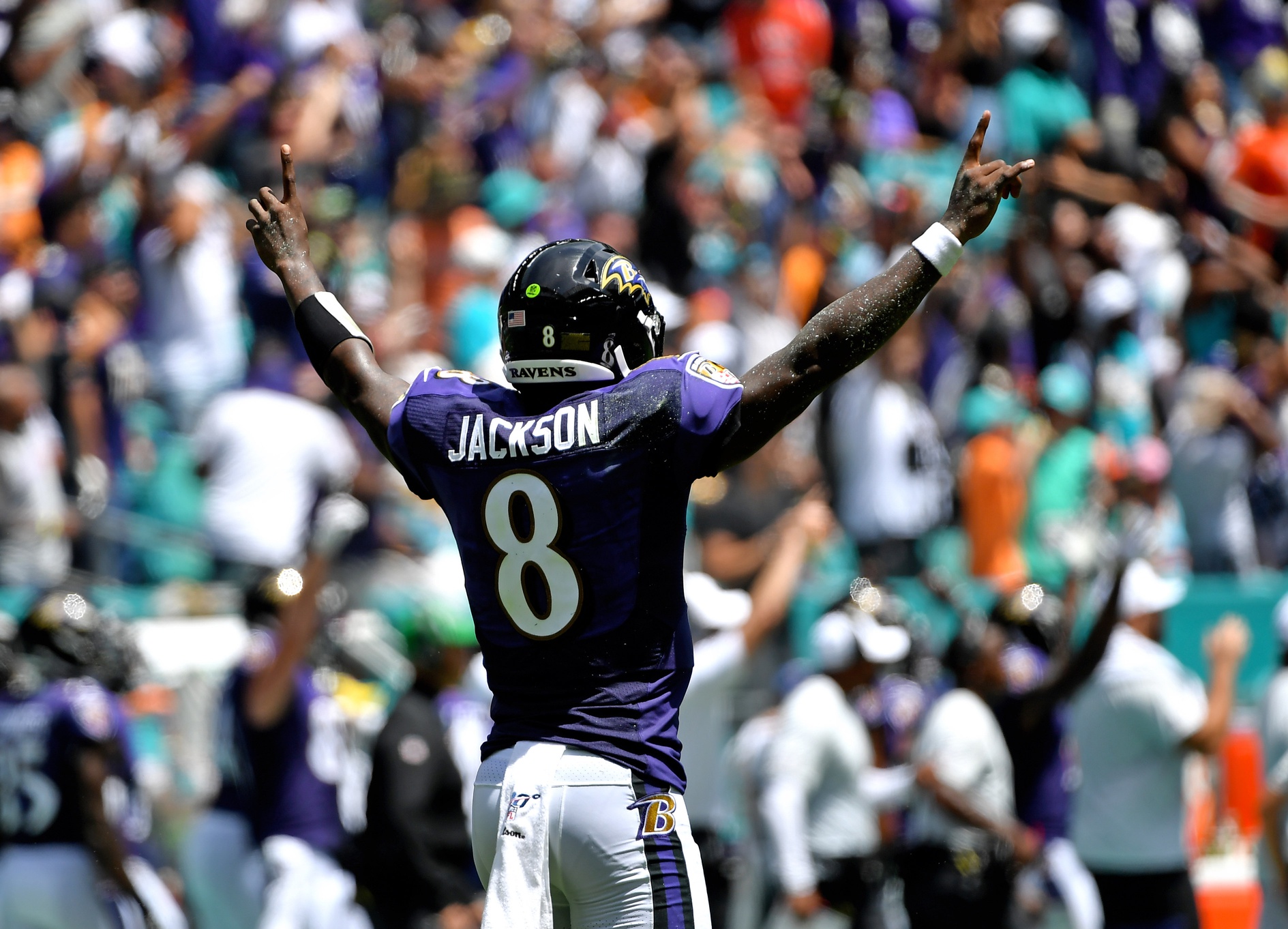 PFF's ReFocused series features immediate takeaways from the two analysts who graded the game live. The two offer a detailed breakdown of the game's most notable performances before the grades and advanced stats are reviewed and finalized by Senior Analysts. Read all game recaps here…