Things I didn't expect to be writing about in the 2019 NFL season: The Baltimore Ravens' diverse offense and game-breaking downfield passing attack. After a dominating Week 1 performance against the Miami Dolphins, the Ravens have earned a lot of praise for an offense that can cause problems on multiple levels. So what made their performance so special on Sunday? Let's dig into the game and see.

Jackson's Improvement
When Lamar Jackson took the reins in Baltimore after their bye week last year, they ran an offense based around his athletic ability and teams being forced to respect his speed on the edge in a run-heavy attack. It served them well, leading to a division title. But the wheels came off in the playoff loss to the Los Angeles Chargers, and it seemed obvious that they needed to see a step forward from Jackson if they were to build upon their 2018 success.
Jackson wasn't accurate as a passer in his rookie season, and that was reflected in his PFF passing grade, with Jackson ending the 2018 regular season with a 60.0 passing grade that ranked 33rd out of all quarterbacks with 100-plus dropbacks. While there were flashes, to say he lacked consistency as a passer would be a generous statement, and that's why Sunday's performance should make Ravens fans excited about where this offense could be heading this season.
Jackson dropped back to pass 22 times in Sunday's win, throwing 20 passes and completing 17. Of his three incompletions, one came on a throwaway, giving him an 89.5% adjusted completion percentage that ranked fourth in the NFL in Week 1 among quarterbacks with at least 10 passing attempts. That was a huge improvement from where he was a year ago, when his 65.4% adjusted completion percentage ranked 41st among all quarterbacks with 100-plus dropbacks.
The Ravens' offensive line generally kept him free from pressure, with the Heisman Trophy winner out of Louisville under pressure on just seven dropbacks. But he found success regardless of if he was facing pressure or not. He had a perfect NFL passer rating of 158.3 both when he had to deal with pressure and when he was kept clean. He was also really impressive throwing the ball downfield, completing three of the four passes he attempted 20-plus yards downfield for 155 yards and three touchdowns, which brings us to the key addition to the Ravens' offense in 2019.
Five-Star Performance by Hollywood
The Ravens have been trying to find a premier deep threat for most of their time in the NFL. In recent years they have spent draft picks on Torrey Smith and Breshad Perriman and signed players like John Brown in free agency, all with varying degrees of success but never managing to find someone who can consistently take the top off of a defense and scare opposing coordinators. While it's early, Marquise "Hollywood" Brown's debut suggests that he can be that guy for the Ravens.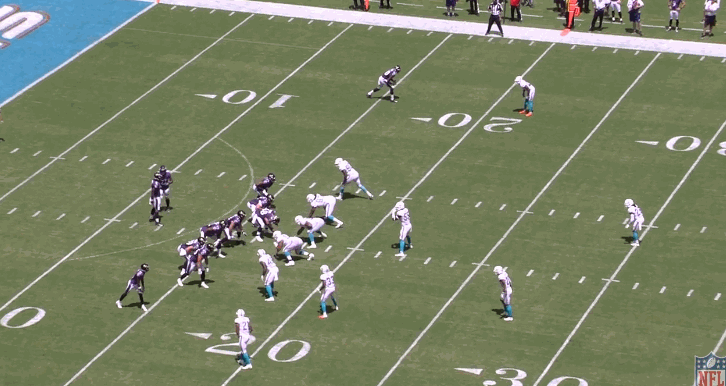 Brown was targeted twice on throws 20-plus yards downfield, including an 83-yard touchdown on 3rd-and-3 with 4:30 left in the first quarter that saw him separate from Dolphins first-round draft pick Minkah Fitzpatrick before making a cut to ensure he wouldn't be caught on his way to the end zone. Fitzpatrick is not slow, running a 4.46 40-yard dash at the 2018 NFL Combine, but once Brown had made the cut into his route it was over, with the speedster out of Oklahoma having almost three yards of separation at the catch point. It was also a great throw by Jackson with the ball traveling from the Ravens' nine-yard line to the Dolphins' 44, going 47 yards in the air to hit Brown in stride on the left hash mark.
Brown's speed isn't just a threat on deep passes, though, and we saw that with his earlier touchdown on 1st-and-10 with 8:46 left in the first quarter. Brown was able to break the tackle of defensive back Eric Rowe on a slant route and as soon as he did, with the deep safety biting on play-action, it was game over. Both of those plays will force opposing defenses to take notice and adjust how they play the Ravens because if you don't have safety help against someone with Brown's speed, you're vulnerable to giving up a big play.
Andrews Over the Middle
The Ravens have a strong history of tight ends, with Hall of Famer Shannon Sharpe key to their 2000 Super Bowl team and players like Todd Heap and Dennis Pitta making an impact during their time in Baltimore. Just one game into his second season, former Oklahoma standout Mark Andrews looks like he could be another good one. Following on from an impressive rookie campaign, he opened the 2019 season with eight catches for 108 yards and a touchdown, leading all tight ends with a 6.0 yards per route run average in the opening weekend of action.
While he showed that he can be a downfield threat with a 39-yard reception on 2nd-and-13 with 8:51 left in the third quarter, the real value in his work is on underneath routes. Six of his receptions came within 10 yards of the line of scrimmage, including a touchdown on 4th-and-3 with 9:30 left in the game, this time coming from backup quarterback Robert Griffin III.
As teams adjust to the threat of Brown downfield, Andrews and players like fellow second-year tight end Hayden Hurst and wide receiver Willie Snead have the potential to see some favorable coverage matchups in the middle of the field, something that will be further benefited by the fact that no quarterbacks in the NFL used play-action on a higher percentage of dropbacks than the Ravens at 50%.
Diverse Rushing Attack
For all the hype around the passing game, it's easy to miss that the Ravens ran for 261 yards against the Dolphins. Even taking away the 60-yard run by Anthony Levine on a fake punt, that's still over 200 yards. They got started early, with new running back Mark Ingram taking the ball 49 yards on the opening play of the game. Lining up with an unbalanced line, the left guard Bradley Bozeman pulled to the right and blocked linebacker Sam Eguavoen while full back Patrick Ricard sealed off left defensive end Jonathan Ledbetter. With left tackle Ronnie Stanley, lined up as a tight end outside the right tackle on the play, sealing off linebacker Jerome Baker at the second level, it left Ingram with a huge amount of space to work with. While he didn't have the speed to take it the distance, he was able to force three missed tackles to dramatically flip field position on the game's opening play.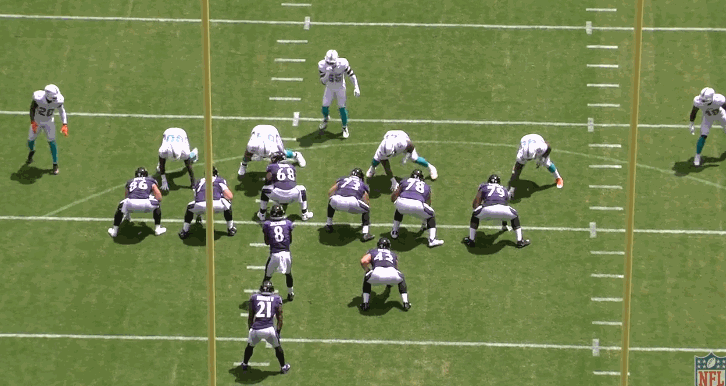 Ingram split time with Gus Edwards, with Edwards out-carrying him 17 to 14, though the lopsided score likely helped with that, as rookie Justice Hill got in on the act with seven carries, too. They averaged 3.02 yards after contact per carry and combined to force seven missed tackles, proving that they will still be able to run the ball in 2019. What makes it all the more impressive is that they were able to have that success without needing to put Jackson in harm's way, with him seeing just two designed carries and a scramble in the season opener.
It's fair to add the context that the success came against the Dolphins, who look like a team heading for the number one overall selection in the 2020 NFL Draft, but it's still impressive that the Ravens were able to put up 59 points in Week 1. More importantly, they did it without having to lean on what made them successful on offense in 2018 and still have Jackson's athletic ability in their back pocket when they need to use it. This was about the Ravens showing that they had evolved as an offense heading into the new season and with the best performance of Jackson's young career, a stellar debut from speedster Hollywood Brown, along with the ability of Mark Andrews over the middle and the rushing attack, this offense has the potential to beat its opposition in a number of ways.