Overreacting to Week 1 performances is a tradition as old as time. Look no further than now journeyman wideout Jordan Matthews who has gone over 100 yards twice in Week 1 despite never going for 1,000 yards in a season.
Though there's a difference, at wide receiver, between racking up free yards on screens or sitting in zones versus actually beating single coverage. The latter is a far more valuable ability at the NFL level, and if you're looking for breakout candidates at receiver, find guys who can do that.

After one game, all signs point to rookie wideout A.J. Brown having that ability. It's not simply the box score totals or the highlights, either. Brown has a hold of some of the "little things" that are needed to produce at the receiver position in the NFL. If I could boil down the main struggles of young wide receivers transitioning from college to the NFL, they would be:
1. Beating press coverage
2. Getting free on route breaks
3. Being on the same page with QB for route adjustments
While the third is difficult for anyone outside the Titans' building to evaluate, the first two you can see fairly clearly on tape. Press is traditionally the biggest issue for rookies and the reason is two-fold. One, they don't see it a lot in college. Brown ran only 20.2% of his routes (92 total) versus press last season; that number pales in comparison to number one wideouts like Antonio Brown (57.3%), DeAndre Hopkins (50.5%) and Julio Jones (39.0%). Two, the corners they do face in college usually suck at press coverage. It's like asking a pass-rusher to beat NFL offensive linemen consistently from day one. Some can do it, sure, but it usually takes some refining.
Brown may have only been pressed nine times (45% of routes) against the Browns on Sunday, but he showed the ability to consistently get off the line of scrimmage already. That showed up the very first time he faced press on his 47-yard catch on a post route midway through the first quarter (which we'll get to later), but the rep that impressed me most wasn't even targeted. He's at the bottom of your screen on the play below and ties Greedy Williams in knots with the suddenness of his release.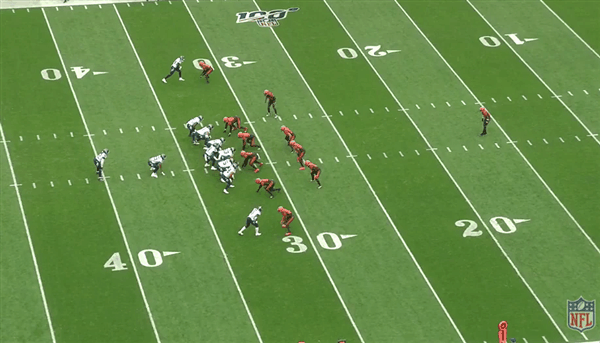 Of those nine reps against press, the only time he did get locked up on the route, Denzel Ward was flagged for a defensive holding penalty on him. 
That brings us to struggle number two, which is getting free along the route. Being able to create separation on the break of a route is more of an artform than textbook learning. You can coach a receiver how to use their hands and set up defensive backs all you want, but if they can't manipulate leverage on the fly, it's all for naught. Once again, the rep I thought was most indicative, Brown wasn't even targeted on. That's saying something considering how open Brown was when he did get targeted. This play (below) is a simple crossing route off of play-action. As you can see from him at the top of the screen, instead of continuing the route in a line across the field, Brown works back up into the corner before exploding off him.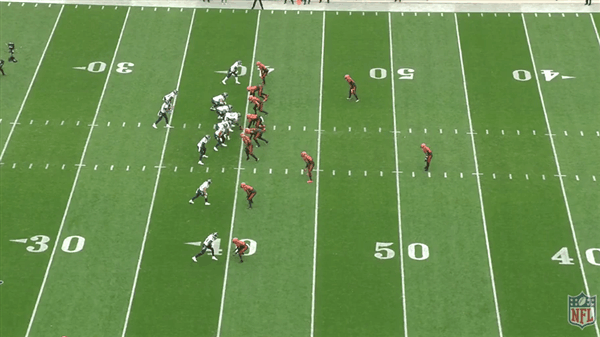 That creates far more separation than you'd normally expect on a drag and is not something that comes naturally for a lot of receivers. Brown already knows how to use all 230 pounds of his absurdly built frame to help get open down the field. 
We've made it this far into the breakdown and haven't even mentioned arguably Brown's most impressive trait: his run-after-the-catch ability. Anyone with two eyes though could see how special he was in that regard Sunday. That part was also obvious on his Mississippi tape, with 40 broken tackles over his last two seasons. With only 25 snaps against the Browns compared to 43 for Corey Davis, 29 for Tajae Sharpe, and 20 for Adam Humphries, Brown's usage might not necessarily change tomorrow. I've already seen enough from him in college and in the pros to believe that the rookie will become the Titans' number one option sooner rather than later.
[Editor's Note: All of PFF's advanced stats and grades for every NFL player are made available in PFF's ELITE subscription. Subscribe today to gain access!]