The Jacksonville Jaguars and Nick Foles have agreed to a four-year deal, per Ian Rapoport. The deal is reportedly worth $88 million, a contract that Foles earned mostly due to his performance in the last two postseasons for the Eagles.
Nick Foles is coming off the best two-year stretch in his career and earned passing grades of 73.8 and 73.7 in 2017 and 2018, respectively. Of course, it's no secret that Foles has stepped it up in the playoffs as of late, especially with his magical 2017 Super Bowl run. Foles earned an overall grade of 90.8 in the 2017 postseason, ranking second only behind Tom Brady. He then followed that up with a solid 2018 postseason, in which he earned a 75.3 overall grade that ranked fourth out of 13 qualifying quarterbacks.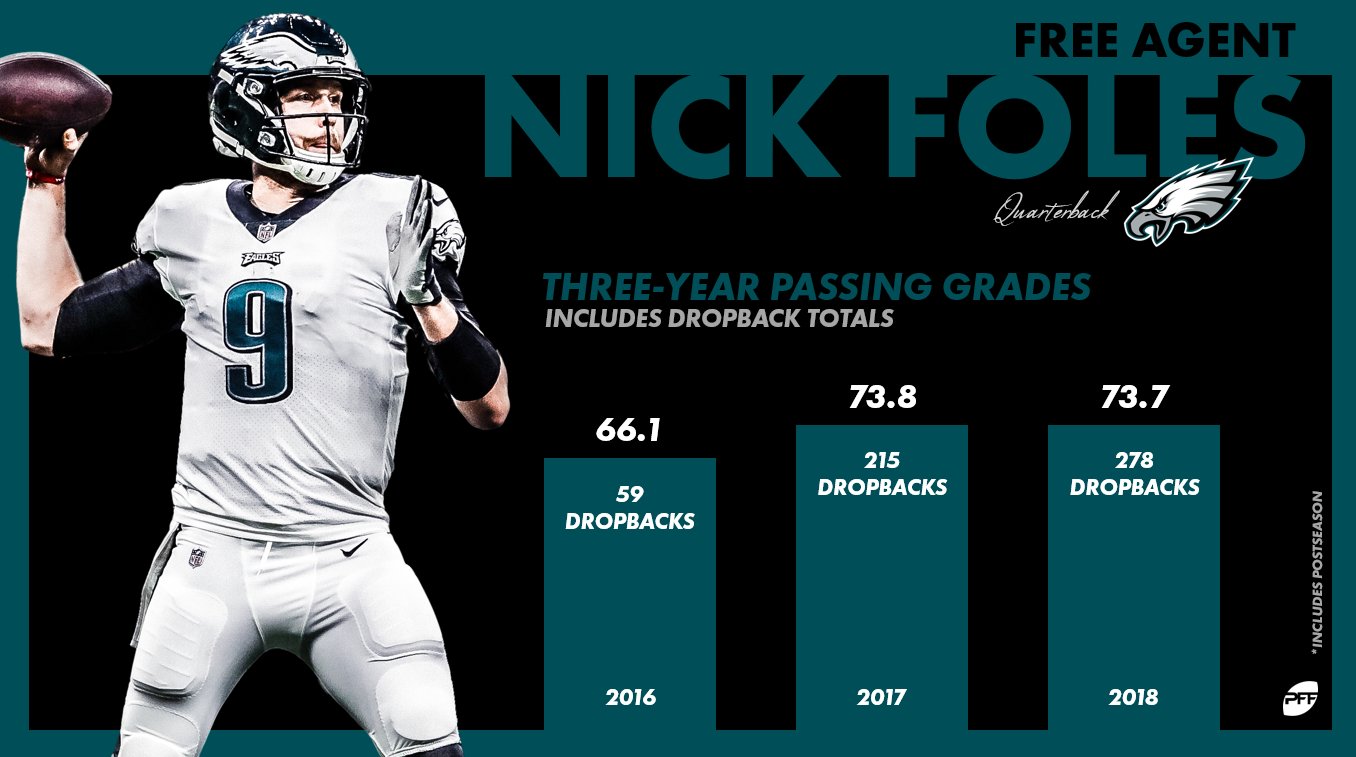 The Jaguars will now hope that Foles can get the team over the hump and help them become a serious contender for a Super Bowl. The Jaguars still have one of the better defenses in football, and the only thing that held them back was the quarterback position. As Foles has proved before, he can be a quarterback on a Super Bowl team.
Foles' reputation as a big-game signal-caller comes from his ability to perform under pressure, not only pressure from big games but also pressure from opposing pass rushers. In fact, on dropbacks under pressure last season (including playoffs), Foles completed 44-of-73 passes for 566 yards, three touchdowns, two interceptions, and a passer rating of 86.9 – ranking first out of 39 qualifying quarterbacks.
Another thing that Foles is particularly good at is the deep ball. For better or worse, he has the guts to chuck it deep and try to get chunk gains regularly. On passes 20-plus yards downfield in his 2017 playoff run, Foles completed 8-of-15 deep attempts for 274 yards, four touchdowns, one interception, and a passer rating of 110.4. Going back to his great 2013 season under Chip Kelly, Foles attempted deep passes on 16.6% of his attempts, which was the highest rate in the league; he also managed to throw for a passer rating of 123.9 on deep attempts that season, ranking second among quarterbacks.
With the addition of Foles also comes an expected move to cut Blake Bortles, who simply hasn't got it done in his five-year career as a starter. Bortles has yet to finish with an overall grade above 70.0 in any single season, and he hasn't provided enough through the air to help Jacksonville reach the Super Bowl, despite the team fielding a championship-level defense. Now that the Jaguars have finally got their "big game" quarterback, they have their eyes fully set on the prize.