Week 1 is just two Monday night games away from coming to an end. Rookie pass-catchers soared, Lamar Jackson exploded and much more. Here's PFF's NFL Week 1 Team of the Week, highlighting the best single-game performances around the league.

PFF's NFL Team of the Week series features game grades and advanced statistics for the NFL's top players at every position in a given week. All of PFF's ELITE subscribers have access to game grades, advanced statistics, positional snap counts and more in Premium Stats. All of PFF's grades and advanced stats from this week and every other week this upcoming NFL season are made available to ELITE subscribers within 24 hours of the final whistle.
[Editor's Note: All of PFF's advanced stats and grades for every NFL player are made available in PFF's ELITE subscription. Subscribe today to gain access!]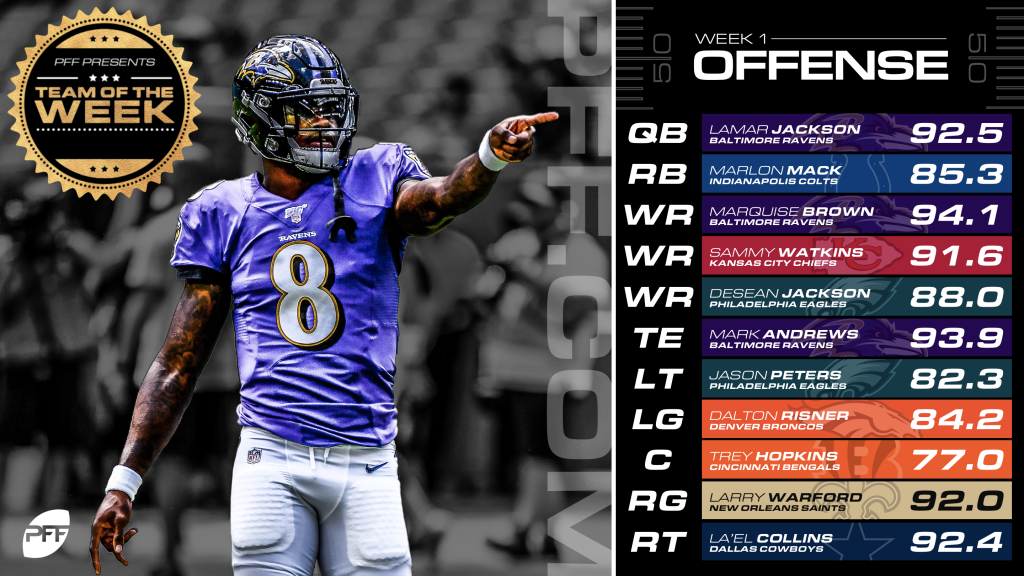 Offense
In what was the best game of his young career, Lamar Jackson reminded everyone that it wasn't just his legs that saw him win the Heisman Trophy at Louisville. Jackson was fantastic between the numbers, completing 10-of-11 pass attempts for 276 yards and five touchdowns. In half a season worth of starts in the 2018 regular season, Jackson threw for 224 yards on throws 20-plus air yards downfield. In just three quarters yesterday, he racked up 155.
Mack's 7.0 yards per carry average on the day was impressive, but even more impressive was the fact that he averaged 3.48 yards after contact per carry. He only forced two missed tackles on 25 carries, but his consistent running saw 11 of them go for a first down or touchdown.
Quite a way to make an entrance for the Ravens' 2019 first-round draft pick, who found the end zone on his first two career receptions. The Ravens appeared to ease him in gently after limited work in preseason as he recovered from injury, but his 147 yards from eight snaps as a receiver saw him average 18.38 yards per route run, the highest average of any receiver in the NFL this week.
With the news that Tyreek Hill will miss some time, Sammy Watkins will become a bigger feature for the Chiefs' offense, but he was already making plays before Hill got hurt against the Jaguars. He averaged 5.82 yards per route run, second to only Brown among receivers, with 198 yards from 34 snaps in the passing game.
Just like he never left! Back with the Eagles, Jackson found himself back in the end zone on the receiving end of some deep passes. Quarterback Carson Wentz hit him on two throws 20-plus yards downfield, totaling 104 yards and two touchdowns.
There were questions this offseason on how the Ravens would split time between their top three tight ends, and we got some answers in the season opener. Andrews led the group with 18 receiving snaps and eight targets, catching all eight for 108 yards and finishing the game having averaged 6.00 yards per route run.
Peters was once again a force in pass protection for the Eagles in their win over the Redskins. The Eagles dropped back to pass 41 times with him on the field, and he produced a 100.0 pass-blocking efficiency rating with no sacks, hits or hurries allowed.
An impressive debut by the former Kansas State standout saw Risner impress both as a run-blocker and in pass protection. He racked up a PFF run-blocking grade of 80.3 on 23 run-blocking snaps and didn't allow a sack, hit or hurry from 39 pass-blocking snaps.
Hopkins had an impressive start to the 2019 campaign for the Bengals, allowing just one hurry from 59 pass-blocking snaps at center. He was also on the field for 16 run-blocking snaps, producing a PFF run-blocking grade of 75.2 on the day.
Warford was outstanding for the Saints in Week 1, allowing just one hurry from 45 pass-blocking snaps, and zero sacks or hits. He was even better as a run-blocker, producing a PFF grade of 92.1 on 21 run-blocking snaps.
Collins is another player who produced a 100.0 pass-blocking efficiency rating this week, with no sacks, hits or hurries allowed from 36 pass-blocking snaps. He was even better as a run blocker, with a dominant 93.9 grade in that regard against the Giants.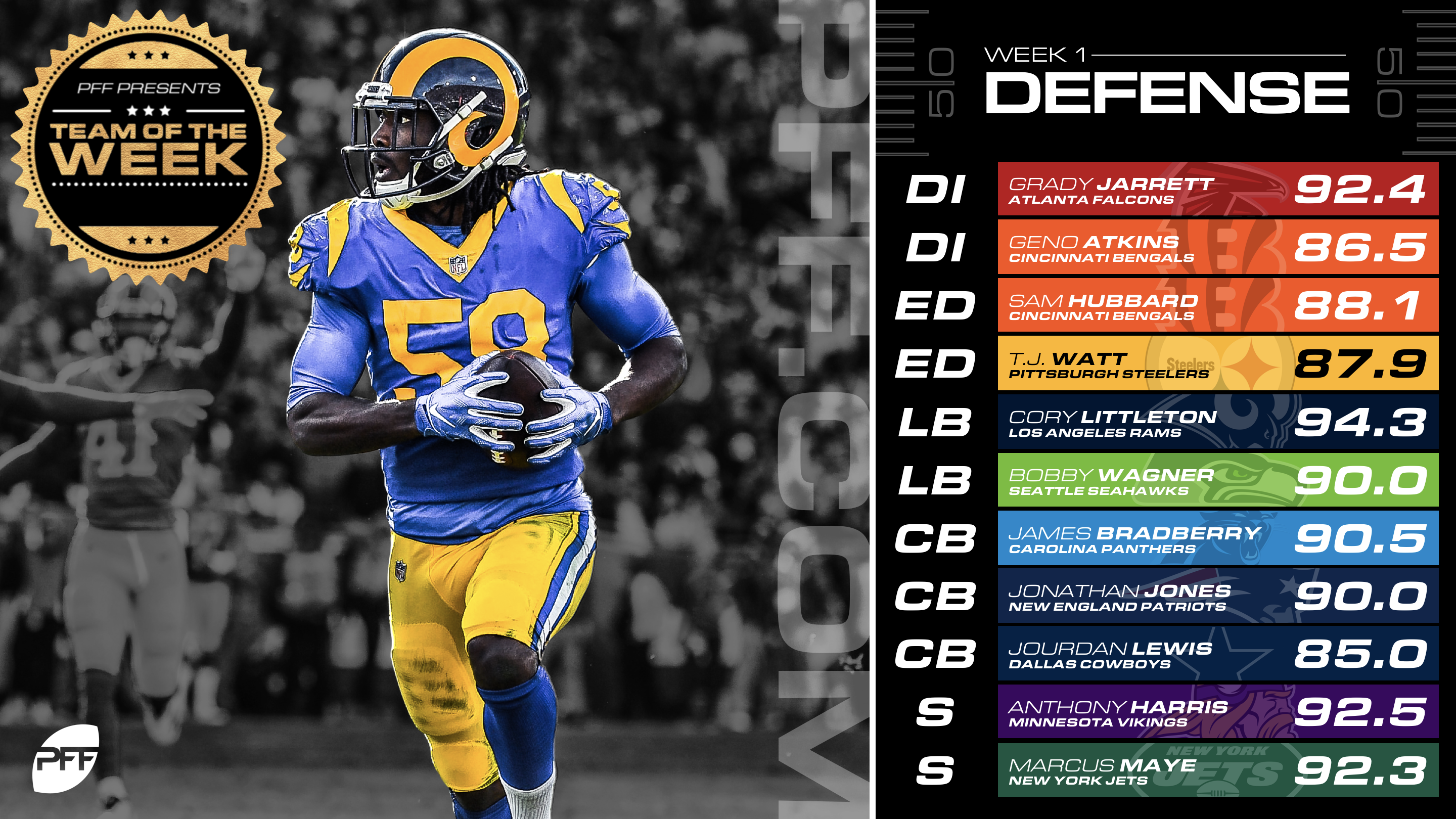 Defense
He might have a new contract, but it's the same Grady Jarrett on the field for the Atlanta Falcons in 2019. From 13 pass-rushing snaps, the former Clemson standout registered a sack and a hit, with a forced fumble on the sack. He also registered two tackles resulting in a defensive stop to cap an overall impressive display.
The Bengals almost shocked the Seattle Seahawks on Sunday, and once again Geno Atkins was a force on the defensive interior. On the field for 22 pass-rushing snaps for the Bengals' defense, Atkins racked up a hit and four hurries. Meanwhile, his lone solo tackle of the game resulted in a defensive stop.
Hubbard moved around the defensive front like he usually does and consistently brought pressure. From 19 pass-rushing snaps, he racked up two sacks and two hits and added a further five tackles resulting in a defensive stop on the day.
It was a rough night for the Steelers all around, but edge defender T.J. Watt was one player who stood out for them in a good way. Watt rushed the passer 32 times, racking up three hits and four hurries. Watt improved in Year 2 in the NFL and, if last night is anything to go by, he's set for an even bigger year in 2019.
As someone who has made a name for himself as a special teams ace early in his career, we've seen Littleton on the PFF Team of the Week before. This time he makes it for his work on defense, though, after a performance that saw him finish the game with four tackles resulting in a defensive stop, a pass breakup and an interception.
One of the best in the business was back at it again on Sunday, making his presence felt in the Seahawks come from behind win over the Bengals. Wagner registered two hurries from 11 pass-rushing snaps and finished the game with four tackles resulting in a defensive stop to go along with a 91.7 PFF run-defense grade.
Bradberry had a huge game in coverage for the Panthers, allowing just one reception for 11 yards on four targets from 44 coverage snaps. On top of that, he had a pass breakup and an interception. By the time the game was over, he had allowed an NFL passer rating on 0.0 on throws into his coverage.
The Patriots' defense is best from back to front, a perfect fit in today's NFL. Cornerback Jonathan Jones was key to that on Sunday Night Football, delivering an impressive performance in coverage. Targeted nine times on the night, he allowed just three receptions for 19 yards and came away with two pass breakups.
Lewis was the best defensive player on the field for the Cowboys in their win over the New York Giants, standing out in coverage in particular. On the field for 27 coverage snaps, he allowed just one reception that went for just six yards. To top it off, he added a pass breakup and finished the game having allowed an NFL passer rating of 56.3 on throws into his coverage.
Harris was a thorn in the side of Atlanta Falcons quarterback Matt Ryan all game and finished the season opener with two interceptions. The first of those came when he picked Ryan off on a crosser on 1st-and-10 with 10:04 left in the opening quarter, and the second on a corner route on 2nd-and-3 with 3:15 remaining in the third quarter.
The 2017 second-round draft pick out of Florida produced the best performance of his young career in the Jets' loss to the Buffalo Bills. He didn't allow a reception on any throws where he was the primary coverage defender and finished the game with a pass breakup, and would have added an interception were it not nullified by penalty.
Special Teams
Prater was perfect on the day, converting on all three extra points and two field goals, including one to tie the game in overtime and another from 55 yards out.
Huber was booming punts for the Bengals yesterday, dropping the ball near to the opposing goal line and sideline seemingly with ease. Two of his four punts landed inside the Seahawks' 20-yard line and he averaged 4.51 seconds of hang-time per punt.
In a week that didn't see much in the way of big plays by returners, Harris had the longest kick return of the week, taking one for 72 yards.
Nzeocha was on the field for 17 special teams snaps across five of their six units and made quite the impact. While he didn't register any tackles in the game, he went one better, blocking a punt on 4th-and-4 with 13:37 left in the first quarter.