After looking at their roster from top to bottom, there is a case to be made for the Los Angeles Chargers having one of the most promising teams in the league. In addition to already having a talented, young core with Derwin James, Keenan Allen, Joey Bosa, Hunter Henry and Mike Williams, the Chargers added to their nucleus by way of the 2019 NFL Draft, where they found great value with Jerry Tillery and Nassir Adderley.
However, the Bolts have a player that has been overlooked since coming into the league in 2017 in offensive lineman Forrest Lamp.
Lamp, a Western Kentucky product and the 38th overall pick in the 2017 NFL Draft, has been limited to just 17 snaps in his two seasons with the Chargers. Lamp's career got off to an unfortunate start as he suffered a torn ACL early on during his rookie training camp, and as a result, his NFL debut was put on hold. He wasn't able to take the field until right before the 2018 season, making it difficult for the Chargers to find a role for Lamp within their offensive line.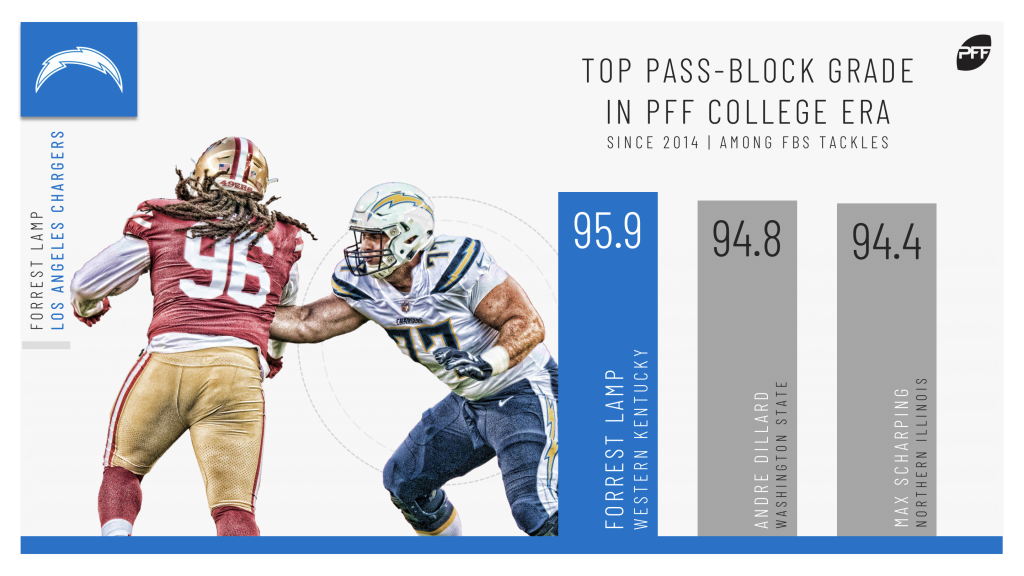 The Chargers' offense was a top-10 unit in nearly all phases in 2018 except in two categories: pass-blocking and run-blocking. As a team, the Bolts ranked 31st in team pass-blocking grade at 62.0, 30th in team pass-blocking efficiency at 80.9 and 17th in run-blocking grade at 58.4. In other words, the Chargers' offensive line was abysmal in 2018.
Outside of left tackle Russell Okung, who recorded a 78.5 overall grade ranking eighth at his respective position, no other offensive lineman was able to crack the top 25 at their position in overall grade. Left guard Dan Feeney ranked 35th (45.5), center Mike Pouncey ranked 26th (56.8), right guard Michael Schofield III ranked 27th (61.5) and right tackle Sam Tevi ranked 38th (52.1).
Given how poor the offensive line play was last season, is it time to finally give Forrest Lamp the chance he deserves?
Lamp played exclusively at left tackle while at Western Kentucky and excelled from 2014-2016. In each of those three seasons, Lamp ranked in the top 10 among tackles in both overall and pass-blocking grade, while ranking in the top 10 in run-blocking grade in two of those three seasons.
More impressively, however, Lamp is perhaps one of the best offensive linemen we have seen in the PFF College era (2014 – present). When looking at every offensive tackle with at least 1,000 snaps between 2014 and 2018, Lamp ranks first in pass-blocking grade (95.9), tied for second in overall grade (94.3) and fourth in run-block grade (92.9). Moreover, Lamp's 1.9% pressure rate allowed ranks fourth and his 3.5% negatively-graded play rate is the best by a significant margin. Some may say this may be due to that fact he played weak competition in the Conference USA, but when examining his performance against schools from the Power Five, Lamp was still one of the top tackles in the FBS. His 87.0 overall grade against such Power Five competition ranks 19th in the PFF college era, proving he is more than capable of playing with the big dogs.
As mentioned, Lamp's strength in college was his pass-blocking ability, which happens to be the Chargers' biggest weakness. While we cannot guarantee Lamp will show the same dominance at the NFL level, we can certainly say that he has the potential to be a considerable upgrade over what the Chargers had in 2018. Whether it's at guard (where he is listed on the Chargers depth chart) or at tackle, Lamp is more than capable of carving out a starting role in Los Angeles.