We're in the dog days of the NFL offseason; caught in no man's land between the draft and the start of team camps later this month. That being said, what better time is there to dig through rosters to find the players on each roster that should be Hall of Famers when they hang it up? The list below breaks each roster into three categories: players who are in if they retire today, players who are on pace if they keep performing at the same elite level they've played at for several seasons, and players who have garnered some discussion but ultimately don't deserve a spot in Canton right now.
The second category — on pace — is a bit lenient compared to the number of players that will actually get into the Hall of Fame given that all the players will not maintain their current trajectory. It is simply meant to highlight the players who have been among the very best in their time in the NFL.
On a similar note, it's important to point out that this is not a list of who we think will make the Hall of Fame. Rather, it is a list of who should make it. Generally speaking, traditional counting stats form a large portion of a player's resume when they're up for deliberation — how many yards, touchdowns, Pro Bowls, All-Pros, Super Bowls, etc. did you rack up in your time in the league? While numbers such as those should be noted and taken into account, PFF aims to contextualize those traditional metrics with play-by-play grading and additional statistics that we feel better measure a player's individual performance. The players included below are those who have spent at least five years in the NFL and have the grades and numbers that back up an eventual spot in Canton.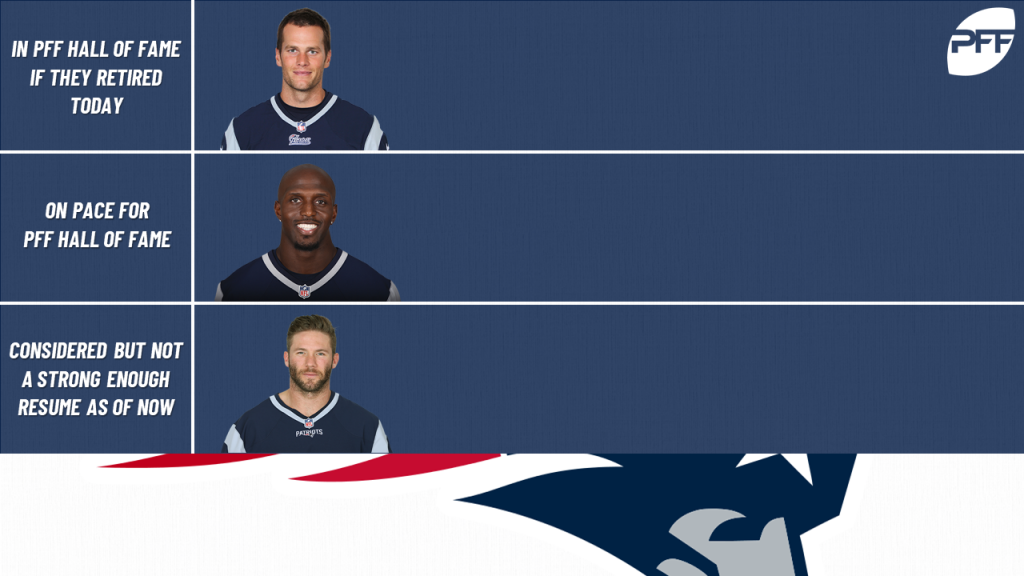 In if they retire today: Tom Brady
On pace: Devin McCourty
Considered but not HOF-worthy as of now: Julian Edelman
We kick things off with perhaps the most obvious Hall of Fame designation in the entire league. As a quarterback who has collected enough jewelry to cross over to a second hand, Brady has a clear spot in Canton, but more importantly than just winning all those Super Bowls is the fact that he has been the driving force in the Patriots' dynasty with his elite play. Brady narrowly ranks second in overall grade and total wins above replacement in the PFF era behind only Drew Brees. There is no question to his Hall of Fame merit.
McCourty, on the other hand, might not be as obvious a selection for Canton, but his work speaks for itself. There are few safeties in the NFL right now that have made a larger mark on the game. McCourty began his career as a cornerback, but his play reached new heights after moving to safety in 2012. Since that 2012 season, McCourty ranks second in PFF WAR and overall grade at the safety position behind Eric Weddle. He may not have quite the same flashy interception totals as some other ball-hawking safeties, but that doesn't mean he isn't effective while playing the ball downfield. Among 82 safeties with 100 or more targets in their coverage, McCourty's forced incompletion rate of 13.8% ranks 11th.
Edelman's postseason heroics this past season generated some buzz over whether or not he was deserving of a spot in the Hall of Fame when he called it a career. To be fair, no wide receiver has come close to the production that Edelman has put up in the postseason in the PFF era. His 115 postseason receptions, 1,412 receiving yards and 79 first downs receiving are easily the most of any playoff receiver since 2006. However, Edelman simply hasn't been a true top-flight wide receiver at any point in his career. The highest overall grade of his career came back in 2015 at 83.7 overall, but even that just ranked 16th out of 121 qualifying wideouts.
In if they retire today: N/A
On pace: N/A
Considered but not HOF-worthy as of now: N/A
Sorry, Miami.
In if they retire today: N/A
On pace: Le'Veon Bell
Considered but not HOF-worthy as of now: N/A
With the signing of Le'Veon Bell this offseason, the Jets brought in their only veteran that has a Canton-worthy trajectory. Bell has missed significant time already in his career between suspensions, injuries and voluntarily stepping away from the game last year, but when he's on the field, he's easily one of the most dynamic players in the league at the running back position. His patient running style is one of a kind, and his contribution as a receiver who can run legitimate wide receiver routes is rare for a running back. The best indicator of just how good he has been maybe his league-leading PFF WAR since entering the league in 2013. Leading all running backs over that time in wins above replacement despite missing an entire season and multiple games elsewhere is no small feat. If Bell can manage to stay on the field, he should see the Hall of Fame when all is said and done.
In if they retire today: N/A
On pace: N/A
Considered but not HOF-worthy as of now: LeSean McCoy, Frank Gore
Oddly enough, the Bills' top two candidates for the Hall of Fame both hail from the running back position. While both McCoy and Gore may very well end up in the Hall of Fame given their longevity and numbers, neither guy flashes truly elite in terms of PFF grade or performance. Gore, especially, ranks only 45th among 79 running backs who have played at least 2,000 offensive snaps since 2006 in PFF grade. His consistency and longevity alone are impressive, but it's hard to justify a Hall of Fame spot for someone whose performance can't be pointed at as more than mediocre on a play-by-play level.
McCoy has a slightly more compelling argument, finishing 10th in PFF grade over that time period among qualifiers. However, that along with some other metrics over his career — such as yards after contact per attempt and missed tackles forced per attempt — fall more under the category of good, not great. Both have a decent shot at finding themselves in Canton, but in our eyes, they fall just outside.
In if they retire today: Ben Roethlisberger
On pace: David DeCastro
Considered but not HOF-worthy as of now: N/A
Roethlisberger is another safe bet to don the gold jacket after winning two Super Bowls and spending the better part of his career among the NFL's elite signal-callers. Among 35 quarterbacks that have played at least 4,000 snaps in the PFF era, Roethlisberger ranks sixth in overall PFF grade all while performing at a remarkably consistent level, grading below 80.0 only twice since 2009. In fact, his 78.2 overall grade last season was his lowest since 2011. His success has been fueled by his ability to make the tough throws. Only Drew Brees has more big-time throws — accurate passes deep downfield or into tight windows — than Big Ben since 2006. Roethlisberger's induction will be a well-deserved one.
The other Steeler on a path to Canton in our eyes is David DeCastro. He may not get a spot given the difficulty that offensive linemen and particularly guards have faced in getting inducted, but since entering the league, DeCastro has been one of the best at the guard position. Since his first full season in 2013, DeCastro leads all guards in total snaps played while finishing fourth at the position in PFF grade among the 52 guards with at least 3,000 snaps played in that span. Anchoring what was our choice for the best offensive line in the NFL last season, DeCastro needs only continue his dominant play through the rest of his career.
In if they retire today: Marshal Yanda, 
On pace: Earl Thomas, Justin Tucker
Considered but not HOF-worthy as of now: N/A
Coming out of Iowa in 2007, Yanda has spent 12 seasons with the Ravens. Last season was the first of his career failing to record an overall grade of 80.0 or higher, ending what was a remarkable run of elite play. No matter which metric you look at, Yanda flashes near the top of the list. Among qualifiers at the guard position in the PFF era, he ranks second in overall grade, second in average PFF WAR and third in pressure rate allowed. Yanda is the only guard to play 3,000 or more since 2006 and record a pass-blocking and run-blocking grade of 90.0 or higher. He's been the gold standard at the guard position and deserves a spot in Canton.
A new addition to the Ravens, Thomas will bring his playmaking talents to an already strong Baltimore defense. Since entering the NFL, he ranks third among all safeties in PFF grade, buoyed by his unique ability to play centerfielder as a single-high safety. Among 40 safeties that have been targeted 200 or more times since 2010, Thomas' 30 interceptions and his forced incompletion rate of 14.1% both rank second. He's a certified difference-maker on the back end of a defense with the ability to erase lapses made by his teammates in coverage. That's something every team could use.
In if they retire today: N/A
On pace: Geno Atkins, A.J. Green
Considered but not HOF-worthy as of now: N/A
The Bengals don't have any players that we deemed as Canton-worthy should their careers end today, but they have two players that are in the process of putting together truly impressive careers. Generational talents like J.J. Watt and Aaron Donald have overshadowed just how good Atkins has been at getting after the quarterback as an interior defender. His pass-rush grade since entering the league ranks third behind only those two greats at the position, and his 540 quarterback pressures are 50 more than any other interior defender.
In a similar fashion, A.J. Green doesn't have the flash of someone like Odell Beckham Jr. or Antonio Brown, so he doesn't generate the same sort of attention, but there are very few wide receivers who make a bigger impact than Green. His overall grade since entering the league in 2011 ranks tied for fifth among all wideouts. Over that time, he has been one of the premier deep threats in the NFL, recording 3,365 receiving yards on passes that targeted him 20 or more yards downfield (third among all wide receivers).
In if they retire today: N/A
On pace: Odell Beckham Jr.
Considered but not HOF-worthy as of now: N/A
Who tied with Green for the fifth-highest receiving grade since 2011? That would be none other than Beckham. The Browns traded for the electric playmaker this offseason, and in doing so, they added another weapon for Baker Mayfield in what is shaping up to be a talent-laden offense. Beckham has only spent five years in the NFL, but in those seasons he has yet to record a receiving grade lower than 85.0 (excluding his 2017 season shortened by injury). He is dynamic with the ball in his hands and a threat to take any pass to the house. His 82 missed tackles forced as a receiver trail only Golden Tate and teammate Jarvis Landry since 2014. With what appears to be a pretty clear upgrade from Eli Manning to Mayfield, things are only pointing up for OBJ as his career progresses.
DOMINATE FANTASY FOOTBALL & BETTING WITH AI-POWERED DATA & TOOLS TRUSTED BY ALL 32
Unlimited Fantasy League Sync
Fantasy Start/Sit Line-Up Optimizer & Waiver Wire
WR-CB & OL-DL Matchups, PFF Player Grades, & Premium Stats 2.0 Tools
Nathan Jahnkes Rankings - #1 Most Accurate Last 70 Weeks
PFF Best Bets, Player Props, & Power Ranking Tools
NFL Mock Draft Sim with Trades & Draft Grades
Already have a subscription? Log In