The Detroit Lions and star interior defensive lineman Damon Harrison have agreed to terms on a one-year, $11 million contract extension that now includes $12 million guaranteed between this and next year, per ESPN's Adam Schefter.

Harrison has long been a difference-maker in the trenches, especially against the run. He's earned 90.0-plus run-defense grades in five of his seven seasons and has recorded at least 40 run stops in each year since 2015.
Harrison will now re-take his place on a formidable Detroit defensive line that also includes Trey Flowers (90.4 overall grade in 2018), Mike Daniels (71.3), Da'Shawn Hand (87.4) and A'Shawn Robinson (89.8).
About as valuable as they come
---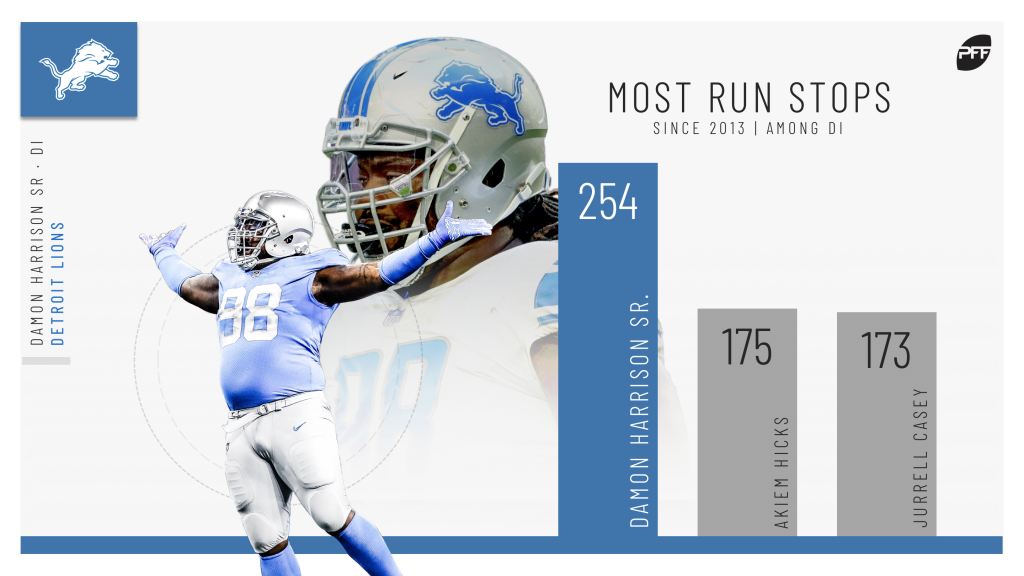 Snacks' run defense is so good that he can have replaceable pass-rushing production and still stand tall as one of the league's most valuable defenders. Not only did his 0.93 WAR in 2018 rank eighth at his position, but it also ranked inside the top-30 among all defensive players in the NFL. Read more…
On Pace for Canton
---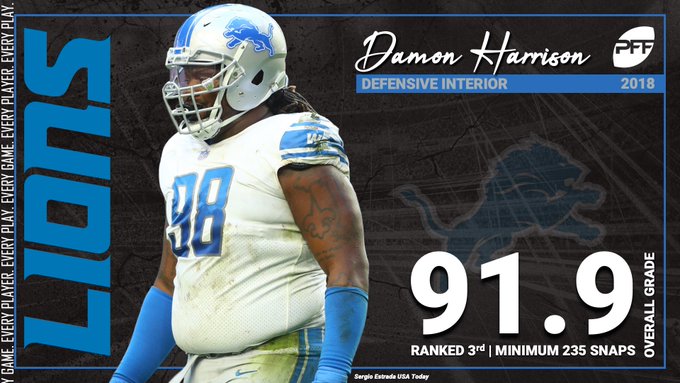 The passing game dominates the NFL today, which means that aspects of the game pertaining to it are going to be more important. That means that pass-rush is generally going to be viewed as more important for a defensive lineman than how he defends the run. How then is a run-stuffing specialist like Harrison considered on pace for the Hall of Fame? Well, Snacks is absurdly good at stuffing the run. Harrison has led all interior defenders in run stops and run-stop percentage in each of the past four seasons, and since seizing a full-time role in 2013, his 254 run stops are 79 more than the next closest interior defender. That sort of run-game dominance is why he can rank third among interior defenders in PFF WAR since 2013 without being a high-level pass-rusher. Read more…
A Top-10 player at the position
---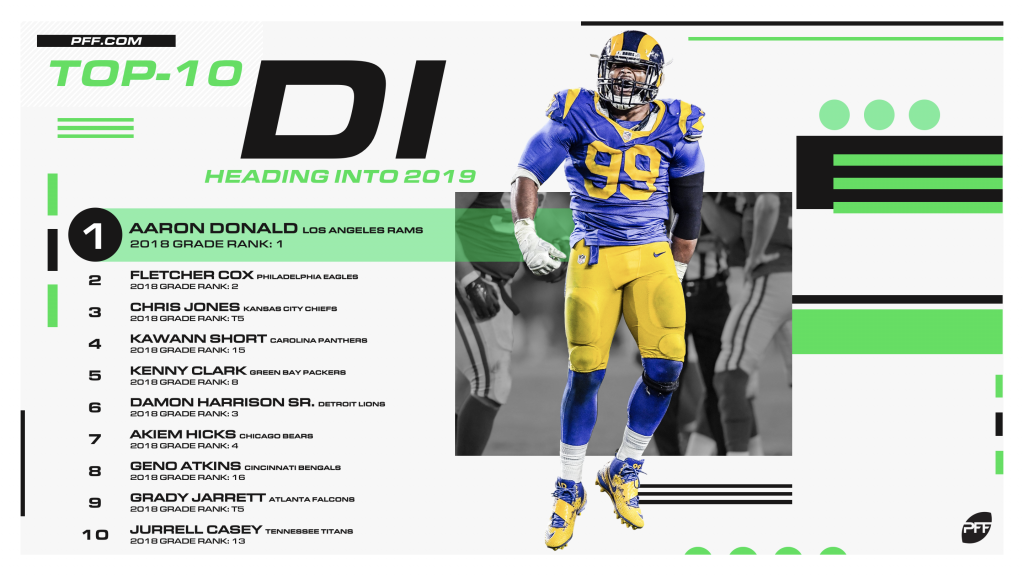 Snacks continued his reign over the NFL as the league's top run defender across what was a 17-game season for the seven-year veteran having played seven games with the New York Giants and another 10 with the Lions post-trade. He earned a 92.0 overall grade and a 93.8 run-defense grade across his 606 defensive snaps split between the two teams, ranking third and first, respectively, among qualifiers at his position. He's now earned an 89.9-plus overall grade and a 91.6-plus run-defense grade in four of his last five seasons in the league – utter dominance, if you will. Read more…
A member of a formidable outfit
---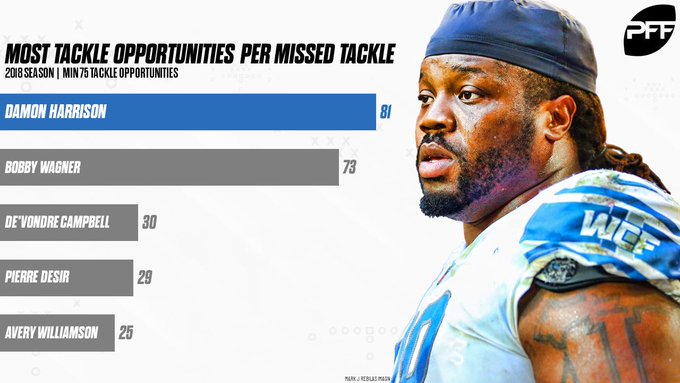 In 2017, the Detroit Lions had arguably one of the worst defensive lines in the entire NFL. As a unit that season, Detroit's defensive line earned a 68.1 overall grade, which ranked 30th out of all 32 teams; they struggled as a unit both in run defense (63.9 run-defense grade that ranked 30th among teams) and when it came to rushing the passer (64.8 pass-rush grade ranked 25th).
Among Detroit's defensive front in 2017, not a single player finished the year with an overall grade of at least 80.0, and just three members of the unit finished the season north of 70.0, with Ezekiel Ansah leading the way with his 72.7 overall grade. Meanwhile, the Lions had six players on their defensive line finish the season with at least 100 defensive snaps played and an overall grade below 65.0.
Fast forward to the present, and Detroit's defensive line might be one of the most improved units in all of football since the 2017 season ended. Read more…
No. 40 on the Top 101 Players of 2018
---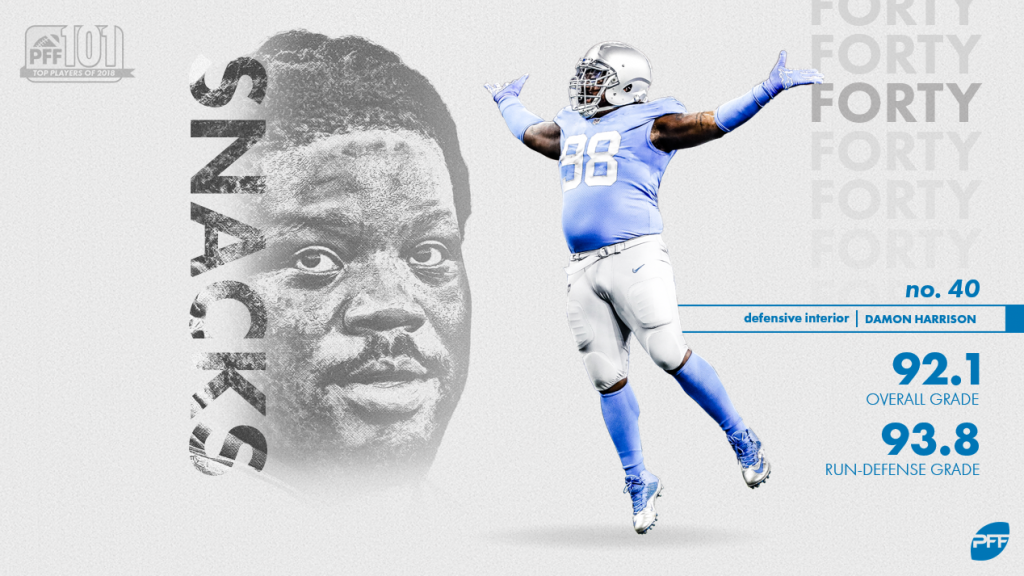 Damon Harrison has long been one of the elite interior defenders in the NFL and 2018 was no different, and his run defense grade of 93.8 ranked first out of 128 qualifying interior defenders. With 46 run stops on 288 run defense snaps, Harrison ranked first in run-stop percentage (16.0%) at the position. Read more…
Among The NFL's 50 best players entering the 2019 season
---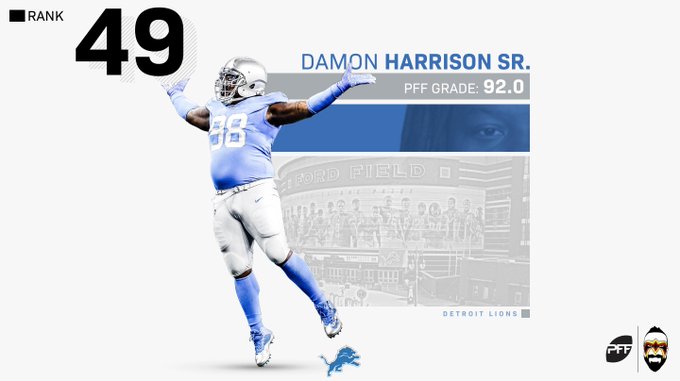 Trading for Harrison before the in-season deadline proved a brilliant move for the Lions this year, and considering his consistent track record of complete dominance against the run; the move should continue to pay dividends in 2019 and beyond. Read more…
New team, same old snacks
---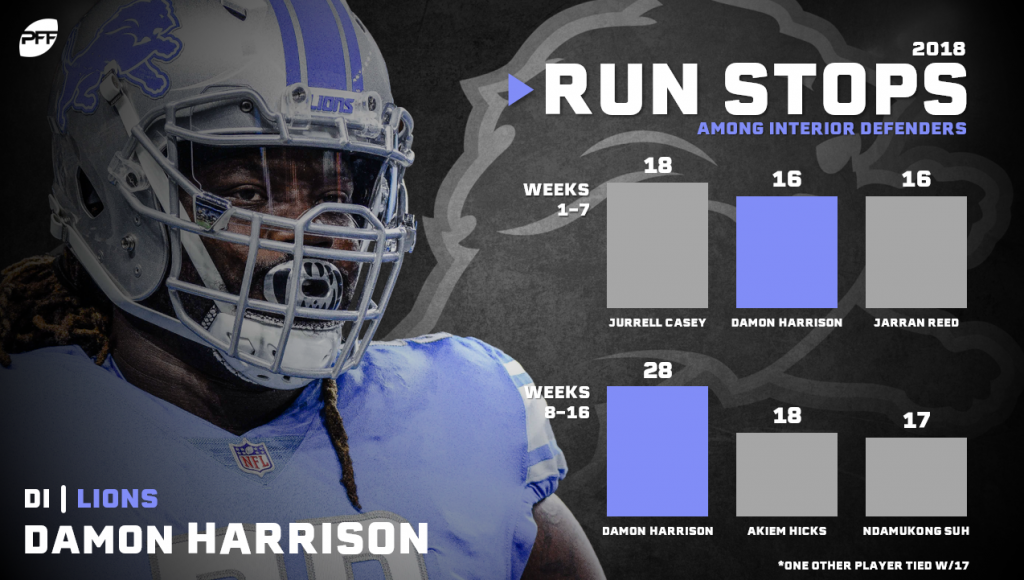 For those who aren't familiar yet, Damon "Snacks" Harrison has long been one of our highest-graded run defenders at the interior defender position. In fact, since the 2015 season, Harrison has finished with the top run-defense grade among interior defenders every single year. Sometimes when players move from one team to another, they see a drop-off in their performance, but Harrison isn't one of those guys; he has moved from the Jets to the Giants and most recently the Lions, and he's still snacking on offensive linemen. Read more…
Run Defender of the Year: 2018
---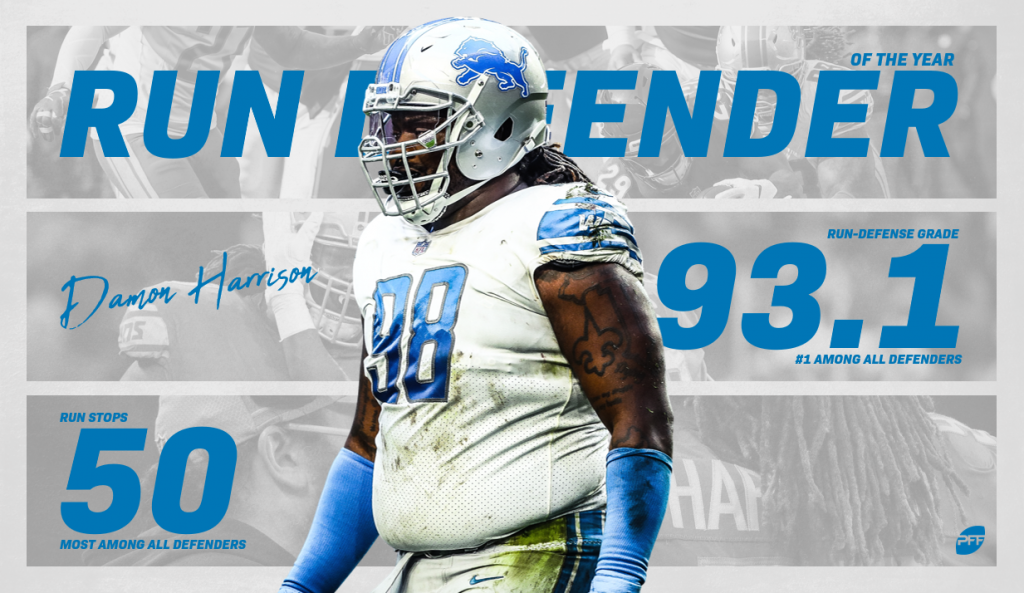 Damon Harrison added yet another chapter to his prolific run-stopping career, as his 93.1 run defense grade this past year makes 2018 the fourth consecutive season in which he has achieved an elite grade at the discipline. Read more…
Run Defender of the Year: 2017
---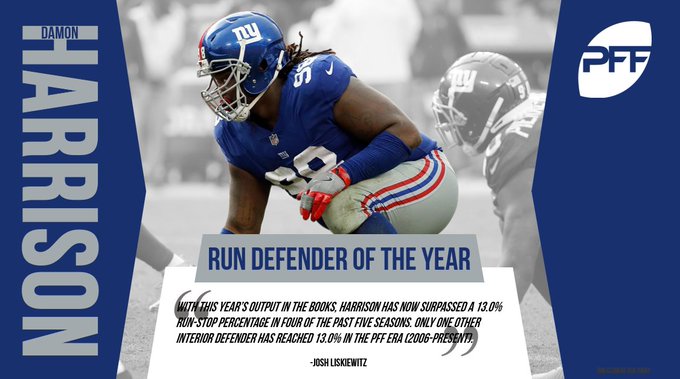 Ultimately, PFF Awards week is about recognizing the top individual accomplishments of the 2017 season, which have been assigned independent of past performances. In the case of the run defender, however, a deeper dive into Damon Harrison's historical play is warranted. Read more…
Run Defender of the Year: 2016
---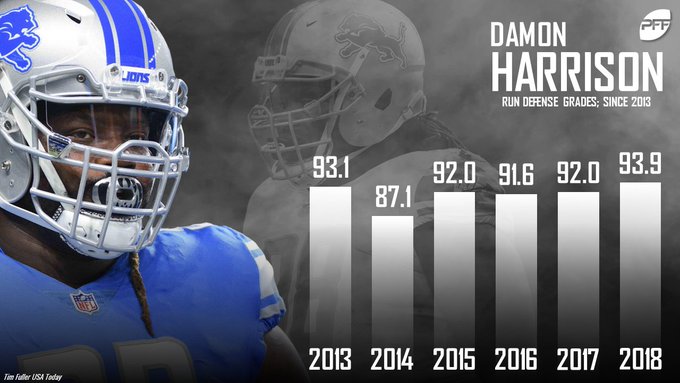 Damon "Snacks" Harrison is a 350-pound nose tackle with the kind of run-stuffing prowess Washington would be proud of. He had the highest PFF grade against the run among all interior defenders, and almost matched Aaron Donald's raw grade, despite playing significantly less, even against the run. Read more…
[Editor's Note: All of PFF's advanced stats and grades for every NFL player are made available in PFF's ELITE subscription. Subscribe today to gain access!]