Run defense isn't nearly as valuable as coverage or rushing the passer, but elite run defense can tighten the gap.
Damon Harrison Sr. didn't breach the top-25 in pass-rush grade (67.0) and played just one coverage snap in 2018, but he still finished the year ranked eighth at his position in PFF's wins above replacement (WAR) metric at 0.93. And Kansas City Chiefs' Chris Jones, who ranked tied for second in pass-rush grade this past season, finished just ahead of Harrison in WAR at 0.95.
Why? Harrison's run defense is that good.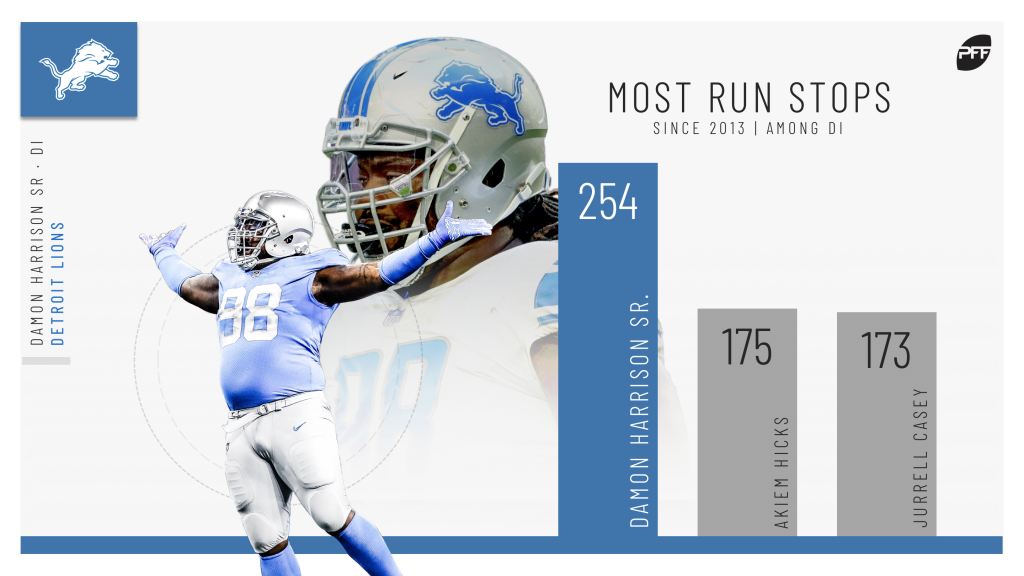 In a season he spent split between the New York Giants and Detroit Lions, Harrison led all at his position in run-defense grade (93.8), total run stops (46) and run-stop percentage (15.97%). He also led all qualifying interior defensive linemen in the percentage of run-defense snaps played where he was the first to make contact with the ball carrier at 21.18%.
Harrison has now led his position in total run stops and run-stop percentage for four consecutive seasons, and he's been crowned as PFF's Run Defender of the Year in each of the four years, as well.
The 6-foot-3, 353-pound behemoth is an immovable force against double teams and will rarely lose one-on-one situations when opposing offenses make the mistake of putting a guard or center in such a position — he's a perfect fit for 0-technique in the NFL.
No defensive interior with at least 200 run-defense snaps played in 2018 earned a positive grade on a higher percentage of plays than Harrison. He also recorded the ninth-lowest percentage of negatively graded plays among the same group of 80 qualifiers.
The Snacks Effect on the Lions' defense was substantial, as well. In the pre-Harrison era of 2018 (Weeks 1-7), Detroit ranked 26th in team run-defense grade (69.0) and 30th in successful run play percentage allowed (33.5%). Harrison almost single-handedly flipped the script, as Detroit's defense ranked second in team run-defense grade (91.7) and fifth in successful run play percentage allowed (24.9%) with Harrison rostered in Weeks 8-17.
Harrison's stellar production also had a positive effect on the team's run defense on early downs. Detroit allowed a successful play on 33.1% of its run-defense snaps on first and second down in Weeks 1-7, the second-highest mark of any NFL team in the seven-week span. In Weeks 8-17, Detroit's early down run defense ranked eighth in successful play percentage allowed at 24.2%.
Snacks' run defense is so good that he can have replaceable pass-rushing production and still stand tall as one of the league's most valuable defenders. Not only did his 0.93 WAR in 2018 rank eighth at his position, but it also ranked inside the top-30 among all defensive players in the NFL.