For those who aren't familiar yet, Damon "Snacks" Harrison has long been one of our highest-graded run defenders at the interior defender position. In fact, since the 2015 season, Harrison has finished with the top run-defense grade among interior defenders every single year. Sometimes when players move from one team to another, they see a drop-off in their performance, but Harrison isn't one of those guys; he has moved from the Jets to the Giants and most recently the Lions, and he's still snacking on offensive linemen.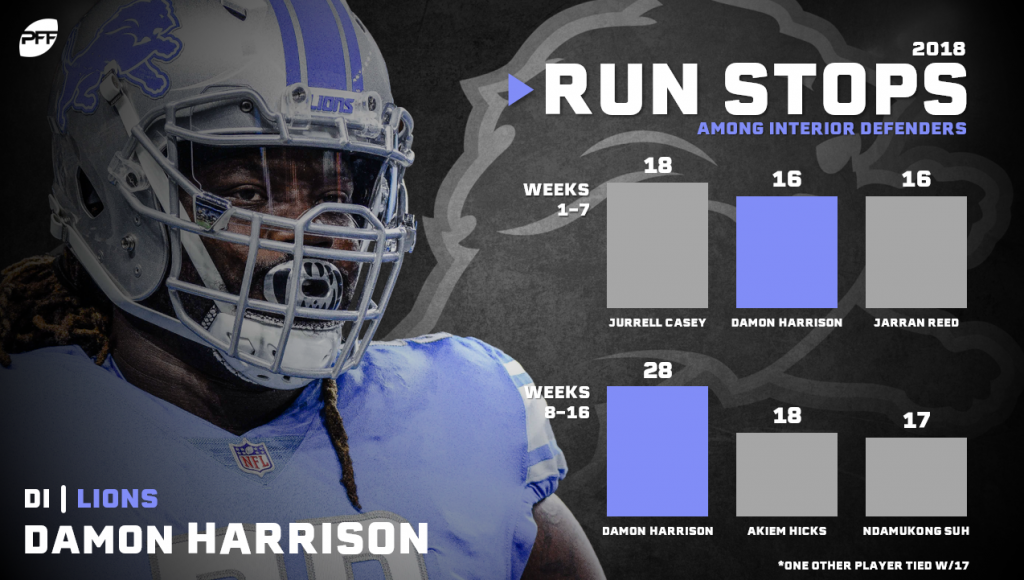 From weeks 1-7, before being traded to the Lions, Harrison had a run defense grade of 91.5, ranking fourth among interior defenders. In that period, he accumulated 16 run stops (tackles for loss or short gain), which was tied for the second-most at his position. If you consider the fact that Harrison played against teams like the Cowboys and Saints during that time span, it just makes it all the more impressive.
After being traded to the Lions before Week 8, some may have wondered if he would be the same. If anything, he was more than the same, as he recorded six run stops in his first game with the Lions, tied for the most run stops in a single game this season and that game just so happened to be against the Seahawks, who lead the league in rushing yards this year. Harrison has put up 31 run stops since going to Detroit, ranking first in the NFL during that span.
As a Lion from week 8 and on, Harrison has earned a run-defense grade of 93.0, which ranks first among interior defenders. Overall, from week one to now, Harrison's 93.8 run defense grade also ranks first in the league.
One of the best ways to measure a player's impact against the run is how often he's the first defender to make contact on a ball-carrier. Throughout the season, Damon Harrison has made first contact 60 times, which ranks first among defensive linemen. The next closest player, Calais Campbell, has made first contact 49 times. Future Hall-of-Famers J.J. Watt and Aaron Donald have marks of 44 and 42, respectively. To put that into further perspective, Donald has played 309 run defense snaps versus Harrison's 289, yet Harrison has made first contact 18 more times.
Sometimes, a defensive lineman's count of first-contact can be inflated due to being unblocked on plays. Such is not the case for Harrison, as he has made first contact when unblocked just twice, and his 58 counts of first-contact when blocked still comfortably lead all defensive linemen.
Damon Harrison has been snacking on linemen and running backs wherever he goes. It's just too bad that not enough people seem to know the extent of his dominance, which is evident by the almost unbelievable fact that he's still yet to be selected to the Pro Bowl. However,  here at Pro Football Focus, where we watch every player on every play of every game, he has long been established as one of the truly elite interior defenders in the world.