It appears the Washington Redskins have taken notice of the success that Alabama and Nick Saban have generated year in and year out. Slowly but surely, the Redskins have built up their front seven to resemble that of the frequent NCAA champions, and now, they may even see the same level of dominance as the Crimson Tide perennially do.
With the help of a few other proven talents from various schools, the Redskins are poised to boast one of the NFL's scariest front sevens. The addition of Mississippi State's Montez Sweat in the 2019 NFL Draft will complement interior defenders Jonathan Allen, Daron Payne, Matt Ioannidis, linebackers Reuben Foster and Mason Foster, edge defender Ryan Kerrigan and even safety Landon Collins (when he plays in the box), among others.
Sweat will be tasked with helping to match the production of what was a formidable edge group on paper in 2018 — Kerrigan and Preston Smith (who signed with the Green Bay Packers) each notched 50-plus pressures in 2018, making the Redskins one of just six teams with an edge-rushing duo to accomplish the feat. And rookie Ryan Anderson made his presence felt on limited snaps, earning an 86.8 overall grade with 11 pressures on 91 pass-rushing snaps.
At Mississippi State in 2018, Sweat racked up four or more pressures in nine of his 13 games while finishing ninth among draft-eligible edge defenders in pass-rush productivity (11.0). While he won't necessarily need to factor into the Redskins' starting line immediately, he'll certainly get opportunities to flash his college production.
While Sweat is the only true addition to the front seven, the Redskins have been building a solid foundation for years. Both Payne and Allen were first-round selections in 2018 and 2017, respectively, and clearly have the potential to break out having been plucked from Nick Saban's vaunted defense.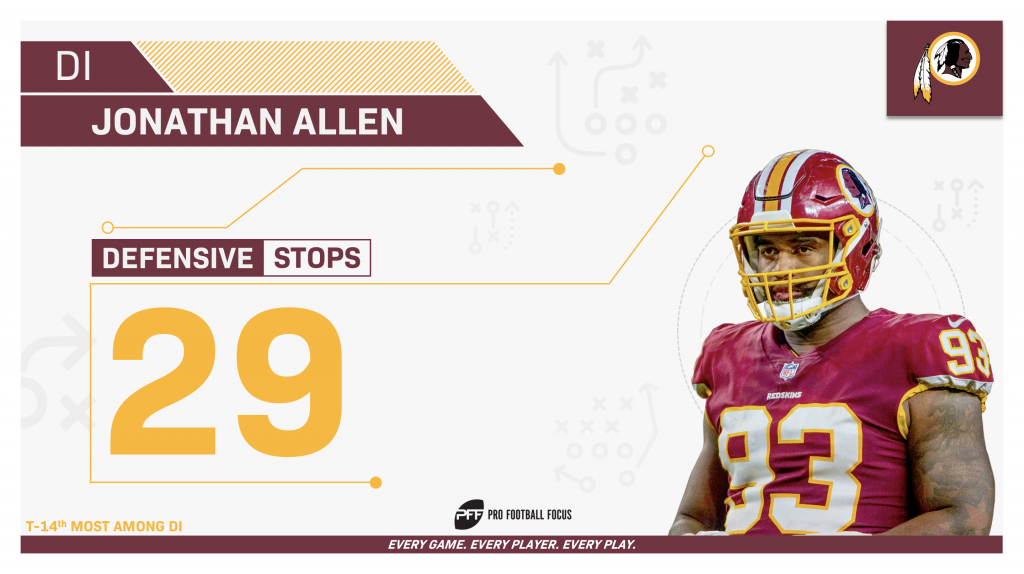 Payne and Allen each earned grades above 70.0 in 2018 and each also ranked top 15 among interior defenders in stops, with Payne finishing at the top of the rookie class. That bodes well for the young team, which now has rookie quarterback Dwayne Haskins in line to eventually lead the offense. At the very least, the Redskins young core is impressive on paper — it remains to be seen if they will continue to progress.
And then, of course, there are the proven veterans in charge of keeping order in that budding unit. Kerrigan, Ioannidis, Foster and Collins — among others — will be tasked with guiding the group as it looks to make the leap from good to great. Kerrigan has been the epitome of consistency, never once netting less than 50 pressures in any of his eight seasons. Ioannidis has been quietly dominant, particularly on third and fourth down, where he ranks second in both pass-rush productivity (22.6) and pressure rate (19.6%) among qualifying interior defenders since 2017.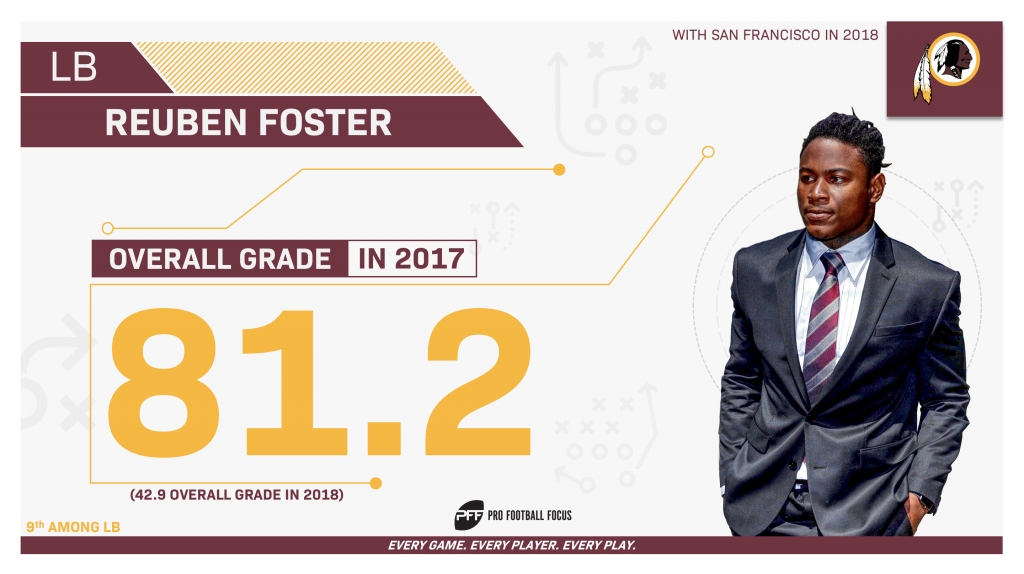 In the middle, Brown led the way in 2018 while Mason Foster admittedly trailed far behind. Brown outperformed all expectations, shattering his previous career-best grade with an 89.2 mark. Meanwhile, Mason Foster has struggled to get his grade above 60.0 throughout his career, failing to do so in five of his eight seasons. Brown's departure to the Philadelphia Eagles is surely not what Redskins fans wanted, but there's still plenty of reason for optimism.
Waiting in his stead is Reuben Foster, who has been embroiled in off-the-field controversy but will have a major impact once he sees the field. The Alabama product (noticing a trend here?) finished with a top-10 grade (81.2) among inside linebackers in his 2017 rookie campaign while surrendering just 7.9 yards per reception in his coverage (ninth).
Landon Collins figures to be a part of the unit on occasion, and after posting the third-best run-stop percentage among safeties in 2018, it may not be a bad idea to line him up in the box in certain situations. Overall, the Redskins have done everything right in putting together one of the NFL's best front sevens. Now, they need their profusion of talent to prove it.