Linebacker Reuben Foster fell victim to a knee injury on Monday, as he tore his left ACL on the third rep of his first organized team activity with the Washington Redskins. It is rare to see a 25-year-old player with the kind of potential that can completely change the dynamic of a front seven, but Foster's potential did just that, so the latest injury blow to the Redskins — a list that seems to grow with each passing year — is a significant one, to say the least.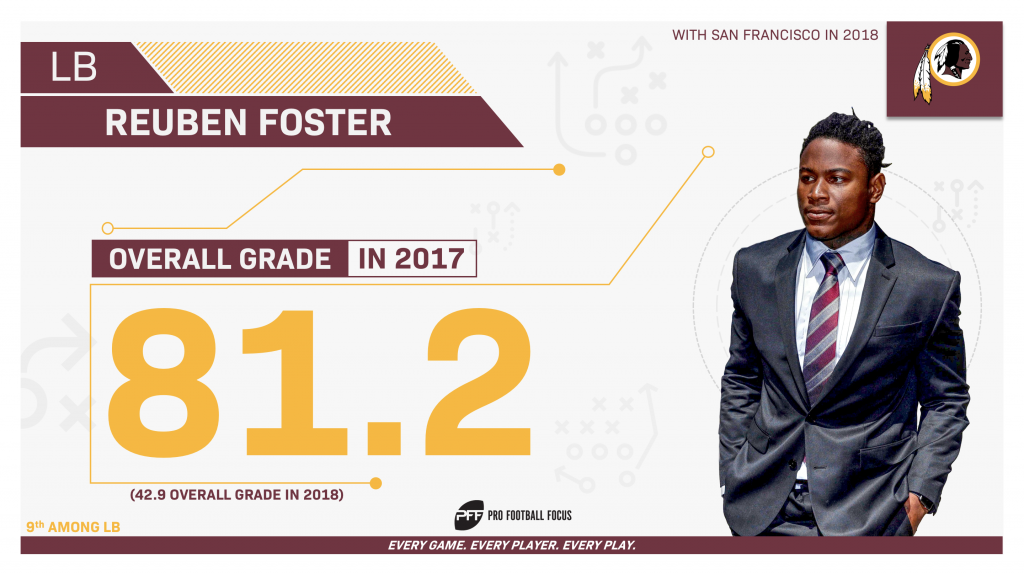 Foster, once thought to be the heir to 49ers' great Patrick Willis, earned an 81.2 overall grade in his rookie season (2017) which ranked eighth at his position, and he earned a spot on the PFF Top 101 of 2017 as a result. A large part of what made Foster so effective in his rookie season was his ability to affect the game on all three downs. Foster's 11.2% run-stop percentage and his 0.71 yards allowed per coverage snap both ranked second among linebackers that year.
The Alabama-alumnus' playmaking ability was so rare for an NFL linebacker that PFF's Mike Renner wrote an entire article detailing one of his plays.
Reuben Foster breaking up a ball on the sideline from hook in C3 is not normal pic.twitter.com/OTOL5XvB0x

— Mike Renner (@PFF_Mike) August 13, 2018
"This is a play that we see made across the NFL maybe a handful of times all season long because it takes perfect execution and exceptional skill to defend." – @PFF_Mike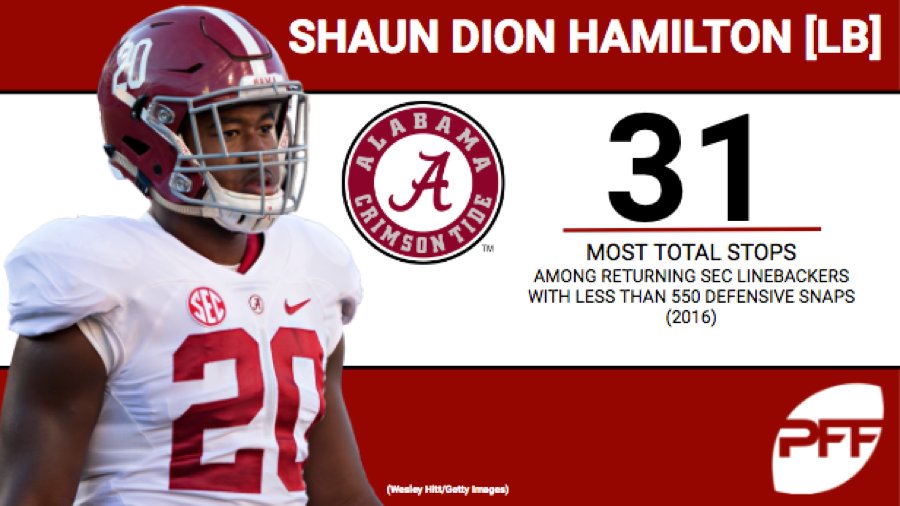 Enter Shaun Dion Hamilton – Washington's sixth-round pick from the 2018 NFL Draft. Dion Hamilton saw action in six games his rookie season but struggled to find his footing, earning a 58.2 overall grade.
Throughout the draft process, PFF was cautious regarding Dion Hamilton's ability to stay on the field. In 2016, he tore his right ACL during the SEC Championship, which caused him to miss the remainder of that postseason. The following year, he broke his right kneecap in early November. These injuries may have caused the Alabama linebacker's draft stock to fall, but when Dion Hamilton was on the field, he was one of the best at his position.
In 2016, Dion Hamilton maintained the lowest passer rating when targeted (53.9) and secured the most stops (31) among SEC linebackers.
In his first glimpse of NFL action, Dion Hamilton made a splash in the 2018 NFL preseason, as he hit the opposing running back in the backfield a total of 10 times in his four preseason games, which was more than any other defensive player in the NFL.
The breakout potential exists for the 23-year-old linebacker if he can stay on the field. In 2018, Dion Hamilton was efficient with his minuscule sample size. Among all NFL linebackers in 2018, he earned an 86.8 pass-rush grade which tied for fourth in the league, and he secured an 84.2 tackling grade to boot. 
The linebacker will be playing behind fellow 'Bama alums Jonathan Allen and Da'Ron Payne, who will make Dion Hamilton's life easier as they pair both earned 70.0-plus grades in 2018. But in the wake of Foster's injury, Dion Hamilton is going to get the opportunity to prove himself as a starting NFL linebacker, and the Redskins need him to rise to the challenge.