Trent Williams has been a cornerstone player for the Washington Redskins since they selected him with the No. 4 overall pick in the 2010 NFL Draft. He has started in 119 games and has never logged fewer than 600 snaps in a single season, despite battling multiple injuries.
Washington's front office rewarded Williams back in 2015, making him the league's highest-paid offensive tackle with a five-year, $66 million extension. The 6-foot-5, 320-pound veteran has continued to perform at a high level through the first three years of his extension and is now looking for a new contract, according to NFL Network's Ian Rapoport.
Williams was a no-show when the Redskins opened mandatory minicamp on Tuesday. Head coach Jay Gruden addressed his absence, via Washington's team website.
"I want him back in the worst way, but there is a business side to it."
The Redskins have made some big moves this offseason, but losing Williams was not in the cards. Gruden clearly understands the importance of his star left tackle, and PFF's numbers only back it up.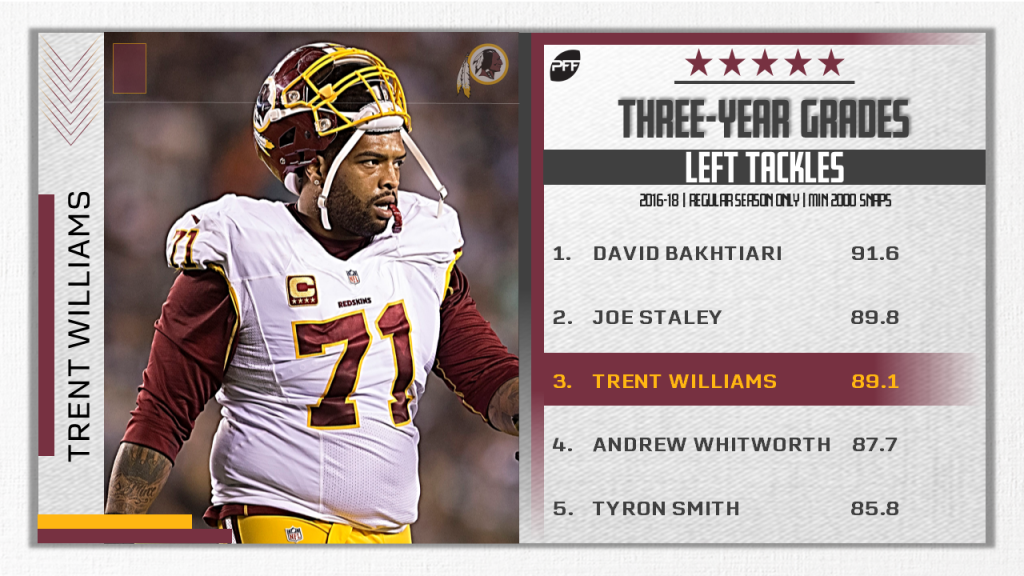 Over the last three regular seasons (2016-2018), Williams has graded out as the NFL's third-best left tackle (89.1). He trails only David Bakhtiari and Joe Staley over that span, beating out notable players like Andrew Whitworth and divisional rival Tyron Smith.
In 2016, the former Sooner posted the fifth-highest offensive tackle grade (92.7) in the PFF era (2006 – present), and only Jonathan Ogden, Tyron Smith and Joe Thomas (twice) have recorded higher overall grades at the tackle position.
Williams' 2013 season is also tied for the 13th-highest overall grade (91.6) for an offensive tackle since 2006. He's one of only six offensive tackles to earn multiple overall grades above 90.0 along with Ogden, Thomas, Staley, Jason Peters and Andrew Whitworth.
His impact on Washington's offensive line cannot be overstated. Since the start of the 2016 season, the Redskins have earned a 77.6 pass-blocking grade and 67.4 run-blocking grade when Williams is on the field. However, when he has been out of the lineup, Washington's pass-blocking (72.0) and run-blocking (63.6) grades have significantly dropped.
The biggest concern surrounding the 10-year veteran is his injury history. Williams has not played full 16-game slate since 2013. But that shouldn't deter Washington's front office from starting negotiations on a new deal.
The soon-to-be 31-year-old left tackle has consistently played through injuries throughout his career and continues to perform at a high level. Williams spoke about putting the team first and his body second just last offseason.
"At the end of the day, I'm a competitor and I always want to compete with my teammates and as a leader, as a captain sometimes you have to sacrifice your body for the betterment of the team. And that's the decision I made."
Even playing through injury, Williams has allowed just one sack over the last two seasons. He's earned 80.0-plus pass-blocking grades for six consecutive seasons, and he ranked 14th in pass-blocking grade (80.7) among offensive tackles with at least 300 snaps in 2018.
Williams still has two years, $24 million on his 2015 contract, but given the market shift for offensive tackles in recent years, he's understandably looking for a new deal. Both Trent Brown and Donovan Smith signed new deals this offseason and are now making a higher average salary than Williams, per Over the Cap.
Neither came close to performing at the level of Williams last season, who finished tied for 21st with Nate Solder in overall grade (74.1) among qualifying offensive tackles last year. Brown ranked 45th at the position with a 66.9 overall grade, while Smith finished the regular season as PFF's 47th-ranked offensive tackle (66.4).
Brown will now be making an average of $16.5 million a year under his new four-year, $66 million contract with the Oakland Raiders. Given the market and the level of play for these new deals this offseason, Williams seems to have all the leverage.
It's the start of a new era for the D.C. franchise with the selection of quarterback Dwayne Haskins, but it's not likely to get off to great start without the team's cornerstone left tackle. It would only be wise for Washington's front office to come to terms with Williams for both now and the future.