The period following the NFL Draft is a time for optimism for many, and this is especially true for fans of teams that drafted a quarterback — by far the league's most important position — in the hopes of securing a franchise signal-caller. A year after five quarterbacks went in the first round of the draft, there were only three taken in the first round this year, and it wasn't until late in the third round that the fifth quarterback came off the board. They won't all see the field right away, and some may not see meaningful NFL snaps at all next year, but if and when they do get behind center, this is how each team should deploy them in order to maximize their potential.
[Editor's Note: To view all of Pro Football Focus' advanced stats and grades for draft-eligible players, check out our 2019 NFL Draft Guide. All EDGE and ELITE subscribers already have access to the guide, and for those who don't, you can get your copy for as low as $9.99!]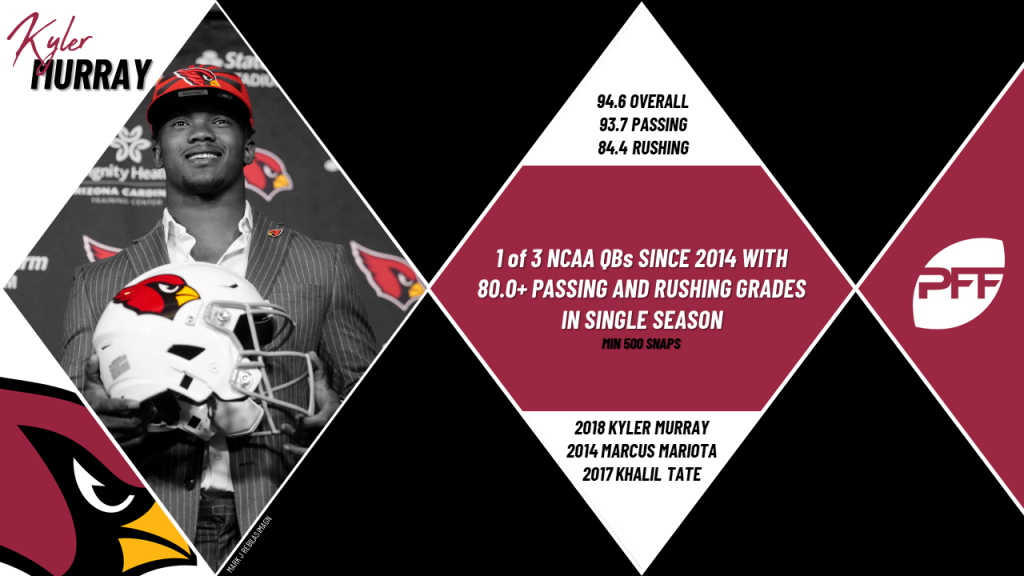 No one needs to tell you that Kyler Murray is an elite athlete. The Oakland Athletics knew that when they took him in the top 10 of the 2018 MLB Draft, and the Cardinals knew that when they made him the second straight Heisman winner from Oklahoma to go first overall in the NFL draft. That being said, Kyler Murray is an elite athlete. Since PFF began grading college football in 2014, only three quarterbacks with 500 or more snaps have recorded a single-season passing grade of 80.0 or higher to go along with a rushing grade of 80.0 or higher. Those quarterbacks are:
2018 Kyler Murray (94.6 overall / 93.7 passing / 84.4 rushing)
2014 Marcus Mariota (93.0 overall / 91.7 passing / 81.0 rushing)
2017 Khalil Tate (91.0 overall / 80.9 passing / 86.3 rushing)
That 93.7 single-season passing grade is the best of any quarterback in the PFF college era not named Baker Mayfield (who bested it in 2016 and 2017). Simply put, Murray is the best dual-threat quarterback that has entered the NFL in quite some time. He can win with his arm, and he can win with his legs. The Cardinals would be foolish not to utilize both.
Many people have chalked up Josh Rosen's poor first season to the poor offensive line play (77.6 pass-blocking efficiency ranked worst in the NFL last season). Though the addition of Marcus Gilbert via trade and a clean bill of health for the offensive line should help as we head into the 2019 season, there are still plenty of question marks surrounding the group protecting Murray. Murray is certainly better suited to winning under pressure than Rosen or any other quarterback drafted this season – as Senior Analyst Steve Palazzolo broke down in March – but the Cardinals should work to get him quick looks before the pressure can get home.
Murray was nearly perfect when getting rid of the football in 2.0 seconds or less last season at Oklahoma. His numbers on those passes came in at 93-of-116, 938 yards, 11 touchdowns, and no interceptions for a passer rating of 132.0. In all honesty, that 80.2% completion percentage should have actually been higher, as nine of those 23 incompletions came on dropped passes. As a pass rusher, it's tough to get to the quarterback in 2.0 seconds or less, regardless of who's on the offensive line. The key words there for the Cardinals are "regardless of who's on the offensive line."
He's not just accurate on those quick, shorter throws though. Murray had the highest accuracy rate — based on ball placement — on throws of 20 or more yards downfield among the draft-eligible quarterbacks, at 61.4%. The Cardinals seemed to have this in mind during the draft, picking up the two wide receivers in the class with the most deep-receiving yards in college football last season: Andy Isabella and Hakeem Butler. They'll have to choose their spots; Murray won't have all day to sit in the pocket, and the Cardinals would rather not have him play Houdini every play. However, letting Murray push the ball deep to Isabella, Butler, Christian Kirk, and Larry Fitzgerald should be high on the priority list for the Arizona offense heading into the 2019 season.
As a runner, Murray ran the ball 95 times for 667 yards (7.0 yards per attempt) on designed runs in 2018. He's electric in the open field, showing the speed and agility that make him a threat to score on any play as a ball carrier. Pairing him with David Johnson, an excellent runner in his own right, gives the Cardinals a dynamic backfield, which Kliff Kingsbury and Co. should take advantage of via read-option plays and designed runs. As Lamar Jackson has shown, dynamic rushing ability from the quarterback position is difficult to gameplan against, and that's before recognizing Murray's immense talent as a passer.
The future is bright in Arizona.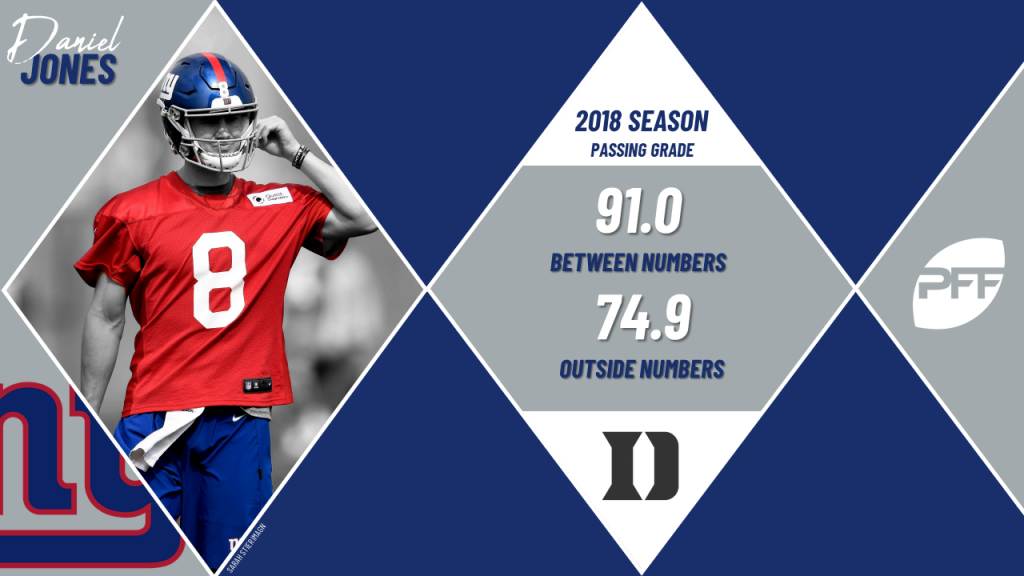 I'll start this by saying that Jones' selection at number six overall is considered a reach by PFF, and it's not exactly a hot take given the backlash the pick has received by some members of the national media. He came in at 70th overall on the final edition of the PFF Big Board leading up to the draft, placing him in third-round territory. That isn't to say that Jones is destined to fail in the NFL, though. He did improve his grade at Duke from 61.8 in 2017 to 81.9 last year despite a poor supporting cast. The Giants have made it clear that Eli Manning is still their guy in the quarterback room, so Jones likely won't be thrown onto the field to start next season, but if he does see regular season action, there are a few areas where Shurmur and company can make the transition easier on Jones.
Jones was significantly better last year at Duke when throwing between the numbers as opposed to when he threw outside the numbers. When targeting players between the numbers, he picked up a 91.0 passing grade compared to a passing grade of just 74.9 when going outside the numbers. As one would expect, this matches up with his grade when targeting in-breaking vs. out-breaking routes. When targeting in-breaking routes – such as slants, crossing routes, ins, posts, etc.,  Jones saw an elite 90.4 passer rating. On out-breaking routes, that fell to just 64.1.
The Giants are well-suited to capitalize on Jones' proficiency over the middle of the field given the buildup of their skill players: their top receiving options are Sterling Shepard, Golden Tate, Evan Engram, and Saquon Barkley. Shepard and Tate are primarily slot receivers (both spent over 50% of their snaps in the slot last season), Engram spent nearly 50% of his snaps in the slot last season, and as a running back, Barkley isn't getting outside the numbers too often on his routes. The talent is already concentrated in the areas of the field that Jones hits best. Based on his play last season, the Giants would be wise to orchestrate plenty of looks for Jones over the middle of the field. 
On more of a side note (since Jones and the Giants offense can't dictate the defensive looks they see), Jones was much more successful against zone coverage looks (86.4 passing grade) as compared to man (64.9) last year at Duke. He was especially successful at targeting zone-coverage schemes deep, where his passing grade ballooned to 93.2 thanks to the 13 big-time throws on 33 attempts. On those passes, he went 10 for 33 for 402 yards, five touchdowns, and two interceptions but seven of the 33 passes were dropped. With Jones behind center, the Giants should look to target zone coverage deep aggressively.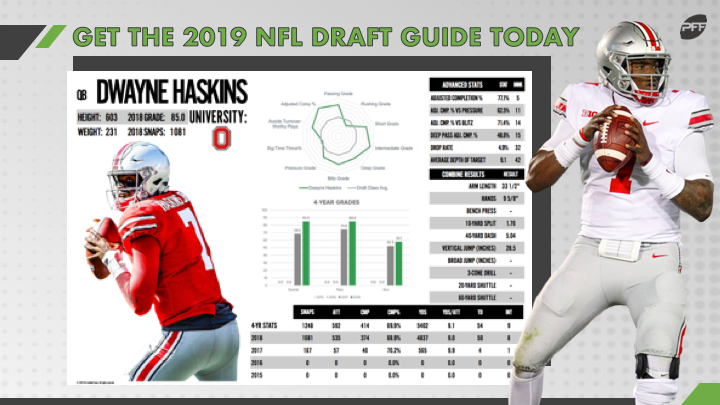 Haskins comes into the league in a similar position to Jones in that there is a veteran quarterback with starting experience that stands between him and an immediate path to the top spot on the depth chart. Case Keenum will likely get the starter reps to start the offseason, but given Haskins' first-round pedigree and Keenum's shaky play in Denver last season, there's a decent chance Haskins will take the field as the starter at some point this season.
Haskins was our second-ranked quarterback heading into the draft, behind just Kyler Murray. As Steve Palazzolo broke down in Haskins' pre-draft evaluation, though, he is not quite in the same tier as Murray in that his success at the next level will likely be dependent on his supporting cast. One area that is paramount is pass protection, as perhaps more than anyone else at the top of the class, Haskins is dependent on a clean pocket to succeed.
His clean-pocket passing grade of 90.4 dropped to 56.7 when pressure got home. Part of that clean-pocket performance was due to how good he was when navigating to his second read, where his 91.5 passing grade on those throws led all quarterback prospects. If the pressure gets home, there is less time for Haskins to hang in the pocket and progress through his reads. Clean pocket quarterback play is stable year to year, and Haskins has shown himself to be among the best in the class when working without pressure. It seems obvious, but the Redskins need to make sure he's given that clean pocket in order to maximize the play from their first-round selection.
Another area where Haskins excelled when at Ohio State was in play action. He completed 81 of his 122 play-action attempts for 1,351 yards, 17 touchdowns, and just two interceptions. Among 120 FBS quarterbacks with at least 50 play-action attempts in 2018, Haskins's passer rating of 136.3 on such throws ranked second behind only Tua Tagovailoa.
Play action wasn't a large part of the repertoire for the Redskins last season, as Alex Smith used play action on only 21.4% of his dropbacks before his injury (22nd out of 32 qualifying quarterbacks). On those play-action attempts, he saw his completion percentage drop 4.3% from when he didn't use play action, but his yards per attempt jumped from 6.3 to 8.2 yards per attempt.
Among the league-leading offenses in play action rate were the Los Angeles Rams, New England Patriots, and Kansas City Chiefs. Play action has proven to be effective leaguewide, and the league's best offenses are taking advantage. The Redskins should do the same with Haskins.
Lastly, it should be noted that Haskins is reunited with Ohio State teammate Terry McLaurin in Washington, and it is hard to get much better than that duo was last season. When targeting McLaurin, Haskins went 34-of- 48 for 650 yards, ten touchdowns and no interceptions, good for a passer rating of 152.8. The Redskins will be hoping that connection continues to yield similar results in the NFL.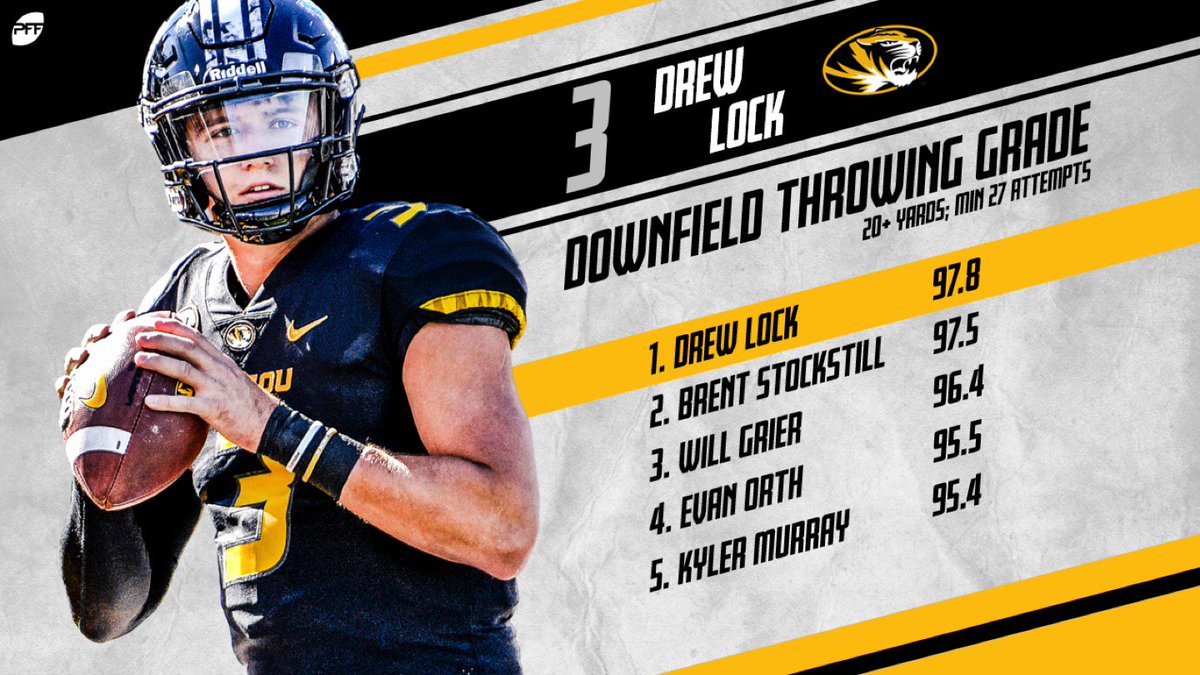 Not many quarterbacks have improved as much as Lock has in terms of PFF grade over his four seasons at Missouri. As a freshman, he recorded just a 43.7 overall grade which he proceeded to increase each subsequent season up to his senior campaign, which ended with an overall grade of 88.9. The positives in his game jump out at you, namely in his ability to make all the throws. As has been discussed by many PFF analysts, though, it's more important to make the easy throws at a high rate than it is to be able to make any throw on the field. Even in his much-improved senior season, Lock ranked just 47th in avoiding negatively-graded throws. If Joe Flacco is unseated as the starter (for the second straight year), the Broncos will have to accentuate Lock's strengths to make sure he doesn't end up on the same route as Paxton Lynch – a Broncos' draft selection with a similar college grade progression.
It's hard to talk about Lock's strengths and not touch on his ability to push the ball downfield. Among all draft-eligible quarterbacks last season, Lock led the way with a passing grade of 97.8 on throws 20 or more yards downfield. In total, he went 30-of- 64 for 1,160 yards, 14 touchdowns and one interception on such throws. Lock's new teammates – Emmanuel Sanders and Courtland Sutton – both finished inside the top-25 wide receivers in the league in deep receiving yards a season ago, providing the outside threats for Lock to stretch the field.
Along with being an excellent deep-ball passer, Lock showed that he was very good when throwing in rhythm a season ago. In his last season at Missouri, Lock had a passing grade of 87.8 when getting rid of the football in 2.5 seconds or less (4th in the draft class). That grade dropped to 74.9 when there were 2.6 seconds or longer between the snap and the pass (19th in draft class). Keeping Lock in rhythm with those quick throws, along with a steady diet of deep balls, should allow Lock to continue progressing at the next level.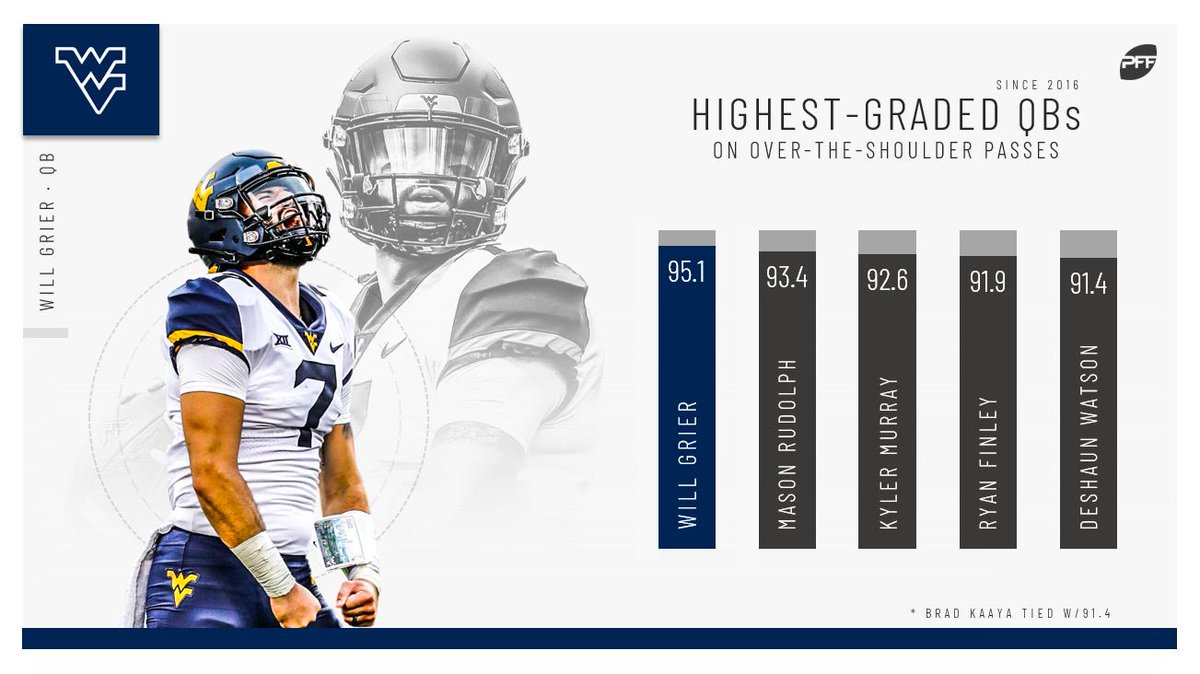 Of the quarterbacks listed, Grier has the lowest chance of seeing the field next season. Cam Newton is the entrenched starter in Carolina and appears to be healing well from his shoulder surgery in January. Grier was great value in the back half of the third round, though, and he may just be the steal of the draft – at least if the Panthers provide him with a clean pocket to throw from.
When Grier was moved off his spot on the dropback, his passing grade was a paltry 28.8, going just 15-for-33 for 144 yards and two interceptions. Contrast that with his passing grade when not moved off his spot (93.7 – 2nd behind only Kyler Murray), and you have quite the dichotomy. The Panthers' offensive line was middle of the pack last season in team pass-blocking efficiency (18th), but in order for Grier to have success should he be forced into action, they'll have to ensure he can work from a clean pocket.
If he does get time in the pocket to target receivers on go routes downfield, watch out. Grier was the best quarterback in the country when targeting receivers on all variations of go routes (traditional go routes, back shoulders, seams, and slot wheels), with a passing grade of 98.1. Grier was masterful on those routes, notching 22 big-time throws compared to just one turnover-worthy play. That kind of proficiency on the go route paired with a 13.2% uncatchable-pass rate (best among the first five quarterbacks drafted) led to Grier grading as the second-best passer in the draft class behind only Murray.
The blueprint for his success at the NFL level is clear: give him plenty of space to work within the pocket and let his accuracy at all levels of the field shine.